You have probably heard of "purebred" dogs– specific dog breeds with traceable bloodlines that go back centuries. These dogs are carefully bred for physical features and temperament, and can be found at AKC dog shows like the Westminster. Purebred puppies come with a hefty price tag compared to mix breeds.
Fake Dog Papers
But how can you prove that a dog is purebred? The answer is official AKC paperwork, simply called "papers" by the owners. The AKC monitors and tracks dog breeds to ensure safe and honest breeding practices. Unfortunately, bad breeders will fake AKC papers. If you are thinking of buying a purebred puppy read this easy guide to make sure you don't get duped.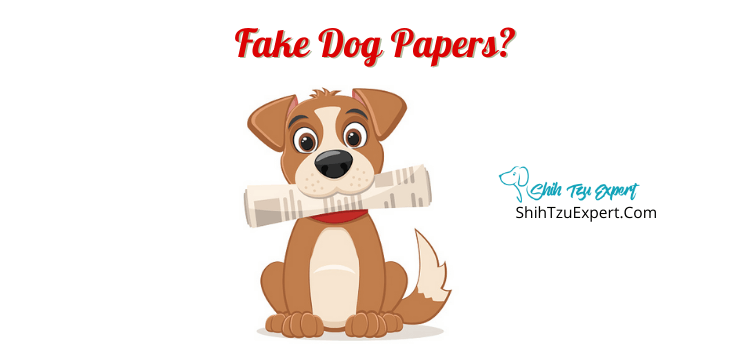 Why Do People Make Fake Dog Papers?
Scammers make fake AKC papers to sell sick, overbred puppies at a premium cost, or to sell dogs as "purebred" when they are not. The AKC monitors not only the bloodline of the dog, but the health and breeding practices of the owner. Unscrupulous breeders will breed a dog to death, and will not take proper precautions to make sure the puppies are healthy. As a result people will buy a "purebred" puppy only to find that they require thousands of dollars of vet care.
Is It Illegal To Make, Sell, Buy, Use Fake Dog Papers?
Laws vary from state to state, and you need to check your local laws to know for sure. That being said, unscrupulous breeders can be sued by duped buyers, and denied any future AKC involvement.
How Do People Make Fake Dog Papers?
There are a variety of ways scammers make fake dog papers, from printing them at home to using paperwork from another animal. The most common is the easiest, they simply tell the buyer that the "paperwork is on the way" and then never provide it. The AKC suggests being wary of this excuse– their registration process takes only a few days, and there is no reason an honest breeder would not be able to provide an AKC dog application with their portion filled out at the time of purchase.
What Is A Fake Dog Registration Paper?
A fake dog registration either has a seal from the wrong agency, or does not apply to the animal you are purchasing. When you pick up your purebred puppy, make sure that all the paperwork is present, correct, and has the AKC seal. A lot of fakes look similar, and not all registrations are equal! Buyer should make sure to double check any paperwork given to them.
What Are Printable Fake AKC Papers And How Are They Made?
Printable Fake AKC papers should be fairly easy to distinguish from real AKC papers– they will be on printer paper, and they will lack the official AKC seal.
How To Detect Fake Dog Papers?
There are several ways to detect fake dog papers–make sure that the dog listed is the one actually being sold. Fraudulent sellers will sell adult dogs as puppies, list the wrong sex on paperwork, etc. Make sure to check for the AKC seal on paperwork, and that the dog is "AKC registered" and not "AKC registerable." Make sure it is the American Kennel Club or AKC, and not a similar, less legitimate organization.
Why Is The Purpose Of Fake Service Dog Papers?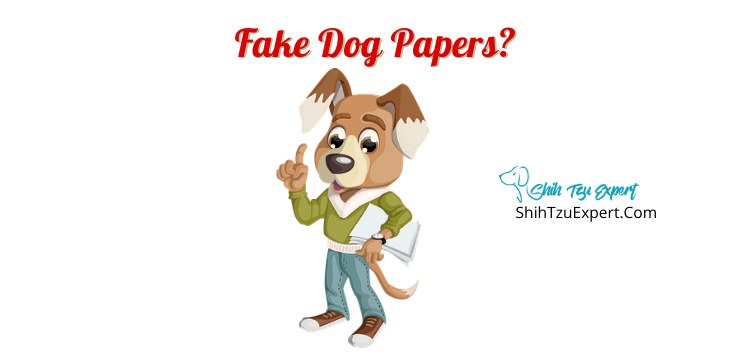 There is a lot of confusion about service dogs these days. Is it a service dog, or an emotional support animal? While the names are deceptively similar, they are very different. Anyone can "register" their dog as an emotional support animal, whereas a service dog is specifically trained to perform tasks for a person with a disability. Service Animals are afforded special privileges under the Americans with Disabilities Act. Someone may want to fake their dog being a service dog, but they should be warned– the penalties for fraudulent paperwork on a service dog is steep.
What Do Real AKC Papers Look Like?
Real AKC paperwork will come directly from the organization. It will be on AKC letterhead with the AKC seal– be warned, a lot of organizations have similar seals and use similar language. Be sure to get your paperwork, and read it carefully.
How To Spot Fake Akc Papers?
It is pretty easy to spot Fake AKC papers– all AKC registered dogs have an ID number, as well as a traceable pedigree. When you are given your AKC puppy registration application from the breeder, those areas should be filled out. You can then cross check the ID number with the AKC database to ensure that the names and ID's match up.
Where Do People Buy Fake AKC Papers From?
Scammers can buy fake papers from competing, less legitimate organizations and pass them off as AKC papers, or they can falsify AKC paperwork– such as saying papers are for one animal when they really are for another.
Where Do People Find Fake Puppy Papers For Sale?
AKC puppy registration paperwork can be copied from many online sites, or possibly printed out at home.
Fake Dog Papers For Pitbulls?
Buying a pitbull puppy? Be extremely wary of any AKC paperwork that comes along with it. The AKC does not recognize a "pitbull" as a specific breed. There is the American Staffordshire Terrier, or the Bull Terrier, but no "Pitbull." Therefore any AKC paperwork with the breed listed as pitbull has been falsified.
Fake Dog Adoption Papers?
There is no need to fake adoption papers, and any fake adoption papers could easily be dispelled by checking with the organization they claim to be from.
Fake Dog Vet Papers?
Faking vet certifications is fairly difficult, and much more time consuming than taking the dog to the vet itself. When buying a puppy, just make sure that the paperwork is all present and accurate for the dog you are buying. If you are unsure you can call the veterinarian's office they are from.
Fake Dog Spay Papers?
There is no reason to fake spay paperwork– a spay is a simple procedure that prevents female dogs from having puppies. Most vets offer low cost spay and neuters for pets.
Fake Dog Pedigree/Breed Papers?
When you buy a true pedigree puppy, the breeder should offer you an AKC dog registration application with a portion of the paperwork filled out. The portion has the dogs parents, their AKC ID's, pedigree and registration numbers. This should all be presented on AKC letterhead with an AKC seal. Be warned– scammers often use seals and letterheads that look similar, or fill out the information for the wrong animal, be sure to read closely.
Fake Dog Shot/Vaccination Papers?
When buying a puppy, make sure you receive the vaccination records. Puppies require two rounds of shots before they can be sold, so make sure that you receive records of both. If you are not sure, you can call the veterinarian office listed on the paperwork.
How Can You Tell If Dog Papers Are Real?
Legitimate AKC paperwork will be easy to identify. Make sure that the names, addresses and numbers on the paperwork match up, and check that the AKC seal and letterhead are authentic. For a new puppy application both of the parents should be listed with their trackable AKC ID numbers.
Why Are Internet Scammers Forging Paperwork?
Internet Scammers forge AKC paperwork to try to convince you the puppy you are buying is legitimate. The dog may be older than advertised, a different breed, or terribly sick. Be wary of online sellers who ask for money transfers but will not show paperwork, and check that all of the names and ID's on any paperwork presented can be correlated with the AKC system.
What Does Hang Papers On A Dog Mean?
"Hanging papers on a dog" is falsifying the dog's paperwork by either lying about their parentage, or creating whole fake documents. If you suspect that the documents you are being offered are fake, do not buy the puppy and ask for a DNA test.
How Can You Tell If Dog Papers Are Real?
AKC paperwork is identifiable by its seal, letterhead and overall feel. Be sure to also check that the dates and names on the paperwork align with those of the puppy you are looking to buy.
How Do You Check If Papers Are Real/Fake?
All AKC registered dogs are assigned an ID number. If you are not sure if the paperwork you are being given for your puppy is real, ask to check the ID numbers against the AKC database. If you suspect the dog you are being sold is not the breed advertised, you can also request a DNA test.
References
https://www.bbc.com/news/uk-england-berkshire-38286758