We may earn commission from qualifying purchases at no extra cost to you.
Learn more
Whether you are looking for a pragmatic working dog or a family dog who is loyal and affectionate, this German Malinois Mix will be an ideal match. Placed in the medium to large sized category, this Mix of German Shepherd and Belgian Malinois is a very intelligent and sturdy breed. They are also known as Malinois X, Shepinois and Belgian Shepherd Malinois.
Mostly mistaken by an untrained eye as German Shepherd, these are not suitable for the first-time owners.
Reluctant to get a purebred? Let me give you a detailed information about this mixed breed, which will help you in taking a decision whether Shepinois is a perfect match for you.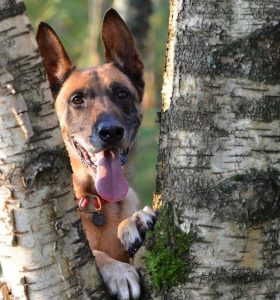 ALL YOU NEED TO KNOW ABOUT GERMAN MALINOIS MIX
History and origin of Shepinois
Although much information regarding the place and date of origin about this breed is unknown, there are various facts and details available about their parent breeds. Knowing about the history of the parent breeds (German Shepherd and Belgian Malinois), will give us a brief idea about the Shepinois.
History and origin of German Shepherd
Understood from the name itself, German Shepherd originated in Germany in late 1800s. Officially named as Alsatian after the First World War, this wolf like appearing dogs are considered as modern breed dog and got its name German Shepherd Dog (GSD) in 1977.
Mainly known for herding, these dogs are often preferred for disability assistance, police work, search and rescue mission and even for military purposes due to their brilliancy, endurance level, easy to train feature and obedient nature.
As original purpose for breeding this group was to herd flocks, they developed into great barkers.
They are recognised by American Kennel Club.
Famously known as Rin Tin Tin in Hollywood, a German Shepherd was a survivor of a dog kennel destroyed by bombardment during World War I.
History and origin of Belgian Malinois
Pronounced as Belgian Malin-wa, this breed was originated in the city of Malines in late 1800s and was registered as Chien de Berger Beige in France and Belgium.
Popular among military and police, they served as working dogs carrying out tasks such as detecting stench of explosives and drugs, search and rescue, and searching out human under suspicion.
When aptly introduced or nurtured together, they are good with children and other four-legged friends. Being protective, at times they can be possessive and jealous too.
Belgian Malinois are very good at skydiving. Given a proper training, they can be good at solo jumping too.
During the world war I, these dogs served as messenger and Red Cross assistants.
Interesting facts about Shepinois/ Malinois X
Truly possessing best of both the parent breed, the name Shepinois is given for its simplicity.
Club Affiliation and recognised names
Classified under 'Designer dog', they are recognised by the following groups:
Dog Registry of America, Inc.
Designer Breed Registry under the name "Malinois X"
Designer Dog Kennel Club under the name "Malinois X"
American Canine Hybrid Club under the name "German Malinois"
This distinctive mix of two pure herding breeds, has a life expectancy of 10 to 14 years.
On an average, a full grown Shepinois can weigh anywhere from 40 to 90 lbs.
Male Shepinois typically weighs around 65-90 lbs, while female weighs around 45-70 lbs.
Normally they weigh around 56 lbs as the age of 6 months, then 75 lbs at the age of 12-18 months maturing around 90 lbs when they are full grown.
Shepinois grow tall up to 26 inches varying depending on the gender. Usually, females are 2 inches taller than males.
Their size increases from 18 inches at the age of 6 months to 23 inches as the age of 18 months.
How to recognise a Shepinois?
Shepinois may look like either any one of the parent breeds or can have a resemblance of both the parents.
This flat headed canine has triangular shaped erect ears and almond shaped dark brown eyes. Their muzzle is bit longer with dark black nose.
Compared to longer features of German Shepherd and Square like appearance of Malinois, Shepnois have a fairly balanced build.
Appearing to be a compact version of its parent breed German Shepherd, Shepinois has collar-like long fur around its neck, just like the Belgian Malinois.
They have dense coat fur varying from medium to long in length. Their double coat varies in different combination of colours such as white, blue, black, brown and light yellowish tan.
Though very straight in texture, their double layered coat is very harsh, rough and shaggy.
Sensitive to anaesthesia, this pooch has fewer genetic inborn predisposition. But you should watch out for following concerns:
Allergies
Bone related problems
Hip abnormality
Elbow abnormality
There are certain major health concerns such as
Progressive vision loss due to degeneration of retina
Deficiency of Pancreatic enzymes
Gastrointestinal problems
Progressive disease of Spinal Cord
They can also be occasionally diagnosed with cataract looking like a white disc behind the iris.
There are some occasional tests needed to be performed such as
Wellness examination
Complete Blood work
CT scan
MRI
Urine examination
Blood test
Spaying or neutering is advisable to avoid any health issues.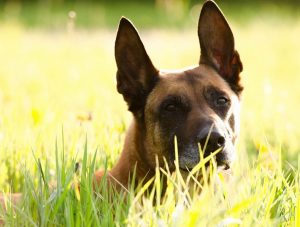 Personality and Temperament of a German Malinois Mix
Always wanting to seek your attention, this pooch is an adorable and a loyal companion.
Deriving their rationality from the parent breed German Shepherd, Shepinois is a highly active and very smart canine. They are very easy to train, requiring very few repetitions.
They have natural sixth sense of protection which makes them a perfect watchdog. They survive in a family environment protecting their owner and family.
Bred specifically to be ferocious protector as working dogs and not to be a random friendly dog, Shepinois are aggressive and confident dogs.
They possess very powerful and well-build teeth causing their bite to be very lethal and can cause extreme harm.
If you try to tease them by pulling their ears or tail, be ready for a ferocious retaliation. Early socialisation will help them to gel very well with kids and other pets around.
The moment they sense some danger and strangers around, no matter inside or outside the house, they will start growling with high pitch.
Grooming needs of a German Malinois Mix
Brushing coat
This canine requires brushing their coat almost daily during their shedding season and mostly two to three times per week in normal days. Generally, they have two shedding periods.
Hard bristled brush is used specially for detangling and keeping the coat shine intact.
Dental needs
Their sharp and lethal teeth should be brushed almost thrice a week. However brushing daily is always advisable for a cleaner health. Regular dental exams should be conducted with professional vet.
Bathing needs
Bathing this hybrid daily is not necessary, as this will affect the coat's look and shine. They should be bathed only on need basis when they are very dirty, taking care the essential oils in their coat are not affected much.
They do not drool so much, and they are not so smelly, giving them a leeway for daily bathing.
Ears and Eye check ups
Do not insert anything into the ear to clean or examine any damages. The ears should be clean regularly checking for any infections in the ear canal. Regular eye exams are suggested by vets as they are prone to progressive vision loss.
Toenails should be trimmed regularly to avoid any issues with the daily routine activities and exercises.
Overall, they require very less maintenance to keep them fit and healthy with routine wellness check-ups.
Essential products and grooming accessories
Some of the essential and grooming accessories required for this hybrid are:
Pin Brush
Nail clipper
De shedder
Special shampoos and conditioners with natural ingredients
Leash and collar
Try out toys that will stimulate them mentally and physically such as interactive play toys, chewable toys, puzzle toys rewarding them with some treats when they solve it, etc.
Exercising and training needs of a German Malinois Mix
Exercising
This highly active breed needs lots of physical as well as mental exercises.
Be ready to take them for a walk at least 1 to 2 hours a day along with extra fun playful time in the backyard.
Shepinois has derived its high spirited and dynamic characteristics from the parent breeds – German Shepherd and Belgian Malinois.
They are highly adaptive canine, making them suitable for apartment style living. But the owners should be capable of fulfilling the exercising needs of this extremely energetic pup.
Making an obstacle course game for them, letting them sniff and explore around, playing nose work games with them, etc will stimulate them mentally.
Some of the fun games which will stimulate them physically are:
Playing frisbee with them
Use a flirt pole to play hide and seek
Chasing bubbles game
Some fun water games
Stuffing and food dispensing toys
DIY dog agility course
Meeting their exercising needs is a must, otherwise they will feel bored and frustrated. This will lead them to do destructive activities such as barking loudly, digging, trying to escape, etc.
Training
Being a quick learner, training Shepinois is relatively easy and fast.
Early socialization is the basic need for this aggressive pooch. Consistent obedience training right from the puppyhood is the key to avoid any misbehaviour towards anybody.
Don't forget to use positive reinforcement and reward-based training, which will help you to build a better relationship with your pup.
Punishment based training will make them more aggressive and reward-based training will make them learn eagerly. Specially this fearless and heroic breed will more likely respond well in the reward based positive training.
Respect training works wonder with German Malinois Mix. When a dog respects its owner, he/she is ready to obey any command.
It is advisable to house train them for the purpose of potty training. The two key rules for housetraining are:
1. Confinement:
Confine them to a area such as crate, or define an area using baby gates or section off a particular area like a room or a corner. An absolute no to allow them to roam around the house freely until they are fully housetrained.
2. A designated place to go and its direct access:
Either take your pooch outside every few hours or install a pet flap/doggy door or DIY a bathroom by using newspaper or litter box.
Teach them right words in the correct ways and in proper manner. This will make them do what you say.
Tips for finding a German Malinois Mix
Mainly bred to serve the purpose of working dog, a companion of disabled and a watchdog, the breeders of this breed are found easily.
But beware of the unethical large-scale breeders who are after making money. They may charge high and you may not get a quality breed with good health conditions.
Home breeders are most likely the place you need to go to find a German Malinois Mix. This is because of few aspects such as
They usually have records of the parent's health.
They are experienced and knows exactly the temperament of the puppy and how to groom them.
They breed in such a way that there are less chances of any genetic disorder.
They are not in the money-making business.
Hybrids from these breeders are less likely to be distressed and violent.
Know about the temperament and early socialization about the pup from the breeders, to understand how to deal with them in adverse situations and train them accordingly.
Dietary requirements and restrictions
Generally, Shepinois has a moderate tendency to become fat, hence as such there are no food restrictions for them.
They require around 3 cups of high-quality dog food daily to satisfy their hunger. This should be divided in two or three meals during the day.
Give lots of proteins to this highly energetic pup. Consult a vet, to get the right amount of protein and fat according to their age and built. Protein will help their bones go stronger and fat will maintain their skin and fur quality.
A healthy Shepinois requires an average of 1 oz of water per pound of its body weight daily. It should be adjusted depending on the factors such as type of food they eat (dry or canned ones), age, daily exercises, medications and weather conditions.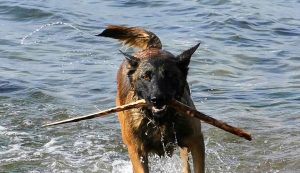 Adaptability of a German Malinois
Though these smarty pants require lot of exercising, they can be adapted (though not perfectly suitable) to apartment living given the fact that they are given enough play time and are taken for at least 2 hours of walk daily.
They have moderate tolerance level to heat but very easily adapted to colder regions, thanks to their double coat.
Given proper early socialization, they can be very good with children and fairly good with other four-legged pets.
They have a moderate tolerance level to being left alone for long hours.
Are you an ideal match for German Malinois?
If you are looking for police/military work or want a watchdog, you are an ideal match for this breed.
You are probably not an ideal match for this breed, if you are one or more of the following:
First time owner
With young family
Living in an apartment or condo
Not willing to commit ample time and energy for their training and exercising needs
With allergies
Cost involved in owning a German Malinois
Normally, a puppy will cost anywhere between $500 to $2000 depending on the breeders. Some breeders will include costs such as micro chipping, deworming, etc. If not, this will be an added cost you will have to incur.
There will be spaying/neutering cost involved and you will be need to buy collar, leash and a crate. All this may sum up to another one-time cost of $500.
There will be some obvious ongoing yearly medical cost involved in taking care of this breed. They may include pet insurance, shots, regular check-ups, etc. totalling up to $600 per year.
Few non-medical expenses such as toys, food, license, training, treats, etc. which may sum up around $950 yearly.
Pros and cons of having a German Malinois
There will be pros and cons in having any pet. Those of German Malinois are:
Pros:
They are highly intelligent and can be trained easily. They are great for events such as search and rescue, obedience events, police work, agility course, herding, etc
Great and loyal companion for active people who love to be on the toes all the time and go out hiking.
They form a very strong bond with the owners and are super emotional at times.
One of the greatest characteristics of this breed is their highly protective instinct.
They are considered to be very loyal
Cons:
Inherited from both the parent breeds, they are very aggressive in nature.
If not provided with early socialization, they not considered to gel well with kids and other pets.
Due to their well-built jaws, even a playful bite will make you cry out of pain.
Not best for apartment living.
Chances of hereditary health issues are fair.
Rescue Groups for German Malinois
The following are some of the rescue groups for German Malinois:
American Belgian Malinois Rescue, Inc. (ABMR)
American German Shepherd Rescue Association
The Malinois Ranch Rescue
Malinois Rescue League
Dutch Shepherd Rescue
Popular names for a German Malinois
Some of the popular Male names for German Malinois according to their characteristics are:
Gunther (French word for warrior)
Audrick (French word for noble friend)
Egon (German word for Strong with a sword)
Udolf (English name for a wealthy wolf)
Magnus (Latin word for great one)
Sander (Dutch meaning – defender of mankind)
Some popular female names are:
Belle (French word for beautiful)
Petra (German word for rock)
Bente (Dutch word for brave)
Gertie (Short form of Gertrude – German word for spear of strength)
Zara (Russian word for princess)
Similar or comparable breeds
If you are still looking for a perfect match similar to German Malinois, but not with the aggression and health issues like that of German Shepherds, you can look out for
Pure bred Malinois
Some other Malinois Mix
On the contrary, if you are looking for more of a German Shepherd kind, some of the choices are:
King Shepherd Breed
Wolfdog
Gerberian Shepsky
Other Shepherd Mix
Conclusion
Overall, Shepinois (German Malinois/Malinois X) are highly energetic breed with sharp intelligence and loyalty towards owner.
A rare combination of attention seeker and protector makes them a perfect family guard dog if provided with early socialization.
They might not be best suited to first time owners, but they make a great match for police work and search and rescue mission. As they are not hypoallergenic, they are not suitable for family with allergic conditions.
Time and again, they are used by United States Secret Service serving as a great working dog.
The mover and shaker personality of this high-spirited dog will draw your attention and amaze every bit of you.