So, you're thinking about adding a chinchilla to your family, but you've already got a dog that you love?
There is a way to introduce your new friend to your dog, and you can do it so that everyone stays happy and safe!
How To Introduce Your Dog to a Chinchilla?
Chinchillas can be a fun addition to any home, and making sure your dog gets along with your new chinchilla is so important. Taking the time to do a proper introduction can mean the difference between pets that get along safely and a tragic accident. Training, consistency, and dedication are the building blocks for a successful relationship between your dog and your chinchilla!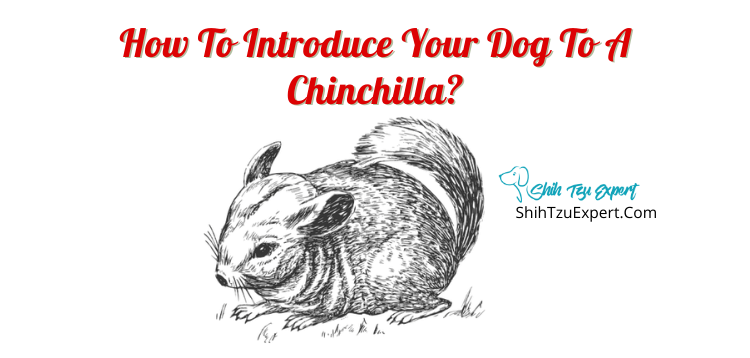 How Well Do Dogs and Chinchillas Get Along?
Dogs and chinchillas can get along, but it depends on a few things.
The introduction between your dog and your chinchilla is so important, and if it is done right and goes well, then your pets will be on the way to getting along like lifelong friends.
With the right conditions, your dog and your chinchilla can get along really well.
Can a Dog and a Chinchilla Be Friends (BFF)?
Your dog and chinchilla could become BFFs, if you take the right steps.
There are many people who have successfully introduced their dog to their chinchilla and gone on to have a peaceful and loving friendship betwen the two. So it is possible!
But just because your pets get along well doesn't mean that they should be left alone. Chinchillas and dogs are very different animals, so you should keep an eye on their time together always.
How To Introduce Your Dog to Your Chinchilla [Step by Step]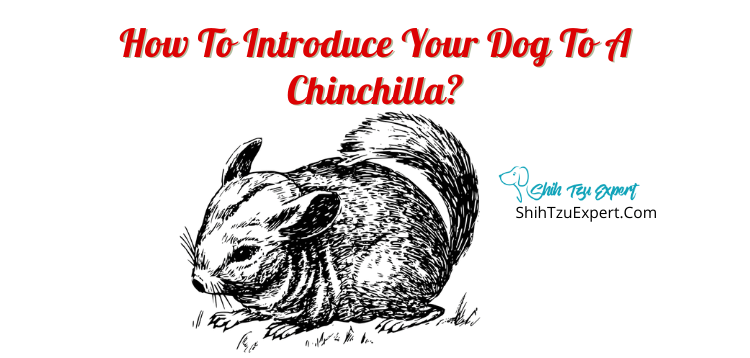 Try these steps when introducing your furry friends to each other for the best chance at success.
Tire out your dog so that they are calm – take them for a walk or play with their favorite toy.
Keep your dog on their leash the entire time you are making the introduction.
Keep your chinchilla in their cage. The best time to do the introduction is when your chinchilla is active, so later at night or early in the morning.
Let your dog sniff the chinchilla cage and get familiar with the scent and sight of the chinchilla.
Repeat this small introduction until your dog no longer reacts to the chinchilla.
Once they are comfortable with the cage between them, move on to holding your chinchilla, and then letting your chinchilla roam around.
Keep your dog on their leash until you know that they will not attack your chinchilla.
Remember that you should never leave your dog and your chinchilla alone together, even if they get along well.
Chinchillas are small, delicate animals, and your dog could easily hurt them even without meaning to.
Do Dogs Get Jealous of Chinchillas?
Whether your dog would get jealous of your chinchilla depends on the personality of your dog.
You can make sure that you spend equal time with both animals, and maybe give your dog some extra loving after bringing in a new animal so they know you're not replacing them.
Why Do Some Dogs and Chinchilla Not Get Along at All?
There are a lot of differences between dogs and chinchillas, and sometimes these differences are hard to get past.
Chinchillas are prey animals and will be smaller than your dog no matter what kind of dog you have. They sleep at night and are not super active all the time.
Your dog, on the other hand, is excitable and playful during the day. Dogs are also predators, descended from the wolf.
Because of this they have something called a "prey drive". There are different levels of prey drive, from high to low.
Dogs with a high prey drive are more likely to chase after and possibly hurt or kill smaller animals like rodents, birds, or lizards. So if your dog has a high prey drive, they probably won't get along well with a chinchilla.
How Can I Safely Determine How My Dog Will React to My New Chinchilla?
When trying to figure out how your dog will react to your new chinchilla, look at their past behavior when it comes to small animals.
Do they like to chase cats? Do they bark at squirrels in the park? If so, then they probably won't react well to adding a small rodent to the home.
You can also gauge their reaction based on if they have any training or not. If you know that your dog will listen to you over their own instincts, then it might be safe to get a chinchilla.
It would also be a good idea to research your dog's breed to see what their prey drive might look like.
Do Dogs Eat Chinchillas?
There is always a possibility of your dog attacking and hurting or killing your chinchilla.
If you have an untrained, high prey driven dog, then the likelihood of your dog killing your chinchilla is much higher.
Some dogs will kill and eat small animals if given a chance.
How To Keep My Dog from Eating My Chinchilla?
If you want to keep your chinchilla safe, don't give your dog a chance to hurt them.
Never leave your dog and your chinchilla unsupervised when they are together.
Make sure your dog is properly trained to be around small animals.
Take the time to make good introductions.
Why Did My Dog Attack My Chinchilla?
If your dog did attack your chinchilla, there are a few things it could boil down to.
Does your dog have a naturally high prey drive? Has your dog had any training on how to interact with small animals?
A high prey drive plus a lack of training will always lead to an attack if the two are not kept separate.
How Can I Train My Dog to Not Attack Chinchillas?
Hiring a professional trainer is always the best option, even if it's just to get you familiar with the basics of obedience training and to see what your dog responds best to.
However, if professional training is not feasible, try the following:
Start with the chinchilla in their cage and the dog on their leash.
Walk the dog close to the cage.
If the dog reacts (pulling, lunging, barking, growling, etc) sharply turn around and walk in the opposite direction of the cage.
Repeat until the dog no longer reacts.
When you are able to walk past the cage with no reaction, reward your dog with a treat!
Practice this routine daily for the best results.
My Dog Ate My Chinchilla: What Should I Do?
Unfortunately, this can happen.
Don't get another chinchilla until you have rehabilitated your dog.
Commit to a training program specializing in teaching your dog how to interact safely with small animals. You want to make sure that your dog does not become dangerous to other animals or people.
Can You Raise a Chinchilla with a Dog?
You can definitely raise a chinchilla with a dog!
If you get them both as babies, then they will get used to each other much more quickly.
However, just know that you would still need to take into account all of the previous advice: get a suitable dog breed, invest in training, and don't ever leave them alone together.
Are Chinchillas Harmful to Dogs?
Chinchillas are small prey animals. They do have teeth and claws, but they are naturally fearful and will run away before fighting.
As long as your dog is not allergic to anything your chinchilla needs, and your chinchilla doesn't have any diseases it could pass in the unlikely event of it biting your dog, then your chinchilla won't cause any harm to your dog.
What Dog Breeds Are Good with Chinchillas?
Dogs with a low prey drive could be good with chinchillas.
Breeds would include Golden Retrievers, Boxers, Great Pyrenees, Maltese, or Bichon Frise.
If you don't know your dog's breed, look at the way they interact with other small animals.
What Dog Breeds Are Not Good with Chinchillas?
On the flipside, dogs with a high prey drive WILL NOT be good with chinchillas.
Dogs like terriers, huskies, hounds, and chihuahuas have a very high prey drive.
Even with extensive training, these dogs will always have a higher likelihood of attacking your chinchilla and hurting or killing them.
Are Chinchillas Scared of Dogs?
Yes. Chinchillas are, by nature, prey animals.
They are small, even smaller than a teacup poodle, and they have evolved to be wary of anything that might hurt them.
Your dog will always be bigger and more energetic than your chinchilla, and it will take time to get your chinchilla to move past their biological fear of predators.
Why Is My Dog Obsessed with My Chinchilla?
Obsession can be good or bad when it comes to your dog and your chinchilla.
Some dogs get very excited when new members of the family are introduced and might want to be around them all the time until the novelty wears off.
Some dogs will fixate on something that they want to attack but can't get to.
If your dog is constantly hovering around your chinchilla's cage it could be either of these reasons, so make sure you watch them carefully to make sure they are behaving in a positive way towards your chinchilla.
Why Is My Dog Whining at My Chinchilla?
There are a couple reasons your dog might be whining at your chinchilla.
They could be super excited to meet them and it comes out through whining. They could be wary of the newcomer to the household and trying to let you know they're uncomfortable.
They could also be a little afraid of the unfamiliar smells and movements of your chinchilla.
How To Introduce a Chinchilla to a Dog?
You'll want to take all of the steps you would when introducing the dog to the chinchilla.
Once you know that the dog will react well, you can bring the chinchilla out of the cage and hold it on your lap while letting the dog sniff it.
If the chinchilla gets frightened, put it back in the cage and try again once it has calmed down.
Once your chinchilla gets used to the dog outside of the cage, you can let it wander around the room. Keep your dog on its leash so that you can keep it from getting too excited and hurting your chinchilla.
Do Chinchillas Live Well Together with Dogs?
The answer is: they can!
With proper introductions and given plenty of time to get used to each other, your chinchilla and your dog can live comfortably within the same house.
Can a Puppy Be Around Chinchillas?
Puppies are just dogs without any ingrained habits, making it a little easier to train them to be around chinchillas without hurting them.
It's important to remember that puppies have lots of energy and don't know their own strength, so they could easily bite or roughhouse too hard and hurt your chinchilla.
Because of this training your puppy is the most important thing to do before introducing them to your chinchilla.
But with training, your puppy should be just fine being around your chinchilla.
How Do Dogs React to Chinchillas?
Dogs are just like people in that each one is different. They have their own personalities and likes and dislikes.
Therefore, every dog will react differently to a chinchilla.
Some dogs might not care at all and ignore the chinchilla.
Other dogs might get too focused on the chinchilla – these dogs are the one more likely to attack it.
And still other dogs might bark, whine, lunge, or try to play with the chinchilla.
Are Chinchillas Scared of Dogs Barking?
Dog barking is loud and usually sudden. They don't give much warning before they bark.
Because of this, it will probably startle and scare your chinchilla.
After a bit of time your chinchilla might get used to it, but they probably will still hide when your dog barks.
Will The Chinchilla Attack the Dog?
Most likely no.
Your chinchilla's fear response will almost always be flight. They will run away before trying to attack your dog.
Even if your dog is encroaching on your chinchilla's territory, they will probably just hide.
How To Get My Chinchilla to Love My Dog?
Chinchillas are pack animals, usually living in colonies of a few hundred at a time, so they want to belong to a family!
Socializing your chinchilla and getting it comfortable being around other people and animals is one of the best ways to get love from your chinchilla.
Having your dog and your chinchilla spend time together (with you in the room) will get them comfortable with each other. Doing this consistently over time will deepen their bond.
[What Should I Do] My Dog Is Eating Chinchilla Poop?
Dogs eat poop. It's what they do.
You can prevent your dog from eating your chinchilla's poop by cleaning your chinchilla's cage regularly and keeping your dog away from it.
[What Should I Do] My Chinchilla Is Eating Dog Poop?
Keeping your chinchilla away from the areas that your dog poops will keep them from eating it.
Also, make sure they are getting all of the nutrients they need in their diet.
Will The Chinchilla Charge at My Dog?
Even if your dog is right in your chinchilla's space, their first reaction will be to run away and hide.
The odds of your chinchilla charging at your dog are very low. Aggressiveness can vary by gender though.
Are Dogs Afraid of Chinchillas?
Chinchillas are not threatening animals.
If your dog is afraid of your chinchilla it will be because of your dog's personality.
They might not be comfortable with new animals, or they might not be very confident, which can make them easily scared.
Do Chinchillas Make Good Pets?
Chinchillas can make great pets!
Do your research though, as they are not for everyone.
They are nocturnal, so they might keep you up at night. And they have pretty specific care needs. But they can form strong bonds with their owners!
How Much Room Does a Chinchilla Need?
Your chinchilla will need a cage at least two feet by two feet, and the taller the better so they can have things to climb on.
They will also need a dust bath box, which should be a little smaller than a toaster.
Is It Expensive to Raise Chinchillas?
Raising a chinchilla can be slightly more expensive than caring for other rodent types of pets.
You'll need a cage, entertainment items, a dust box, bedding, food, etc. Things like their bedding and dust box should be changed weekly.
And domestic chinchillas can live for twenty years, something important to consider when thinking about getting one.
Do Chinchillas Learn Their Names?
Chinchillas are smart little creatures!
With time, training, and repetition they can learn to recognize their name.
Can A Chinchilla Kill a Dog?
The only way a chinchilla could kill a dog is if it has a disease and scratches or bites the dog.
Can Chinchillas Become Emotionally Bonded with Humans Like Dogs?
Yes!
With time, socialization, and care chinchillas can form very strong bonds with their owners.
And, because they live so long, chinchillas can be your best friend for a large part of your life!
References
https://pethelpful.com/dogs/dogs-with-no-prey-drive
Chinchilla Lifespan and 10 Tips to Prolong your Chin's Life
Do Dogs Get Along With Chinchillas?
https://wagwalking.com/training/not-kill-small-animals