Dogs are curious, lovable pets that are easily adored and incorporated into the fabric of our families. But what happens when you try to introduce a new small pet, like a hermit crab, into your pack?
How To Introduce Your Dog To A Hermit Crab?
Introduce your dog to your hermit crab in a controlled, safe, and neutral environment for the best results. Be calm and provide plenty of time for the dog to approach, react, and learn about the new small animal. Watch for aggressive behaviors, such as growling and barking, and correct these behaviors in your dog so that he or she can learn that the hermit crab is a friend, not a foe. Allow your dog to sniff and have a short, controlled, positive experience when meeting a hermit crab.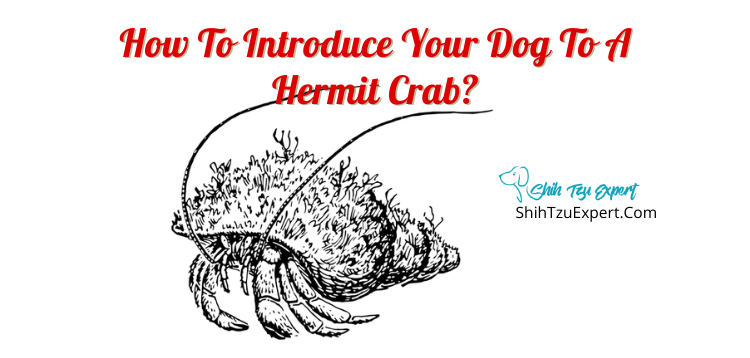 How Well Do Dogs And Hermit Crabs Get Along?
Dogs have a penchant for sniffing out anything new – including a hermit crab! While it's likely that the hermit crab will be fearful of the much larger canine companion, it probably won't stop the dog from wanting to get to know what's in the shell, and if the two can be friends!
Can A Dog And A Hermit Crab Be Friends (BFF)?
There are unlikely animal friendships all over the animal kingdom! It's not impossible that a dog and a hermit crab could come to be friends, but it would take a lot of training and adequate supervision to ensure that the bond is formed in a safe manner.
How To Introduce Your Dog To Your Hermit Crab [Step By Step]
Whenever you are introducing a dog to a small animal, proper precautions need to be taken to ensure that both animals remain safe. Follow these steps to introduce your dog to your hermit crab:
Set reasonable goals: your dog and hermit crab likely won't get along on the first try, so be patient and give each animal time to adjust.
Stay calm and proceed slowly. There is no need to rush an introduction!
Never leave the dog and the hermit crab unattended.
Introduce the dog to the hermit crab in a neutral location, such as an outdoor environment that the dog will not feel territorial over.
Don't force the interaction – let the dog explore if he or she wants to!
Watch your dog's body language and correct any aggressive behaviors. If you see aggressive behaviors, such as growling or hair standing up on the back of the neck, take a moment to separate the dog and the hermit crab until the dog has calmed down.
Limit time initially spent together and increase as your dog becomes more comfortable with your hermit crab.
Do Dogs Get Jealous Of Hermit Crabs?
Depending on the dog's personality, it's possible that he or she may be jealous of attention given to another animal, such as a hermit crab. Remember to give your dog special attention around the time you are introducing a hermit crab, or any small pet, into your home. It's normal for your first pet to feel anxiety and jealousy when a new pet is introduced.
Why Do Some Dogs And Hermit Crab Don't Get Along At All?
A hermit crab may be a tricky situation for a dog to understand – it's small, moves slowly, and has a hard shell around its body! A dog will try to pick up scent and discern what the hermit crab is, but still may be tentative to give it much attention. Hermit crabs may be fearful of dogs because of the size difference, and the curious energy that dogs possess.
How Can I Safely Determine How My Dog Will React To My New Hermit Crab?
The key is to limit exposure in the beginning of the introductory phase so that you can assess how your dog will react to the new pet in the home. Once you've determined if you dog will be accepting of the new pet, then you can move on to introductions.
Do Dogs Eat Hermit Crabs?
Dogs have a tendency to explore everything they come across, and one of the ways that they do that is with their mouths. It's possible that if a dog and a hermit crab are left unattended, the dog could eat the hermit crab, purely out of curiosity! For this reason, it's paramount that a dog and a hermit crab not be left alone.
How To Keep My Dog From Eating My Hermit Crab?
The best way to keep a dog from eating a hermit crab is to ensure that the two pets are always properly supervised. Never leave a hermit crab out of its cage with a dog present to avoid any accidents. Correct a dog's behavior if he or she is showing signs of aggression towards the hermit crab.
Why Did My Dog Attack My Hermit Crab?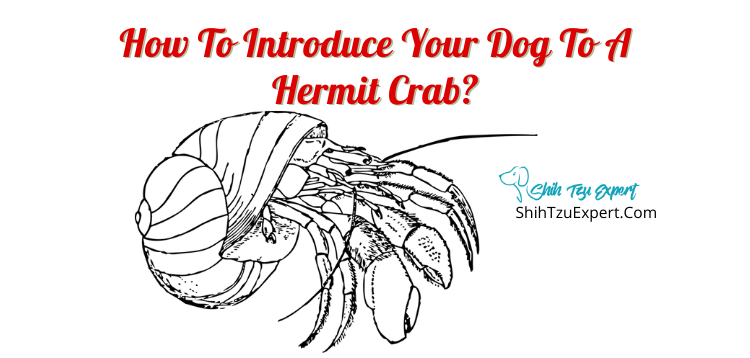 A dog may attack a hermit crab for a number of reasons. Dogs are curious, playful creatures that often put their noses, and mouths, in places that they don't belong. If a dog witnesses a hermit crab slowly moving, his natural instincts might kick in and cause the dog to attack the hermit crab. Some dog breeds are more naturally inclined to hunt than others, so if you have a dog breed that hunts small animals in the wild, extra precautions might need to be taken to ensure that the hermit crab isn't in a position to be attacked.
How Can I Train My Dog To Not Attack Hermit Crabs?
Dogs are remarkably smart creatures, and training can help to prevent a dog from attacking a hermit crab. Use commands such as no and off to train your dog to leave your hermit crab alone. If you notice your dog displaying aggressive behaviors towards the hermit crab, redirect the dogs focus to you.
My Dog Ate My Hermit Crab What Should I Do?
Although it may be traumatizing to learn that your dog has eaten your hermit crab, your first course of action should be to make sure that your dog has not suffered any injuries to his or her mouth from the incident, particularly if there were sharp edges on the hermit crabs shell. You should also pay close attention to your dog's bowel movements and overall demeanor over the next few days to make sure there are no internal issues from the incident.
Can You Raise A Hermit Crab With A Dog?
Dogs can be raised with small animals such as hermit crabs, so long as safety is a priority and there is a proper introduction period to allow both animals to become comfortable with each other in a controlled environment.
Are Hermit Crabs Harmful To Dogs?
Hermit crabs are not harmful to dogs, but if a dog consumes a hermit crab, close attention should be paid to the dog's appetite, bowel movements, and behavior changes to make sure no internal damage has been done.
What Dog Breeds Are Good With Hermit Crabs?
Dog breeds that are good with small animals, such as hermit crabs, are dog breeds with a low prey drive. These dog breeds include:
Maltese
Japanese Chin
Bichon Frisé
Cavalier King Charles Spaniel
Viszla
Golden Retriever
Boxer
Old English Sheepdog
Great Pyrenees
What Dog Breeds Are Not Good With Hermit Crabs?
Dog breeds with a high prey drive will not do well with hermit crabs. These breeds include:
Hounds
Herding Dogs
Terriers
Are Hermit Crabs Scared Of Dogs?
Because of the size difference between a hermit crab and a dog, the hermit crab will likely be fearful of the dog.
Why Is My Dog Is Obsessed With My Hermit Crab?
Some dog breeds instinctively have predatory behaviors, and many were bred specifically to be hunters or hunting companions. Because of this, many dog breeds will see the hermit crab as prey and become fixated on the small animal. Other dogs are simply curious creatures who want to investigate the new, small, moving object in their home.
Why Is My Dog Whining At My Hermit Crab?
When dogs are interested in something, but aren't sure what exactly it is, whining is a common reaction. A dog will whine to signify that it wants something – attention, food, a toy. Dogs also whine when they are experiencing anxiety or fear. All of these reasons could be why a dog would whine at a hermit crab, depending on the individual dog and his or her reaction to the crab.
How To Introduce A Hermit Crab To A Dog?
In order to help the hermit crab feel comfortable with meeting a larger animal, such as a dog, provide proper safety precautions. Holding the hermit crab in your hand is a good way to let the hermit crab feel safe while the dog approaches. Allow the dog to sniff the hermit crab, but correct any aggressive behaviors, such as growling, barking, biting. Cease the introductory period if the dog seems overly aggressive, or will not let up on aggressive behaviors.
Do Hermit Crabs Live Well Together With Dogs?
Hermit crabs are naturally social animals, and tend to like living with their own kind in a terrarium. Since a dog is living on the outside of this environment, there is no reason a hermit crab and dog can't live well together, so long as they both have their own spaces.
Can A Puppy Be Around Hermit Crabs?
It is not recommended that a puppy be around a hermit crab that is out of its terrarium, as puppies tend not to understand the difference between an acceptable item to play with and not.
How Do Dogs React To Hermit Crabs?
Dogs can react in a variety of different ways to hermit crabs, ranging from curiosity to aggression. When any new animal is brought into the home, a range of emotions from excitement to fear are all normal reactions for a dog to have.
Are Hermit Crabs Scared Of Dogs Barking?
A barking dog can be a stressful sound, so it's safe to say that a hermit crab might be scared of a dog barking. For this reason, try to place the hermit crabs terrarium in an area that it can be separated from the dog if necessary. Placing the terrarium in a room with a door that can close to help block out sound would be a great way to limit stress for the hermit crab.
Will The Hermit Crab Attack The Dog?
A hermit crab will not likely actively attack a dog, as the size difference can be quite vast. The only animal a hermit crab will knowingly attack is a snail, which a hermit crab will eat.
How To Get My Hermit Crab To Love My Dog?
First impressions are important – if a hermit crab is fearful of the dog during the initial introduction, it will likely not learn to love the larger animal. However, if the introduction is done in a safe, calm, controlled manner, the hermit crab will have less reason to be fearful of the dog.
[What Should I Do] My Dog Is Eating Hermit Crab Poop?
Because hermit crab excrement is so small, there is no real health risk to the dog for eating a hermit crab's poop. However, the behavior is not desirable, so training may help the dog learn not to eat the hermit crab's poop.
[What Should I Do] My Hermit Crab Is Eating Dog Poop?
In order to limit a hermit crab from eating dog poop, do not place the hermit crab in an area where dog feces is accessible to the small animal.
Will The Hermit Crab Charge At My Dog?
A hermit crab may give a warning to a dog by using its claws or moving towards the animal in an offensive position, however, a hermit crab will not likely charge at a dog because of the outstanding size difference.
Are Dogs Afraid Of Hermit Crabs?
Some dogs may be afraid of hermit crabs, simply because they are not sure what they are! A dog might bark, growl or whine at a hermit crab in an attempt to figure out what it is, or intimidate it.
Do Hermit Crabs Make Good Pets?
A hermit crab is a good, low-maintenance pet for an individual or a family. They are naturally social creatures who live to swim, climb and explore. A hermit crab might be a good pet for you or your family if you are looking for a small animal that is fun to interact with and doesn't require a multitude of care. The life expectancy of a hermit crab is between 5 – 15 years, so be prepared for an investment of time if you decide to get a hermit crab.
How Much Room Does A Hermit Crab Need?
Hermit crabs can grow up to four inches, so adequate space for them to maneuver and grow is required. A hermit crab will do best in a glass terrarium that is at minimum 10 gallons. Up to six hermit crabs can fit in a terrarium this size. If you are planning to own more than six hermit crabs, upgrading to a 20 gallon tank will be necessary.
Is It Expensive To Raise Hermit Crabs?
Because hermit crabs are small and require little, it is not very expensive to raise hermit crabs. The upfront cost of purchasing a terrarium and things to put in the terrarium, such as a bowl for water, food, plants, and things for the hermit crab to climb on will be the bulk of the cost to raise a hermit crab.
Do Hermit Crabs Learn Their Names?
A hermit crab might be able to learn its name, but it's more likely that it will learn the sound of your voice and be able to detect your presence by the sound you make, rather than it's name specifically.
Can A Hermit Crab Kill A Dog?
The only real danger a hermit crab poses to a dog is if the dog eats the hermit crab and the crab's shell had sharp edges. If this happens, the dogs mouth and digestive system can be greatly affected as the dog's stomach tries to process the shell. Close attention should be paid to the dog's behavior and reactions, such as if the dog is vomiting, refusing to eat, seems lethargic, or has blood in its stool. Contact your veterinarian if any of these occurs.
Can Hermit Crabs Become Emotionally Bonded With Humans Like Dogs?
Hermit crabs are social animals that love to live with their own kind and interact with their environment, including their owners! While a hermit crab won't be able to wag its tail or lick your face the way your dog might, it can definitely show you that it appreciates your company and enjoys interacting by doing things like crawling on you, coming partially out of its shell to great you, and being relaxed in your presence.
Why Is My Dog Petrified Of The Hermit Crab's Claws?
Some dogs are fearful of anything new – and a hermit crab's claws certainly fits into that category! Many dogs meeting hermit crabs for the first time may have never had an experience with a crab, and therefore will be curious and hesitant to approach the small animal and it's pinchers.
Introducing a dog to a hermit crab can be an exciting endeavor for both animals, but an important step for the two animals to coexist, and maybe even learn to like each other! To make it a positive experience, take your time and control the interaction so that both animals can learn that they are safe and loved by their owner.
References
What Animals Can Safely Live with Hermit Crabs?
https://www.luckydoganimalrescue.org/articles/tips-introducing-new-dog-your-household-pack
https://www.petmd.com/exotic/general-health/can-small-animals-live-dogs
https://pethelpful.com/dogs/dogs-with-no-prey-drive