Are you worried about your dog and guinea pig getting along? Most pet owners worry about first introductions with pets, after all the first introduction sets the stage for the rest of the relationship! So, how should you go about introducing your dog to your guinea pig?
How To Introduce Your Dog To Your Guinea Pig?
Introducing your dog to a guinea pig can be anxiety-inducing. As long as you are careful to slowly and carefully introduce the two a happy relationship can prosper. Always observe your pets for any unusual or aggressive behavior and never leave the two alone. Good luck to you and your pets!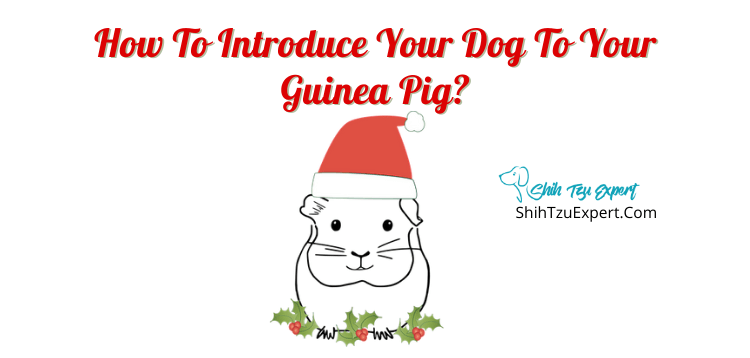 How To Introduce Your Dog To Your Guinea Pig [Step By Step]
Preparing Your Pet – To prepare your dog for the arrival of your guinea pig you should allow them to see you set up the space for your new pet. Allow your dog to adjust to the space the guinea pig will reside in as well as the scent of the area. Allow your dog to freely roam the space, smell the guinea pig's habitat, and give them lots of attention.
Creating a Safe Space – Seclude the guinea pig in their own room/space. Allowing the guinea pig their own space will allow it to adjust to the new setting without outside stresses. You should allow your guinea pig time to adjust before you begin the process of introducing your pets. Your guinea pig should be comfortable with you and their space.
Introducing Scents – As with many animals, dogs and guinea pigs use their sense of smell to help them navigate their surroundings. There are many to introduce scent, choose the one that works best for you and your pets. Help your dog link good behavior and reinforcements to your guinea pig. If your dog responds well to the scent introduction, reward them with treats to provide a positive association.

Introducing Scent Through You. Your hands, clothes, hair, and pretty much anything else that touches your pet will carry their scent. Simply play and snuggle with your guinea pig before heading out to your dog. If either pet reacts aggressively, stop the process and allow them more time before trying again.
Introducing Scent During Feedings. Having your dog's food bowl at the door of the guinea pig's room allows slow scent exposure. If things are going well you can consider feeding your dog inside of the guinea pig's room.
Introducing Scent With Fabric. If your dog sleeps with a blanket or has a favorite toy they hang out with, take it into the guinea pig's room and allow them to explore the scent. After your guinea pig has spent some time with the item, return it to your dog.

Meeting With a Barrier – Plan an introduction that keeps the two separated. Use a safety gate, cage, or anything that can provide a solid barrier between your guinea pig and dog. Keep the guinea pig in their habitat as well as the additional barrier to limit stress and danger. Reward for good behavior. Do not leave your pets unattended at any time.
Leashed Meeting – Put your dog on a leash, you'll want to have control in case anything goes wrong. Make sure your dog is calm, have them sit or lay. Provide treats and attention for calm behavior. Feel free to stop at this step. Allowing your dog to be unleashed around your guinea pig is a huge step and should only be done if you are certain your dog won't attack your guinea pig.
Full Meeting – Not all dogs and guinea pigs should be allowed to interact with no restrictions, and they should never be left unattended. If you believe both pets will be safe with no barriers or restrictions feel free to proceed, it is up to you to determine. Allow the pets to get close to each other. It may be best for you to hold the guinea pig to limit its anxiety as well as reassure your dog that this is a friend rather than foe. Continue rewarding your dog for calm behavior to keep the positive association.
Congrats! – If all has gone well you now have successfully introduced your dog to your guinea pig. Keep in mind that even the most gentle dogs should not be left unattended with small rodents such as guinea pigs. Always monitor your pets when they are interacting and intervene at any sight of anxiety or aggression.
How Can I Safely Determine How My Dog Will React To My New Guinea Pig?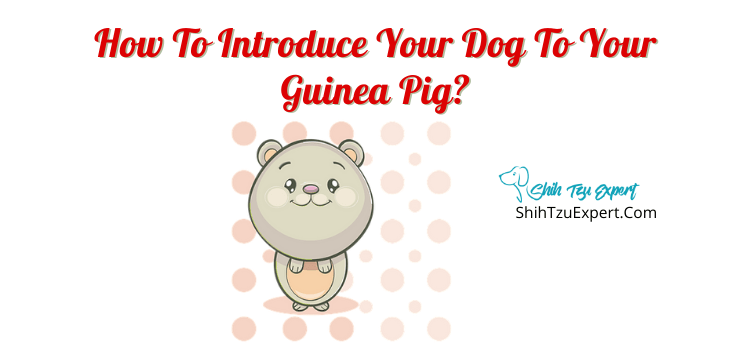 Determining how your dog will react to your guinea pig can be a tricky thing. First, consider how they react around other animals. If your dog has been around other animals, specifically smaller species or breeds, how did they react?
Your dog following basic commands such as "sit" and "leave it" is very important in the process of introducing them to your guinea pig. Commanding your dog to sit or lay can help prevent them from becoming over-excited. If your dog is getting a little too excited or nosy with your guinea pig, the "leave it" command is very important. Your dog following your command to leave the guinea pig alone could save their life, consider teaching this command to your dog before introducing the two.
How To Keep My Dog From Eating My Guinea Pig?
There are many steps you can take to make sure your dog does not eat your guinea pig. Firstly, follow the above-mentioned steps to slowly introduce your two pets to each other. Your dog needs to understand there is another pet in the house and that it is not a tasty new snack. Scent acclimation is very important, make sure that the dog has a positive association with the guinea pig's scent.
Never leave your two pets unattended. Even if all has gone well and your dog seems fine around the guinea pig things can change in an instant. Dog's can easily become over-excited and may not have the intent to kill the small animal but it happens anyway. Like many animals, dogs have a natural prey drive – specifically for small animals such as rodents and you can never tell when it will kick in.
If you are truly worried your dog may attempt to eat your guinea pig then only allow controlled interactions. Keep your dog leashed and your guinea pig in an enclosure if they are interacting. Fully cut out interactions at all if your dog continues showing signs of aggression, keep your guinea pig separated in their room. If you cannot completely isolate your guinea pig from your dog you may want to invest in a heavy-duty enclosure that could withstand a bit of fiddling from your dog.
Why Did My Dog Attack My Guinea Pig?
As stated earlier, dogs have a natural prey drive. Your dog will see small rodents such as guinea pigs as prey that they will want to hunt. Some have a stronger drive than others. If your guinea pig were to suddenly dart across the room your dog may follow their instinct to chase the prey. You cannot know for certain the exact reason your dog attacked your guinea pig so it's best to separate them. After an attack, you should cut out interactions and provide a safe and calm place that is inaccessible to your dog.
My Dog Ate My Guinea Pig What Should I Do?
If your dog has eaten your guinea pig despite your best attempts, it's a good idea to give your vet a call. There most likely will be no immediate risk to your dog as long as they do not choke on the guinea pig.
If your dog does choke, perform the Heimlich maneuver and immediately take them to an emergency vet to make sure no further damage has been done. Otherwise, small rodents are what they would naturally hunt in the wild and your dog may turn out just fine.
Calling your vet is still in your pet's best interest as they could pick up a disease from ingesting the guinea pig.
What Dog Breeds Are Good With Guinea Pigs?
While it is impossible to base whether or not a dog will react well to your guinea pig based solely on breed, some breeds that have a lower prey drive. Dogs raised to work with livestock such as Border Collies, Great Pyrenees, German Shepherds, and Newfoundlands naturally have lower prey drives and may respond better to your small pet.
What Dog Breeds Are Not Good With Guinea Pigs?
As some breeds are raised to have low prey drive, others are raised to have a high prey drive. Hunting dog breeds such as American Foxhounds, American Pit Bull Terriers, Beagles, and Bloodhounds may be harder to introduce or have a positive reaction to your guinea pig.
Are Guinea Pigs Scared Of Dogs?
Guinea pigs are very easily frightened, especially by predators such as dogs. To prevent your dog from putting excess stress on the guinea pig you should not allow them to sniff, nuzzle, or harass the small pet. Make sure your guinea pig has a safe space they can retreat to if they are feeling overwhelmed.
Why Is My Dog Obsessed With My Guinea Pig?
If your dog is exhibiting obsessive behavior it may be best to separate the two pets. Your dog could just be interested in the unfamiliar creature but there is a strong chance they see the pet as prey. You should separate your pets to prevent any harm.
Why Is My Dog Whining At My Guinea Pig?
The same way a dog whines for food, they may be whining as a sign that they want to eat the guinea pig. This is a behavior that warrants separating the animals.
Do Chihuahuas And Guinea Pig Get Along Well?
Chihuahuas were once brave hunting dogs. This past has instilled a high prey drive in the breed. Due to this high prey drive, it may be harder to acclimate a Chihuahua to a guinea pig, but each dog will be different.
How To Introduce A Guinea Pig To A Dog?
To introduce a guinea pig to a dog you need to move slow and steady. Introduce the new scents, surroundings, and objects before ever introducing your two pets. When your pets are used to the new scents and environment, move forward with controlled interactions. Take precautions such as barriers and leashes, reward your dog for calm behavior.
Do Guinea Pigs Live Well Together With Dogs?
It is possible for guinea pigs and dogs to happily coexist in a home. Each animal has a unique personality and this will determine whether or not they will do well together. It is important to consider the personality of your dog when introducing a small pet such as a guinea pig as not all will respond well.
Can A Puppy Be Around Guinea Pigs?
It can be harder to spot signs of aggression or prey drive in puppies. A puppy may also see the guinea pig as a playmate and cause unintentional harm in an attempt to engage in play. Consider waiting until the puppy is older and trained before introducing your pets.
How Do Dogs React To Guinea Pigs?
How a dog will react to a guinea pig all depends on their demeanor and prey drive. A dog with a calm demeanor and low prey drive should adjust well to a guinea pig. A dog with a more excitable demeanor and high prey drive may react aggressively to the new introduction.
Are Guinea Pigs Scared Of Dogs Barking?
Guinea pigs are easily frightened animals. Any loud sound such as a dog barking will scare them.
How To Get My Guinea Pig To Love My Dog?
Your guinea pig will most likely be afraid of a dog as they are a natural predator. To set the foundation for a happy relationship between the two it is important to follow steps to correctly introduce the two. A strong introduction will help the guinea pig to trust the dog.
[What Should I Do] My Dog Is Eating Guinea Pig Poop?
Some dogs will eat anything they can get a hold of. As long as your guinea pig is healthy and in a clean environment, there shouldn't be much to worry about. Guinea pigs can carry diseases so it is important to take either pet to a vet if they show any signs of illness.
References
https://wagwalking.com/sense/can-dogs-live-with-guinea-pigs