Although it is not likely, on occasion dogs can eat guinea pigs.
This article will provide some tips for what to do if your dog eats your guinea pig or their waste.
You should respond quickly in order to minimize harm to your dog.
My Dog Ate My Guinea Pig?
While dogs can on occasion eat guinea pigs or their waste, this is an easily preventable issue. Remember that many dogs are biologically programmed to hunt small rodents. Keep your dog and guinea pig in separate spaces in your house. Monitor all of their interactions and reward your dog for any positive attention they give your guinea pig.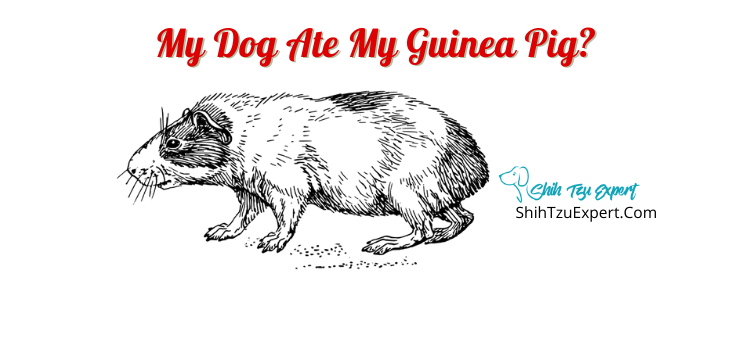 My Dog Just Killed & Ate My Guinea Pigs Out Of The Blue?
If your dog killed and ate your guinea pigs out of the blue, you need to monitor your dog's health. Look for vomiting or diarrhea. If the dog seems ill, take your dog to an animal poison control or veterinary clinic as soon as possible.
Moving forward, keep your dog and guinea pigs separate. They should never interact unsupervised, and guinea pigs should have a safe space away from your dog.
How To Train My Dog Not To Eat The Guinea Pig?
Guinea pigs and dogs must be introduced in a very cautious manner. First, introduce each others' scents to each animal but keep them in separate rooms. Then they can meet in a supervised setting where they can't physically touch, like if one is on a leash or in a cage.
Praise your dog every time they are kind to the guinea pig to reinforce positive interactions.
Your guinea pig should have its own cage or space away from the dog.
Why Do Dogs Eat Guinea Pigs?
Some dogs are trained to be hunters. They will instinctually hunt small rodents like guinea pigs. A dog's prey drive can take over and they will attack automatically.
Dogs can attack and eat guinea pigs if they haven't been trained to leave the guinea pig alone. Work with your dog to make sure they respect the guinea pig's space and leave them alone entirely.
Will My Dog Kill My Guinea Pig?
Whether or not your dog will eat your guinea pig largely depends on the dog breed.
Low prey drive breeds like border collies, golden retrievers, bichon frises, bulldogs, and pugs are less likely to kill your guinea pig.
Your dog also will not kill your guinea pig if it can't reach the rodent. Keep your guinea pig in a secure cage where your dog cannot harm them.
Will My Dog Eat My Guinea Pig?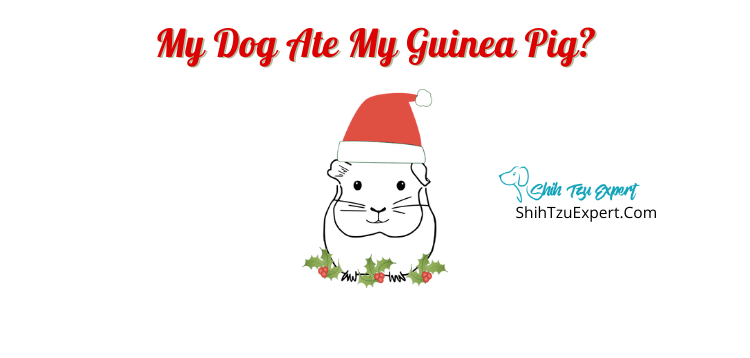 It is very unlikely that your dog will eat your guinea pig.
However, if they are a breed that hunts rodents instinctively, your dog could eat your guinea pig. Breeds that are more likely to harm or eat a guinea pig include terriers, schnauzers, dachshunds, beagles, Labrador retrievers, and foxhounds.
If you provide a proper introduction for your dog and your guinea pig, they are more likely to get along in the future.
How To Keep Your Dog From Eating Your Guinea Pig?
You can keep your dog from eating your guinea pig by doing two things: training and physically distancing.
Train your dog with lots of positive reinforcement for good behavior around the guinea pig. Give your dog treats for wagging its tail around your guinea pig, or for ignoring it entirely.
Physically separate your animals by making sure your guinea pig has its own caged-off area that your dog cannot access. Guinea pigs need a safe space where they can relax.
My Dog Attacked My Guinea Pig?
If your dog attacked your guinea pig, it's probably because your dog has been domesticated to fulfill a purpose, in this case, hunting. Some dogs were bred to sniff out and attack small rodents like mice and rats, and guinea pigs are around the same size.
Dogs might find attacking a guinea pig like a game, or they might not be familiar with the guinea pig.
It is your responsibility as the human in the house to supervise their interactions.
Best Dog To Live With Guinea Pigs?
The best dog to live with a guinea pig is a gentle dog with a low prey drive. Certain breeds were not made to hunt rodents and would be a good fit. These breeds include pugs, Irish setters, Cavalier King Charles spaniels, poodles, and Newfoundlands. Collies, boxers, and bull terriers are also more benign with smaller animals.
Can My Dog Get Sick From Eating Guinea Pig Poop?
For the most part, your dog will be fine if it ingests a small amount of guinea pig poop. However, in some cases, your dog can get sick from eating guinea pig poop. If a guinea pig is sick, it can pass transmissible diseases like LMCV and salmonella in its waste.
If your guinea pig was carrying harmful viruses or bacteria in their poop, it could make your dog sick.
My Dog Is Obsessed With My Guinea Pig?
If your dog is obsessed with your guinea pig, you need to monitor its behavior closely. Pay attention to your dog's body language.
If your dog seems playful, and its ears and tail are up, or if it lowers the front part of its body in an excited way, your dog might just want the attention of your guinea pig.
However, if your dog is stalking your guinea pig, lunging, or snarling, your dog might be obsessed in a bad way. In this scenario you should be careful to keep the animals separate and distract your dog away from the guinea pig.
Can Dogs Get Sick From Eating Guinea Pig?
If your dog eats a guinea pig, it can get sick. Transmissible diseases like pneumonia, LCMV, and salmonella can be passed from the guinea pig to the dog.
Guinea pig bones can also puncture internal organs in a dog. Keep a close eye on any vomiting or diarrhea that could indicate your dog is sick.
To lessen the impact, take your dog to an animal poison control or veterinary clinic as soon as possible.
Can Guinea Pigs Live With A Dog?
Guinea pigs and dogs can live in the same house, but they should have separate spaces where they feel safe (especially your guinea pig).
Dogs should never be left alone with small animals like guinea pigs, so make sure their interactions are always supervised.
My Dog Ate Guinea Pig Treats (What Should I Do Now)?
If your dog ate guinea pig treats, they are likely fine. Guinea pig treats tend to be mostly grass, with some vegetables and fruit like carrots and apples mixed in.
There are no ingredients in guinea pig treats that would be dangerous for dogs, like chocolate or cooked animal bones.
That being said, if your dog eats an excessive amount of guinea pig treats, or has vomiting or diarrhea in the 24 hours after consuming guinea pig treats, you should take your dog to the vet for treatment.
References
https://wagwalking.com/sense/can-dogs-live-with-guinea-pigs
My Dog Ate Guinea Pig Poop Will He Get Sick?