If you have shouted at your dog and believe that he or she is now scared of you, you might feel a lot of regret and wonder what to do next. If you're worried that yelling at your dog might have a permanent effect on your four-legged friend, or want to know how to apologise to him, read on to find our top tips!
I Yelled At My Dog And Now He Is Scared Of Me
When you yell at your dog, he might seem scared of you because he feels unsafe. The best way to move forward is to speak gently and calmly, and focus next time on reward-based training rather than yelling.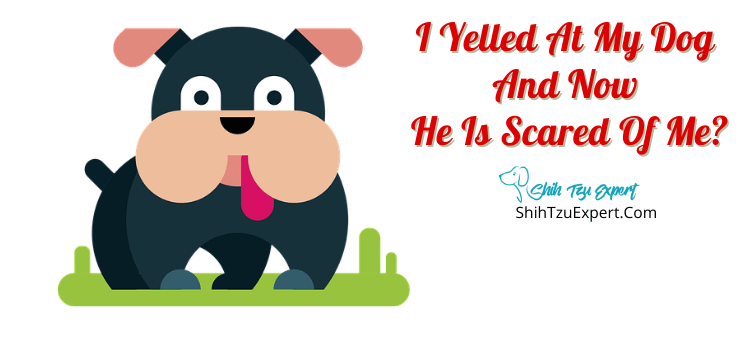 How Do I Apologize To My Dog After Overreacting For Bad Behavior?
If you want to apologise to your dog after you have overreacted, the main thing to focus on is your tone of voice. Talk to them calmly and soothingly in a comforting tone. The choice of words you use don't matter, but make sure they can understand what you are trying to convey.
You can also try to use words that they do understand, for instance 'good boy/girl'. It is also important to give your dog space, they may be frightened after you have raised your voice after them, so if you crowd them they might react badly, or their fears might be deepened.
Will My Dog Understand And Accept My Apology?
It's really important to show your dog that you didn't mean to scare them when you shouted or raised your voice at them. If you show your dog that your behaviour was unusual and that they don't need to be scared that you will do it again, they will be more likely to accept your apology.
While dogs may not have the capacity to understand what an apology actually is, they do understand you showing them love and positive reinforcement. Dogs are able to form associations to certain words, both positively and negatively. If you are using words that your dog has a positive association with, they will be able to feel comforted.
Can You Traumatize/Scare A Dog By Yelling?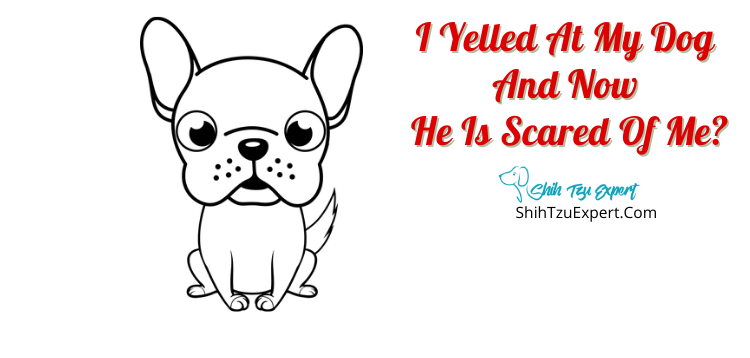 Yelling can stress and traumatise dogs. Raised voices are confusing for dogs, it may make them believe they are in danger and feel unsafe. If a dog feels unsafe, they are also more likely to exhibit aggressive, bad behaviour. If you repeatedly shout at your dog, he or she may feel neglected.
Shouting can also mean that your dog won't be able to display an emergency response. For example, if you communicate with your dog by shouting constantly, if there is a situation where you need the dog to respond quickly, for instance when crossing a road, they may not react in time.
I Yelled At My Dog And He Peed/Pooed?
If you shout at your dog and he pees or poops on the floor, it could mean that he or she is so scared that this is his automatic bodily response. Another reason that your dog may pee when you shout is due to something called submissive urination.
Submissive urination is when a dog pees to demonstrate that he isn't a threat to you and he is your submissive. Submissive urination is particularly common in puppies. In order to stop this process, the best thing to do is to make your dog feel safe and comforted, to absolve the need for them to display this behaviour.
Do Dogs Remember If You Yell At Them [Will He Ever Forgive Me]?
If you shout at your dog, you may be worried that they are going to remember what happened and resent you. However, it is important to note that dogs do not respond to situations in the same way that humans do.
Dogs do not have the same emotional range and complexities as humans do, but they are capable of feeling emotions such as fear and anger. If shouting at your dog is a one off occasion, you should be able to fix things by cuddling them and apologising. If shouting at your dog is a regular occurrence it may be harder for them to trust you again.
Do Dogs Get Over Things Easily?
Dogs are very trusting in general, which means that they may get over things more easily than humans. Dogs do however respond to patterns of behaviour, so if you repeat your negative behaviour, it is harder for your dog to get over, and easier for them not to trust you.
The good news is that it is very easy to maintain and gain your dog's trust, so try to move forward with your dog and work on building a better relationship. Dogs do have a good memory, so they may be wary around you for some time after you yell at them, but they should get over it with care and attention.
How Do You Apologize & Rebuild Trust With A Dog After Yelling?
There are a few key things to implement when apologizing to your dog. You should apologise straight away after you have yelled at your dog. This way, your dog can relate your apology to the fact that you have just shouted, so they might understand better that you are trying to say sorry, and what you are trying to say sorry for!
The second thing to do is make sure you are very calm and speak in a quiet voice. Dogs read our body language, so if you are communicating that you aren't a threat to them, they will feel safe and be more likely to trust you again.
Can You Hurt A Dog's Feelings?
You can hurt your dog's feelings when you shout at them. Even though dogs may not feel emotions the same way we do, they are still capable of feeling hurt, scared and even angry. Dogs can develop feelings of mistrust and even hostility when they are exposed to an environment where they feel unsafe.
When a dog's feelings are hurt, their behaviour can change and can take a very long time to fix in some instances. Similarly, when you treat a dog well and make sure they feel safe and loved, they will be happier and confident in themselves.
Do Dogs Know Why You Yell At Them?
You might believe that dogs don't know why we yell at them, but in fact they might understand the reason why! Dogs are able to understand differences in our behaviours and model their own behaviours in turn. If your dog behaves badly and you react by yelling, they might know that your shouting is a reaction to what they have done wrong.
There are tell-tale signs that your dog knows why you have shouted at them, for instance avoiding looking at the thing they have done wrong (for example ripping up a roll of toilet-paper!) whimpering, shaking or putting their tail between their legs.
How Do I Make My Dog Not Scared Of Me?
The first thing to do to make your dog not scared of you is to try and be patient. Because our dogs can't understand the words we use, communicating that they don't need to be scared if you can take time, perhaps longer than you might expect.
Other ways to help your dog not be scared of you are to avoid eye-contact with him or her. This communicates to your dog that you aren't a threat. You can also stroke your dog gently and give them lots of treats to show them that you are their friend.
Why Do I Feel Bad After Yelling At My Dog?
You might feel bad after yelling at your dog because you are projecting your own human emotions onto him or her. It is hard not to treat our pet as an extension of our human family, and it's easy to believe that dogs process emotions and feelings the same way that we do.
While it's true that dogs are affected by emotions like fear, anger, love and happiness, they aren't the exact same as humans. You also probably feel bad because you regret shouting at your four legged friend, which is normal – yelling at your dog is not an effective way to communicate with him or her!
Do Dogs Get Stressed When Owners Argue?
Dogs do indeed get stressed when owners argue. Dogs can detect changes in your tone of voice and body language. If you and the other owner of your dog are shouting or arguing with each other and your body language is defensive, your dog will react to this.
When owners argue, your dog can become stressed as he or she believes that they are in danger. Dogs are also very sympathetic, so they may be worried that something is wrong with you or your partner as the owner.
What To Do Instead Of Yelling At My Dog When Frustrated?
Yelling at your dog is not productive, because he or she can react in a negative way. Instead of yelling, try and take time to calm down before reacting to your dog's behaviour. If you are guilty of being reactive and shouting before you have time to think, try and plan how you can react more productively.
Instead, try and correct your dog's behaviour by saying 'no' or even by reacting at all. Sometimes dogs do things to try and get our attention, so shouting or acknowledging what they have done at all is ingraining that behaviour in their minds as something they should repeat.
How To Be Gentle With My Dog When I Am Frustrated/Irritated?
It is sometimes hard to be gentle when we are feeling angry and frustrated at your dog, especially when we can't tell them how we are feeling with words. If you are trying to be more gentle with your dog, try taking a deep breath before you speak.
Next, try to speak to your dog in the same way you would speak to a young child. You can be firm, but fair. You wouldn't shout at a toddler, because they don't have the capacity yet to understand what they have done wrong. The same thing applies to your dog!
Why Yelling At A Dog Is Pointless? 
Using punishments such as yelling rather than rewards when training your dog can lead to negative behaviour in your pet.
Yelling at your dog can lead to them not trusting you.
Shouting can sometimes be mistaken for attention if your dog was trying to get your attention in the first place, reinforcing the behaviour.
Yelling can cause your dog to be afraid of you.
Your dog might also turn to destructive behaviour as a response to your shouting, such as ripping furniture or peeing inside.
Your dog might not understand the reason for you yelling.
Shouting can create an environment of fear and distrust, leading to your dog becoming affected negatively for good.
According to dogacademy.org, It is scientifically proven that reward-based training is much more effective when trying to train your dog.
I Yelled At My Dog & My Dog Growled At Me For The First Time?
When your dog growls, it is easy to assume that growling is a sign of aggression. When you yell at your dog and he or she growls, you might think that their growl is them 'fighting back', or talking back to you. Actually, the best thing to do is to view a growl as a form of communication.
Your dog might growl to show you that they are scared, or unhappy with the way that you have spoken to them. Or they might growl to communicate with you that something is wrong.
Why do I Yell At My Dog Out Of Frustration/Anger, And Have A Short Temper With Him! [What Should I Do]?
The reason that you might have a short temper with your dog is because you feel as though you are not in control of the situation. When we feel out of control, it is easy to be frustrated and have a short temper, and when the cause is your dog, it can be easy to take this frustration out on him or her!
The best way to stop this is to realise that your dog is not human, they need a lot more patience and time dedicated to training. Dogs won't learn as quickly as humans do, and they won't always behave perfectly.