Giving a puppy their first bath can be difficult and it is important to make it a pleasant experience.
In this article, we take a look at several common issues people have when giving puppies their first baths.
First Bath With Puppy Went Horrible
Sometimes the first bath can be traumatic for both the owner and the pup! So don't have too many expectations. Just prepare the pup, everything you need to bathe him and most importantly yourself to face anything. Hope for the best but be prepared for the worst! If this is your first pup, or you haven't had much experience with pets then probably you should invite a friend or a relative to give a helping hand.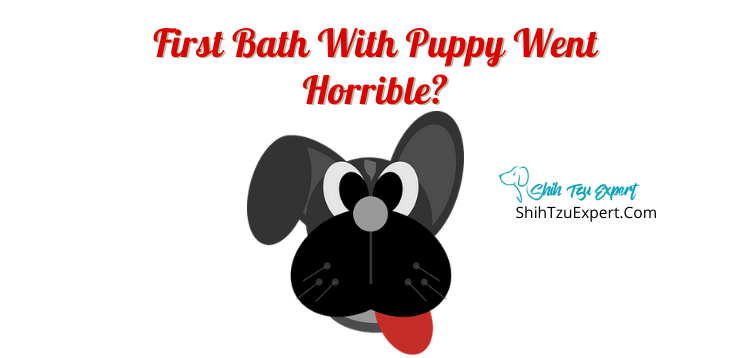 Why Is My Puppy Traumatized After Bath?
Puppies are constantly learning about their new surroundings and having new experiences, especially if you just brought them home. Putting them into the bath can be a scary experience and cause a huge amount of stress.
My Puppy Tries To Bite Me When I Give Him A Bath?
If your puppy is trying to bite you when giving them a bath, it is likely he feels as if he is in danger. Attempting to bite you is a way for him to protect himself.
It is important to calmly and gently expose your puppy to bathing and water in general.
My Puppy Won't Let Me Bathe Him?
It is vital to build trust with your puppy as soon as you bring him home. Without trust, he will not understand that by bathing him you are trying to help him.
What Are Some Effective Puppy Bath Hacks?
Brush your puppy before putting them into the bath. Doing this will remove tangles and help the shampoo penetrate the hair better.
Use a rubber mat in the bathtub to give your puppy tractions. Slipping around may cause them to fear the bathtub.
Place their favorite waterproof toy in the tub with them to help them feel comfortable.
Smear a spoonful of peanut butter or canned cheese on the wall to keep your puppy occupied during bathtime.
How To Give A Puppy A Bath That Hates Baths?
If your puppy hates baths to the point that it is traumatizing, you should find alternatives. Maybe he is scared of the running water and the faucet. Loud noises are often frightening to puppies. Skip the faucet and have small pre-filled buckets of water to gently pour over him.
How To Bathe An Anxious Puppy?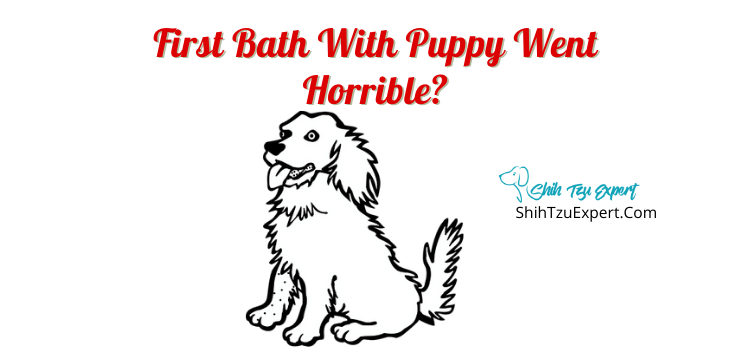 The keys to bathing an anxious puppy are:
Build trust in your puppy. He needs to trust you are not trying to hurt him.
Start slow. For the first bath, simply place them in the tub with no water just to get them used to the new environment. Slowly build up from there.
Make it a positive experience. Do not discipline the puppy or force him to do something he does not want to do.
How To Make Your Puppy Like Baths?
Make it a positive experience! Bring their favorite toy to the bath, smear some peanut butter on the wall, give them good scratches and rubs, or promise (and deliver) on a treat after the bath.
Making a bath a fun and positive experience for your puppy will teach them to love bathtime.
My Puppy Loves Baths [Is That Normal]?
It is absolutely normal for puppies to love baths. Some dogs, like people, simply love water. Puppies that love water and are extremely playful will likely love bathtime.
Why Is My Puppy Aggressive After A Bath?
Oftentimes, puppies tend to be very hyper after a bath and this is confused with aggression when it is likely excitement. The puppy could be relieved to be done with the bath, or just happy after having fun and want to run around.
If your puppy is aggressive after a bath, they could be injured or in pain. Contact your veterinarian immediately.
Should You Give A New Puppy A Bath When He First Comes Home?
It is not recommended to give a puppy a bath as soon as he is brought home. The puppy will be in sensory overload and likely scared of its new environment. Giving a puppy a bath before he is ready could potentially traumatize him further.
When Can Puppies Be Bathed For The First Time?
Puppies should not be bathed until they are 6-8 weeks old. Bathing a puppy too early can cause illness as they have a difficult time regulating their body temperature.
Can A Puppy Get Sick After A Bath?
Yes, if a puppy is bathed too early in its life it can get sick after a bath. Puppies do not regulate their body temperature well and an early bath can cause them to become chilled.
Puppies can also become sick after a bath if the water is too cold or a large amount of water gets in their ears leading to an ear infection.
Do Puppys Like Being Clean After A Bath?
Puppies will ultimately enjoy being clean as dirt and grime can make their skin itch and mats in their hair can become uncomfortable.
Why Do Puppies Frap & Throw Zoomies ?
After a bath, puppies tend to get extremely excited. This is likely cause by their relief of being finished with the bath and their excitement of what just occurred,
It is completely normal for puppies to have "zoomies" after a bath!
How Do I Dry My Puppy After A Bath?
As soon as you get the puppy out of the bath, they are going to want to immediately shake to get the water off of them. Afterwards:
Puppies with short hair can simply air dry after a bath.
Puppies with thicker coats can be toweled off. Extremely thick coats may require several towels to get dry.
Some puppies may eventually tolerate a blow dryer to get dry. Do not blow dry a puppy until they've had a few baths as this can traumatize them and make them fear bathtime.
Can You Bathe A Puppy At 8 Weeks Old?
Yes, a puppy is old enough at 8 weeks old to be bathed.
Best Way To Wash A Puppy?
The best way to wash a puppy is slow and steady. Be prepared with your supplies beforehand. Do not expose the puppy to several new sensory experiences at once. For the very first bath, have the water already in the tub for the puppy as the loud faucet may scare them.
When Should You Bathe A Puppy Regularly?
Once your puppy is 8 weeks old, you can safely bathe him on a regular basis.
How Often Should I Bathe My Puppy?
It is important to research the breed of the puppy to determine how often he should be bathed based on his coat type. Wash a puppy when they are visibly filthy.
In general, wash a puppy once or twice each month until he is six months old and then at least twice per year after that.
What Do I Need For My Puppy's First Bath?
For your puppies first bath, have the follow items prepared:
Slip-proof mat
Bath brush or comb
Shampoo and conditioner
Cotton balls for ears
Washcloth
Plenty of towels
Positive reinforcement such as treats and toys
What Is The Best Place To Bathe A Puppy?
The size of your puppy will determine the best place to bathe him. For medium to large size pups, your household bathtub is probably the best option. Small puppies can be bathed in a sink or series of buckets. Washing outdoors is also an option if the weather is suitable and the puppy is comfortable.
What Is The Best Bath Water Temperature For Puppies?
Dog-temperature water is considered 102 degrees Fahrenheit. It is important to make sure the water is not too cold or too hot for the puppy.
How To Dry The Puppy [Should I Let It Dry Naturally]?
Short haired puppies can air dry naturally in most cases. Puppies will immediately want to shake the water off their coats when the bath is finished. Longer and thicker haired puppies will need assistance in drying, either by towel drying or blow drying.
What Should I Do If The Puppy Is Scared Of The Hairdryer?
Try to acclimate your puppy to the hair dryer by making it a positive experience. Expose the puppy to the hair dryer while also offering high-value and delicious treats. The puppy will eventually associate the blow dryer with treats and come around to enjoying its time with the blow dryer.
Can A Puppy Bathe At Night/Evening?
Yes, a puppy can be bathed at any time during the day. If the puppy is bathed at night, make sure he is completely dry before laying down to sleep. Going to sleep wet can cause damage to the hair, and if the area is cold where the puppy is sleeping, it can cause illness.
Why Does My Puppy Get Sad After A Bath?
Puppy sadness is most likely fear and trauma and an overall dislike for what just happened to them. Try to make bathing a better, happy experience for the puppy and continue the positive experience after the bath is done.
I Gave My Puppy A Bath 5 Days Ago And Now She's Scratching?
Puppies may scratch after a bath for a few reasons:
The shampoo or conditioner used is irritating to her skin. Do not use human shampoo on pets, use only shampoo intended for pet use. Human shampoo will strip the oils from pets' coats causing extreme dryness leading to itching.
The soap may not have been completely rinsed out of the puppy's coat. Make sure the puppy is thoroughly rinsed during bathtime and there is no soap residue remaining on the puppy's skin.
Why Is My Puppy Scared Of Me After Trying To Give Him A Bath?
Your puppy is scared of you because he is scared of the bath and now associating you with the traumatic experience. If you force your puppy to bathe when he is scared, it will instill an overall fear of bath time in him.
Sources:
https://www.wikihow.pet/Bathe-a-Dog-and-Keep-It-Calm
https://www.thesprucepets.com/how-to-bathe-a-puppy-2804775
https://www.rover.com/blog/dog-hates-the-bath-advice-trainer-tips/