We may earn commission from qualifying purchases at no extra cost to you.
Learn more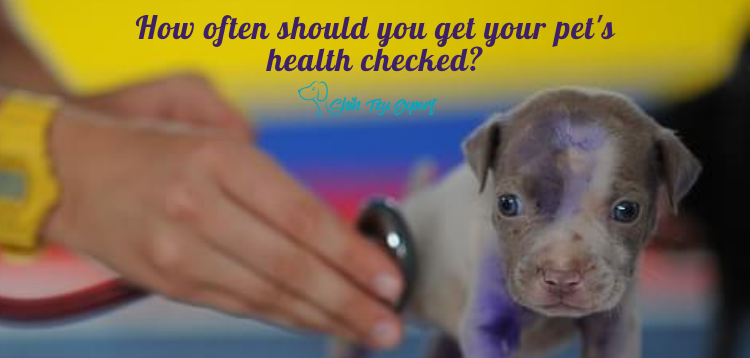 Keeping a pet is not free from regular investments both in terms of time and money. Just like the rest of your family members, your pet's health needs to be checked frequently to ensure that they are leading a healthy life and are free from harmful diseases.
Importance of regular check-ups
Let's think of a situation. Your dog has been sleeping more than usual and has also become weak because of his declined appetite. Would you like to see one of the most adorable members of your family in such a condition? In order to prevent this, you must ensure that your pet is treated regularly. Regular treatments of pets help in the early detection of any physical ailment and prevent the situation from being fatal. Furthermore, whether you own a cat or a dog, they can evidently suppress their expressions of pain and distress for a longer time.
For example, you got a chewy toy for your pet and a minute plastic particle gets stuck in his throat. Would you know before your pet shows signs of distress in breathing or choking? In such situations, detecting the problem at the first instance might be difficult unless it turns serious. As a result, regular check-ups not only help in maintaining the good health of your pet but also help in preventing most diseases.
Pet Insurance
With the growth in awareness about the importance of regular check-ups of your pet, pet insurances have also become popular. However, the pertinent question, especially for those having a pet for the first time, is 'What Does Pet Health Insurance Cover?' A pet health insurance provides a financial cover for your pet in the cases of accidents or sudden illness.
The amount of insurance cover provided is determined by the kind of pet insurance policy you choose for your pet. Overall, pet insurances are not very expensive in general and depend on the amount of premium that you choose. While some pet insurance policies cover almost everything that you need for your pet including grooming, brushing, and added care for your pet, the rest mainly cover the costs incurred in your pet's treatment. Thus, the kind of insurance is at your own discretion!
Types of pet insurance
Pet insurances can be of several types. However, the most common ones are as follows-
Lifetime pet insurance- This type of insurance covers your pet for their entire life with an option for you to renew every year. Starting from ordinary illnesses, veterinary charges to severe injuries, this insurance is one of the most comprehensive and all-encompassing insurance that is available for your pet. However, you should always check the policies of the insurance before making your choice to ensure that you and your pet can receive maximum benefits out of this.
Time-bound pet insurance- Time-bound pet insurance is extremely useful if you want an insurance cover for treating a particular disease in your pet. In this case, you do not have to keep renewing it. Instead, you can just opt for it for a period of time whereby the insurance would provide you the necessary support in times of emergency. For instance, your dog needs to undergo a serious operation. Under such a condition, you can use a time-bound insurance cover.
Accident insurance covers- If your pet has met with an accident, these insurance covers are indeed beneficial. They provide financial support for every such grave injury. Though it is one of the most affordable insurance covers available, they are not always competent in dealing with various health conditions of your pet.
How often should you take your pet to a vet?
The question depends on the kind of pet and its breed that you own. However, whether you own a cat or a dog, you should ensure that regular check-ups and visiting a vet should be a part of the regular routine of your pet. Most pets require a check-up every two months so that any ailment can be detected as soon as possible. Certain pet owners also prefer taking their pets to the vet every month. However, the frequency of the same also depends on various other factors.
Conclusion
As a responsible parent of your pet, it is essential that you include regular check-ups in your pet's routine apart from looking into their diet and exercise. It is a combination of all these that ensure the well-being of your pet and helps you to avoid situations where you might have to see your pet suffering. Thus, to go by the old saying, 'prevention is better than cure.'