We may earn commission from qualifying purchases at no extra cost to you.
Learn more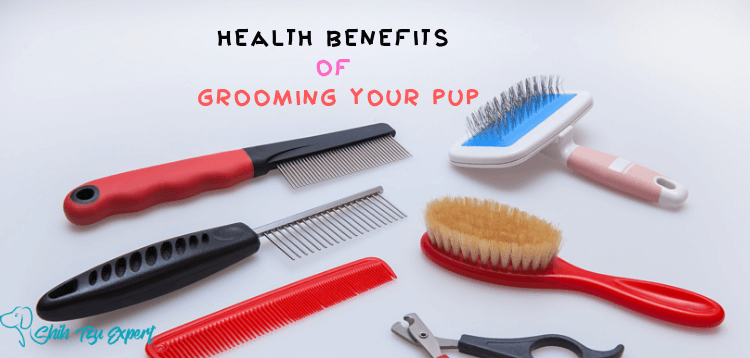 Grooming dogs is just a task that pet owners do blindly. We sign our pets up for grooming appointments like it is just another chore on the list. But why? and what are  the Important Health Benefits of Grooming Your Pup
If your answer is because they have that "doggy smell", mats, or so that they look spiffy for an upcoming family dinner- you will be shocked at what you are about to learn.
Many highly esteemed veterinarians have actually stated that this often overlooked task should be given more attention by dog-owners. Contrary to common beliefs, grooming isn't just a way to have a fresh smelling, clean-cut pup. It actually also holds an abundance of health benefits for your four-legged friend.
Grooming doesn't just act to maintain a sort of aesthetic value for your dog, but a deeper significance that could ultimately affect their well-being.
What is dog grooming?
On the surface, dog grooming is a way to maintain the physical appearance of your dog, similar to getting a hair cut for humans. However, there are a lot of steps involved in the grooming process aside from a mere haircut. Grooming is the action that results in a cleaner and healthier furry friend. From nails to skin, grooming involves crucial steps that are very much needed for proper animal care.
You can perform the grooming process on your dog yourself at home, or take them to professionals. If you choose to groom them yourself, there is the benefit of gaining time together. This creates a stronger bond between you and your pup.
Is dog grooming necessary?
Cats are able to groom themselves well. Does that mean that dog owners should assume their pets can do the same? Absolutely not. The grooming routine of a dog is much different and not as effective as that of a cat's. With this fact in mind, it is absolutely necessary to have your dog professionally groomed routinely.
Grooming holds so many benefits for your animal. Not only does it clean them up and meet aesthetic needs, but grooming can actually help to maintain the status of health in dogs.  Just like humans need to take care of our hygienic needs, dogs do as well. One of the main reasons that this should be a necessary task completed is because once a dog's fur becomes matted and long in length, it is harder to keep that area clean. Grooming resolves this problem.
Groomers are able to spot possible health problems that may otherwise fly under the radar or go unnoticed by owners. Grooming also stops and prevents possible injuries through ridding dogs of possible pests or paw problems – just to name a few.
Why is grooming animals important?
First and foremost, one of the most obvious answers to this question is the exact same reason that humans should bathe. It is a hygienic measure that just needs to be taken. Much like people, dogs need groomed in order to remove any excess dirt from their skin that builds up over time. This pent up collection could ultimately cause infections or uncomfortable irritations. It is important that this is taken care of in order to avoid any issues.
However, on a more important note- grooming your dog is a truly essential act of love and compassion. Don't let your pet feel neglected. Grooming will stop hair from getting in their eyes, will make them feel clean, and will ultimately lead them to feel more comfortable in their day-to-day activities.
A doggy spa day will remove any dead skin cells and hair particles, which will help the natural oil on their skins to replenish themselves. This oil will help keep your pet's coat shiny, healthy, and soft. It also improves the circulation of blood.
More importantly, groomers are able to spot possible health problems that may otherwise fly under the radar or go unnoticed by owners. A grooming professional is able to identify any suspicious lumps, pre-existing irritations, or even fleas, ticks, or other intrusive bugs.
Another aspect of grooming that can often be overlooked is the portion that relates to nail and paw health. Nails are usually trimmed during a grooming session, which can prevent any future injuries. Especially with active dogs, claws can become cracked or overgrown, leading to injuries or infection. It is also common to find small objects lodged in the paw of your furry friend, which would cause them discomfort. Again, a groomer would be able to identify any issues that a dog owner may not know to look out for.
Even just a simple brushing of the coat counts as a grooming habit. This will help your pet shed their excess hair follicles along with rid them of dander. This will ultimately help your household as well. Obviously, a clean smelling dog with rid your house of that dreaded dog-odor. If your dog sheds, you will notice less hair floating around and on your couches, curtains, and rugs! This is also especially great if anyone entering your home has allergies to your dog.
What do pet groomers do?
Pet groomers do far more than cutting the coat of your dog. A lot of their tasks are often overlooked, though they are equally as important.
Usually, your pet first gets their ears cleaned of any backup residue or unwanted fur growth. Their nails will also be cut- as the health benefits of this were discussed earlier. This is a very important step.
Next, the groomer will bathe your pet and rid them of any built-up dirt or dander that they have collected from their usual play. The result is a puppy that smells delicious and is feeling fresh. It isn't uncommon that a groomer will use soothing scented shampoos on your dog to relax them in a sometimes high-stress environment.
It is also important to realize that though this is so essential for a healthy pet, your animal may not enjoy the bathing process. Every animal is different, and a professionally trained groomer will be able to provide the proper care in any given situation.
After their bath-time, your dog will be blow dried and brushed to prepare for their upcoming hair cut. A simple way you can contribute to the grooming process on your own is by brushing your pet frequently. The benefits of this were discussed previously, but it is a note that you should remember.
Your dog will be placed on a nonslip surface for their hair cut, to prevent any slipping and sliding that could result in injury. In a majority of cases, dogs are placed in safe restraints so that they don't fidget and wobble during their cut.
What makes a good pet groomer?
While you can complete some of the tasks of a groomer on your own, it can be very difficult. Often, dogs won't sit still for your attempted spa treatments. There is also a large risk that you could be using improper techniques or tools, and could ultimately do more harm than good. Taking your dog to a professional is never a bad idea.
A lot of owners find it daunting to trust another person with their beloved friend. So, what makes a great dog groomer? Obviously, someone who you feel comfortable with. Good communication between owner and groomer is an essential part of the business. Relay your concerns or desires, and make sure that they are receptive.
Another quality that you should keep in mind is their experience level. Do they fully understand and are they able to provide you and your pet with the service you need? Are they able to do it in a manner that is safe and harmless to your pet? The last thing you want to have is your dog returned to you with an uneven haircut or knicks in their skin. Do they have the skills and dexterity that is mandatory to handling an animal? A great groomer must be very patient with animals, as often times they may be frightened or simply not in the mood for a spa day. They must have empathy and the ability to always handle the differing temperaments that they will meet.
In addition to experience, they must understand the basics of a dog and it's anatomy. Since their job entails searching for any possible health problems, they must be aware of what circumstances are suspicious and undesirable. They also must take into account what areas of the dog's body may need special attention and care when grooming.
What should you look for in a grooming shop?
You should always consider the cleanliness of the shop. This is a larger indicator of the service your dog will be given. If the groomers can't care for their shop, then that makes you wonder how they could possibly care for your dog. This is also a red flag in terms of germs and bacteria. You don't want your dog to get any sort of infection or health condition from dirt contaminating the equipment and tools.
If you walk into the shop and you notice an unpleasant odor, this is also a negative sign. You want to make sure that the business is well-ventilated. This contributes to a shop's cleanliness.
You should also keep an eye out for their credentials. This means that the skills of the groomer have been evaluated at a national level, which is a great indicator that they are highly qualified and knowledgable.
If you can't see the area in which the grooming process is taking place, this is not a good sign. What are they trying to hide by not letting customers see what exactly will happen to their pet? You should always be able to see exactly what is being done, how the animals are being stored, and the practices and temperaments of the employees of the shop.
What products are they using? You should make sure that the products they have in-house are going to not only work for your animal but also that they are safe. Especially if your pet has sensitive skin or allergies, you want to really watch out for what products are put on their skin.  If you see a groomer and they use human shampoo, you might want to double think the reliability of that specific business. You want to make sure that they use high-quality products to ensure that your pet is returned in a happy and healthy state.
Is it safe to use cat shampoo on dogs?
While it may not cause death, it is highly recommended that you stray from using feline products on canines and vice-versa. It is important to remember that the ph levels of the two species are vastly different. This means that while it may work well with a cat's skin and hair type, it may make your dog extremely uncomfortable. I highly recommend that you consult your veterinarian before mixing any products between species.
However, when it comes to products like flea treatments, you should never mix canine and feline products. Doing so can ultimately be toxic to cats and in most cases causes death. Do not mix medications across species.
If you are hesitant still, you could always check the website of the brand you're curious about. In their Frequently Asked Questions section, they may answer the question for you.
Healthy pet grooming
The amount of grooming that your dog needs really depends on the breed, their coat length, and owner preference. For example, a dog with a long coat will require a much more intensive grooming process as opposed to a dog with shorter hair. It is recommended that your dog is groomed, at the least, every three months.
However, as we have learned, there are several facets of grooming. Each of these different tasks really can have different timelines in terms of how long a dog should go between each session.
Short-haired dogs are recommended to be bathed about every 2 months, while long-haired dogs are recommended to have bath time every 3 weeks.
A dog should have their nails trimmed about every 2 weeks. However, if it sounds like your dog is tap dancing every time they walk, you should probably take care of the issue sooner. If you are trimming their nails on your own, be sure to have styptic powder on hand to stop any bleeding that results.
Trims should be done about once a month. This just ensures that the dog doesn't have too long to build up mats. It is also very important that the ears of your dog are frequently trimmed and checked during their trimming sessions. Ears are a prime spot for ticks and fleas to hide, and overgrowth of bacteria can cause ear infections.
Dental Hygeine
Did you know that dog's teeth should be cared for with the same attention and care as ours? I know, seems crazy… but it's true.
Your dog's dental hygeine is not a step that should be overlooked. While this is sometimes a task that is completed by your groomer, you should take it upon yourself to perform regular checks on them. Their gums and teeth can reveal quite a lot about their status of health.
In an ideal world, a dog should have their teeth brushed every single day. However, I understand that this seems close to impossible for many. On a more realistic note, 2-3 times per week is a good happy medium.
In order to make this task easier over time, you should start teaching your dog of this habit as early as possible. The sooner they learn what to do, the easier your life (and theirs) will be.
Be sure to use a toothbrush that has very soft bristles. If you can't find a toothbrush specifically for dogs, you can either use your finger or a brush designed specifically for children.
When it comes to toothpaste, you have to be very careful. Never use human toothpaste. Make sure that you purchase one that is made specifically for canines. The ingredients used in our own toothpaste can upset the stomach of our pets and become very harmful if swallowed.
To introduce the taste to your dog, put a bit of the toothpaste on your finger and let them lick it. This is the gentlest way to begin the process. Don't try to just put a toothbrush in their mouth, because that won't work in anyone's favor.
Slowly, try introducing the toothbrush. Lift their upper-lip to reveal their upper teeth. Scrub in soft, circular motions. Be sure not to neglect the gums, just like you wouldn't ignore your own. Again, it may take a while for your dog to warm up to the idea.
There are some signs that you should highlight if you notice, and you should visit a veterinarian to make sure all is okay. If your pet has bad breath, is constantly pawing at their mouth or face, has discolored or even broken teeth, bumps inside their mouth, or a discolored crust along their gumline, you should be cautious.
How to find a dog groomer near you
One of the most effective ways to find a great groomer near you is trusting the word of mouth. A great option is to ask your neighbors and friends for their recommendations. Whoever they suggest to you is a groomer that they have most likely heard or had positive experiences with. A positive reputation in the community is so important when making this decision. If your friends had good experiences than it is more than likely that you will too.
Another great and simple option is a quick web search. Googling "grooming salons near me" will return you several results. From there, you can do your research and read reviews, see pictures, and even contact the salon with questions or to set up a tour of the facility.
If you really want to play it safe, you could always ask your veterinarian for their recommendations for grooming shops that best fit your dog and their needs. A vet will be able to direct you to a safe, experienced, and knowledgeable location.
In Conclusion…
Overall, dog grooming is really an important step in caring for your animal. Not only will they look better, but they will feel better too. Just like when we shower and get haircuts, we are getting rid of dirt and any dead ends or knots in our hair. It is just a step that we do in our personal care routines. Your dog's routine should be no different.
As we have learned, grooming has so many unbelievable benefits. From health check-ups to pest detection, it is essential to make this a part of your dog-care routine.
A pet groomer has so many important tasks in order to successfully fulfill in their job. However, each task comes with so many risks attached. They need to make sure that they understand the animal that they are handling, both in temperament and health. They must use products that are safe and in ways that are of benefit. A groomer must have the appropriate education and knowledge in terms of dealing with pets. Hair trims can quickly become harmful, and they need to be executed properly.
However, once the entire process is complete, both you and your 4-legged friend will feel much better. Their skin will be free of built-up dirt, their fur will be eliminated of uncomfortable mats, and their paws will be fresh from their long claws.