We may earn commission from qualifying purchases at no extra cost to you.
Learn more
With so many different types of mixed dog breeds around, there is no shortage of personalities that you would find suitable for you or your family. This article will discuss what you need to know about the Shetland Sheepdog., from grooming, health and temperament. Then we will discuss what the various Mixed Breeds will have to offer.
What is this breed? All you need to know. 
When it comes to intelligence, the Shetland Sheepdog is no doubt one of the top breeds out there. Ranked number six, they are known for being able to listen and follow commands unusually fast. These dogs were bred on the Shetland islands where they were kept as work animals to protect their gardens from other dogs and animals. They were bred to be smaller than the Border Collie, because of the need to adapt to less food being available.  With their natural herding instinct, they are useful on farms to herd other farm animals. They were founded by the England AKC in 1909.Their size can range from 13 to 16 inches tall and although they usually weigh 22 pounds, they can end up to be around 40 pounds.
Health and Care 
The Sheltie is a healthy, energetic and active breed, but may have health problems that will show up around age two.  One health problem to be mindful of is Hypothyroidism. A sign of this is uncontrollable weight gain. At the first sign of problems, they need to be checked by the vet because they might need to be put on medication. Owners also need to look out for Collie Eye Anomaly, which is an inherited condition from the Border Collie that causes blindness. Other major conditions include Von Willebrand's Disease, Hip Dysplasia and Dermatomyositis.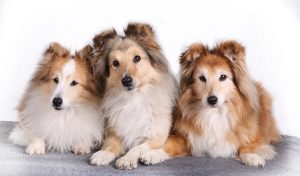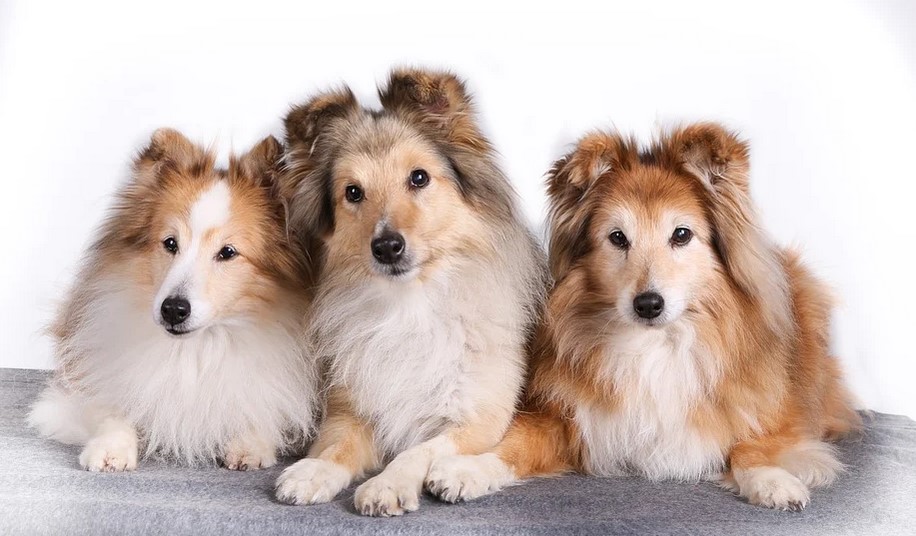 Temperament and Personality
The Sheltie Shepard loves to run, play, and chase things. But when it comes to being a family pet, you will not find a gentler and more affectionate dog. They can go from being very friendly to reserved. They make excellent watchdogs for the family, as they really love to be working. Because of the tendency to herd and to take control, be watchful if your sheltie will be around children. They could bite and chase, which is unacceptable behaviors in a household. But generally, they are excellent around children and will be very pleased to see their owners.
Since they are very intelligent dogs, it is easy to command them to stop barking at neighbors, which can cause annoyance because their bark tends to be loud and piercing.  Because of their working blood, make sure they have entertainment for themselves because they get antsy with nothing to do. They will usually stay obediently inside the house when the owners are not around, as long as they know you will come home later on to play with them. A fenced yard is ideal for them, so that you can play safety with them.
Grooming
Since the sheltie has a thick coat meant for colder climates, they will shed a lot. They have multiple layers of fir, a shorter undercoat and a longer coat on top.  It is important that when they get brushed, that their fir is always damp with water first. That way, when a pin brush is used on them it will go through easier. During the summer months when they will shed, they especially need more care than usual.  They need to be combed once a week, preferably more often. They do not need to be bathed very often as their top coat will protect the undercoat from getting dirty. Their teeth need to be brushed at least once a week.
Training and Exercising
How trainable is the Shetland Sheepdog? Extremely Trainable! They need activities like running to be able to get their energy out. Because of their intelligence and quickness, agility training is a breeze for them. They live on activities that activate mental stimulation because they are prone to boredome. They need at least an hour of exercise a day. They are trainable house pets, and great for families. The Shelties tend to bark a lot, so they need to be taught which behaviors are acceptable and which are not.
Dietary Requirements
Since this breed is so active, they need more food than the average dog.  About ¾ to 2 cups of high-quality food a day is necessary for them to be the healthy, energetic breed that they are.
Shetland Sheepdog Mixes
Before I talk about the various mixed breeds, here is a very important message about choosing
breeders
. Some business that claim to have healthy dogs are only in the field to make extra money. You need be very picky and choosy about which adoption centers, or reputable breeders that you decide on. Do they feed the dogs well? Do they have noticeable injuries or sicknesses? Are they happy? Have they given the dogs room to grow and play, or are they locked in cages and chained up? You do not want to support these puppy mills. Now that we covered this part, lets get on with the breeds.
This first one is sure a stunning mix. Because of the German Shepard side, this dog is very much bigger than the regular Shetland Sheepdog, and can weigh 75 pounds! Amazingly smart and loyal, they make the perfect family pet because they are gentle. Because of the Sheltie side, they have a very thick double coat that sheds easy. They will learn the commands and tricks you teach them at a young age. They have good energy and need lots of exercise. The lifespan can be more then 15 years.
The golden retriever is the perfect example of a best friend to humans. The Golden Sheltie also has a herding instinct. They can weigh a bit more, up to 55 pounds. With their intelligence and love towards family, they will be one of the best choices for a pet. They also learn tricks and commands, so even new dog owners will not have much trouble with them. From simply learning to live with humans, to tricky agility training, you will have the time of your life. The Golden Sheltie also has a thick coat, so weekly brushing is needed. The lifespan is about 11-15 years.
With both parent breeds known for being used as work dogs, its no wonder this mixed breed as a willing friend to take care of their family well. They are very friendly and willing to obey. They will even get along with other pets and animals Because of the Shelties double coat and the poodles thick curly coat, they will still require regular grooming, although they can be trimmed if you wish. They are not a very high energy breed, so just minimal exercise is and room to play is good for them. The lifespan is about 12-15 years.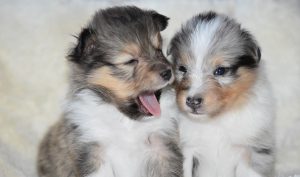 The Shih Tzus are very well known for being non aggressive, very loving dogs. Getting along with families and young children, they love cuddling. This breed is small and good for smaller sized apartments and houses. But because of the Shih Tzu blood, the Sheltie Tzu might need more time than other Shetland Sheepdog Mixes. They also have a double coat but they are low shedding and good for people with allergies. They still need to be groomed weekly to prevent matting. Their lifespan will be 12-15 years.
This little dog is so joyful to be around family members. They will play, but at the same time they will be cautious around strangers and will try to protect you. They might have destructive tendency's and separation anxiety, so be careful to train them well. They are also intelligent from both parent breeds and will follow commands fast. This Bichon Frise mix is prone to shedding during different times of the year and will need to be combed daily. Their lifespan is 13-15 years.
Because both parent breeds are very energetic, this mix of the Border Collie and the Shetland sheepdog will turn out to be a very lively breed with a lot of energy to work off. Since they are so good at agility, it is easy to show them off in dog shows. They might not be best around little children, but will do well around those who are calmer and stricter. They will train well as the Border Collie is known for intelligence. The double coat is easy to brush through but not exactly hypoallergenic. This breed is medium sized and has a lifespan of 12-15 years.
This breed is small and with the beagle sense of smell, they can be used for hunting. You would have to be willing to take time for training, since they have a tendency to be stubborn. Nonetheless, the Beagle Sheltie is a very sweet, non-vicious pet with lots of energy. They have a shorter coat coming from the beagle side, but they still need to be bathed and cleaned to ensure that dust and dirt won't get trapped inside the fir. The lifespan of the Beagle Sheltie will be 10-15 years.
It is safe to say that most Shetland Sheepdogs descendances have the tendency to herd others, as the Poshie is no exception. They are fluffy, cute, high energy dogs. Because they are playful, they are good to have around children. Coming from the Pomeranian side, they are curious and they have the drive to run and chase things. They need a lot of exercise as they could be destructive if, they are not stimulated enough. Despite this they are easily trainable. The Poshie is medium to small size. Their fir is long and require a lot of brushing to keep the mats out. -Their lifespan is 13-16 years.
The Shel-Aussie comes from the Australian Shepard, which were bred to heard cattle in the United States. With two working dogs combined, its no doubt this dog is good for obedience and very trainable. They need up to an hour of exercise but is good around family's and pets. They have a double coat, and because of this they do not do well in hot weather. This breed will shed a lot, so make sure they are well maintained. But they do not need baths because their fir is dirt resistant. The Shel-Aussie is medium sized and can weigh around 65 pounds.
These tiny dogs are very non- aggressive. They are playful and love to get involved with       family activities. They are quick to bond to you and very easy to train.  The Cava-Shell is shy toward strangers but generally well-behaved dogs. The fir is low- maintenance but will shed during season transitions. The activity level is high but they are easily satisfied with running around the yard or agility training with you. They are very small, only around 21 pounds. The lifespan will be around.
This Dachshund mix has a whole variety of personality traits! From being friendly to affectionate, to the hunting instincts taking over and being aggressive and independent, you will be sure to have an interesting addition to your family. If you have young children they will need to be trained well. They will warm up to the people they deem non dangerous. With activity levels high, make sure to exercise them at least an hour a day, and make sure they don't wander. They are good with playing catch and running. The fir is on the shorter side, but they are not hypoallergenic and will shed. Brush them a lot during shedding season. The size is very small and doesn't usually get to more then 20 pounds.  Their lifespan is 12-16 years.
This breed is an excitable little dog who loves to play but will also be just as calm with you. They will easily get along with other dogs. This Pug Mixed might have a tendency to become overweight, so make sure they are well exercised and given the right amount of food. They are typically easy to train out of their herding instincts, as they should be careful around children. You can even teach them agility training as they are intelligent. They have short fir that sheds, so keep up with brushing them weekly. The lifespan is 10-15 years.
This fluffy pup sure loves playing in the snow! The Eskland, American Eskimo Mix is a shy but hyperactive dog. It is easy to teach them new tasks by using voice commands and hand gestures. Although they love being in cold climates, they can adapt to the warmer climates. The fun nature makes them a great choice to have children around. They are around medium size and can do well in apartments. During shedding season their fir will need to be combed once a day to keep the house clean. The Eskland's lifespan is 10-15 years.
This breed is a loving and affectionate dog. One problem is the fact they like to chase things. So that their curiosity doesn't get the best of them, they need to be kept on leashes when out for walks and kept a close eye on when running around in the yard. Since both parent breeds are quick at learning, they will learn obedience quickly. They don't do well in hot weather so be careful when exercising them in the summer. The Cocker Sheltie is small sized so they are easier to handle. In order to keep up with their coat being so smooth and beautiful, brush them often.  The lifespan is only 10-13 years.
The Shelillon is a tiny sized dog with a bit heart. They are outgoing and can get along with humans and strangers very easily. You will need to train them though, so they don't suffer from separation anxiety. That's okay, because it just means they love you and want to be around you! They might be a bit rebellious, coming from the Papillion side. They are not as active so 30 minutes of exercising a day will suffice. Brushing is needed to keep the tangles out, but they are generally lower maintenence. Their lifespan is 12- 15 years.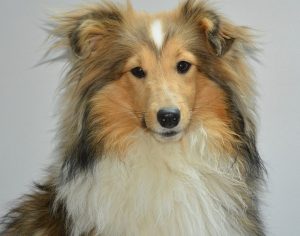 Although this breed can be a good companion to your family, it may come with a little difficulty as the Miniature Pinscher is known to want more independence. They will have to learn to be more comfortable around children and pets, as they are a little too excitable. The high energy makes them good for people who will go jogging and hiking, people who have a lot of time to spend. They will get bored, so they need to be able to learn more trick in order to have the mental stimulation it needs. The fir is short, so they will only need to be brushed a couple times a month, just as long as you are making sure the coat stays clean. The lifespan of the Sheltie Pin is 12-15 years.
Conclusion
Any Shetland Sheepdog mix is bound to be very intelligent and loyal to you and your family. Choose one that fits your needs the most, although some of them can be hard to find depending on where you live. Hopefully with the information in this article, you can happily know that you will make a friend for life, no matter which Sheltie Mix you choose!