It seems completely irrational for dogs to be afraid of the basement, it's just another room right? Here we explain some of the reasons why your dog might be afraid of your basement.
Dogs, generally, are scared of basements either because they sense that their family is or a sound or scent is triggering them to be alert. No ghosts thank God!
Why Are Dogs Scared Of Basements? Why Won't My Dog Go In The Basement [Why Do Dogs Dislike Basements]?
There are several reasons why your dog could be afraid of your basement, such as:
They sense your fear of it – dogs are very emotionally intelligent animals and are more often than not able to feel what their family feels, so if your dog is afraid of the basement, it could be that one of the members of your family also shares the same fear.

It's dark – just like humans, animals can be afraid of places that are dark because they aren't able to see any potential dangers that could hurt them.

Sounds are amplified – basements can often be full of open empty spaces which tend to amplify the creaks and groans your house makes, which can be scary for dogs as they do not know where the sounds are coming from or what they are.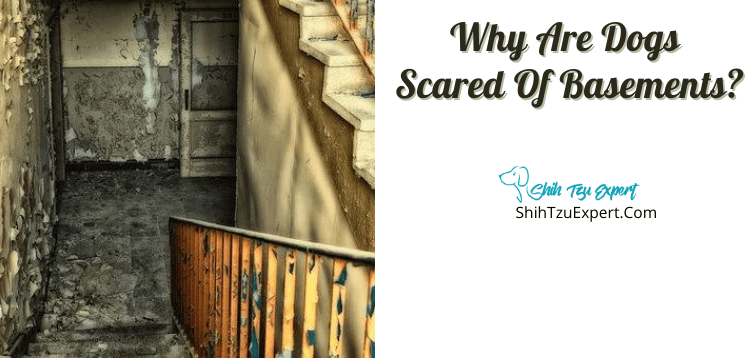 Dog Scared Of Basement Stairs (All Other Steps In & Out Of The House Are Fine!)
This could simply be because your dog is scared of the basement in general for one of the reasons listed above.
It could also mean that your basement stairs are in worse condition than the rest of the stairs and your dog either doesn't like the noises they make or feels scared and unstable on them.
Why Do Dogs Suddenly Become Afraid Of Going Downstairs To Basement?
When dogs become suddenly afraid of something, there usually has to have been an event in the recent past that triggered this new fear, like getting injured.
So if your dog has suddenly become afraid of the basement they probably experienced something frightening in there recently.
This could be anything from taking a harsh fall and hurting themselves to hearing a sudden loud noise and getting a fright, which they now associate with the basement or the basement stairs.
Is It The Basement Itself Or The Steep Steps & Slippery Stairs That Dogs Are Scared Of?
This is difficult to answer as it could really be either one.
I would say that if your stairs are old, steep, slippery or creaky that there is a good chance that it is the stairs that they are afraid of.
If you want to test which one it is, you can always try carrying your dog downstairs (if possible) to the basement and see if they calm down after you have gotten off of the stairs.
If your dog is scared of either and there is no reason that they have to be down there, it's best just to let them be and not force them down there though.
Is There Anything In The Basement, Like A Furnace, Or Washer / Dryer, That Might Be Spooking Your Pup?
If you do have a furnace, washer, dryer or other loud appliances kept in your basement, this could absolutely be the cause of your puppies distress.
It is important to take all factors into account though, and not assume what it is, there could be an easily fixable solution to the problem that you end up missing.
Is It All Day That He's Afraid Of The Basement, Or Only At Certain Times Of The Day?
Sounds can sometimes be more prominent or in fact, only exist during certain times of the day.
My boy refuses to go outside at night because he can hear the loud noises of things banging around in a trainyard that must be over a mile from my house!
This is because at night time there are fewer people out and about and less traffic on the road so he can focus more on other sounds that would otherwise be less prominent.
If this is a problem for you, where your dog is afraid of the basement at certain times during the day, I would work on their fear with them during the times when they are not so afraid.
Once they are comfortable in the basement at the less scary times you can work your way up to the more scary times. This way they will understand that the basement itself isn't scary.
How To Make The Stairs Safer And Easier To Reach For My Dog?
If your stairs are too steep for your dog it may be a good idea to restrict your dog's access to them as it's very difficult to make full-length stairs more accessible without building a new one.
If you can't build a new staircase and can't restrict your dogs access the only real collusion would be a doggy lift, these need to be installed by a professional though.
If the stairs are too slippery for your dog you can try to buy self-adhesive non-slip stair treads for the stairs, so they have a better grip on the slippery surface.
Basement Has A Slippery Floor/Laminate Floor
A great way to help a floor be less slippery is to use an anti-slip floor spray, this is easy to apply and will give you and your pets a lot more friction on your floors, plus you can do it yourself.
If this is not an option for you, another great one is to use rugs and doormats so there is less area of the slippery surfaces that you or your pets have to walk on.
How To Get A Dog To Go Down Basement Stairs
If your dog is afraid of the stairs, it is probably because they had a bad experience with them, so remember to be patient and encouraging instead of getting frustrated with them.
The best way to teach a dog that something is okay is to give them lots of affection and treats!
Encouraging them with a small treat for every step they make it down is a sure way to convince your dog that it is both safe and good to be on the stairs.
Be sure to give them lots of cuddles after finishing as it was probably very hard and scary for them to do.
How To Get The Dog To Like The Basement?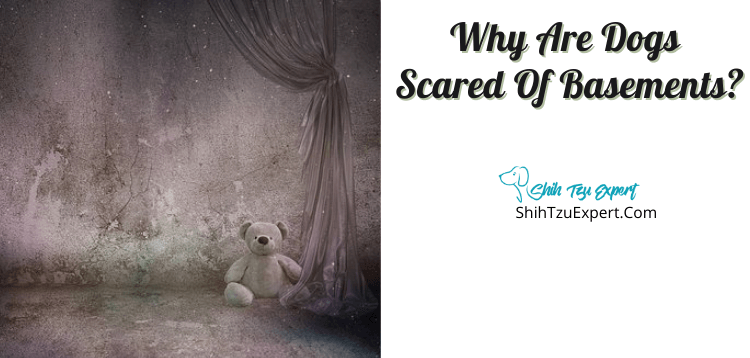 In my experience, the best way to get a dog to like a certain space is to do something they love in it.
So if your dog really likes to play fetch, try bringing their favorite toy down there and playing fetch with them for a while.
Or if your dog likes to lay down and spend time with you, bring a blanket down and curl up on the floor with your dog and read a book or watch something on your phone together.
The possibilities are really endless, the important thing is that you being there with them will teach them that it's safe and doing something they love will teach them that it's good.
You can also try buying a bed for them and specific toys that stay in the basement, you may even end up finding them down there on their own then!
How Do I Teach My Blind Dog To Go Down To The Basement?
First set your dog up on their lead (preferably with a harness for better control).
Start with only a few steps at a time, gently guide your dog down two or three steps, giving them treats and praise for each step they complete and then lead them back up to the top.
Once they become comfortable with this, you can increase the number of steps gradually, until they are able to go up and down the stairs confidently with little help.
If you want your dog to be able to do this on their own, try scenting the top and bottom of the staircase with something strong so they know where the staircase stops and starts.
Any strong scent that is safe for dogs, like lavender or ginger will work just fine for this.
You're going to want to do this with them off the lead the first couple of times but once you are confident with their ability you can let them tackle the stairs down to the basement themselves.
Is It Safe To Keep A Dog In The Basement?
The basement is just as safe a place to keep your dog as any other place in the house assuming you don't store anything dangerous down there.
The problem really is how long they are being kept there and whether or not it is ethical.
If your dog has free access to the basement and just has a bed down there then, of course, it is fine.
If your dog is being locked up in there away from people, that is absolutely not okay. For one it is cruel to deny them love and affection from the family by locking them away.
Secondly, if they are locked away you would not know when they needed the bathroom or if they injured themselves, which is neglecting the dog.
In short, only do this if your dog will still be able to be around people and will still be able to be looked after properly.
Will My Dog Get Cold If He Slept In The Basement?
This is another issue that can arise from your dog being kept in the basement, temperatures tend to be cooler down there but exactly how cold does it get at night?
As long as your basement is properly insulated and finished, it shouldn't get colder than 60°F which while cold, shouldn't harm your dog during their afternoon nap.
If you live in a cold area though, dogs should not be kept in a basement that isn't heated if they are not able to leave, as being cold constantly can make them sick and isn't very pleasant.
Dog Suddenly Only Wants To Be In The Basement?
If your dog has taken a sudden interest in the basement, they are probably just looking for some alone time away from everyone which is completely normal, they need it just as much as we do.
It could also be a sign that you have some rodents or other animals in your basement that your dog is trying to hunt. They are much better at hearing or sniffing out the little rascals.
Why Does My Dog Hide In The Basement?
As most people don't really go into their basements unless they have to, a basement is a good place to get some peace from people and the chaos that can be day-to-day life.
Your dog may be feeling anxious around people, or perhaps you have children who don't understand your dog's body language enough to know when to leave them alone.
It may be a good idea to have a talk with the family about boundaries for your dog if you find them doing this, they need space sometimes just as much as we do.
Why Does Our Family Dog Keep Growling At Me When I Come Out Of The Basement? What Should We Do?
There is probably a weird smell coming from something in your basement that they are reacting to.
Try bringing your dog down into the basement with you the next time you go down their and encourage them to explore and sniff around.
References:
https://app.lincoln.ne.gov/city/health/animal/responsible/dogs.htm
https://wagwalking.com/training/walk-down-stairs