Interactions between dogs and cats may be full of misunderstandings. They must be introduced with a clear plan of action; otherwise, dire consequences to their health and emotions can arise.
While many pet lovers hope to have both dogs and cats peacefully in their homes, they will need to develop a clear plan of action for proper introductions and interactions. There are many negative, but avoidable, outcomes when dogs and cats are not properly socialized with each other.
Why Are Dogs Scared of Kittens?
There are two schools of thought. Either dogs are afraid of hurting the small fragile kittens. Dogs fear the repercussions of hurting a vulnerable pet. The other explanation is they've had a bad experience with a nasty angry cat, probably being scratched!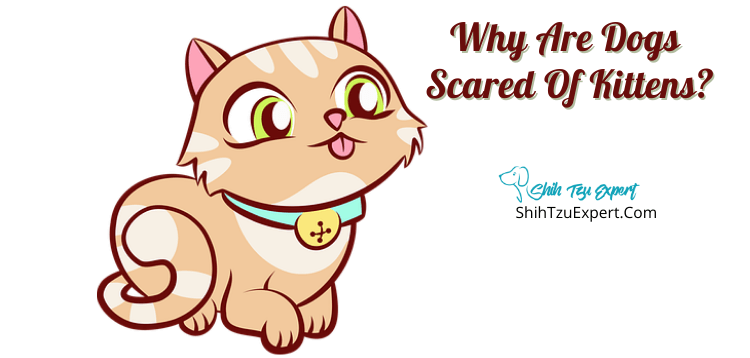 Why Are Dogs Afraid To Walk Past Cats?
It might surprise you to see a dog fear walking past a cat, but this isn't unusual behavior.
Dogs are social animals who have been bred by humans for certain traits. In contrast, cats are loners who are more similar to their wild ancestors. As a result, dogs and cats have different communication styles, which can lead to miscommunication.
As the more social species, dogs are more intimidated by cats and prefer to give them a wide berth.
What Do You Do When Your Dog Is Scared Of Cats? How Do I Make My Dog Not Scared Of Kittens?
If your dog is afraid of cats, you will need to train the dog to be relaxed around cats instead of focusing on soothing the dog.
There are steps you can take to reinforce a calm response to cats, including:
Early exposure: introduce your dog to cats in the early months of his life
Plan playdates: ask a friend with cats who have positive relationships with dogs to interact with your dog
Encourage cat interactions: these interactions should be supervised in a safe environment
Stay calm: if your dog shows signs of fear, stay composed and walk the dog away. A short time later, bring the dog and cat back together
Condition and reward: use training such as sitting, staying still, or laying down, and then reward your dog with a treat
Dog Scared Of Cat And Barking?
Sometimes when dogs are stressed, they will bark. To avoid creating a negative impression, you should encourage your dog to limit his barking.
Try using the training strategies to condition your dog to remain quiet around the cat. Positive reinforcement through praise and treats is key.
Cat And Dog Scared Of Each Other?
If your dog and cat fear each other, try to create a calm environment for both animals.
Cats are territorial and will need to feel like they have their own space. Cats are also naturals at climbing, so giving them an escape route, such as shelving or a cat tree, will alleviate some of their fears.
Dogs are also territorial and should be given plenty of exercises to reduce anxiety-driven behavior. You should also let your dog become familiar with your cat's scent, so he accepts the cat's presence.
Positive interactions between them should be reinforced with treats and praise.
Big Dog Scared Of Kitten?
While it may seem surprising that a big dog can fear a kitten, there are plausible reasons for this fear. A large dog may be aware of the size difference and is afraid of causing the kitten injury.
Also, even though a kitten seems sweet and cuddly, he could be behaving aggressively towards the dog, including hissing or swatting. Finally, your dog may remember a previous negative experience with a cat and now associates all cats and kittens with this experience.
Dog Lunging At New Kitten?
A dog lunging at a new kitten is a dangerous situation for both animals. If a dog lunges at a new kitten, it can mean a couple of things. Your dog might be excited by the prospect of meeting a playmate. On the other hand, your dog might view the new kitten as a threat.
Determining whether your dog is happy or threatened is key to eliminating this behavior.
Pay attention to your dog's body language to decide whether he is feeling friendly towards or threatened by the kitten. Follow the previously outlined steps to establish a calm environment, but you should also keep the dog on the leash until it is clear that he can remain relaxed around the kitten.
New Kitten Hissing At Dog?
If the kitten is hissing at your dog, she is feeling scared or uncomfortable. The new kitten will need time to adjust to interacting with the dog.
Make sure that you allow for safe, supervised opportunities for the new kitten and dog to interact. You should also provide the kitten with a safe space it can escape to, such as a location that is gated.
Can The Cat Harm My Puppy?
Cats can be intimidating opponents. They are excellent hunters due to their speed and quick reflexes. In addition, cats have sharp claws and teeth designed for attacking prey.
All these characteristics can be used against a puppy. While cats are smaller than dogs and many puppies, they can still pose a threat to the safety of a puppy.
Why Do Dogs 'Freak Out' When They See Kittens?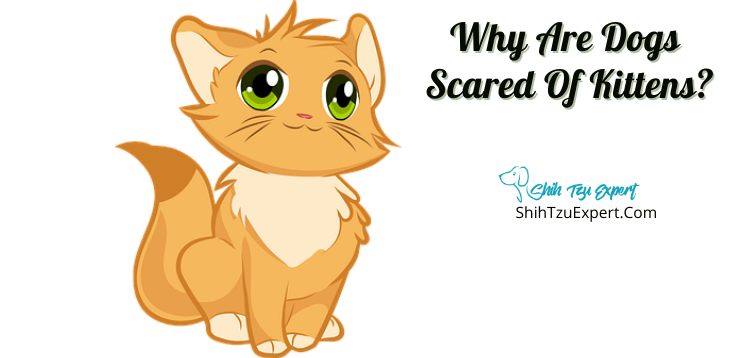 Many dogs have been bred by humans specifically for hunting purposes. As a result, many different breeds of dog have a strong "prey drive."
Kittens are high energy and full of playfulness. A dog might "freak out" at the sight of kittens because the kittens' movements are setting off the dog's instinct to hunt.
How Do I Train (Counter Condition / Desensitize) My Dog To Not Be Afraid Of Kittens/Cats?
To train your dog not to be afraid of kittens or cats, you should first keep in mind that this process will take time and space. You will also want to have a leash and treats on hand.
Before introductions:
Keep them separated in the house for a few days, so they can get used to each other's scent
Train your dog to "stay," "sit," and "leave it alone"
Prepare the room for introductions with an escape route for your kitten/cat, such as shelving or cat furniture
Leash your dog
Introductions:
Bring your dog into the room on leash with the cat in case your dog needs to be restrained
Calmly tell your dog to "sit" and "stay"
Allow the kitten or cat to explore the room
Stay calm and reward positive behavior from your dog with treats
Keep this first introduction short so that neither animal gets over-excited and ruins a positive first impression
Over the next few days, repeat the scenario with an increased amount of time together
Eventually, if your dog and cat are making progress, you can take the leash off your dog and use commands like "sit" or "stay" and treat rewards until they seem comfortable
What Not To Do With A Dog Who Is Afraid Of Kittens?
It is normal for a dog to be fearful of a kitten. If your dog shows fear of kittens, do not yell at him as this will increase his negative association with cats.
On the other hand, you should not try to soothe or baby your dog either. While consoling is a normal, empathetic response to observing fear in another, behaving this way will only reinforce your dog's fear of kittens.
Should You Comfort A Dog Scared Of Kittens?
It is a natural reaction to comfort someone in distress. However, if your dog fears kittens, comforting and consoling him will only communicate to your dog that his fear is warranted. If you want your dog to get over his fear of kittens, do not comfort him.
What Exactly About Kittens Is My Dog Scared Of (The Smell? Look? Noise? Sounds? Vibes?)
Dogs are social animals that are highly observant of the behavior of those around them. As a result, there are many reasons why your dog is afraid of kittens. If your dog has not been socialized with cats previously, there is a higher likelihood that he will fear kittens.
Your dog might be fearful of a kitten due to the size difference. He may be afraid that he will cause injury to the kittens.
Your dog might be frightened by the unique vocalizations of cats. The meows and hissing attract a dog's attention and can be intimidating. Dogs and cats have different approaches to communication making miscommunication more likely.
Dogs and cats also have different body language, which a dog unfamiliar with kittens would not understand. Kittens are very active and playful, but their play and body language may be foreign to your dog. This lack of understanding can increase fear.
Dogs are scent-driven animals. If your dog has not been exposed to cats, the unfamiliar scent could lead to uncertainty and fear.
Overall, if your dog is unfamiliar with cats, all of the new stimuli of kittens can elicit fear.
Puppy Terrified Of Kittens?
Introducing a dog to kittens when he is a puppy is the ideal timeframe to establish harmony.
Everything in a puppy's world is new, but new experiences can be overwhelming and intimidating. It is natural for a puppy to be initially fearful of kittens because they are unfamiliar. However, with repeated positive interactions and rewards for good behavior, a puppy will get over his fear of kittens quickly.
My Dog Is Getting An Increasingly Severe Fear Of Kittens?
It is natural for your dog to have an initial fear of kittens or cats because they are unfamiliar.
However, if your dog is showing an increasingly severe fear of kittens, he may do the following actions:
licking himself to excess
relieving himself in the house
whining
panting when he is not overheated
shaking
pacing
hiding
If your dog is demonstrating any of the above symptoms of increased anxiety or fear, consider using training and positive reinforcement to help him get over his fear of kittens.
Are Kittens Usually Afraid Of Dogs?
Kittens may be afraid of dogs initially because they are unfamiliar. However, kittens' personalities and attitudes are dictated by a combination of genetics and experiences.
If a kittens' parents were less prone to fear and intimidation, the kitten will likely be fearful of dogs. Further, if kittens are exposed to meeting dogs at a young age and have positive experiences with dogs, they will be less prone to fear of dogs.
What Dogs Are Bad With Cats?
Some dog breeds interact poorly with cats, and they are typically working-dog breeds, including:
American Pit Bull Terriers
Beagles
Australian Cattle Dog
Jack Russell Terrier
Siberian Husky
Greyhound
Weimaraner
Schnauzer
Older Dog Scared Of New Kitten?
An older dog may be frightened of a new kitten, especially if he has not been exposed to cats or has had a bad experience with a cat previously. If your older dog is exhibiting signs of anxiety or stress after introduction to a new kitten, then you may need to train your dog to feel comfortable around the kitten.
My Cat Is Harassing The Dog?
Cats are territorial animals and can view dogs as infringing on their territory. As a result, your cat might take to unleashing aggression on your dog.
Take note of your cats' communication with your dog and look out for the following signs of aggression in your cat:
ears flattened down
enlarged pupils
tail positioned down
whiskers pushed forward
hissing
growling
chasing
swatting
biting
Will It Take Long For My Dog To Get Used To The Cat?
While cats and dogs have different attributes and communication styles, they can learn to get along. With a logical plan for introduction, proper training, and positive reinforcement, your dog and cat can get used to each other within two to three weeks. But, how quickly this happens depends on their personalities and your adherence to a good plan.
When Will My Kitten Stop Hissing At My Dog?
When your kitten hisses at your dog, she is showing either fear or aggression. If your kitten's hiss is accompanied by a growl, swat, or bite, then your kitten is being aggressive and attempting to assert dominance over the dog.
If your kitten is only hissing, then she is likely frightened of the dog. You should take this as a sign to slow down the introduction process between your kitten and dog until the kitten feels safer.
Allowing the kitten to slowly get used to your dog should reduce her frightened hisses.
Dog Acts Weird/Scared/Sad/Lonely After We Got A Kitten?
If your dog is acting strangely since you got a new kitten, it is natural to associate this change in behavior with the presence of the kitten.
In this situation, it is important to analyze your dog's behavior. He may be frightened of the kitten. To alleviate some of the tension that arises from introducing a new kitten into your home, you may want to limit the interaction between the two pets.
Your dog may also be feeling a sense of jealousy due to the increased attention devoted to your new family member. If you suspect this is the root of the issue, then try to build more one-on-one quality time with your dog into your day.
Can & Do Dogs Bite & Kill Kittens?
Dogs are capable of biting and killing kittens. Biting can be part of play, but if the kitten shows signs of distress like running away or crying out, then the bite should be viewed as aggressive. Due to the size difference between most dogs and kittens, a dog showing aggression towards a kitten should be taken seriously. Because of the possibility of serious injury to the kitten or even death, it is necessary to separate an aggressive dog from a kitten immediately.
My Dog Killed The Kitten!
While it is natural to feel both shock and horror that your dog has killed the kitten, before deciding how to act, you should consider what happened in this situation and why. Many dog breeds are instinctually driven to hunt and chase prey; if your dog chased your kitten, he may have been overtaken by his instinctual impulses rather than an angry rage.
Will Dogs Eat Kittens?
Although dogs can and do kill cats for a number of different reasons, they generally will not eat a cat. Dogs have an instinctual drive to hunt, chase, and kill prey, which may urge them to kill a cat. However, they are not used to eating prey that they have killed, so it would be unusual for a dog to eat a kitten.
Why Are Dogs Scared Of Kittens?
Dogs may be afraid of kittens because they have either not had previous experience with kittens or their previous experiences with kittens have been negative. Dogs may be concerned about being injured by the kitten. Also, the dog may be worried about causing injury to the kitten due to their size differences.
Dogs are social animals, but they may be intimidated by the different body language and behaviors of a kitten. Also, because kittens are high energy, dogs may be frightened of the sudden movements emanating from an energetic and playful kitten
References
https://www.avma.org/resources-tools/animal-health-and-welfare/socialization-dogs-and-cats
https://vcahospitals.com/know-your-pet/teaching-your-dog-to-stop-barking-on-command
https://www.psychologytoday.com/us/blog/canine-corner/201703/why-do-dogs-react-cats
https://www.wikihow.com/Get-Your-Cat-to-Stop-Hissing