We may earn commission from qualifying purchases at no extra cost to you.
Learn more
Tears Will Be Shed
If you have (n)ever been a parent of a newborn baby, after your first night listening to your puppy or rescue dog crying from its crate, you will quickly understand that those tugs at the heart-strings are real.  After a few more nights like the first, and you might feel like explaining sheepishly that you just aren't cut out for dog ownership!
Never fear.  Yes, tears will be shed, and some of them will be your pup's and some yours, but the more you understand about why your dog might be crying in its crate and what you can do for your four-legged friend, the better.
The crying, whines, and whimpers coming from your new pup can mean a lot of different things.  But first things first, so let's take a moment to remember that having a crate for your new doggy in the first place is the right idea.  If you are reading this and your new pup is either whimpering or still fast asleep in the middle of your bed, get ready to hear the case for crates and soon you'll dry your pup's tears.
 Let's take it a step at a time to discover ways to help your doggy relax inside a crate and stop her crying, so her owner can relax a bit more too.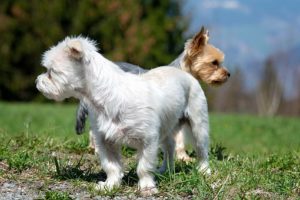 A Crate Appeals to Your Dog's Den Instinct
The story with crates is that they are like a den or a cool little fort for your dog  – remember the cool living room cushions forts as a kid?!  Wolves and wild dogs sleep in dens for safety as well to have a spot to be comfortable and even cozy.  Experts know that your urban or rural pooch also needs a doggy den, a happy place for seeking refuge from the hustle and bustle of the world of their two-legged friends.
Wild dogs are pack animals, and our dogs at home also like to be part of the family action.  And then every once in a while, like us, they want and need a spot to get away from it all.  Dens are enclosed, dimly-lit, relaxing places; giving your dog a place of her own for when she is over-tired, sick, or just needing a break from the dog's life can be a real gift.
Want more good news?  Wild animals do not soil their dens, and the crate for the dogs we are hoping to housebreak works the same way!  If you set your dog up well in a comfy crate and follow smart training tips, she will eventually feel secure in her den-away-from-home inside your larger house.  And best of all, she will learn as you train her to do her doggie essential business far away from her den-crate.
The Pros: Crate Training Has Multiple Benefits
Baby steps and keeping in mind the multiple benefits of crate training will get you and your pooch through the first early days and long nights of pet ownership, and so will practicing your yoga breathing and your patience!
If you don't own a crate yet, before you even begin with purchasing a crate and introducing your dog to it, remember that the ultimate goal of having a crate is for your dog have a secure place for herself where she
can spend a restful night without crying
.  (If you already have your crate, it may be already a perfect fit for your pup, or you may have a make-it-work moment on your hands!  Don't worry, and keep reading.)
Stay motivated by remembering that a crate will help contain your little chewing machine!  When you see proper crate training all the way through, then you no longer have to worry about the phone cords or your shoes you forgot on the floor or the wool rug from that great vacation.
The crate is also an important tool
when you are training your dog
to go outside to relieve herself.  Again, remember that your dog wants a clean den too, so you can work together with your faithful friend to successfully develop this skill.
If you stick with the plan and do your all crate training homework and practice, eventually your doggy will understand that she's always got somewhere to go during the fireworks and when the claps of thunder ring in storm season.
Have Dog, Will Travel:  Choose the Right Crate
Once you start scouring the market for what's out there, you will quickly see that there are tons of great options for creating the perfect den and matching your dog's crate with your new owner's lifestyle.
Depending on the model of crate you choose, some can double as your doggie-hotel on a vacation with family or friends.  Check your favorite airline's kennel specifications and pet travel regulations.
And while the crate offers many wonderful things for both the pooch and caring pooch-owner, it is important to remember that even once a dog grows to love its den, it should just be one of many areas for hanging out for a pup's healthy life.  You probably don't and wouldn't want to spend your whole life in just one room of your house; so let your pup enjoy the den and then you can both enjoy getting out and about together.
What to look for in the crate to dry your doggy's tears?  Ask yourself three simple questions:
What do I want the crate to be made out of?
How big or small should the crate be to best fit my dog?
Is it secure to leave my dog in this crate?
Using your common sense and some quick online searches, you can find answers easily to these questions that will let you find best crate for your dog.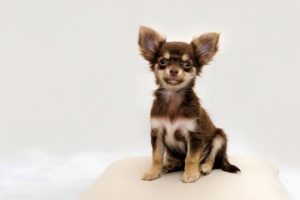 Make Doggy's Crate Homey
Whichever Crate you end up with, there are a few things to keep in mind.
Ease her into hanging out there.  Read on to find the step-by-step process in detail.  Just start with the idea the crate will be a fun-to-visit place.  Imagine that you are in charge of those home makeover shows for your pup's new digs.  Think yummy food, cozy dog bed or blanket, and top-rated "chewy" toys, like old shoes—you can design a real Crate Retreat.
Also remember that home is where the heart is.  Because you love your needy new doggy, consider where you want to place the crate in your home.  Can you see your dog?  Hear your dog?  Part of successful training and managing doggy mood's from the start will hinge on your quick response to your dog's whining or crying.
Hot tip!  You can control whether your dog can see you with a strategically-placed blanket.  Sometimes a nice dark room helps us all relax!
Take it Slow!  Great Crate Practices
 First: Have a housewarming party!  Give your doggy a chance to stick her nose in, grab a treat, and sniff around.
If you take the time to introduce your dog to the crate like she's a VIP, she will want to come back.  If like you invite the doggy to a fun place with a tasty snack where, at first, she stays only as long as she likes, she is more likely to become a returning satisfied customer.
Second: Puppy's New Supper Shack – make sure that doggy sustenance is delivered in the crate and she will find more to love about it.
 If the doggy party snack was the hook, her meals will be the line and sinker.  Set up a routine that mealtime takes place in the crate, and your pooch will get excited to come back for more.
Third: Practice makes perfect.  A little bit at a time, inch up your pup's Crate Time, and mix it up!
Enough repetition will teach your dog what to expect, and a bit of variation will keep her guessing and excited.  Use predictable language as with all good training.  For variety, add different toys and treats as surprises inside the crate as you gradually increase the time she spends inside.
Fourth: Make a quick escape.  Actually leave the house.  Consider filming what happens when the cat's away!
Once you feel confident that the meltdown probability has dropped sufficiently, take yourself out and leave your pup in for a test run.  Choose an amount of time your dog is already comfortable with in the crate.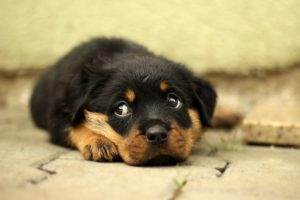 Fifth:  Yes, the Puppy CAN Sleep Over!  The main event is for your pup to sleep overnight in the crate.
 If you work up to this step patiently, you and your furry friend should be well on your way to enjoying life with a new den.  Another thing to keep in mind with the first overnights in the crate is to keep the crate close enough to you to hear any doggy noises.  You can count on getting the signal if your four-legged friend has some business to take care of during the night.
It's helpful for dogs of all ages to start out with the crate in a location that is still near enough to where the action is in the house.  Both puppies and adult dogs experience fear of missing out on whatever fun the pack is up to.  Even if it's just Siesta Time, it's nice to keep hammocks close together.
Newsflash: Puppies Cry (especially on First Night in Crate)
We started off talking about human babies and puppies.  They both tug at our heart-strings for a reason.  And one way they do that is by really crying, and if you've heard it, you know what really crying sounds likes.  It often happens when something is new. Or because there is an actual need that is not being met.
New parents read books because they want to know what to expect.  As a new (puppy or adult or rescue) dog owner, you should read more too, but for now know that you can expect your new sweet critter to cry and whine through the transition of coming to live with you.  And there's a real reason why.
When we see pictures of puppies, we see lots of them at once.  They are born in large litters and hang out in puppy piles when they are young.  And then the time comes where modern puppies usually go to a home with only humans (or maybe a cat or another pet).
When the doggy starts sounding like a siren, it's probably not the cat that sets her off.  It's been pointed out that wild dogs in nature used crying and whining as a means of protesting being left out of the pack or left behind by their mother.  That way, they were less likely to be picked off by one of those (much bigger cat) predators and keep mom close by to hush the whining and keep things quiet.  Just crying to get by!
So your dog experiences what it means to be literally distanced from its
pack—imagine in the middle of winter
all of a sudden getting kicked off the cozy couch and onto the living room floor with no socks and no blanket; your doggy experiences similar feelings of shock, loneliness, and abandonment when on its own from its mother and littermates for the first time.
It will just take a while and a little help from her caring owner for your pup to get used to this new world order.
Your dog will be anxious and will cry upon first arriving at its new home, and then again when your pooch is away from you and in her crate for the first time.  You'll be set up for success if you can make this happen as soon as possible after your pooch has moved into her new home with you.
So just remember as you embark upon this crating and "den-creation" adventure with your pup, that puppies do cry.  And so do adult dogs in unfamiliar environments.  It is your job to make it all just a little easier, and to try to ease the blow of the separation from puppy-siblings or kennel pals.  Crying will be a part of the soundtrack at home for a while.  Read on for some more tips to keep your pal feeling at home inside the crate, and what to do if the crying persists.
Been a Long Time… Still Crying in The Crate
So now you are tuned in to the fact that at the beginning, puppies and rescue dogs will cry as they adapt to their new surroundings.
But maybe after a while, and after many more of those long nights, you just can't shake the feeling that THIS much crying really is too much crying!  It just sounds so desperate, the quiet sobbing or endless sniffling in from the crate corner.
Anything you think your dog wants to tell you about?  Well, start by ruling out going to the baño.  That's the bathroom.  Turn it into part of your crate routine to make sure to take your doggy out for some relief before hitting the crate, especially for the night.  Remember that your pup has an instinct to not do their business near where they sleep – so the more like a den your crate is, the better, and the more likely you will hear less crying.
Another answer may be that your puppy that is crying may just want to hang out.  A tip to also keep in mind, is that as you are increasing crate time, make sure that lots of tiring fun is had before it's time for your doggie to go into the crate.  Yummy meals, fun toys, running and jumping games, training activities and practice are all great ways to keep your pup chipper and ready to get some chill out time or shut eye.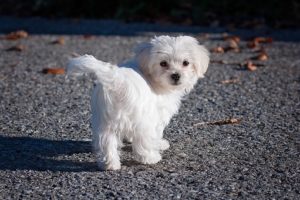 Finally, remember that all dogs sleep a lot!  And puppies sleep most of all – sometimes up to 18 hours!  If you make nap times predictable in your doggy's crate, then it is okay for your pup to do a bit of self-soothing crying, knowing it can depend on the nap lasting a predictable amount of time.  Make sure you walk on two legs in the family – which means, after you have ruled out the above factors, do go ahead and let your dog cry, and after a few nights, it will get better.  (And if it doesn't, time to call in an expert!)
Remember These Hot Tips for Smart Crating
Be mindful of the maximum time that any dog spends in a crate – during the day it should be less than 3 hours.
Introduce your new dog to the crate as soon as you can.
Remember to keep the pup's crate near the family action.
Maximum your doggy's crate time while asleep- you can plop her in there if she snoozes on the couch to show her where her real bed is.
Lots of short, fun Crate Time sessions at the beginning help lay solid groundwork.
Remember that toys and treats can both be rewards, so keep mixing it up!
Dogs usually keep their dens clean, but if there's an accident, clean up right away to get rid of any marking scent.
Carefully choose the right crate size for your adult dog to be able to move in a circle while standing and stretch all the way out.
Use a predictable command each time your dog goes into the crate.
Doggy Feelings: Loneliness, Boredom, Fear
If your best friend misses you, she will probably cry out of loneliness.  She may also have nothing else to do, which is why she is barking constantly out of boredom.
Something else to consider, is that if you cut any corners with crate training, your pup could just be feeling afraid of the crate for any number of reasons.  Go back to basics and re-set the crate clock with the first training steps again, or keep in mind these final considerations.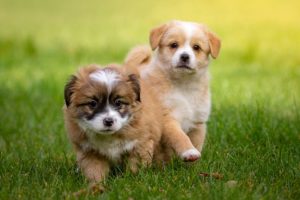 How About One More Lap Around the House?!
A restless pup inside a crate may be whining and carrying on because she is trying to tell you that the day's walk was not quite long enough.  The same way our human bodies rest particularly well after a good healthy day's work or workout, our four-legged friends are the same.  If your pooch didn't get a good stretch, she will broadcast this from her crate.  Try a game of fetch before bedtime or an obstacle course in the yard, and you are
likely to have a doggy that's sleeping pretty
in no time.
Whining out of Nowhere?!  Meeting Your Pup's Essential Needs?
Once you get into the routine of things, you may still run into nights when your doggy is trying to communicate a new need.  All dogs that make a fuss in the crate would like to get out, but sometimes it is a physical need driving the behavior.  Keep an eye out for your doggy crying wolf over time, though –she will notice that the crying gets your attention.  Also remember that some dogs experience true separation anxiety, which should best be addressed by checking in with your veterinarian, a trainer, or an animal behavior specialist.
And finally, it bears repeating that puppies will present a special case with
potty training outside
, and nighttime is when you need to stay on high alert.
Good luck with your new furry friend, keep in mind the tips you've learned, and here's to future days and nights with no tears.