Is your dog not drinking from their water bowl? If it's a brand new one: Why are they tipping it over? It seems so irrational, yet there are many reasons as to why your dog seems to hate drinking from their water bowl. Luckily, there are just as many ways to fix this issue!
Why Is My Dog Afraid Of The Water Bowl?
When your dog seems to be suddenly afraid of something for what seems like no reason, it can seem hopeless! Without being able to talk to your dog, everything can be cvery confusing. Knowing now the multiple reasons why your dog is scared of their water bowl, it won't be so mindboggling.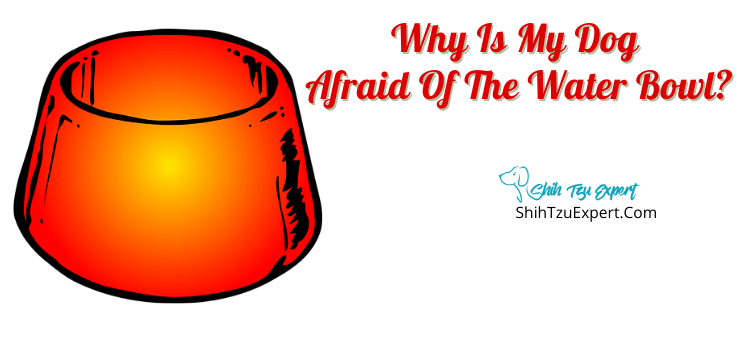 Why Is My Dog Suddenly Afraid Of The Water Bowl [11Reasons]?
Neck or Back Pain
Bending down to drink from their water bowl may be causing added pain if your dog is already experiencing difficulties with their neck or back.
Anyone who's ever even had a pulled muscle knows how jarring sudden movements can be. The sharp pain your dog feels when bending down to drink water is probably just as bad. The pain may not be worth the reward and it may steer them clear of drinking from it at all.
Vision Impairment
Aging dogs experience many problems, and one of them could be vision loss. Eyesight issues can happen in younger dogs as well, making this issue one to look out for despite the age of your pup.
Loss of vision can make things blurry and difficult to see, even if they're right in front of them. Judging distances can become harder to do as their vision worsens. 
A water bowl that's right in front of them could be hard to see, and when they're dipping down to drink from it, they could hit their nose. Getting water up their nose or hitting their face against the sides of the bowl can be scary for your dog since they don't understand what's happening or why it's happening.
Anxiety
It's hard to read dogs when you can't communicate with them. Sometimes the best you can do is notice their emotions and work from there.
If your dog is scared of the water, it may just have a lot of anxiety and are fearful of many other things. These fears may not make sense to us, but there may be a reason that your dog is perceiving. 
It's near a threat
Your dog may be acting strangely near their water bowl or while drinking it. Are they tipping it over? Do they seem on guard while they're drinking or before they start to drink?
Another pet in the house could cause this type of reaction. Territorial behavior is a fear response to other dogs, or maybe even a cat in the household.
To determine if this is the problem pay attention to their behavior when they're around the other pets. They may try to hide behind you or stay close to you. Is their tail tucked and between their legs? If you said yes to these questions, their behavior while drinking water is because of a threat nearby, which is the other animals.
A new smell
A new dog is in the house. Or maybe one has visited over. While you were talking to your friend in the living room, their pet wandered over to the water bowl and took a sip.
This could be very offputting to your dog. If they still smell them on the bowel or in the water, they might refuse to drink from it. A proper washing should get rid of the smell.
In the event that you have been washing their bowel, and there should be no problems, it could be the soap itself. While lavender and citrus dish soap sounds good to us, your dog may find it gross. The lingering smell or worse, taste, of the soap in their bowl could stair them clear of drinking water for a while. Make sure you're rinsing all the soap residue off their bowl, or consider getting a scent-free dish soap.
Scary Sounds
Maybe your dog doesn't have a regular old bowl. If they drink out of a mechanized water bowl, that sound can be upsetting as well. One second, they're drinking, minding their business, and the next: the machine starts gurgling! Not knowing where the sound is coming from or why it's happening can scare your pet. Although they make life more convenient, consider if it does more harm than good for your dog.
Clanking Bowl
Metal and water together are prone to make loud sounds. If your dog's water bowl is in fact metal, the sound of the sloshing water could scare them. To hear a constant, loud sloshing sound in their ears while they're drinking may make them uncomfortable. 
Their ears can pick up on sounds much easier than we can. If you're hitting the bowl against the side of the sink when filling it up or dropping it on the ground, they can hear this very loud and clear. Even the sound of the metal bowl moving on the ground as they drink from it can be very loud.
A New Location
Fido goes over to where his food and water usually are one day to find they aren't there. Oh no! The bowls that were once next to the fridge are now in the laundry room. Now they won't drink out of it anymore.
Think about this situation from your dog's perspective. Where they were positioned last was a calm, safe area to them where they already know where the sounds are coming from. If they're moved to a new location, they can be upset by the whirring of the washing machine. Do they hear people going up and down stairs nearby? Maybe they're near a door now and there's a particularly menacing sound coming from the woods?
An anxious dog can be upset by any small change in routine. But if you're dog isn't prone to being a scaredy-cat, these small changes may be causing that new fear.\
Reflections
Walking down the street, your dog may stop and start to bark when you pass by the shop window. You stop, looking around to see if it sees another dog, only to notice it's barking at its reflection.
The same type of thing is happening here. If your dog is used to drinking from a plastic bowl, the change to metal brings with it reflections in the water. Thinking they're seeing another dog staring back at them from this new bowl, they can be scared to approach it.
Water Phobia
Your dog may have had negative experiences with water. Try and think back: Have they ever drowned in the past? Were they trained to swim by being thrown in? Does your dog act fearfully around other bodies of water?
These past experiences could make them scared of all water, not just ones associated with where something happened.
Bad Experiences
Bad experiences could also be associated with the water bowl in general.
While they were drinking, maybe another dog had come up to them a nipped them. Another possibility is that they were reprimanded for getting a lot of water out of the bowl. They would then associate these negative experiences with the action of drinking water, making it undesirable for them to go back to it. In their minds, drinking from the bowl will make it happen again.
Situations Where Dogs Are Scared Of Their Water Bowl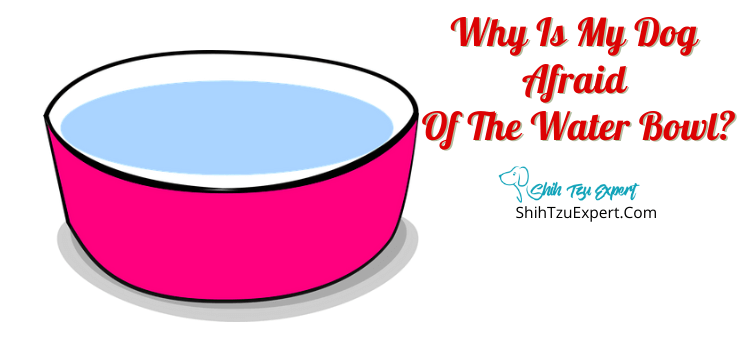 Dog Scared Of Water Bowl Bubbles
Fountain water bowls don't work for every dog. If your dog seems to be afraid of the bubbles forming in your water bowl, it may be better to opt for a more traditional water bowl.
Dog Afraid Of New Water Bowl
In the event that your dog is scared of a new water bowl. You'll need to acclimate him/her to the new bowl by placing it near their old bowl. Move it closer to the old bowl slowly, and once they're comfortable enough to drink from the new bowl, you can take the old bowl away.
Why Won't My Dog Drink Out Of The Metal/Stainless Steel Water Bowl?
There are a couple different reasons why your dog won't drink from their metal or stainless steel water bowl.
The sound of the metal clanking while theyre drinking from it could be jarring to them. Their reflection in the bowl could also scare them. If they're used to drinking from a plastic or ceramic bowl they wouldn't be used to this and won't understnad where it's coming from.
Why is My Dog Scared of the Plastic Bowl?
Plastic holds onto bacteria easily and the smells that come from it.
These scents that they pick up much easier than we do may be what's causing them to veer away from their plastic bowl. Give it a thourough scrubbing making sure to get all around and under the bowl.
Dog Stares At Water Bowl Afraid Of Reflection In Water Bowl
If your dog's reflection in their bowl is scaring, you'll need to opt for a plastic or cermaic bowl. Steel bowls reflect light vey easily unlike these materials.
Dog Barks At Water Bowl/Old Dog Suddenly Afraid Of Water Bowl And Barking At It
If your dog seems on guard suddenly about a bowl they used to be ok with, consider other factors that may be upsetting it.
Is there another animal that's near them when they're drinking? Maybe they see something moving near the bowl; do they think it's a mouse? Try to eliminate any other factors that could be upsetting your dog before making sure it's the waterbowl that's scaring them.
Dog Afraid Of The Noise That Food And Water Bowls Make
Your dog may be afraid of the sound of their food and water bowls. It could be the sound of the water sloshing inside the bowl, or the food moving around, hitting the corners. The bowl may also not be stable and could be clanking against the ground, causing the noise.
If your dog wears a collar, their collar could be scaring them. When they go in to drink water or drink food, their name tag is clinking against the side of the bowl. Not knowing where it's coming from could strike some fear into their hearts.
Dog Afraid Of Automatic Water Bowl
Place yourself in your dog's position. You're drinking out your cup when suddenly water starts gushing down from what seems like nowhere starts to refill your cup. Alarming, right?
A new automatic bowl can be a scary sight to see if your dog isn't used to drinking from one. They don't know where the water is coming from, how it's working by itself, or why it's making so many strange sounds.
Why Is My Rescue Dog Is Afraid Of The Water Bowl
Rescue dogs can come from all types of different backgrounds and owners.
If you have a rescue dog who seems to be scared of their water bowl for no reason, consider their past. They may associate drinking water, or water in general, with negative past experiences.
How Do I Get My Dog To Drink From A New Water Bowl?
Dogs can be wary of things they've never seen before
To get your dog to drink from a new water bowl, first place the water bowl near their old one. Slowly move it towards their old bowl. Once they're close enough that they touch and your dog is drinking from the new bowl: get rid of the old bowl.
What Can I Do To Make My Dog Not Afraid Of The Water Bowl?
Take Them to a Vet – As mentioned previously, an aversion to drinking from their water bowl could be a sign of a more serious problem. If you suspect that your dog could be suffering from neck or back pain, or has vision problems, take them to the vet.
Regularly Clean the Bowl – Make sure to clean around your dog's feeding area regularly. Along with this, you'll want to thoroughly clean their bowl. As mentioned before, soap residue may be the reason why your dog isn't drinking from its bowl. When washing their bowl, don't put the soap directly in there but rather dilute it first on a sponge or rag. Wash it thoroughly, and then rinse until there are no suds left. After this, it should be squeaky clean.
Slowly introduce New Bowl – In the case that you got a new fountain bowl for your dog, but they seem to be scared of the sound, you can reintroduce the bowl slowly.

Place the new bowl near to the old one and slowly bring it closer over time. Once the old and new bowl can finally touch, your dog will start drinking from the new one. Then you can take the old bowl away.

Your dog will associate the new sounds from the fountain bowl with the safety and comfort of their old bowl.

Ice Cubes –

If your dog is giving you a hard time drinking from their bowl, you can put some ice cubes in it. Dog prefer cold water to room temperature water. Not only will these make the water a temperature they prefer but your dog is also gonna try to eat the cubes out of the water.

While trying to get to ice cubes, they're going to be drinking water. Not to mention the ice cubes will keep them hydrated too.

Plastic or Ceramic Bowl –

If your dog is getting freaked out by its reflection in the bowl, there are easy ways to eliminate the problem.

Plastic and ceramic bowls are a great option in this case! They don't reflect any light. If your dog is drinking water outside, there won't be any light shining in their eyes when they drink water now. A fountain bowl is also a great option to consider. The constant flow of water creates ripples which would mask any reflection that's scaring them.

Fix Noise Problems – 

If it's the clanking noise that's scaring your dog, then a nonslip liner will do the trick.

The bowl won't slip or slide against the ground as they're drinking from it. An elevated bowel rest could also do the trick. If the bowl is nestled safely in a larger container like this then there won't be any movement of the bowl.

Take Away the Fear – Treats are pet owners' best friends. If your dog is showing signs of water phobia try rewarding them with a treat when they are near the water bowl or when drinking it. If they're afraid of water in general, try taking them on walks near bodies of water so they can become acclimated to it. Once they seem calm enough you can take them to doggie pools, or lakes and rivers. Make water an enjoyable experience for them again.
How To Stop My Dog From Playing In Water Bowl?
If your dog is playing with their water bowl this could be a sign that they're bored
Provide your dog with stimulating toys to fix this problem.
Why Does My Dog Emptying His Water Bowl?
If your dog is emptying his bowl he may be doing it out of protest. Make sure there's new water in the cleaned bowl everyday.
If this doesn't fix it, consider getting a weighted bowl to prevent the bowl from tipping.
How To Stop Dog From Dumping Splashing Water From His Water Bowl?
He may be doing this in efforts to cool off.
If your dog is outside and keeps splashing water from his bowl, make sure there's a shaded area for them to cool off. If there's no cool are they can stay, take them inside.
What Are Signs Of Dehydration In Dogs?
Dehydration in dogs looks like:
Loss of appetite
Thick saliva
Vomiting
Dry nose
Sunken eyes
Panting
Lethargy
Why Do Dogs Drink A Lot Of Water All Of A Sudden?
A sudden increase in drinking water is symptomatic of some serious medical issues like kidney and liver disease and diabetes. Take your dog to their pet to determine if there are any larger issues at play.
Should Dogs Have Access To Water At Night?
If your dog is drinking enough water during the day, there's no need for them to have water overnight. Limiting their access to water at night while reduce unnecessary accidents.
References
https://www.wikihow.pet/Stop-Your-Dog-from-Turning-over-Its-Water-Bowl