Have you ever encountered this situation? You're getting ready to give your dogs their food, when one of your dogs walks over to the other's food bowl and starts to pee on it! If this has happened to you, don't worry, you are definitely not alone.
Many dog owners all over the planet have been witness to similar, if not this exact, situations. The truth is, there are a lot of reasons why your dog might pee on your other dog's food bowl. We'll dive into those reasons in this article.
Why Does My Dog Pee Where the Other Dog Eats?
There are many reasons that your dog might be peeing where your other dog eats. But there are also several solutions that you can try! If none of the solutions are working, then it might be time to call your vet and schedule a check-up appointment for your dog. Dogs use their urine to communicate with the world around them – other dogs, animals, and even us humans. If your dog is consistently peeing where your other dog eats, or on their own food area, then pay attention because they are trying to tell you something important!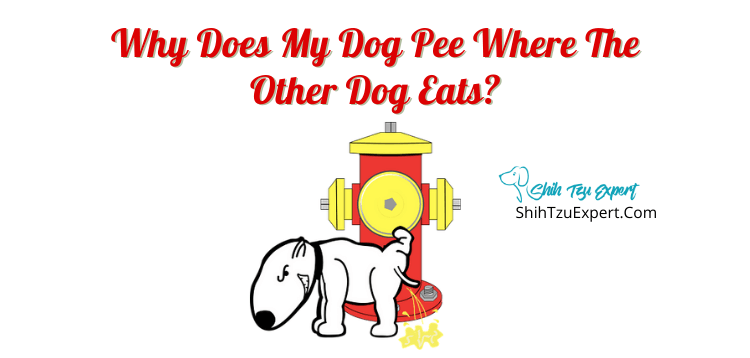 Why Male Dog Has Started Peeing in My Female Dog's Food Bowl?
The psychology behind why dogs pee on things is pretty fascinating.
It all goes back to their evolutionary ancestors, the wolf.
In the wild, wolves will use their urine as a territory marker. They will find the boundaries of their pack's territory and urinate in strategic places (on trees, rocks, etc.) so that when other wolf packs come into the area, they know that they are in the first pack's territory. Unless the other pack is looking for a fight, they will usually keep moving.
With domesticated dogs, they do a very similar thing to things they consider to be theirs.
When it comes to gender specific reasons why your male dog has started to pee in your female dog's food bowl, it can be that they are establishing a hierarchy within the household "pack".
Most males that exhibit this marking behavior are un-neutered, so another reason they will urinate on things will be do tell female dogs in the area that they are there. If you have an un-spayed female, that could be the reasoning behind your male dog peeing in her bowl.
Why Does My Dog Pee Beside His Food?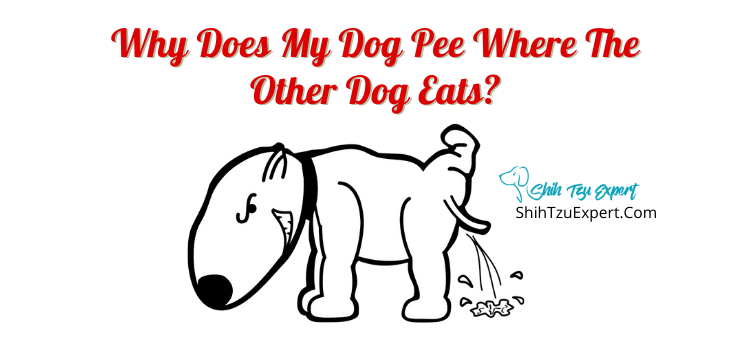 Even though peeing as a way to mark their territory is fairly common with domesticated dogs, it is not common behavior for them to pee on or near their food.
You've seen your dog wanting to stop and sniff every few feet when you're on a walk. And sometimes they will stop to pee on the most random things. This is normal marking behavior, and almost all domesticated dogs do it.
However, most dogs will not want to pee on or near their food. They are going to eat it anyway, but it's not normal behavior.
There are a few reasons that your dog might have started peeing beside their food bowl.
They could have anxiety. Some dogs, especially smaller breeds, are prone to anxiety. The world is a scary place, especially when you are reliant on another creature for all of your food, water, shelter, and safety. If your dog is prone to anxiety, they could exhibit it by peeing near their food, trying to let you know they are uncomfortable.
Have there been changes in the household? Sometimes dogs get uncomfortable when things change, just like people! If you recently moved, brought in a new pet or a new baby, or have had a schedule change, your dog might express their discomfort through this negative behavior.
Is your dog getting enough attention? There is no "bad" attention when you're a dog. So, if you've been spending less time with your furry friend lately, they may act out just to get you to pay attention to them.
How To Stop My Dog Peeing Where the Other Dog Eats?
Even though marking is a common behavior in dogs, it doesn't mean that it's the best habit for your dog to have when you're trying to live together.
It can also cause stress to your other dogs, if one dog is becoming territorial and marking the other's food bowls or eating areas.
The good news is this: you can fix the problem!
It will take time and work from both you and your dog, but if you are committed to solving the problem then it can be done.
The first thing is to move the problem dog's food area away from the others. Put it as far away from your other dog's food area as possible.
Make sure your dog is never left unattended by the feeding area for any of the dogs in your household. When it comes time to eat, stay with all of the dogs and supervise feeding.
Discourage all marking behavior. Yes, this includes when on walks. If you notice your dog starting to lift their leg to mark when on a walk, move forward quickly to distract them from the action.
If the cause of the marking problem is anxiety in your dog, consult with your veterinarian for possible medical solutions. Also, try to alleviate any stressors in the home. It can be hard to know what is causing your dog anxiety, but if you pay close attention, you may see that it is coming from something as simple as having rearranged the furniture. Work with your dog to make sure they are comfortable in the home.
Make sure you are spending enough time with each of your dogs. This will prevent jealously problems, which can lead to acting out in ways like peeing on the other dog's food.
Why Does My Dog Pee While Eating?
Most dogs will not pee WHILE they are eating if it's a simple behavioral problem such as marking.
If your dog is peeing at the same time they are eating, it is usually a sign of a deeper underlying problem.
The most common reasons your dog would pee while eating are urinary infections or incontinence – lack of control of their bladder or bowels.
The only way to really know what's going on with your dog internally is to take it to a vet. They will be able to perform tests and take scans to determine what the problem is.
Neurological disorders can also cause lack of bladder control. Again, this would be something your vet would be able to diagnose.
Another thing to be aware of is that as your dog ages they will probably have less and less control of their bladder and bowels. So the simple act of standing at their bowl to eat their food might cause them to urinate.
Or maybe you have a puppy that is peeing while they eat then it's probably because they are excited to eat. Puppies will often pee when they get overly excited, and for very food motivated dogs dinnertime can be a hugely exciting time.
So, as you can see there are a lot of reasons your dog might be peeing while they are eating. If you are concerned that it is something other than excitement or old age, make an appointment with your vet to get to the root of the problem.
How To Stop a Dog from Peeing While Eating?
Nobody likes to have the area that they eat be messy and gross, and your dog is no exception. So if your dog is peeing while they eat, then there is probably an underlying problem that needs to be addressed.
There are a few things that you can try to get your dog to stop peeing while they eat. They all involve time and effort, but if you commit to them then you can have pee-free mealtimes!
Move their bowl. If the problem is a behavioral one or a territorial one, then moving your dog's food bowl to a new spot in the house away from any other food areas could help with them feeling the need to mark their bowl as theirs.
Create a quiet eating environment. If the cause of the urination is anxiety, then creating a calm and quiet and peaceful dinnertime routine can help to ease the worry your dog is experiencing.
Take your dog to pee before you feed them. If the problem is that they simply can't hold it, or have no control over their bladder, then having them empty their bladder before eating will help them to not pee during mealtimes.
Get a check up with the vet. If none of the above solutions seem like a good fit, then the problem could be with your dog's health. Make an appointment with you vet to get to the root cause of the issue.