Does your dog sleep on your stomach? This article will discuss the many reasons why your dog is doing this, when you should be concerned, and what you can do about it.
Why Does My Dog Sleep On My Stomach? 
There are many reasons your dog might want to sleep on your stomach. If this behavior started all of a sudden, think about what might have set them off. Was there a recent drop in the temperature? Do you need to leave home more often? Do you think you might be pregnant?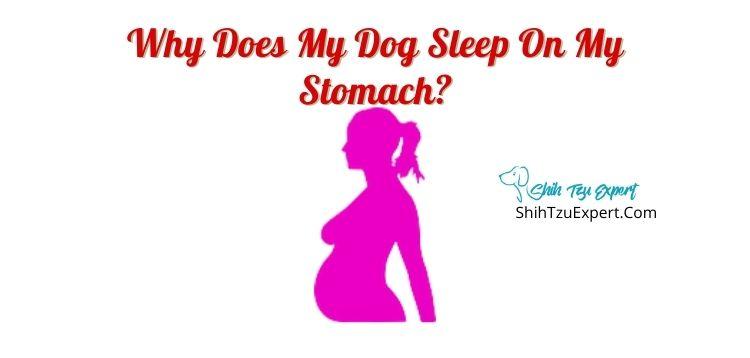 Your Dog Just Loves You
Your dog may just be cuddling up to you for the sake of cuddling up to you.
Dogs show affection in all sorts of ways. They may bring you their favorite toy, they might get really happy looking at you, or they might lick your face. Laying on your stomach might just be your dog's love language.
It Feels Comfortable
The stomach is the softest part of the body. If your dog wants to cuddle with you, the stomach is an obvious target since it'd be a nice pillow for them.
It Feels Warm (Weather Is Cold)
If your dog feels cold, they might be trying to snuggle up to you for warmth. This is especially true for short-haired breeds, which have less fur to keep themselves warm.
It Feels Safer & Protective
If your dog falls asleep when they cuddle up with you, it's a sign of trust. They aren't worried about you hurting them, so they let their guard down with you. So, your dog might be laying on your stomach because they feel safer when they're close to you.
Puppies And Dogs Just Love To Do It
It's nice to cuddle with someone. It's warm, it's comfortable, and it makes you feel safer and less alone. It can also be relaxing for your dog to just lay on your stomach and listen to your heartbeat. That, combined with the sound of your breathing, is nice background noise for your dog.
It's Protecting You
Dogs can sense weakness in humans. For all humans, one such weakness is the stomach, which contains several vital organs and has little protection. So, your dog may be lying on your stomach as a way of protecting you. It's an easy way of watching over you.
In this case, your dog is acting on their instincts. Certain breeds, like German shepherds, were bred to protect. While other dogs may act on this instinct by lying by the door or by positioning themselves in front of you, it all comes back to the same idea that your dog is protective of you.
Pup Is Seeking Attention
You can't ignore the fact that your dog exists if they're laying on your stomach. They're right in your line of sight, so they're the primary focus of your attention. Thus, laying on your stomach may be your dog's way of getting your attention.
You Have Encouraged The Behaviour
Dogs seek positive attention. If they know that they'll get positive attention from you if they lay on your stomach, they're more likely to do it again.
If your dog is getting too heavy to lay on their stomach, or if you feel your dog lays on your stomach too often, one way to train them out of it is to avoid giving them attention and affection when they lay on your stomach.
Separation Anxiety
Just like people, dogs can develop separation anxiety. In fact, it is the most common form of anxiety for dogs. Dogs often seek comfort through physical touch.
Laying on your stomach would therefore kill two birds with one stone for them. They could get comfort and stop you from getting up by laying on your stomach.
If your dog hasn't displayed separation anxiety before, ask yourself if something has happened recently that could explain this change in behavior. Are they being left home alone significantly more often? Are you their new owner? Did your family's routine change? Did you just lose a family member?
Pup Is Overly Attached To You
This option is more likely if your dog lays on your stomach often. They might just be overly clingy- especially if they're always following you around and cuddling up with you whenever they can.
If your dog is too attached to you, you should look out for signs of separation anxiety, including:
Barking, howling or whining more than often
Drooling, panting, or salivating more than usual
Pacing, often in an obsessive manner
Peeing or defecating in the house, even though they're housebroken
Property damage: chewing things up, digging holes, scratching at the doors and windows
Trying to escape
Pup Is Sick 🙁
Your dog might be sick and seeking you out for comfort. This is likely if this behavior manifested out of the blue and if your dog is showing signs of sickness, including:
Behavioral changes
Changes in urination (peeing more frequently or less frequently than usual)
Diarrhea
Difficulty breathing
Drinking too much water or too little water
Fever
Hair loss
Itching/scratching
Lethargy
Loss of appetite
Pale or discolored gums
Runny nose
Sleepiness
Sleeping too much or too little
Sneezing
Vomiting
Weight loss/weight gain
You Are Pregnant 🙂
Studies have shown that dogs can smell changes in hormones in humans. A change in hormones means a change in underlying scent. Also, if you're pregnant and your behavior changes as a result, your dog may notice that as well.
If you're pregnant, your dog will be able to tell, and they may become more protective of you and your stomach.
My Dog Keeps Laying On My Stomach Am I Pregnant?
Why Is My Dog Laying On Stomach During Early Pregnancy?
Whether it's curiosity, protectiveness, or a mix of the two, your dog might be more interested in your stomach now that there's a human inside your body. They might sniff, lick, or paw at your lower abdomen where your womb is. They might also lie down on your stomach.
Can My Dog Hear My Baby's Heartbeat?
Dogs have a heightened sense of hearing. They can hear sound waves at 65,000 cycles per sound compared to humans, who can hear up to 20,000 cycles per sound.
Scientists believe that it is possible that dogs can hear babies crying in the womb, which usually starts in the 28th week of pregnancy. So, it is possible if they press an ear to your belly, they can hear the baby's heartbeat.
Why Do Dogs Protect Pregnant Bellies?
Your dog can tell, based on your behavior, that you're more vulnerable than you were before you got pregnant. They can also sense a new pack member on the way. So, they're going to exhibit protective behaviors to make sure nothing happens to you or your baby.
Can Dogs Sense Pregnancy Before A Positive Test?
Though studies have shown that dogs can sense hormone changes, it hasn't been proven that dogs can sense pregnancy. It is certainly possible that they'll notice a change in behavior or a change in hormones on your part, however.
Do Dogs Become More Clingy When The Owner Is Pregnant?
Your dog might be clingier to protect you and your baby. They might growl and snap at potential "threats" (read: strangers and unfamiliar animals).
Why Does My Dog Lay On My Stomach When I'm On My Period?
As stated earlier, dogs can smell hormone changes. This doesn't just apply to pregnancy: this applies to anything that causes a change in hormones, like menstruation.
Your dog can tell you're on your period and might be lying on your stomach in an attempt to give you extra comfort during your time of the month.
What To Do About Your Dog Sleeping On Your Stomach?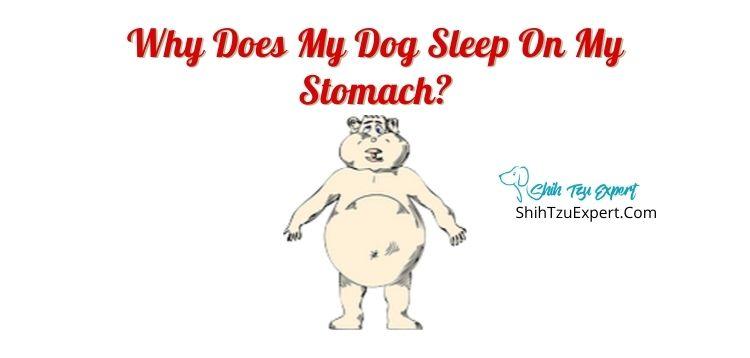 Just Let Them Be, And Enjoy 🙂
You don't need to worry if your dog wants to spend time cuddling with you. Let them lay there! You know it feels nice anyway.
If It's Unusual Behaviour, Your Pup May Be Sick, Visit The Vet
Again, this behavior might be your dog's way of telling you that they're sick. Keep an eye out for other symptoms. If you don't observe any other symptoms, you may want to ask your vet for advice. If you do, take your dog to the vet to get treated.
Teach Your Pup To Sleep Elsewhere
First, you should teach them not to sleep on your stomach. It's okay once in a while, but your stomach shouldn't be their bed.
When they come to lay on your stomach, move away or turn on your side to discourage the behavior. If they get on your stomach while you're asleep, gently push them off. Your dog will eventually figure out that they shouldn't be sleeping on your stomach.
Next, you might incentivize them to sleep somewhere else by making it smell like you. You could try rubbing your scent on it, the way your dog has probably rubbed their scent on you. You could also leave them an old t-shirt or blanket that smells like you and leave it where you want them to sleep. The familiar scent will put them at ease.
You can train your dog to sleep in this new spot with a reward system. Start slowly: have them stand in or on the spot and give them a treat for it. Then give them a treat for laying down there. Continue to do this several times a day until your dog gets used to the idea of spending time there.
Find A More Comfortable Place For The Pup To Sleep
Is your stomach really the most comfortable place in the entire house for the dog to sleep?
Your dog should have their own space in your home, and they should have a bed of their own to sleep on. Make sure the bed is soft and padded. You could try leaving your scent on it so it'll smell familiar or putting it in your room so they can still see you.
If It Suffers From Separation Anxiety Find Ways To Address The Issue
If you think your dog is lying on your stomach because they have separation anxiety, however, that would be a cause for concern since the anxiety could get worse.
There are several ways to address separation anxiety, depending on how severe it is.
If the condition is mild, here are some of the things you can try:
Give your dog a special treat each time you leave, and take it away when you come home. That way, they have something to look forward to when you leave.
Ignore your dog for a few minutes when you first get home, so that it isn't treated like a big deal when you come and go.
Leave some clothes out that smell like you, so your dog can at least cuddle with your scent.
Consider over-the-counter supplements with natural ingredients that will calm your dog.
If the problem is more serious, your dog won't be easied by special treats, meaning you'll have to train them to get used to your absence.
You can try gradually exposing them to the idea. Chances are your dog gets nervous as you start getting ready to leave. So you could do things that make your dog think you're getting ready (like tying your shoes) and then not leave. Put your shoes on and then watch TV for a half hour. Do this several times a day.
As your dog gets less anxious about that, you can move on to the actual leaving. First, get your dog used to the idea of being on the other side of the door from you. Tell them to stay and then step through the door and shut it, then open the door again after a few seconds. Increase the amount of time you spend on the other side of the door. For even more gradual exposure, start with a bedroom or bathroom door instead of your front door.
References
Separation Anxiety: How to Keep Your Dog Calm When You Leave (webmd.com)
Can Dogs Sense a Baby in Your Belly? – Wag! (wagwalking.com)