We may earn commission from qualifying purchases at no extra cost to you.
Learn more
After you've seen your dog eat some questionable things – a TV remote, used Kleenex tissues, or your son's math homework – you've probably wondered if he or she would eat absolutely anything.
Before buying another furry friend for your family, such as a hamster, pet owners should consider if their dog is a hunting breed and could pose a potential threat.
Further, they should consider if they have the time and patience to introduce their dog to their hamster in a slow process, to ensure the two become acquainted.
Would A Dog Eat a Hamster?
As a dog owner, you must be vigilant and observant and trust your intuition. If your dog is a hunting breed, such as a retriever or setter, it is not advisable that you introduce a small rodent like a hamster to your home. If you do decide to do so, follow the advice of Wag! And slowly introduce the duo. If you find your dog has eaten a rat, mouse, or other wild animal, you will not have to worry about rabies, but ensure that you monitor its bowels and bring your furry friend to the vet to ensure they have not consumed poison or developed fleas. Best of luck with your new pet!
Would a Dog Eat a Hamster Whole?
According to Wag!, the neighborhood dog walking platform, if your dog is a hunting breed, chances are it may hunt and consequently eat your hamster. I am ashamed to admit that my family's dog, a border collie sheepdog mix, has eaten a family of baby bunnies, on multiple occasions. She could not be bothered to chew or take her time.
Remember that while your dog may be your best friend, it is also a predator. If your dog is a hunting breed, take extra caution before purchasing a hamster. Wag! Describes four main factors that may influence your dog's desire to eat your hamster:
Breed. Hunting breeds will be more inclined for the chase and fun of the game.
Learning. If your dog successfully has hunted other small rodents before, it will be more likely to hunt again, and target your hamster.
Opportunity. If your dog is left alone with your hamster, uncaged, it may pounce. Just as most crime is opportunistic, so is hamster hunting.
Social facilitation. If your dog is given little social interaction and attention, it may be more likely to adopt aggressive behaviors like hunting.
Do Dogs Want To Hunt & Kill Hamsters? 
As mentioned, this definitely depends on the breed and type of dog. According to Wag!, the dog walking company, "Some breeds, especially those of hunting dogs, will not be as trustworthy with other small animals in your home as they were bred to hunt prey."
Before getting a hamster, observe your dog's behavior, especially if you don't know what type of breed it is. Does your dog chase squirrels? Does it bring things into the house and not let you see what it is? Does it become territorial if you try to take said object out of its mouth, and growl or bite you? In that case, your dog is likely a hunting breed, and may want to kill your pet hamster, even if its name is Fluffy or Mr. Pumpkin.
Signs That Your Dog Has Taken An Unusual Interest In The Hamster?
He consistently sniffs in the area around him
He is a pointer, setter, retriever, or similar hunting breed
He attempts to break the cage
He becomes aggressive or growls if you try to move him away from the area that the hamster is in
He has killed small rodents or mammals before
Keep your dog under control when introducing them to the hamster
Instruct your dog to "leave it" when near the hamster, especially if they are well trained and already know this command
Introduce your dog to the hamster slowly, while your dog is leashed and the hamster caged
Allow your dog a few minutes to sniff the hamster
Repeat the above for a few days
If your dog starts to lose interest in the process, he likely is not interested in making your hamster his afternoon snack.
How Do I Know If My Dog Ate My Hamster?
You will know if your hamster is gone and if your dog starts having the inclination to run on a small, plastic wheel.
What Happens When A Dog Eats A Hamster?
According to Bayshore Veterinary Clinic, eating rodents can be harmful to your dog if they carry a disease. However, this is more likely to occur with wild animals, rather than domesticated hamsters.
Can My Dog Get Rabies From Eating A Hamster?
As long as your hamster does not have rabies, your dog will be totally fine. According to the CDC, it is extremely rare for any small rodent to contract rabies, let alone spread it to another species. So, it is very unlikely your dog will get rabies.
My Dog Killed & Ate A Hamster, Does It Need To Get Any Shots?
Please seek the advice of your vet, as this depends on where your hamster is from and if it was confirmed to have any specific ailments.
Can A Puppy Get Sick From Eating A Hamster?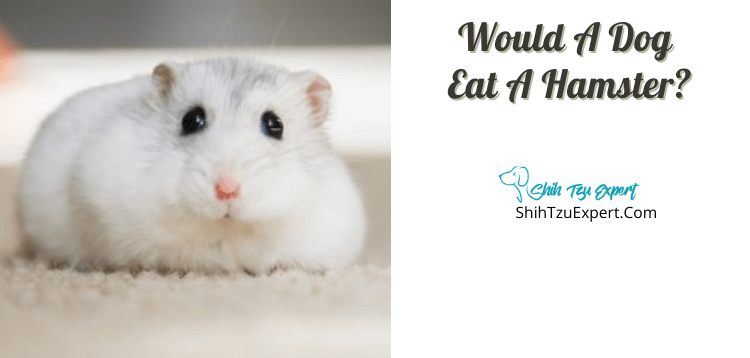 While you may consider your dog part of the family, at the end of the day, it is still an animal and a descendant of the wolf. Depending on your breed of dog, your dog will likely be fine after eating a hamster or any other animal.
If your dog has a history of a weak stomach, gastrointestinal issues, or commonly vomits or has diarrhea, your dog may be more likely to get sick. It is recommended that you monitor your dog's bowel movements and report anything out of the ordinary to their vet, according to Bayshore Veterinary Clinic.
It may be harder for you to predict if your puppy will get sick, since this may be the first time you've observed your dog hunting. Therefore, please consult your local vet for more professionalized advice.
Frozen/Thawed Hamsters As Raw Dog Food (Raw Diet)?
Can Dogs And Hamsters Be Friends & Live In The Same House?
How To Train Your Dog To Be Friends With The Hamster? 
How To Keep Your Hamster Safe From Your Dog?
Wag! suggests you keep your hamster caged and in a room inaccessible to your dog.
How To Stop A Dog Getting Jealous Of A Hamster?
Pay more attention to your dog. After all, it is likely more engaging than a small hamster.
What Happens If A Dog Eats Hamster Food?
Check the list of ingredients and see if any of them are harmful to dogs. If you're extra cautious, call your vet and see what they think.
Should My Dogs Be Allowed To Kill Hamsters?
Check your local legislation on animal rights and hunting regulations. In some places, dogs are only allowed to hunt certain species.
My Dogs Won't Stop Killing Pet Hamsters! What Should I Do?
Stop buying pet hamsters. But, if you must own a hamster, here is what Wag! suggests:
Dog Breeds That Are Good With Hamsters
Any dog breed that is not known to hunt or retrieve. PureWow suggests bulldogs, Maltese, spaniels, and related breeds.
Hamsters Vs Rats Vs. Mice
While your pet hamster has likely not been poisoned, a dead rat or mouse may have poison or other legal substances in its system. If you suspect your dog has eaten an animal that has been poisoned, take it to your vet immediately, according to Bayshore Veterinary Clinic.
Wild animals could also be carrying fleas, ticks, worms, or other parasites which could be passed onto your dog.
References
https://www.cdc.gov/rabies/exposure/animals/other.html