These dogs are not known for athleticism or endurance, yet we see them running around with children in play.
Does this mean that Shih Tzu are instinctively lazy? Or are they just not athletic because of their breeding? Most importantly, should an active family own one of these dogs?
Are Shih Lazy?
This largely depends on the type of person who owns one. Shih Tzu are active dogs that love to play, but also sleep more than other breeds. These dogs make wonderful house companions and will join you for a brisk, 20 minute walk every day.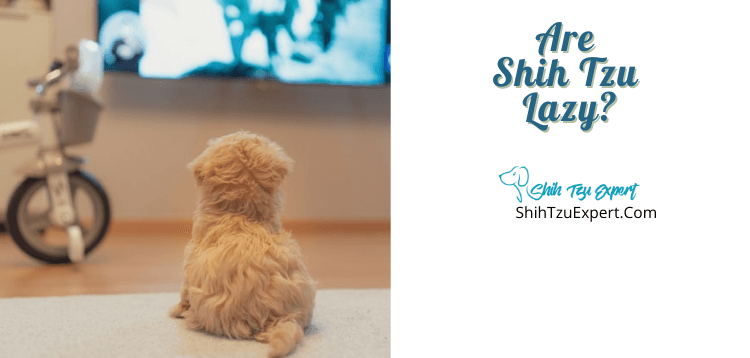 Are Shih Tzu Active dogs?
Shih Tzu are technically active, since they love playing and taking walks. However, some are more active than others, and all tend to not do well with extended periods of exercise.
This is not the type of dog you take hiking or on long walks or marathon sprints, but it is the type you can spend time with in an apartment or house, play with, and take on short walks.
Are Female Shih Tzu Lazier Than Males?
Despite popular opinion, female Shih Tzu tend to be more dominant and aggressive in a pack of dogs. They also tend to be more reserved and docile than their male counterparts.
Because male Shih Tzu are easier to please, this means that they tend to be more active than the female. They are exuberant and outgoing, and always ready for a walk with their human.
Are Adult Shih Tzu Lazier Than Puppies
Shih Tzu tend to be active even into their old age, however puppies are more active because of their hyper personalities.
When buying a Shih Tzu, it is good to consider if you are ready to have a puppy that is full of energy, which will grow into a small but active dog that will need walks or playtime every day.
Is A Shih Tzu A Good Fit For My Active Lifestyle [Are They Boring]?
If you are an extremely active person who is not inside much, then a Shih Tzu is probably not the right dog for you.
However, if you lead a fairly active life but still are at home enough, a Shih Tzu can be a rewarding companion. They will sit at home with you and go for walks as well, making them a well-rounded dog.
It is good to consider what they will need most from you and what you can offer before buying a Shih Tzu.
Is A Shih Tzu A Good Fit For A Lazy Person?
People who are inherently lazy are not good candidates for any dog, even small ones.
Every dog needs at least some exercise, and Shih Tzu like walks and playtime every single day. If you're unwilling to accommodate their active nature, then a Shih Tzu–or any other dog–then do not buy one, because they will become unhealthy and irritable.
What Is The Best Dog For A Lazy Family?
Some families simply are lazy and live in apartments, not having a lifestyle that caters to more than maybe one walk a day. While this may not be suited for a Shih Tzu, there are other dog breeds that are a good option.
King Charles Spaniel, Miniature Pinscher, Pugs, and English Bulldogs are at the top of the list of lazy dogs who do not need as much exercise.
While these dogs are suited to apartment life, it is still wise to make sure they get some form of exercise to avoid any health problems.
Why Is My Shih Tzu So Lazy?
There are several reasons your dog might seem lazy.
Some people that buy a Shih Tzu may think it is lazy because they are comparing it to their active lifestyle. If you are constantly up and about, running, jogging, hiking, swimming, or anything active, then your Shih Tzu may seem lazy because he doesn't keep up.
Since Shih Tzu are not built to exercise long or pant fast enough to keep up with exercise, they can tire even more quickly on especially hot days.
This is a blood-sugar problem that can cause your dog's energy to drop and make him very lazy. If he is not only lazy but lethargic, this could be your problem.
The simple truth of the matter is that Shih Tzu are not as active as larger breeds. Short walks and playtime is all they need to be content. These dogs make excellent house pets.
Why Do Shih Tzus Refuse To Walk?
If your Shih Tzu doesn't want to walk or downright refuses to, he is probably just tired. It could also be that maybe he has exercised too hard in the past.
The best way to combat this is to let him get in his exercise by running around in a fenced hard or on a leash. This will connect exercise and the outdoors with enjoyment in his mind, and soon he will want to go on walks with you.
It may also be helpful to carry him on the first few walks to show him you won't harm him.
How Do You Motivate A Shih Tzu?
It is best to split up a Shih Tzu's needed exercise time into two or three segments. This will give him sufficient rest periods and help him be refreshed and ready for the next burst of exercise.
Another way to do it is to take their favorite treat or toy on walks and only give it to him when walking. This will teach him that exercising is fun.
Making exercise short and sweet as well as enjoyable will keep your dog from getting frustrated, ensuring he stays motivated to be active.
Why Is My Shih Tzu So Tired All The Time?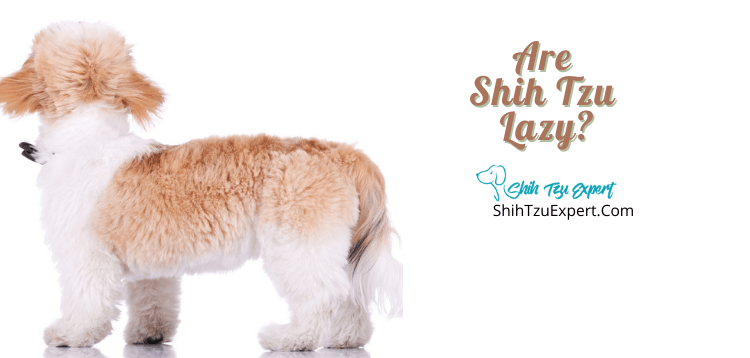 If your Shih Tzu sleeps or lounges a lot every day, it is probably a normal occurrence. Since most dog owners are used to dogs that are awake and active, a sleepy dog often concerns them.
Sleeping patterns will change as your dog ages. Shih Tzu tend to sleep more often than other dogs because of their breeding. Puppies will often sleep close to 22 hours every day, while full-grown dogs will sleep from 12 to 16 hours every day.
This is not unusual! The only time you should be concerned is if your dog's sleeping patterns change dramatically all at once. This could signal he is stressed or may have a health condition.
Do Shih Tzus Sleep A Lot?
Shih Tzu sleep very often, so do not let yourself be concerned if you often find your dog asleep on the couch or in his dog bed.
One of your Shih Tzu's favorite things to do is get in a good snooze around his owner. This is common in this breed. However, they sleep in shorter bursts, so you will still be able to exercise and play with your pet.
If your dog isn't getting enough exercise, this may cause him to become lethargic, which leads to extra sleep. If you believe this is the cause, start taking your dog on more walks to see if it solves the problem.
Are All Shihtzus So Sleepy?
All Shih Tzu dogs tend to be 'sleepy' on the human scale. Since they do not need as much exercise, they gain their needs from sleep more than other dogs do.
Remember, your dog is often awake during the night, meaning that he probably sleeps at different times than you do. This is perfectly normal and not a cause for concern.
Are All Shih Tzus Low Energy?
Because of their abnormally short noses, Shih Tzu should not be exercised as much as other dogs, as it causes breathing issues.
Shih Tzu are considered low energy. This is not from laziness or disease, but rather because of breeding and the lack of a need for extensive exercise.
The Shih Tzu breed is officially considered 'low energy' and only requires a game of indoor fetch, a short walk, or playtime to keep them happy.
What Dog Breed Is Laziest?
While Shih Tzu may seem lazy, there are several dog breeds that are much lazier.
The pooch that is considered the laziest is usually the Basset Hound. Not only does this dog have a reputation for disliking exercise and lounging around, it also looks the part.
Are Some Dogs Naturally Lazy?
Usually because of breeding, dogs can be naturally lazy. This means that though they still need a little exercise, these breeds will lean more toward lounging around or sleeping.
This trait is usually confined to specific breeds. Naturally active breeds rarely produce lazy dogs. That being said, every dog is different, and some are as quirky as humans!
Top 10 Laziest Dogs
There is no concrete evidence to line up dogs from laziest to most active, but these ten dogs are usually the most well-known for being low energy and lazy.
Basset Hound
French Bulldog
King Charles Spaniel
What Is The Best Environment For A Lazy Dog?
Probably the ideal situation for a lazy dog breed is an appropriate amount of exercise for their specific breed, a nice dog bed, and understanding humans.
Lazy dog breeds make great companions for apartment living. An indoor living situation is preferred, as well as yard or short walk for exercising needs.
Should I Adopt A Lazy Dog?
If you are looking for a dog that needs constant exercise and will jog for a few miles with you, then lazy dog breeds like Shih Tzu are not for you.
However, if you want a companion breed that will lay at your feet or by the fire and be content to hang out with the kids, then a 'lazy' breed like Shih Tzu is just right for your needs.
References