We may earn commission from qualifying purchases at no extra cost to you.
Learn more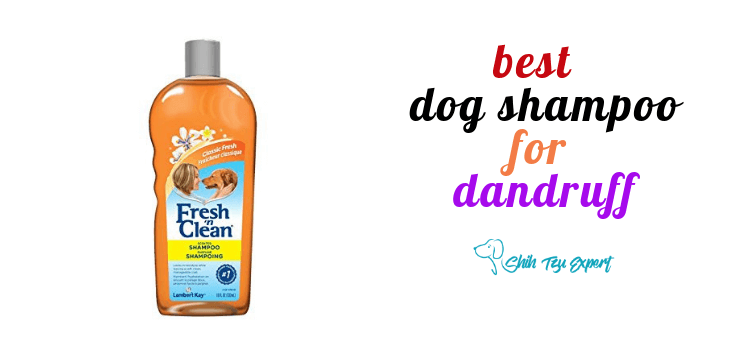 Dandruff can be an annoying problem with the constant itching, scratching and the familiar evidence of it flaking against a black shirt. Humans aren't the only ones affected by it. Dandruff can also be a problem for our four-legged pals. It's quite common and If your dog is showing signs of having dandruff, it is best to remedy it before it gets worse for your pup.
The Best Shampoo For Dandruff On A Dog
If you're not a DIYer or would rather purchase your dog's shampoo at a retail store or online, then here are some brands that could help with choosing the perfect dandruff shampoo for your pup.
Pro pet works is a vet recommended dog shampoo that is made in the USA. It is specially formulated to be used on all sorts of animals, not just dogs, and will work on the smallest of animals. The formula is designed for dogs with food allergies, grass allergies, and flea bites.
The PH of it is balanced for dogs with sensitive skin and dandruff. It contains natural ingredients made for dry and itchy skin. There are no harsh chemicals in the shampoo, no detergents and made complete with all natural, organic ingredients.
Pros:
– The formula is soap-free, with no detergents
– Chemical free and contains no alcohol, fragrances, sulfates, and dyes
– Made in the USA
– Designed for dry and itchy skin
– Cruelty-free
– Won't irritate the eyes
– Made with organic ingredients, such as oatmeal, almond oil, and aloe vera
– Compatible with flea treatments
– The container is biodegradable and is made with recyclable materials
Cons:
– None, everyone that comes into contact with this shampoo seems to recommend it.
This shampoo is vet recommended and treats dogs with dandruff and itchy skin. It works well for cleansing bald spots and soothing irritated skin that has been caused by parasites, dermatitis, mange, seborrhea, and bacterial infections. It gently heals and is cost effective. There are no harmful chemicals in this product or paraben and it contains oatmeal to aid in soothing the skin.
Pros:
– Scented with natural ingredients, like apples
– Emulsifies easily, which means using less product
– Contains aloe vera, vitamin E, and shea to help retain moisture in the coat
Cons:
– This product might affect dogs with ultra sensitivities in the skin. There are reports of it worsening the dog's condition, so exercising precaution goes a long way.
This formula relieves dogs of scratching and itching from causes like mange, seborrhea, pyoderma, mites, and acne. Benzoyl peroxide, sulfur, and other ingredients make an antimicrobial shampoo for cats and dogs that treats a wide spectrum of skin conditions. It cleans gently and flushes pores by removing excess oils, bacteria, and yeast caused by infections. This product was made in the USA and is a swear by from vets while being cost effective.
Pros:
– Deep cleans pores and rids of excess oils, bacteria, and yeast from infections
– Gently cleans and stimulates the skin
– Contains antimicrobials to combat a wide spectrum of skin conditions
– Cost-effective
– Deodorizes
– Paws Promise, if the product doesn't meet satisfactory then it can be returned for a full refund, even if the bottle is empty
Cons:
– Could lead to hair loss, or irritated and burnt skin if your dog is ultra sensitive
Specifically formulated for dogs that have dandruff, dry skin, and itchiness. It contains 3% oatmeal for soothing properties and organic aloe vera for moisturization. The PH balance of the shampoo is neutral and it aids in cleaning and deodorizing the skin safely without irritation. It leaves the coat shiny and is recommended as a natural shampoo by veterinarians.
Pros:
– All natural shampoo
– It contains organic oatmeal for soothing irritated skin and organic aloe vera for retaining moisture in the skin and coat.
– Vet recommended
– Cost-effective
– Soap-free
– Compatible with flea treatments
– Ph balanced
– Promotes healing
Cons:
– Causes allergic reactions in some dogs
– Won't clean really dirty dogs thoroughly
The formula is specifically designed to treat the skin and coat without compromising vegan and organic principles. It contains essential oils for antiseptic properties and a gentle clean for vet recommended care. The product is nourishing and moisturizing with oatmeal and aloe, it aids with itchy and irritated skin.
Pros:
– All natural shampoo
– Designed for the skin and coat
– Vegan
– Contains essential oils for antiseptic purposes
– Gently cleanses
– Vet recommended
– Nourishes with oatmeal and moisturizes with aloe
– Tear-free formula
– Soapless
– Made in the USA
Cons:
– May cause allergic reactions from essential oils
– Doesn't get really dirty dogs clean
This formula is all natural and clay based with argan and neem oils. The bentonite clay takes care of the itchy spots and binds to fungus, dirt, toxins and heavy metals. The neem and argan oils are antiseptic, anti-bacterial, and antifungal. Shea butter and Aloe aid in moisturization.
Pros:
– PH balanced to help neutralize the skin
– 100% natural and organic
– No sulfates, preservatives, and harsh chemicals
– Easy to rinse
– Very concentrated, so a little goes a long way
– Bentonite clay heals by soothing dry, itchy irritated skin and binds to fungus, dirt, toxins, and heavy metals
– Neem and argan oils are emollients that moisturize the skin while containing antiseptic, anti-bacterial, and antifungal properties
– Contains shea butter and aloe vera, leaves coat moisturized and shiny
– Contains no harsh perfumes and fragrances, uses essential oils for smell
– The bottle looks like a high-end product but is cost efficient
– Eco-friendly for lakes and streams
– Cruelty-free
Cons:
– Not intended for pets who are ultra sensitive, could worsen conditions
USDA approved all natural formula that contains aloe and lemongrass. It is detergent free and contains nothing artificial or synthetic. Veterinarians and dog groomers recommend it for its gentleness and moisturizing properties for dogs with itchy skin and dandruff. Easy to lather and rinse with no artificial thickeners or toxins.
Pros:
– 100% USDA approved organic and all natural product
– Hypoallergenic
– Biodegradable
– Contains aloe and lemongrass
– Vet and groomer recommended for soothing and moisturizing the skin and coat
– Good for dogs of all ages, from puppy to senior
– Contains sustainable ingredients
– Vegan
– Eco-friendly
– Lemongrass naturally deters fleas
– Easy to lather and rinse
– There are no artificial thickeners
– Detergent, paraben, and sulfate free
Cons:
– The smell might be too much for dogs with ultra sensitivities
Just like the original oatmeal formula, this brand soothes and aids in dry itchy skin that comes along with dandruff and allergies. It contains eucalyptus and peppermint, which enhances the smell of the formulas without using harsh fragrances.
Pros:
– Eucalyptus and peppermint cools irritated skin from flea bites and dermatitis
– Good for cats and dogs
– 100% biodegradable
– Paraben and phosphate free
– Soap-free, and nourishes the skin without irritation
Cons:
– Product may seem watered down
– May worsen skin conditions of animals with ultra sensitivities
What Is Dandruff?
Dandruff is the white, flaky pieces of skin that can leave a mess if it's not under control. It's normally harmless, but it can be a bit annoying and irritating to deal with. For dogs, it's a little different because the need to scratch the area could be greater. Repeatedly scratching against the skin could increase the risk of infection.
What Causes Dandruff?
Several things could lead to your dog having dandruff, such as:
– Allergies – Being outdoors, certain ingredients in dog foods and chemicals in grooming products could cause allergic flare-ups in the skin. This causes dandruff.
– Over washing – your dog can cause their skin to dry out.
– Mites – Cheyletiella Mites, or "Walking Dandruff Mites" cause dandruff by not burrowing into the skin and staying on the dog's coat.
Suppressed Immune Health and Over Vaccination – Common in just adopted dogs who have already been vaccinated before but get more vaccines as a precaution.
– Environmental Factors – Living in dry climates.
– Fungal/Bacterial Infections – Infections can dry out the skin. Skin cells can grow too rapidly to overcompensate, which leads to excess skin peeling.
Types Of Dandruff
Some believe that there is only the dry, flaky dandruff but that isn't true. Dandruff can come in two forms, dry and oily. Skin dryness is an overproduction of skin cells that flake off. Oily dandruff is produced by the excess oil coming from the sebaceous glands, this causes the coat to be oily and can leave an unpleasant odor.
Signs Of Dandruff
Here are the main symptoms of dandruff in dogs:
Dry skin, that could also be irritated or inflamed
White specks cover the coat, might come off on bedding or clothes
Scabs
Bald patches
Hair loss
Scratching and itching
For oily, a foul smell and a sheen on the coat or skin
How To Get Rid Of Dandruff On A Dog?
Allergies
If the dog is suffering from dandruff as a result of an allergic reaction, there are a few simple things you can do to correct it. If the allergies stem from environmental allergens, some medications may be prescribed to help out with that.
If the dandruff is caused by food allergens, then doing a strict diet change can help alleviate the symptoms. If you want to find out which ingredient in the dog food caused the allergy, you can then reintroduce certain foods and observe if they cause a reaction.
Skin Infections
Yeast and bacterial infections, like Staph, can cause dandruff because the body overproduces skin cells to compensate for the loss of healthy ones. The best way to rid a dog of a bacterial or yeast infection is to have their vet prescribed a topical antiseptic, or an oral medication to get rid of it.
Immune Diseases
Immune diseases, like sebaceous adenitis — a disease where the oil glands are destroyed– is determined by doing a skin biopsy. This disease is caused by the immune system attacking the sebaceous glands and creating dry skin in the process. To treat immune diseases, like this one, it is best to visit a vet to find something to reintroduce the oils in your dog's skin. The vet may prescribe an immune suppressing medication to ramp up oil production levels.
Endocrine Disorders
Hypothyroidism, a disorder where the thyroid isn't making enough of the thyroxine hormone, can cause dandruff. A vet can correct this by supplementing with thyroid hormone.
Home Remedies For Getting Rid Of Mild Dandruff
If the severity of the dog's dandruff isn't caused by a disorder or doesn't need medication to correct the cause of it, then there are some at home remedies that can help ease the symptoms and get rid of dandruff completely.
Grooming your dog's coat allows even distribution of your dog's natural oils. Brushing also massages the skin. Dogs get dandruff when they don't bathe or brush their hair, just like us.
2. Give supplements for fatty acids.
Omega-3 fatty acids promote healthy skin and shiny coats, which leads to less dandruff. You can get the supplements from a vet, or add it naturally within your dog's diet. Eating a healthy amount of fish can increase these fatty acids.
3. Invest in a humidifier.
If you live in a dry area, it's more than likely that your dog will have dandruff. Introducing a humidifier in a place that has low humidity can reduce dryness in the dog's skin. Just safely place in it a spot where your dog spends the most time, like a sleeping area.
4. Feeding your dog a well-balanced diet.
A balanced diet with proper nutrition ensures that your dog is getting the vitamins in their food that will help combat dandruff. If your dog has food allergies that cause dandruff, it's best to have a stricter diet or switch to hypoallergenic foods and treats.
5. Use anti-dandruff shampoo or oatmeal.
The anti-dandruff shampoo helps combat dry or oily skin. It's best to use a dog shampoo because dog's ph differs from humans. Using certain shampoos designed for people could worsen dandruff conditions.
How Does Oatmeal Help My Dog's Dandruff?
Oatmeal has soothing properties and moisturizes the skin. It's a good ingredient on irritated skin and works wonders in anti-dandruff shampoo. The oatmeal binds to the skin and creates a barrier to protect the skin from irritants. The fats found in oat also act as an emulsifier and it is a buffering agent that helps maintain the normal PH balance of the skin.
Homemade Dog Shampoo For Dandruff
If you're a DIYer and you'd rather make a shampoo at home that you know will help your dog, then there is a certain recipe you can use to ensure that you know what exactly is going into your dog's shampoo.
Aloe Vera and Glycerin Shampoo
You'll need:
– 1 cup of baby shampoo, or non-toxic dish soap
– ⅓ cup of glycerin
– 1 quart of water
– 1 cup of white, or apple cider vinegar
– 2 tablespoons of aloe vera gel
Make sure to mix them all and spray all over your dog evenly, avoiding the eyes as you go along.
If you would rather use oatmeal in your recipe, instead of aloe vera, then here is another recipe that you can follow. It'll help the dry skin, and soothe the irritation.
Oatmeal Dog Shampoo
You'll need:
– 1 cup of uncooked oatmeal
– ½ baking soda
– 1 quart of warm water
Grind up oatmeal in a food processor until it's like flour. Pour into a bowl and stir in the baking soda. Add in the warm water and combine the ingredients, then use it as soon as possible on the dog. The baking soda in the shampoo will lather up with the fat from the oatmeal, which creates an emulsion.
Can I Use Shampoo Designed For People On My Dog?
Most of the time it is not a great idea to use people shampoo on dogs and the reasoning for that is that the PH of our skin differs. Using these shampoos on your dog could worsen dandruff and cause allergic reactions. But if you're out of dog shampoo, and all you have is head and shoulders, then it is okay to use it. Vets and groomers recommend using head and shoulders because the shampoo doesn't harm the dog's skin, and helps alleviate dandruff and fleas.