Is your pet panting more than usual?
In this article, we look into why your Shih Tzu may be panting, and if there are any warning signs you need to look out for!
Why Is My Shih Tzu Panting?
Panting is a way of getting rid of excess heat to regulate body temperature. Some types like panting when asleep can be a clear sign of a serious health issue! Most important to things to look out for are the harsh sounding panting and anything that deviates from your dog's regular panting!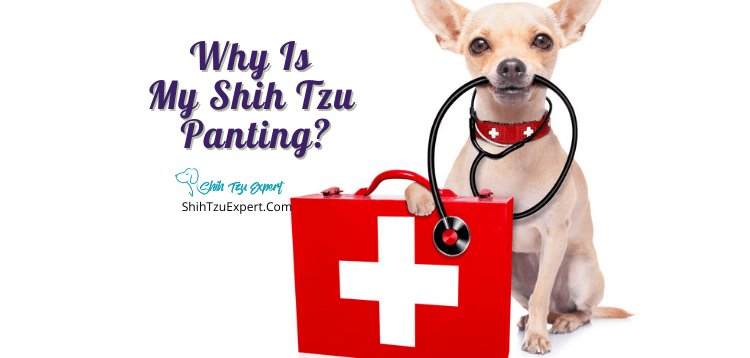 Is Shih Tzu Panting Normal?
All dogs pant. Just like any breed of dog, it is very normal for ShihTzus to pant. There are many different reasons why your Shih Tzu may, including when playing, when it is excited or stressed, but mainly your dog will want whenever it needs to cool down.
What Does Normal Panting Look Like?
Dogs rely on panting as their primary way to getting rid of excess heat in their body. Humans sweat, dogs pant. Panting allows the evaporation of water and heat across moist surfaces of the lungs, tongue, and surfaces within the mouth.
This is completely understandable and common for a dog to be panting on a warm day or after exercise. Dogs have sweat glands elsewhere on their body, but they do not have many cooling abilities.
How Much Panting Is Normal?
As long as your dog is panting for reasons such as trying to cool down, or let off some steam from being active, the amount of panting is normal.
Try to not confuse panting with labored breathing. Labored breathing is strained respiration that may have sounds of distress like whining or crying. Sometimes when a dog is experiencing labored breathing there would be sounds of whistling from the nostrils and even the windpipe due to some blockage.
What Does Abnormal Panting Look Like?
There is a level of panting that goes past the point of normal, and into an abnormal category. Abnormal panting occurs when your dog starts panting for reasons other than cooling off. This could look like this:
Whenever panting appears to be more excessive than your dog's normal breathing pattern
When it occurs at unpredictable times, like when it is not overheated
Appears more exertional than usual
Sounds louder, raspier, or jasper than normal
Your dog can be abnormally panting for a few reasons, but more common ones are pain, heart failure, anxiety, stress, fear, lung disease, anemia, laryngeal paralysis, Cushing's disease, or cortisone therapy.
When Should I Start To Worry About My Shih Tzu's Panting?
You should worry about your Shih Tzus panting when it seems like your dog is excessively panting more than usual when it is not overheating. Is the panting sounding more harsh than normal? Is it occurring during inappropriate times? Is it different than when your dog usually pants?
These are a few questions you should ask yourself to decide if you need to begin worrying about your dog's panting. And if this is the case, go to a veterinarian and get your dog observed. If your dog is abnormally panting, it could be an underlying health issue.
Why Is My Shih Tzu Panting So Much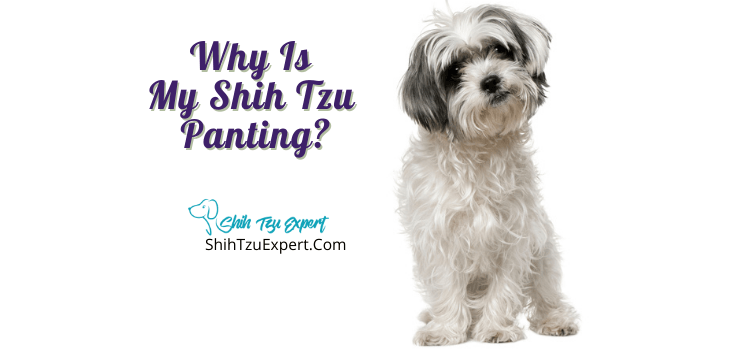 There are a few reasons your Shih Tzu may be abnormally panting. You should always go to a vet if the panting seems abnormal to be sure what the cause is. Listed are a few common causes of why your dog may be panting so much:
Anxiety, fear, or stress
Pain
Anemia
Lung disease
Heart failure
Laryngeal paralysis
Cortisone therapy
Cushing's disease
Why Is My Dog Panting And Shaking For No Reason
There is rarely "no reason" for your pet to be panting and shaking. Panting and shaking for a reason that you may not be able to tell right away could be a symptom of something serious. If this occurs, you should get your dog checked out by a vet.
Excessive panting in your pet can be a symptom of any of the conditions listed above. Excessive shaking in your pet can also be from something serious such as kidney disease, poisoning, or injury.
If excessive panting or shaking occurs on top of vomiting, diarrhea, or limping you need to take your pet to the veteratran right away.
Why Is My Shih Tzu Panting At Night
If your Shih Tzu is panting at night it could be because it is overheating or extremely anxious. If the temperature is not too warm and not anxiety, it could be from an underlying condition that can be very serious.
There are a few breeds like Pugs and Shih Tzus that have shorter pathways for breathing, making it potentially easier for their airflow to be restricted, causing panting. These breeds are called Brachycephalic, which also includes English Bulldogs and Boxer as well.
It is fairly common knowledge that these breeds can have a harder time breathing, which will involve more risk for excess panting.
Why Is My Shih Tzu Shivering And Panting?
If your Shih Tzu is shivering and panting at the same time you should take it to the vet immediately. There is a high chance that your pet is struggling with a disease that can affect its heart, lungs, and or nervous system.
My Shih Tzu Is Panting And Restless/Uncomfortable
It can be nerve-wracking to have your pet be restless and panting a lot. You just have a feeling that something is very off. With your Shih Tzu walking around restless and panting can usually be something more minor, like anxiety.
There can be different reasons why your pet may be doing this, but anxiety is a very common reason for this. However, this can be a sign of discomfort and arthritis. If this is common and happens more than just on the occasion, you may be dealing with something more.
Why Is My Dog Panting And Breathing Fast?
When your dog is breathing fast and panting, you want to go through the different scenarios in your head before jumping to conclusions. Did you just exercise? Is the temperature hotter where you currently are? You want to make sure it isn't something you can control before assuming the worst.
If it is not something more simple, then after a little while you want to bring your pet to the veterinarian as soon as possible.
Shih Tzu Panting And Yawning?
We have discussed a good amount of what it may mean and what to check for, but we have not explored what it means for your dog to be panting and yawning at the same time.
If your Shih Tzu is panting and yawning, this is a sign that your dog is panting out of fear or anxiety. Whatever the reason be, this is not something to be too worried about, unless it is a very common occurrence.
Why Is My Dog Panting While Resting?
A dog panting while resting can very commonly be a sign of anxiety or fear. If your dog is often excessively panting while it seems nothing else is going on, you should take your dog to the vet to make sure there isn't a health condition with your beloved pet.
Why Is My Dog Panting While Walking?
If you have been walking for a while, it is highly likely that your dog can be panting from the exercise of the walk. Another reason your dog may be panting while walking could be from a high temperature, which is more common if walking outside. This can be normal.
If neither of these are normal cases, it would be a health issue affecting your dog.
Shih Tzu Panting While Sleeping
Panting while sleeping can be a little more worrisome. This is because if your dog is sleeping and unconscious, it's more than likely panting due to a health issue. If this is a common occurrence with your dog, it may be time to get them checked out at the vet.
Dog Trembling, Panting, And Won't Leave My Side
If your dog is trembling and will not leave your side, this can be a sign of danger. Shaking and trembling can be a sign of pain with your dog, and it not wanting to leave your sign is its way of trying to tell you something is up.
Your dog may also feel more comfortable with you around, especially if there is pain and discomfort. If this happens, you may want to think about getting a veterinarian to make sure they can help your pet's health.
They could potentially have been poisoned by eating something around the house or yard on top of the other health issues it may have.
What Causes A Shih Tzu To Pant?
Shih Tzus, like other dogs, have a level of normal panting. However, Shih Tzus are a Brachycephalic breed, which means they tend to have more breathing issues. More breathing issues mean the odds of your Shih Tzu panting can be higher than the typical dog breed.
Shih Tzus can pant for reasons such as it needs to cool down, calming down from exercise, anxiety, and pain on top of other potential health issues.
Why Is My Pregnant Shih Tzu Panting?
Panting from your pregnant Shih Tzu may be different than its panting beforehand. It is common for pregnant dogs to experience labored breathing, which should not be confused with panting. Labored breathing sounds like whining or crying.
Labored breathing is characterized by strained breathing or respiration. This can also have a sound similar to a whistle from the nostrils or windpipe from blockage. This is common in Shih Tzus.
What Should I Do If My Pregnant Dog Is Panting?
If your pregnant dog is panting, first make sure it is actually panting excessively instead of it experiencing labored breathing. If it does seem to be abnormal panting after some time you should take your dog to the vet to get checked out.
You want to make sure your dog is having a safe and healthy pregnancy, and that nothing else is going on.
Why Is My Shih Tzu Panting While Nursing?
In most cases, it is normal for your dog to pant while nursing. However, if your pet is intensely panting it could be a symptom of Eclampsia.
Eclampsia is a condition that affects nursing mother, also called Milk Fever. It lowers blood calcium levels and leads to have your pet struggle with walking and causes tremors. If the panting while nursing becomes extreme, you should contact your vet to see what your next steps should be.
Panting After Steroid Injection?
Panting after a steroid injection is a common short-term side effect along with increased thirst and hunger. This is most common after corticosteroids while happens after your dog receives a cortisone shot.
If your pet needs this shot and the panting remains excessive, contact your vet to see if there is anything you can do to help.
Why Is My Old Shih Tzu Panting? What Should I Do?
If your dog is panting more than a usual amount it may be because of a health condition, especially in older dogs. A common health condition in middle-aged to older Shih Tzus, and all dogs, is their larynx is not working properly. This is known as laryngeal paralysis.
If your Shih Tzu is on the older side and is experiencing excess panting, you should take your pet to the veterinarian to make sure everything is okay, or get the treatment it needs.
Why Is My Old Shih Tzu Shaking & Panting Hard Especially In The Early Morning?
If your older Shih Tzu is shaking and panting hard, especially in the early morning, your dog may be suffering from a good amount of pain, if not a condition. Keep an eye out to see if your dog is getting sick and throwing up or having loose stool.
You may also want to look out for your dog's appetite, and if they are acting differently in any other ways. If something seems very wrong, take your pet to the vet.
If you take your dog to the vet, you should expect that the vet will run a few tests, such as measuring the saturation of oxygens in your pet's blood. Then blood work may be needed to diagnose a further problem before the vet provides you with a treatment plan.
Shih Tzu Panting In Car
Some dogs love being in the car, others don't. Either way, there can be many reasons your Shih Tzu can be panting normally in a car. Some Shih Tzus can get anxiety in the car which can cause panting. Another reaction that could cause panting is also out of excitement.
This is assuming that the car is at a comfortable temperature for the dog. If it is too hot in the car it could cause extreme panting, and in extreme cases could lead to death.
If you are going to have your Shih Tzu, or any dog, in the car make sure that the air conditioning is on and at a comfortable temperature for your dog. This helps also know if your dog is panting in the car it is likely from excitement or anxiety.
How To Stop Dog Panting In Car
To stop your dog from panting in the car, you have to first figure out what the cause of the panting is. First, make sure that the temperature is comfortable. Then, if your dog is anxious, maybe try to comfort them in whatever way works best.
Once you figure out the cause, which is more likely a normal cause, then you can figure out how to stop your dog from panting in the car.
Talking to them in a smoothing tone, being patient, healthy treats, letting them out for a short walk, turning some soothing music on are some of the thing I've had lot of success with calming down my Shih Tzus in the car.
Is It Common For Shih Tzu Mixed Breeds To Pant?
Considering your Shih Tzu mixed breed still has Shih Tzu in it, it is common for them to pant. A Brachycephalic breed is still a brachycephalic breed and they are prone to breathing problems, including excessive panting.
Why Is My Maltese Shih Tzu Panting
Maltese and Shih Tzus are breeds that suffer from Brachycephalic Airway Syndrom. It is common for your Maltese Shih Tzu to be panting for a normal reason. When it become excessive, like any breed of dog, talk to your vet and see if it is beneficial for you to bring your pet in.
My Female Shih Tzu Has Been Panting A Lot Today
It is common for all Shih Tzus to pant a little more than most dogs since they have a shorter passageway to breathe from. They could be cooling down or anxious, but the reality is there are many reasons that your female Shih Tzu could be panting more than usual.
21 Potential Reasons Why Shih Tzus Pant
There are many reasons why your Shih Tzu may be panting. Sometimes it is a normal reason that can be beneficial to your dog, however, in extreme cases, it could be from a health issue your beloved pet may have.
Here are 21 potential reasons on what the cause can be:
To cool themselves
Stress
Fear
Anxiety
Discomfort/ Pain
Adverse reaction/ Allergy to medication
Anemia
Cushing's disease
Fever
Heart condition
Heartworm
Heat exhaustion
Heat stroke – A Medical Emergency!
High blood pressure
Hypothyroidism
Larynx issues
Lung disease
Obesity
Poisoning
Shih Tzus are a Brachycephalic (flat-faced) breed
Cortizone therapy
There are many reasons your dog can be panting. A lot of times it is normal and helping your dog cool down from being hot or exercising. If your Shih Tzu is excessively panting, this could be an underlying health issue that should be checked as soon as possible.
References:
https://www.thesprucepets.com/puppy-panting-2804787
https://www.petcoach.co/question/?id=170982
https://pets.webmd.com/dogs/dog-panting-heavily
https://vcahospitals.com/know-your-pet/steroid-treatment-long-term-effects-in-dogs