We may earn commission from qualifying purchases at no extra cost to you.
Learn more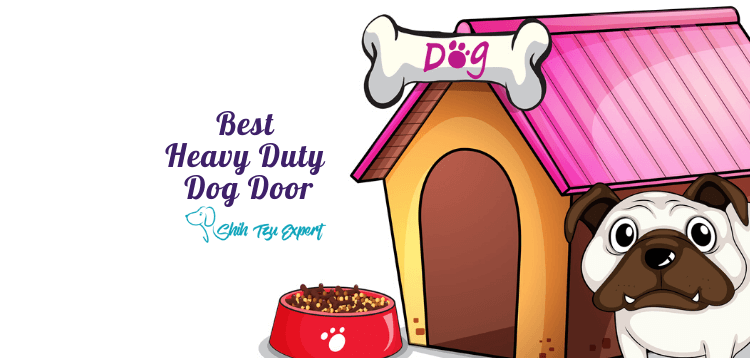 If you're a dog owner, you probably love the ease and convenience a dog door (especially an electronic one) can provide for both you and your pet: your doggo can come and go as they please, without the hassle of having you let them out or in every time they need or want to leave the house. However, some dog doors are flimsy and break with everyday use, or they get warped from extreme temperatures, or they simply don't insulate your home well, now that you have a big hole in your wall.
Your general concerns about durability naturally increase if you are the owner of a large or extra-large dog. Not all doors for large dogs can withstand your big pup's strength. Luckily, there are lots of heavy-duty dog doors on the market. Unluckily, researching so many different products can be time-consuming and exhausting. This article reviews three of the best heavy-duty dog doors out there, so you can make the best decision for your home without all the cumbersome research.
Endura Flap Wall Mount Pet Door
Of heavy-duty dog doorxs, it doesn't get much better than the Endura Flap Wall Mount Pet Door. Tested in over three million trials without damage or failure, this door is designed to protect your home against winds up to 50 miles per hour and temperatures down to -40 degrees Fahrenheit. The sturdy flaps are sealed tightly with magnets strong enough to keep nearly any weather condition and small critter out. There is a lot to love about this pet door, so if you're looking for a way to give your dog independence that won't drain your home of heat and send your electric bill sky high, this product may be the perfect match for you.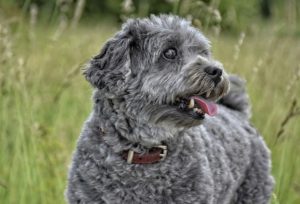 Check Carefully Because…
The size of your pet door matters, especially for your large dog. The large flap on this Endura Pet Door is 10" x 19" and the extra-large flap is 12" x 23". Be sure to order the correct size for your dog to avoid the process of returning your door to get the size you need. This can vary depending on whether you are ordering a single-flap or double-flap door, as the double flap takes up a little bit more space, leaving a little less space for your pup. Endura recommends the large single flap for pets up to 23 inches long and the large double flap for pets up to 22 inches long. Pets up to 29 inches long can fit through the extra-large single flap, and pets up to 28 inches long can fit through the extra-large double flap.
The location of your pet door matters. The Endura Pet Door can fit in walls from 2 inches to 8 inches thick, so be sure to measure the wall in which you want to install the door. If your wall is less than 8 inches thick, the interior tunnel does reduce in depth. The instructions for installation include a section on cutting the 6-inch tunnel (included with your kit) with metal roof shears or a braced jig-saw.
The Must-Know, True Facts About the Endura Flap Wall Mount Pet Door
The large size flap can work well for both medium and large dogs, in case you want to give your medium mum extra room to move freely through the door. The flaps are sealed with magnets on three sides, the strength of which is adjustable. If your pet is timid or training, this feature is perfect for allowing them to pass through the door without needing to push extra hard against the magnets, while still keeping the wind and weather out.
This product is made in the USA and it's made to last. The aluminum frame is designed for durability and security to last the lifetime of the door. The flaps are made with patented material that is non-toxic and recyclable, UV-retardant, stays flexible even in the cold, and is specifically engineered to prevent warping, tearing, and cracking in severe temperatures and with heavy use, making it one of the best doors for large dogs. If you do have a problem with your Endura Pet Door, however, you can rest easy knowing it's covered under a 15-year warranty.
What to Watch out for with this Product
While the magnets are strong enough to keep rodents and small wildlife out, larger animals such as raccoons or skunks have a better chance of getting through. The strength of the magnets can also mean cats or smaller dogs may need some time to get used to the force required to open the flaps. Luckily, the strength of the magnet seal is adjustable to fit your pet's needs.
If you have a door for your large dog, you may find the flap is big enough for a person to get through. However, it can take about 30 seconds for a person to wiggle through the flaps (especially if you have a double-flap door). If you are concerned about security at night, you have the option to lock the door.
Your pet may be hesitant to push through the magnet-sealed flap at first, but with a little time and training, you'll find they love using their Endura Pet Door.
Crucial Tips
When you are not using the door, either being away from the house or sleeping at night, you can use the secure locking cover that is equivalent to a 1/16" sheet of steel, which is included with your purchase, to keep any unwanted visitors from prying open the flaps with their paws.
There is no extender for the tunnel in case you want to install this door in a wall thicker than 8 inches. However, you can easily create an extension of the tunnel with wood boards on your own, or have a professional help you with that.
Your purchase of the Endura Pet Door includes the aluminum tunnel, the frame, and the flap—everything you need except the tools to install it. Be sure to have the tools you'll need on hand or hire someone to help you install the door.
The cost of this door may be high in comparison to the price of other doors for large dogs. The Endura Pet Door technology, though, is designed to stop drafts like dual-pane glass, remain sealed and flexible in extremely cold temperatures, and stay closed against winds up to 50 miles per hour—even the single-flap door. This pet door will pay for itself in energy bill savings, and the 15-year warranty makes this purchase well worth the money.
Pros
Not only is the size of your pet door customizable, but the color is, too. You can find a door that fits your home's aesthetic with your choice of a dark bronze, white, or tan door.
The frame is made of aluminum, which withstands rust in very wet climates, and the flaps keep out rain during heavy storms.
Endura customer service will help you replace any broken or missing parts with no hassle.
Many satisfied customers have had their Endura Pet Door last them for years without breaking or wearing out.
Cons
The door can be a challenge to install. It may be worth spending a little extra money to hire a professional and save you a lot of time, effort, and hassle.
While the flaps are very durable, they have been known (although it's a rare occurrence) to be torn by rough use. Replacing the flaps in this case requires completely disassembling the door and pulling it out of the wall, which then requires re-installation, so this may also be something you want to hire a professional to help you with.
The aluminum tunnel can be a bit flimsy. Some users of this product line their tunnel with plywood to make it sturdier.
Conclusion
No product is perfect, but the Endura Flap Wall Mount Pet Door comes pretty close. Even if you experience some wear and tear on your product, you can rest easy knowing you're covered under the 15-year warranty and Endura will help you replace any part you need to. This door is a great option for your large or extra-large dog especially, providing a large enough flap for them to fit through while keeping your home insulated and sealed against extreme wind, weather, and small critters.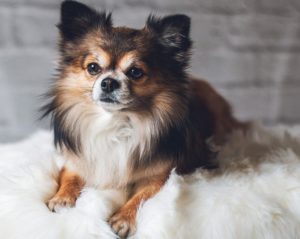 PetSafe Wall Entry Pet Door
The PetSafe Wall Entry Pet Door is a cheaper, alternative option for an energy efficient dog door for your large pup. It is designed with a telescoping tunnel that fits in walls that are between 4 ¾ inches and 7 ¼ inches thick, and there is a compatible extension kit sold separately for installation in walls thicker than 7 ¼ inches. The installation is designed to be easy for you to do yourself, and it can be installed in all types of walls—both interior and exterior. The double-flap design helps insulate and keep rain out of your home while allowing your pet of any size to come and go as they please, and the PVC frame is designed to withstand UV exposure.
Check Carefully Because…
This door is not designed to fit walls under 4.75 inches thick. However, if your door is nearly that thick (4.5 inches, for example), you may be able to use wooden planks to frame out the cutout in your wall to make it just wide enough to fit the frame comfortably. If your wall is thinner than just under 4.75 inches, it is not recommended you try to widen the wall, as this has not been tested by the manufacturer, so they cannot be sure if it would work as it's supposed to.
Though the flaps are designed to be weather resistant and energy efficient, they are not airtight. They are, however, designed to minimize air transfer with their magnet seal and the design of the edges of the flap combined with weather stripping in the frame.
The Must-Know, True Facts About the PetSafe Wall Entry Pet Door
The PetSafe Pet Door comes with step-by-step instructions and a cut-out template designed to make your DIY installation as painless as possible. This product also comes with a slide-in panel that adds extra insulation when the door is not in use.
You can order this product in small, medium, or large, accommodating dogs up to 100 pounds. The small is for very small dogs. The largest size measures at 10 ¼ inches x 15 ¼ inches. To measure your pet to determine the proper size they will need, measure their shoulder height and width. It's important to do this before ordering your pet door, as the wrong size could turn out to be more inconvenient for you and your pet.
What to Watch out for with this Product
The flaps do not always reseal tightly, which can lead to an increase in flies or other bugs inside the house. Using the slide-in panel included with your pet door can solve this problem, although this solution is not feasible for all pets.
Because of the double flaps and magnetic seal, some pets can take some time getting used to the door. They may need to push a little harder than what they're used to in order to get through both flaps. The weight of the flaps can also intimidate some smaller pets. Some patience and training can usually help your pet overcome this challenge, although if your pet is especially timid or skittish, this product may not be the right fit for them.
Crucial Tips
Some pets love to chew anything they can. If you find your dog keeps chewing on the flaps to the pet door, you may want to try temporarily placing the included closing panel over the door flaps when the door will not be monitored. This may help discourage chewing.
Installation can be super easy, especially with the help of PetSafe's install video. Between the video, the instructions, and the template, installing your door can be a simple process. Be sure to have the tools you need before starting the installation. It seems obvious, but it makes a world of difference between a hassle-free project and a headache.
If you have a problem with your pet door, PetSafe's U.S.-based customer care experts are available Monday through Saturday to help you.
Pros
The look is sleek, making it not only a convenient addition to your home, but also one that's pleasing to the eye.
The double flaps keep heat out as well as in, helping keep your home at your ideal temperature and saving your energy bill from breaking your bank.
Many dogs can be trained to use this door very easily, and they love it once they do.
The installation process is easy to do oneself, saving the money and time required to hire a professional to install the door for you.
Cons
There can be challenges with getting the fit of the tunnel right; a DIY fix may be to glue the inner walls to make them fit properly.
The door flaps don't always completely close after your pet passes through it, which can require a little extra attention on your part to keep the flaps properly closed in order to take full advantage of the weather-resistant and energy-efficient technologies.
Occasionally, the magnets can pop off the flap with general wear and tear. If the flap starts to weaken, it may be possible for your pup to tear off the flap entirely, damaging the door further. This, of course, is possible with any pet door with a flexible flap, as nothing is every truly perfectly pet-proof.
When heated in direct sunlight, the flaps can occasionally give off a smell, like the chemicals in the rubber. Installing your PetSafe Pet Door in a spot where it won't be subjected to direct sunlight for prolonged periods of time can help ensure this won't happen.
Conclusion
There are pros and cons to any pet door. While the PetSafe Pet Door is imperfect—like any other product of its kind—it is a great, affordable option for keeping your home sealed against the outdoors while giving your pet the freedom they deserve. With a little research and the right tools, this easy DIY pet door will please both you and your pet(s).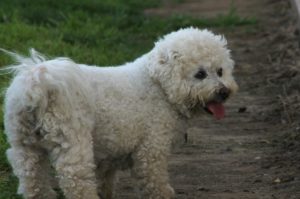 BarksBar Original Plastic Dog Door with Aluminum Lining
The BarksBar Dog Door has the lowest price of the three in this article, and it is designed to fulfill your most basic needs for you and your pet. This single-flap door comes in two sizes: medium or large. The large size measures at 10.5 inches x 15 inches, making it a good fit for your large dog up to 100 pounds. BarksBar prides themselves on providing you with an adequate pet door that will bring convenience and ease to your home. Your pet will never have to wait for you to open the door for them again.
Check Carefully Because…
Like the products before it, this pet door comes with a soft, flexible heavy-duty vinyl flap with a magnetic strip to seal it shut. However, it is not necessarily built to stand up to the same level of extreme temperatures as some other heavy-duty dog doors on the market. This door is a great option for pet owners living in a more temperate climate.
The door comes with a removable self-locking slide panel that allows you to keep the door closed when not in use. Whether you're looking to keep your dog in or unwanted critters out, this feature can provide you with peace of mind. This feature is also good for protecting your home against storms and extreme weather, wind drafts, and insects that may find their way into your home.
If you are looking to replace another pet door with this one, it is useful to know the frame dimensions are 19 inches x 14 inches for the large size. This may require cutting a different hole in order for this product to fit the door properly.
The Must-Know, True Facts About the BarksBar Original Plastic Dog Door
The BarksBar Dog Door is designed to be installed in doors 1 ¼ inch to 2 inches thick. It is made from white plastic with an aluminum lining and is intended to handle everyday use by your pet or pets. It has been tested to be bite- and chew-proof to keep your pup from damaging the door or hurting themselves with a harmful ingestion.
This pet door has been redesigned to improve quality and customer satisfaction. It now features a sleeker aluminum edge that adds just a touch of aesthetic value beyond a normal pet door. The frame has also been reimagined to be sturdier, built with impact-resistant thermoplastic. Its vinyl weatherproof flap is designed to protect against wind, rain, and insects thanks to its magnetic closure, helping keep your home insulated and your energy bill down.
What to Watch out for with this Product
This pet door has great value for the price, but if you have a large, energetic dog or you live in a climate with extreme weather and temperatures, you may experience some wear or damage to your pet door. If you find yourself in need of replacing any part of the product, whether it be the flap, the magnetic strip, or the entire thing, you can what you need at BarksBar.com.
The door is also known to be overcome by wind and rain, and it doesn't always stand up to extremely cold temperatures. The magnet seal works better in warmer temperatures than cold temperatures. If you live in a place that gets very cold, you may decide this product is a better fit as an interior pet door, such as one leading from your home to your garage or enclosed porch.
Crucial Tips
The installation of the BarksBar Dog Door has been made as simple as possible. To ensure you order the right size for your pet, first measure their shoulder height next to the door or wall where you want to install the product. Use a pencil to mark two inches above your dog's shoulder; this mark will be where you want the top of the dog door template to be. You have the (recommended) option to remove your door from its hinges and weigh it down on an elevated surface to prepare it for installation. Once you've centered the template horizontally on the door at the mark you made earlier, trace the template edge with a pencil. Mark each of the four corners of the outline and drill a hole 3/8 of an inch in diameter exactly at the tips of the corners. Precision is crucial here. Using a proper saw, cut the opening starting at one of the corner holes and following the outline. Place the frame (without the door flap) into the opening from the outside so it is flush with the surface of the door. To improve weather resistance, the manufacturer recommends caulking around the exterior frame. To complete the installation, remove the sliding panel and insert the interior frame (with the door flap) into the opening on the inside. Align the screw holes and tighten the door with six screws. Be careful not to over tighten the frame.
Pros
The telescopic frame included with this product combined with just 5 simple installation instructions make for a quick, easy, do-it-yourself installation in only half an hour.
The included sliding locking door panel is tamper-proof to help keep unwanted guests out when the door is not in use, such as at night or on vacation.
BarksBar customer service representatives are friendly and helpful. If you have any questions, they will be there for you. And, if you need to replace any part of your product, shipping is quick and the cost of replacing individual parts is low.
The process of replacing flaps is hassle-free for this product. Once your replacement comes in the mail, it can be on your pet door in a matter of a few minutes.
This door is designed for thinner doors, so it can easily be installed on metal storm doors as well. All you need is the right tools.
Dogs take to this product easily and with little training, making your life just that much easier. If you find your pet is a little more hesitant to push through the flap, you can remove the magnetic strip until they get the hang of it.
Cons
The flap does not seal completely all the time, which can let in drafts or rain. It may require extra attention on your part to make certain the flap is closed against the elements, which can add inconvenience to the convenience of a pet door.
In extremely cold weather conditions, the flap has been known to become brittle and warp, requiring a replacement.
Large, high-energy dogs can damage the flap with heavy, frequent use.
The magnet strip on the bottom of the flap is known to pull away or fall off, and the flap itself can occasionally stop swinging shut all the way.
Conclusion
The BarksBar Dog Door is a good option for your home in a temperate climate, or especially as an interior dog door. It is a good option for your large dog, but as with any product, there are things to be aware of. If you anticipate this door will get heavy, constant use, it may be better to invest in a slightly more expensive product. However, replacing the parts on this product is quick and easy without breaking your bank. This is a great, simple option for pet owners looking for a very affordable pet door.