Some Shih Tzu owners bathe their dog soon after vaccinating, but they forget to take these critical facts below like
the dog's age, stress level, ideal water temperature, type of shampoo into account.
By the way, did you know that a very young puppy should not be bathed, irrespective of the vaccination status, before it is 3 months old?
Avoiding these facts can actually be harmful to your Shih Tzu!
Let's go over why you should carefully consider whether to bathe your Shih Tzu after vaccinating…
Can Shih Tzu Take A Bath After Vaccination
It is important to wait 2 weeks until after your Shih Tzus vaccination to bathe them. Don't bathe very young puppies until they are at least 3 months old. Ideal water temperature should be around 75℉ (24℃). Ask your vet or vet tech about what is best for your dog.
When Can Very Young Shih Tzu Puppies Take A Bath After Vaccination?
You will not want to bathe your young puppy until they are old enough where their body is able to regulate its own temperature. It is suggested you start to bathe your puppy around 3 months old on an as needed basis. It does not matter whether or not you bathe your Shih Tzu after their vaccination.
Is It Essential To Bathe A Shih Tzu After Vaccination?
No, getting a vaccine does not make your pet dirty or anything else that would cause them to need a bath immediately after. Vaccines are clean and safe for your pet. You actually want to avoid giving them a bath after vaccination unless your pup gets very dirty for some reason as you could irritate the shot site.
How Long After Vaccination Can A Shih Tzu Take A Bath?
It is suggested you wait 2 weeks after the vaccination to bathe your Shih Tzu after their vaccination, but it is best to talk to your vet directly and ask them when your dog is getting their shots to make sure.
Does It Depend On The Vaccination? How Long After Non-Core Vaccines A Shih Tzu Can Take A Bath? How Long After Heartworm Vaccine Can Shih Tzu Take A Bath?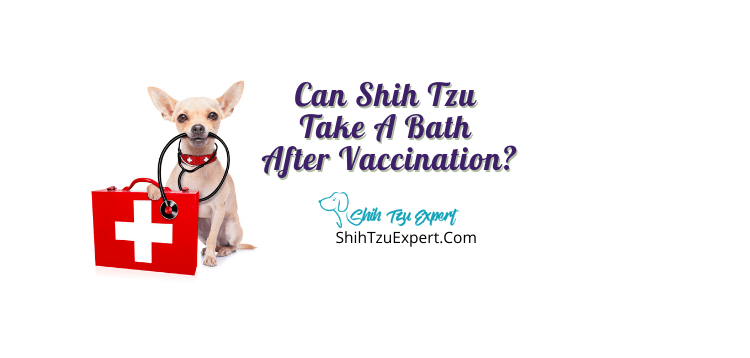 No, it does not depend on the vaccine whether core or non-core you should wait the recommended 2 weeks like suggested above. It is important to know the side effects of the vaccine that your Shih Tzu is getting so you can notify your vet of any serious side effects.
Some things to keep an eye out for that are common are your dog feeling a little "off", bumps at the site of the injection, sneezing and sniffling, these are normal as long as they go away within a few days.
Less common and more serious side effects to keep an eye out for are anaphylaxis which can show up as vomiting, diarrhea, swelling and more, you should contact your vet immediately. Make sure to talk to your vet beforehand on anything else you need to keep an eye out for.
Some other tips on preventing reactions from vaccines are to spread out the vaccines, you can do this by spacing out your vet appointments allowing your dog to get less at a time and making sure they have enough recovery time before their next vaccine.
Another tip is make sure you talk to your vet about what vaccines they need and which ones are just routine and they might not actually need.
Is It Better To Bathe My Shih Tzu Before Vaccination?
Yes, as getting shots can be a stressful experience you do not want to add to that stress by giving your dog a bath especially because most dogs don't enjoy them, if your Shih Tzu needs one, it is best to give a bath before the vaccinations so they are clean for the vet.
Why Can't A Dog Bathe Soon After Vaccinating?
There are many reasons you should not bathe a dog soon after vaccinating, it adds more stress to the dog, it can be sore around the vaccinated area and another big reason is that your dog's body is working on feeling better after the vaccine, they could be more susceptible to a cold during this time.
Can Shih Tzu Take A Bath After Vaccination In The Winter?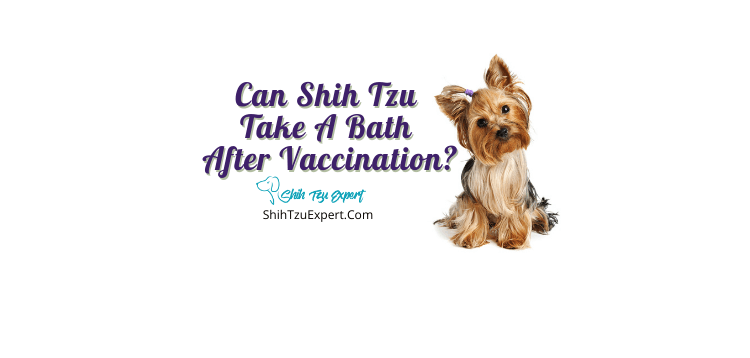 Yes, as long as you wait the suggested time above or by your vet your pet can take a bath in the winter. The only problem is that it is colder outside and your dog might have a harder time drying completely and regulating their body temperature to warm themselves, make sure to dry thoroughly.
Should A Shih Tzu Bathe In Hot, Warm, Lukewarm, Or Cold Water after vaccination?
The ideal temperature for a dog bath is 75℉ (24℃), the water should be warm enough your Shih Tzu won't freeze but not too hot that you cannot comfortably keep your hands submerged in.
Getting Ready For A Bath
Choose a location- Outside in a small pool, your sink or bathtub, whatever is available to you and allows your dog enough room to be comfortable
Prep your dog- start by brushing out their fur coat
Trim their nails- if you have learned how to do so, if not look into a professional helping you
Gather your supplies
Remove their collar and anything else they may be wearing such as a bandana
How To Give Your Shih Tzu A Bath
Get the temperature just right and comfortable for you both
Wet your dog's body- make sure the water pressure isn't too high and avoid getting their head/face too wet as you do not want to get water in their eyes/ears
Apply the shampoo- again avoid the face if it is dirty use a small washcloth to clean it, rub in shampoo with your hands checking for any unusual bumps etc
Rinse until your Shih Tzus coat runs clear, make sure all the shampoo is off before finishing
Drying your Shih Tzu- try to pat your dog dry versus rubbing as that can cause matting. If you are using a hair dryer make sure not to burn your them, also try to brush/comb them while drying to prevent tangling
Give your dog a treat for their patience
Tips For Bathing Your Shih Tzu
Get your Shih Tzu used to bath time by showing them the sounds of running water, a blow dryer and letting them sniff the supplies you're going to be using
Try getting bath toys to distract your Shih Tzu while in the bath making your job easier
Keep their favorite treat near, you may also try putting a licking mat on the wall of the bathing station to keep them busy
Remember it is recommended Shih Tzus are only bathed once every 3 or so weeks as bathing too often can strip their fur of much needed oils
Get a grip for the bath/sink
Use a restraint to keep them in the tub if they tend to escape
Start bathing at the feet
Supplies For Your Shih Tzus Bath
High quality shampoo such as tearless or hypoallergenic that are free of fragrances with ingredients such as avocado, lanolin and coconut oil
High quality conditioner with the same criteria as above, the conditioner is good as it helps prevent any breakage and helps your dogs fur feel nice and soft after a bath as it can help prevent dry and itchy skin
Your Shih Tzus favorite treat(s)
Conclusion
Yes, if your pet has gotten into a mess you can give them a bath after a vaccination but if you can then avoid it for 2 weeks according to medical advice, but as always talk to your trusted vet and ask them directly as they know your pet and their health history better than anyone else.
Sources:
https://www.animalwised.com/can-i-bathe-my-dog-after-vaccination-2528.html
https://www.wikihow.com/Wash-a-Doghttps://www.wikihow.com/Bathe-a-Shih-Tzu-Puppy