Many pet owners have concerns about properly introducing dogs to their other livestock, particularly goats.
With proper training and application, many pet owners can safely introduce goats and dogs without the risk of injury to one of the animals.
How To Introduce Your Dog To Goats?
Dog and Goat owners may come to find that these two animals can be quite similar in the way they learn and how they respond to humans. When introducing them, which can be completed in a variety of ways, it is important to remember to keep them safe. It is recommended to find a safe way to protect all involved during introductions.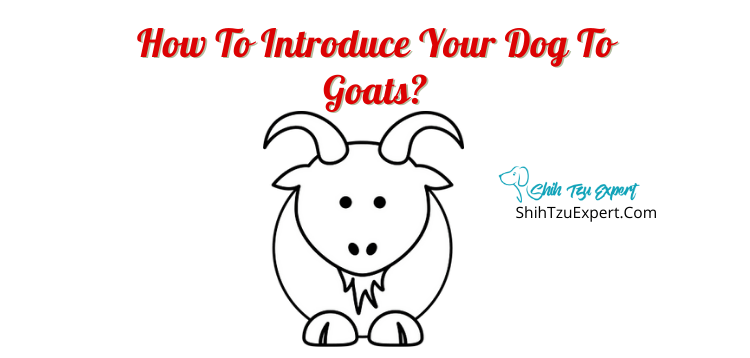 Top Tips For Introducing Your Dog To The Goats [With Safety In Mind!]
Do Dogs Get Jealous Of Goats?
Our dogs tend to become attached to us and desire our attention, therefore, anything that may take attention away from our dogs can lead to jealousy. Dogs become jealous for a variety of reasons, but often it stems from a desire to have their owner's sole attention. If you bring a goat home and it requires attention, it can be a trigger for jealousy in your dog.
How Well Do Dogs And Goats Get Along?
Since dogs and goats are both animals who enjoy companionship, it is reasonable to believe that they will get along well.
Though goats are often afraid of dogs because they are prey animals, dogs can serve as guardians for goats and protect them from predatory animals.
The key factor that will determine the type of relationship your dog and goat will share boils down to how you, as an owner, train them.
Why Do Dogs Attack Goats?
Overall, whether a dog will attack a goat is often a reflection of how the dog was trained and introduced.
Goats are prey animals who tire quickly and become winded easily, therefore, without proper training, dogs see chasing goats as a fun activity because they can chase them easily and quickly.
Not taking time to properly train and introduce your goat and dog with great caution can often become disastrous.
Will My Dog Attack My Goats?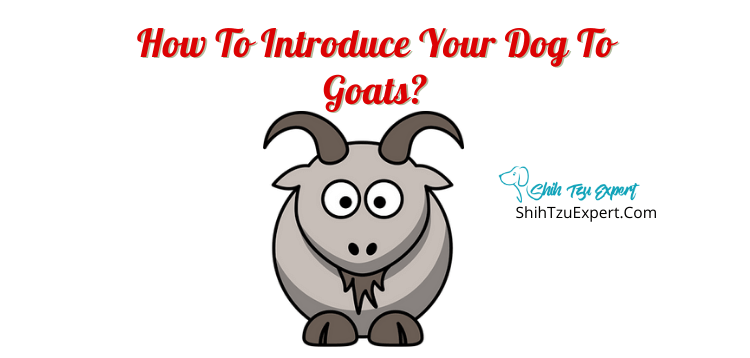 With absolutely no intervention, solely acting on instinct, it is reasonable to believe a dog will attack a goat. This is hard to predict, often occurs on a case-by-case basis, and has a direct connection to the work you put in as an owner. It is important to research methods to expose your dog to your goat to prevent these situations.
What Kind Of Dog Is Good With Goats?
If you are looking for a dog that would be a good companion for your goat, doing breed research is very important.
Dogs considered to be best with livestock are Anatolian Shepherd, Kuvasz, Great Pyrenees, Tibetan Mastiff, and Maremma Sheepdog.
These dogs are best for the job because of their protective instincts which drive them to ward off coyotes and other predators that may attempt to kill your livestock.
Can A Goat Get A Dog Pregnant?
In short, no, it would not be possible for a goat to impregnate a dog.
Dogs and goats are different species that are not similar enough to mate.
i.e., Goats and sheep are similar, therefore these two animals can breed as dogs are very closely related to wolves.
Can A Dog Get A Goat Pregnant?
It is not uncommon for a dog to attempt to mount a goat that it shares space with, however, due to their difference in species it would not be possible for a viable pregnancy to result from this.
A dog attempting to mount a goat could also lead to further problems between them as this may lead the goat to feel threatened and react accordingly.
As a general rule, animals species that are not similar cannot properly breed.
Can Dogs And Goats Live Together?
When approached properly, a dog and goat can live in harmony. Success depends on proper planning, proper housing and transition for the animals, proper training, and continued support. When dogs are trained to protect the goats, they can become great companions that not only avoid attacking the goat but also protect it.
How Can I Train My Dog To Not Attack Goats?
Training is the most important factor in the proper introduction and a smooth transition between dogs and goats. Training a dog how to properly be around a goat and be protect it while outside of the enclosure is a great way to prepare the dog to be inside the enclosure with the goat. Working on off-leash training and boundaries are great training tactics for dogs who will be around goats
Why Did My Dog Attack My Goat?
Attacking your goat may signal that the dog was not properly trained and introduced to the goat and is acting on instinct to "hunt". Goats are fun for dogs to chase because of how easy it is to tire them.
Dogs may see an attack on the goat as a game for them, though it may be dangerous for the goat.
Are Dogs Known To Kill Goats?
Though it is possible to properly introduce goats and dogs, it is also common for dogs to attempt to kill goats.
Dogs attack and kill goats more than any other wild animal, causing them to be considered a top predator of goats.
When dogs attack goats it does not make a difference if they are alone or in a pack, though pack attacks are generally the worst.
Do Dogs Eat Goats?
Not only can dogs eat goat meat, but because goats are herbivores, it is very healthy for them.
Many parts of the goat are completely fine for the dogs to eat as long as they avoid bones and skin which can cause digestive issues.
Though dogs can eat goat meat, often when they kill a goat it is not for a food source but sport.
Can A Dog And Goat Be Friends (BFF)?
In cases where a dog is taught to see a goat as a companion instead of prey, the dog and goat can form a close bond. When they have the opportunity to bond, the dog can become protective of the goat and keep it safe from various dangers. Since dogs and goats are both very social animals, they can form a close bond when they are raised together.
How To Stop A Dog From Killing Goats?
Dogs will learn not to kill goats when they are trained to see the goat as a friend and not prey. Trainers can work with dogs, or teach owners how to work with their dogs so that they understand that it is not acceptable to attack goats. It is also important to consider the environment and what kind of living space the dogs and goats have; if a dog is a risk for killing a goat it should not have access to the fence the goat is kept in.
Are All Dogs Afraid Of Goats?
Many dogs, because of their breed, do not fear goats for a variety of reasons. Hunting dogs are trained to hunt prey animals such as goats and would not have any fear of them. Many breeds are considered guardians for livestock and would not only have no fear of the goats but also have no fear of animals trying to harm the goats, such as coyotes.
Why Is My Dog Petrified Of The Goat's Horn?
A goat's horn can be very painful to a dog if they are rammed by them. Often, in early introductions, goats may ram dogs as a defense mechanism which can cause the dogs to associate the horns with danger or pain.
Can Goats Become Emotionally Bonded With Humans Like Dogs?
It is believed that goats can bond with humans similar to dogs because the response they have when staring into their human's eyes was similar to the response of domesticated dogs, and unlike wolves. The type of gaze they exhibited was similar to the gaze a dog gives their human when asking for help. When given tests to show their ability to open a box, goats would gaze at the person performing the test as though they were asking them for help when they found the task impossible.
Is It Expensive To Raise Goats?
Goats can be much less expensive to raise than other livestock because they do not generally require special feed like many animals. Goats often are used to clear grass and weeds on hillsides and generally only require food to be provided to them during winter months. Because many of the other costs are lower, it is found that the highest expense for raising goats is labor.
Do Goats Learn Their Names?
Goats are very smart animals that can be trained to do tricks, similar to dogs. Studies found that goats can not only learn their name but they can learn to come when they are called. Similar to dogs, goats easily can be trained with treats and this is a trick many owners use to teach them their name.
How Much Room Does A Goat Need?
Determining the amount of space needed for a goat is not as simple as you might think. Experts say that one goat requires at least 250 square feet of space, but it would not be in the goat's best interest to only have one goat as they are herd animals. Therefore, the standard measure is 500 square feet for 2 goats to prevent the goats from being lonely.
What Dogs Should Not Be Kept With Goats?
While goats and dogs can live in harmony in many cases, it is not advisable to keep goats with breeds that are considered hunting dogs.
Hunting breeds can easily associate the goat as their prey and attack and harm the goats, especially if they are enclosed together.
What To Do About Goats Initially Being Scared Of Dogs?
To help goats overcome their fear of dogs it is important to help them become more comfortable around the dogs. This can by doing slow, easy transitions, keeping dogs out of the goat enclosure, and preventing them from digging or breaking into the enclosure to allow the goats time to adjust to them.
How To Use Clicker Training To Teach The Dog To Play Nice With Goats?
1. Find a space free of distractions.
2. Conditioning – teach your dog that a "click" is a positive sound.
3. Adding a target – targets are made from a stick with a special tip, it is used to assist with focus
4. Advancing training – Work to increase the dog's skill set; make training more difficult
5. Use short sessions – this makes it easier to focus.
6. Be consistent constant training helps your dog to be more successful
7. Over time, start training without the use of treats or phasing them out.
How To Use A Shock Collar To Teach The Dog To Play Nice With Goats?
1. Shock collars should be used after dogs learn the basics – they are not a substitute for training.
2. Allow dogs to become used to the collar first. – Not only will this help ease their stress and negative connotations surrounding the shock collar but it helps prevent the collar from being something that they are scared of.
3. Model good or proper behavior, your dog will learn how to behave properly from you. (Treats and specific words are important.
4. Make sure that the dog knows the skill without the shock collar, so it does not only do the activity when it is wearing the shock collar.
5. It is the goal to use "vibrate" or no collar at all – it is to eliminate problem behaviors not create new behaviors.
6. Ask for help when needed – many dog trainers can offer a wealth of knowledge because of their experience
Will The Goat Charge At My Dog?
It is not considered common for an average goat to charge a dog. Rams, however, will charge as they are much more dominant. Goats generally will not charge as they are flight response animals and will retreat even to the point of becoming exhausted.
Can A Goat Kill A Dog?
Goats are generally flighty animals that would not intentionally provoke a dog, especially to violence. Rams do have a powerful headbutt that could cause serious injury to a dog. Goats are also prey animals while dogs are predators, so it is much more logical that a goat would run away before sustaining serious injury.
Why Do Some Dogs And Goat Don't Get Along At All?
Various factors can determine the relationship between a dog and others. Proper training and introductions can prevent many issues between a dog and goat, or other livestock for that matter. The breed can also play a major factor in how a dog responds to a goat.
Is Goat Milk Good For My Dog After Giving Birth / Whelping?
Goat's milk is not considered good to give your dog because, in addition to being a source of significant amounts of fatty acid, protein, and calories, it can cause gastrointestinal issues. It is often difficult for animals who have been weaned to digest goat's milk. There is also no scientific evidence proving its benefits.
References
https://www.weedemandreap.com/how-much-space-need-raise-goats/