Owning different species of pets can be very difficult and stressful as you don't know if they will get along, here is the information you need.
My Dog Attacked My Guinea Pig
This is a very scary situation to deal with, the safest course of action is to keep dogs and guinea pigs separated into different rooms where they do not have access to each other. Afterward, explore methods to make them gradually get used to each other while under careful supervision.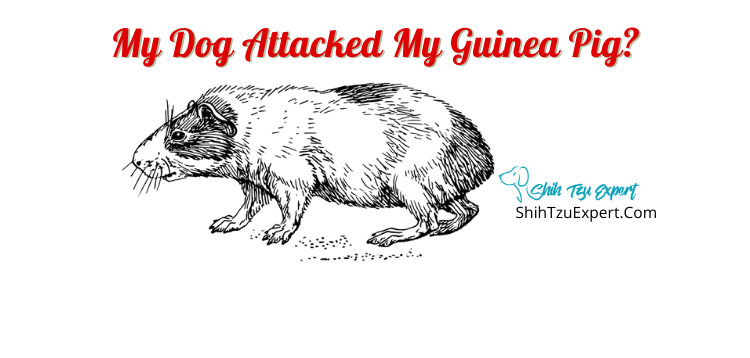 Will My Dog Attack My Guinea Pig?
Dogs are by nature, hunters. This means that whether or not one will attack prey animals depends entirely on a dogs temperament and training.
Some breeds of dogs are more likely to be hunters than others but those "stereotypes" can't be relied upon fully, so you have to look at the nature of the individual dog.
Will My Dog Kill My Guinea Pig?
If your dog is going to attack your guinea pig, they are going to kill it. The guinea pig has no real chance at fighting back or getting away from a dog.
Unless you are right beside them at the time of the attack there is very little chance that you would be able to save your guinea pig.
How Do Most Dogs React To Guinea Pigs?
Most dogs are not usually instinctually aggressive right of the bat. Their first reaction to a guinea pig will be curiosity and sniffing most likely.
The danger comes if the guinea pig starts to run or make noise (particularly any sound that sounds like squeaking).
This is dangerous because those actions imitate what dogs would see and hear while chasing down prey and thus trigger them to start hunting.
Why Does My Dog Attack Guinea Pigs?
Dogs have no particular malice towards guinea pigs in general, they are just prey animals of a size that make them easy to hunt.
This and the squeaky sounds they make end up making them the perfect target when dogs get triggered to hunt.
Does My Dog Attack The Guinea Pig Because It Doesn't Like It?
If your dog doesn't like your guinea pig, it actually is more likely that that is because of you rather than the guinea pig itself.
Dogs can be very jealous creatures, so if your dog were to feel like you give your guinea pig more attention than them (even if it's not true) the dog may become angry.
What Are The Obvious Signs That My Dog Dislike The My Guinea Pig?
The most obvious sign that a dog dislikes anything is if they bark or growl when they are around it. Unless they are playing together, barking and growling is a sign of aggression.
If your dog refuses to be in the same area or even the same room as your guinea pig that is also a sign of their discontent.
Dogs are usually very happy-go-lucky creatures, so if they are giving anyone the cold shoulder, they do not like them.
Will My Dog And My Guinea Pig Ever Get Along?
This depends on the situation at hand. If the reason your dog doesn't like your guinea pig is because of jealousy, they could be able to learn how to like them in the future.
If on the other hand, your dog doesn't like your guinea pig because they feel a need to hunt it because of their natural instincts, then that is a whole other kettle of fish.
Not only is it very unlikely if that is the case that they would be able to get along in the future, but it would also be very dangerous for your guinea pig to leave them together to try.
How To Train My Dog To Be Friends With My Guinea Pig?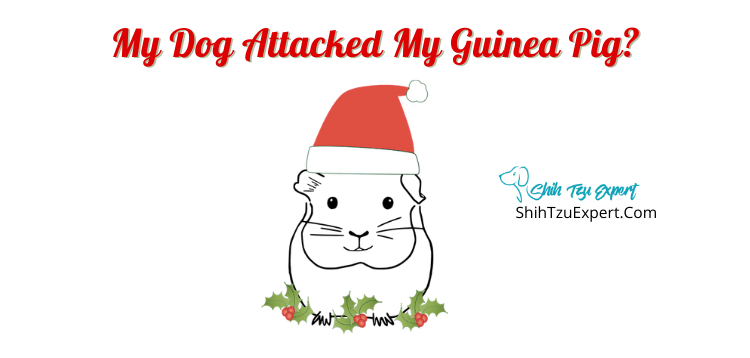 The first thing that you need to do is make it clear to your dog that you love them both equally and that one will not take away time from the other.
You can do this just by standing near the guinea pig cage with your dog while petting them and giving them treats.
The next thing is to understand the dynamic between the two, the guinea pig will be afraid of the dog whereas the dog just doesn't like the guinea pig.
To accommodate this, keep the guinea pig in your hand with the dog in the room and let the dog make any moves to interact with the guinea pig.
This way the guinea pig won't have to be as scared since you are holding them and the dog won't feel like the guinea pig is being forced onto them.
Which Dog Breeds Are Naturally Good With Guinea Pigs?
There are no dog breeds that are 100% safe to keep around small pets but there are some that have less of a hunting drive.
Herding breeds like collie's or sheepdogs are typically very gentle with animals, even small prey type animals like guinea pigs.
Family dogs like golden retrievers are also a good option as they also tend to be very sweet and gentle.
How Can I Keep My Dog Away From My Guinea Pig?
Keep your guinea pig in a separate room that your dog is not allowed into and use a lock for the door.
Remember that a dog would be able to break through your guinea pigs cage if they are determined enough so please be cautious.
Guinea Pig Caught By Dog What To Do Now?
Try to stay calm, the first course of action is to tell your dog to leave the guinea pig alone with whatever "leave it" command they have been taught.
If that doesn't work, see if are able to take the guinea pig out of your dog's mouth without causing injury to yourself then try to do so as safely as possible.
If you can't retrieve the guinea pig without risking harm to yourself see if your dog will drop the guinea pig if you try to give them a treat.
Dog Killed One Of My Guinea Pigs How Should I React?
This is an absolute tragedy, losing an animal especially to one of your other animals is devastating and you will obviously be upset.
However, your dog should not be punished. The urge to hunt and kill is instinctual and impossible to control for them, it would be like punishing them for eating.
Should My Dog Be Put Down Because It Killed A Guinea Pig? No! Of Course Not!!!
Putting down a dog is only required if they become uncontrollably aggressive towards people, they do not have to be killed for hunting prey animals as it is what they are made for.
If you have more small animals that you now fear for, the best course of action would be to rehome the dog.
As heartbreaking as it would be you have to be responsible for all the animals under your care and that means not leaving them with creatures that have proven intent to harm them.
Why Is My Dog Obsessed With My Guinea Pig?
There are really only two reasons why your dog would be obsessed with your guinea pig.
Your dog is very friendly and wants to be friends with your guinea pig, you can tell if this is the case by whether or not your dog exhibits play behaviours around them. Play behaviours are things like rolling onto their back, waging their tail and getting in positions like the "play bow"
The next reason is slightly less wholesome and that is because your dog views your guinea pig as prey, if this is the case they should be separated permanently.
Are Guinea Pigs Scared Of Dogs Barking?
Guinea pigs are prey animals, so they are instinctually programmed to be afraid of any perceived threat.
This means that for most if not all guinea pigs, just seeing a dog would be very scary for them, let alone hearing them bark or being barked at.
How Do You Bond A Guinea Pig With A Dog?
Guinea pigs and dogs would never naturally be friends in the wild so bonding them together could be quite tricky.
Please keep in mind that whether or not you will even be able to attempt to do this depends on the temperament of your dog.
If your dog is determined to hunt your guinea pig, this is not safe to try.
That being said, the best way to try and bond your dog and your guinea pig is to create a positive association with each other.
This can be achieved by doing something as simple as giving them each a treat every time they see each other.
If treats are not an option (if one or both of them are overweight) you can try just playing with them and cuddling them every time they are in a room together.
Can My Guinea Pig Bite My Dog?
While guinea pigs do have teeth and are capable of biting something, it is not the guinea pig biting the dog that you have to worry about if you have them together.
If a guinea pig and a dog got into a fight, the guinea pig would not even be able to reach the dog to bite it before being gobbled up by the dog.
You should be more worried about your guinea pig biting you than them ever getting the chance to bite your dog.
Can Dogs Get Diseases From Guinea Pigs?
Guinea pigs can carry some fairly nasty diseases like salmonella that can be transmitted to both humans and dogs under the right circumstances.
Some guinea pigs have even been seen to be able to transmit chlamydia in very rare cases.
Is My Guinea Pig Dead Or In Shock?
Unfortunately, if your guinea pig goes into shock the chances of them not passing away are very slim.
Guinea pigs have very fragile hearts and can go into shock and die from something as simple as a change in their enclosure or a loud noise.
To check whether or not your guinea pig has passed on, put a finger just in front of their nostrils to check and see if you can feel any breathing.
If it has been 2-3 min and you still do not feel any breathing then it is safe to assume that your guinea pig has died.
Guinea Pig In Shock After Dog Attack
What happens when a guinea pig goes into shock is actually that they get so scared that it causes cardiac arrest (a heart attack) This is why it is so common for them to pass after.
Considering that a guinea pig can go into shock from a sudden noise or movement, they will almost definitely go into shock if they get attacked by a dog.
With a scare this severe it is almost impossible for a guinea pig to survive the shock.
Guinea Pig Frozen In Fear
This is very common, guinea pigs will either flee or freeze when faced with danger.
If there isn'ät any sign of danger that you can see but your guinea pig isn't moving, it can be a sign of illness and you should bring your guinea pig to the vet for a check-up.
Can Guinea Pigs Survive Shock?
It depends on how severe the shock is but it is possible for a guinea pig to survive after being in shock.
Whether or not a guinea pig will die of shock depends on their heart, if they have a weak or even slightly frail heart there is almost no chance that they will survive.
What Are The Guinea Pig Shock Symptoms?
If your guinea pig goes into shock they will become very still with very erratic breathing and heartbeat.
They will stop eating and drinking or only eat or drink very little, they may also become quite shaky.
How To Help A Guinea Pig In Shock?
The only thing you can do is stay with them to try and help them calm down, if they aren't eating you may have to syringe feed them.
If you think your guinea pig has gone through shock please bring them to a vet as soon as possible.
Guinea Pig Internal Bleeding What To Do?
There is no way to treat internal bleeding at home. do not attempt anything by yourself without consulting with a vet.
Pain Relief For Guinea Pigs?
There are many pain relief medications available to guinea pigs such as gabapentin, amantadine or tramadol.
These can be given orally as a liquid, if this is not an option you can also find injectable pain relief for guinea pigs.
References:
https://www.stanfordchildrens.org/en/topic/default?id=diseases-from-your-pets-both-common-and-exotic-1-2420#:~:text=Guinea%20pigs%20and%20hamsters.,found%20particularly%20in%20guinea%20pigs.
https://www.cbsnews.com/news/guinea-pigs-hidden-health-hazard-chlamydia-caviae-bacteria/
https://xomypets.com/is-my-guinea-pig-dead-or-in-shock/
https://www.itsanimal.com/is-my-guinea-pig-dead-or-in-shock-how-to-tell-for-sure/
https://www.theguineapigvet.co.uk/post/pain-relief-for-guinea-pigs#:~:text=There%20are%20several%20other%20pain,be%20used%20in%20some%20cases.