If this has happened to you, don't fret! Accidents happen and this exact situation has happened to all pet owners. There are things you can do to gain their trust back and make them feel safe.
I Accidentally Hurt My Dog And Now It Hates Me
This can be a very scary and serious situation. Your dog doesn't hate you, they probably just got a fright or are in a little bit of pain from the accident. Just be patient with them and they will come around in no time!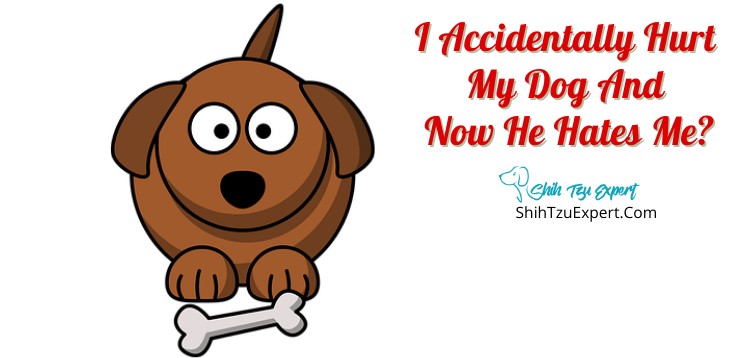 I Accidentally Hurt My Dog And He Bit Me?
No matter what happened before, if your dog bites you it is very important that you get space and a physical barrier between you and your dog, like closing the door so you can assess.
The most important matter after being bit is to see how bad the bite is, did they break the skin? Was it one bite or multiple? How deep do the bites go?
After looking over the bites and calling a doctor or going to the hospital if necessary, you can begin to think about what this altercation means for your dog.
You may think that because he bit you that you will automatically lose your dog but this is not always the case.
Talk to your vet and tell them about how you accidentally hurt them, if the bite was a pain response from the dog there is a lot that can be done to keep your dog with you.
You can also work with an animal behaviourist to see how best to move forward with your dog, which may be hard after being so frightened by them.
There is a possibility that it will be found that your dog is too aggressive to be allowed back in the family, especially if you have young kids that could be harmed by the dog.
Even though this news is heartbreaking it's important to remember that this wasn't your fault.
Accidents happen, there is nothing you can do to irradicate the possibility of someone being accidentally hurt.
If your dog is no longer seen as fit for the family then it is for a reason and you have probably prevented an even more serious event from happening down the line.
You may feel bad afterwards which is completely normal, but it is important to forgive ourselves, nothing good will come from beating yourself up over something uncontrollable.
I Accidentally Hurt My Dog For How Long Will It Remember?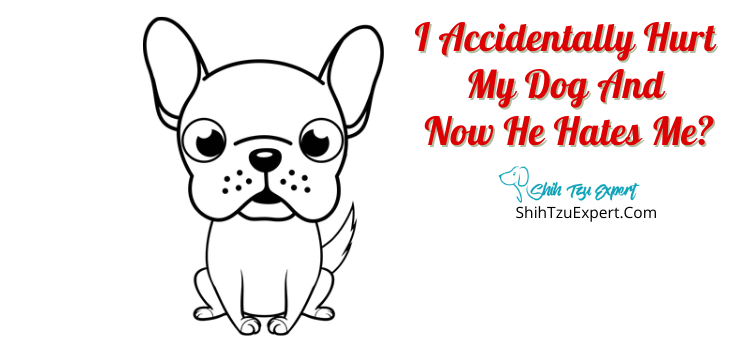 With a genuine accident, your dog will remember it probably as long as you remember accidents in your life, the thing that they will really remember is how you responded.
So if you say, accidentally stepped on your dog and yelled at them and kicked them out of the way in that moment but came back to apologise later they will only remember the yelling.
On the other hand, if you were to immediately apologise and give them a treat to tell them that they were good and it wasn't their fault, they will most likely only remember the pampering.
In short, if you show them that it was just an accident and pamper them immediately after, they most likely won't even remember you accidentally hurting them.
It is really just like with people, if they know you are genuine then they will forgive and forget.
I Accidentally Hit My Dog In The Head 🙁 ?
Head injuries can be very dangerous, but luckily to actually injure the head takes a lot of force, much more force than your average accidental knock on the noggin.
Definitely, the first thing you should do is gauge how badly you hurt your dog and comfort them to ensure they know it was an accident.
Here are some common symptoms of head trauma:
Confusion or disorientation.
Coordination problems.
Losing consciousness randomly.
Lethargy.
Unusual eye movements or different sized pupils.
Seizures.
If you spot any of these symptoms in your dog please bring them to your vet immediately.
If your dog seems fine afterwords, monitor them for a few hours and if nothing pops up your pup is probably fine. If you would like to bring them to a vet just to check it is always recommended.
As far as the emotional side, be sure to comfort your dog after you accidentally hit them in the head, you want them to know they didn't do anything wrong.
I Accidentally Closed The Door On My Dog?
If you accidentally closed the door in your dogs face they may seem a little miffed with you, to be fair, if some closed a door in my face I would be pretty miffed too.
If this isn't a regular occurrence your dog will understand that it was just a mistake and forget about it (treats and cuddles should be provided to help with this process though).
If on the other hand, you actually closed the door on your dog and hurt them with it, this can be a bit of a different story.
Dogs can get very hurt if this happens, especially if you closed it on their tail. Bring your dog to the vet as soon as possible to make sure that they are okay.
Be very kind to your dog and supportive and they will forgive you for the mistake, after all, they make them too.
The real issue here is that your dog could very easily become afraid of doors if this happens, which would obviously have to be dealt with.
The most important thing to know though is that your dog will forgive you.
Why Do Dogs Lick You When You Accidentally Hurt Them?
Dogs are very emotionally intelligent creatures, who are much more aware of what people are feeling than we give them credit for.
Dogs tend to like us when we apologise to them as a way to sort of "accept" our apology or let us know that they are okay or at least going to be okay.
Dogs can also sometimes like out of a sign of nervousness or fear. You can try to combat this by being soothing and supportive and making sure they know they're not in trouble.
Accidentally Kicked My Dog In The Stomach?
Accidental hits of any kind tend to not be very serious as there is not a lot of force behind them to be able to cause much trauma.
This is especially true of the stomach as there is usually a protective layer of fat there (stored to protect the internal organs) that absorbs the shock of the blow.
Absolutely, bring them to the vet to ensure no real damage was done but most likely the worst your dog will get is a bruise after a few days.
In the case of a hit to the stomach, accidental or not your dog may end up being very protective of or guarding their stomach after.
If this is the case, try petting your dog in places they allow and slowly working your way to the belly, once you reach it give your dog a treat every time you touch their stomach.
This will reform positive association with having their bellies touched, instead of the negative one they had after the accident.
Do Dogs Forgive You When You Accidentally Hurt Them?
They absolutely do. Dogs know the difference between a painful occurrence that happened by accident and something that was done purposefully to hurt them.
So if you show remorse straight after the accident occurred, your dog will know that you didn't mean to hurt them and forgive you.
Dogs actually do this for each other as well. When dogs play, they never mean to hurt each other but it does happen quite frequently, so they understand that accidents happen.
If you don't see them holding a grudge with each other then they definitely won't hold a grudge with their parent!
How Long Does It Take For A Dog To Forgive You?
Dogs are not very vengeful creatures and tend to forgive quite easily. If you accidentally hurt your dog but reassure them that you did not mean to, they will forgive you almost instantly.
If you have a dog that has had a tougher life or maybe warier in general, it could take a little bit longer for them to come around.
For dogs who have been abused in the past, it's hard for them to believe that something isn't being done on purpose as that usually was not the case for them in the past.
If this is the case the only thing you can do is be patient with them, give them lots of cuddles and treats and tell them that it wasn't their fault and that you're sorry.
A way to help them recover mentally and know for the future that you would never mean to hurt them is to do some trust-building exercises with you, so they can learn to trust again.
How Do I Gain My Dog's Trust Back?
There are many trust-building exercises you can do with your dog if they seem to be scared to be around you after being accidentally hurt.
The first and most basic one that should be the basis of any other trust-building exercises you do is to sit quietly with your dog for a while.
When you do this you are going to not force any interaction between you and your dog and instead allow them to seek you out for affection. This shows them that you're there for them.
After you have done that the best way to build trust is to do things your dog enjoys and have fun with them. This could be anything from playing with a toy to going for a jog with them.
Another great way to get them to trust you again is to feed them meals by hand. This builds trust while also repairing the bond between you and your dog.
What Are The Most Important Things I Should Do If I Accidentally Hit My Dog?
To avoid any fear or damage there are a few things you need to do if you accidentally hit your dog.
Check and see if your dog is alright. – Of course, the first priority should be to make sure that they are not injured and to see if they need to go to a vet.
Tell your dog that you're sorry.- Telling them that you are sorry (using a slightly high pitched voice works best) makes sure they know that it was an accident.
Reassure them that they didn't do anything wrong. – Let them know that they are a good boy/girl and they the accident was just that, and not a punishment.
How To Avoid Accidentally Hurting Your Dog?
Accidents are inevitable and you shouldn't judge yourself too harshly when they happen. That being said, there is a thing or two that you can take to avoid them as much as possible.
The best way to avoid this is to have well-trained dogs that won't get under your feet as you're trying to move around.
You can do this at home using positive reinforcement training or even better get a professional trainer. This will make life simpler and better for both you and your dogs.
Another thing you can do is keep your dogs out of the more "high traffic" areas of your house so accidents are öess likely to occur.
I Accidentally Hurt My Dog And Now My Other Dogs Are Being Weird Around Me?
Dogs don't really hold grudges, especially on behalf of other dogs so if you find this happening to you the likelihood is that you scared your other dogs during the incident.
The best way to help them know you won't hurt them is to build trust again with them (you can do this by using trust exercises like the ones previously mentioned).
References:
https://www.thepamperedpup.com/my-dog-bit-me/
https://vetmedaz.com/2018/09/27/what-should-do-if-dog-suffers-head-injury/
https://dogcare.dailypuppy.com/rebuild-trust-dog-3533.html