We may earn commission from qualifying purchases at no extra cost to you.
Learn more
Is an Irish Wolfsky Mix the Right Dog for you?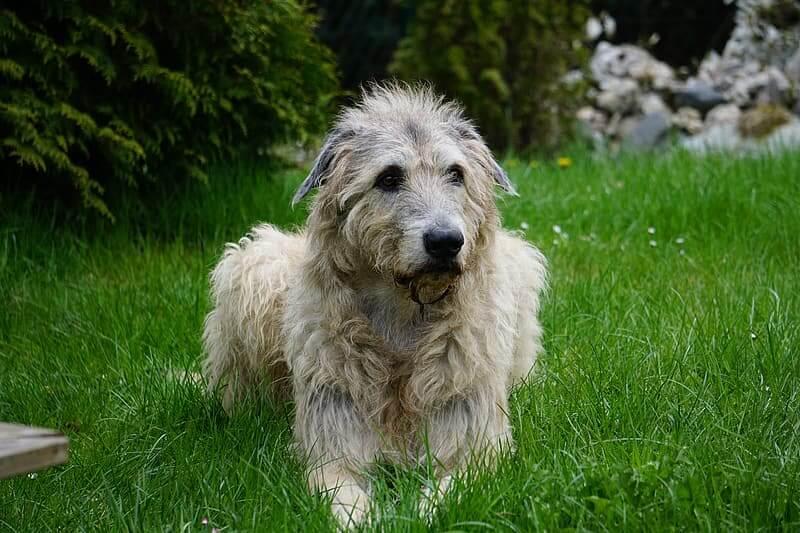 There are so many breeds of dogs out there, how do you choose which one is right for you? Should you get a purebred or a mixed breed? Should you get something unique or a more well-known breed?
These are great questions to start asking when deciding what kind of dog is best for you and your family. We're going to deep dive into a mixed breed known as the Irish Wolfsky, a cross between an Irish Wolfhound and Siberian Husky. Could this be your new fur friend?
What is their temperament?
When searching for a dog, temperament is arguably one of the most important factors to look into. You're not going to enjoy your dog if you're a very mellow person and your dog is hyperactive and needs a ton of attention.
Known as a "gentle giant," the Irish Wolfsky has a calm temperament and is usually easy-going. They are playful and loving while also being very independent and sometimes mischievous, as they follow their nose and love to chase creatures that scurry.
It is important for Irish Wolfskys to be socialized at a young age. Because they are such a large breed, any fear or aggression can be magnified in an unfortunate way.
How active are they?
Irish Wofskys are very active and need room to run and roam. Large suburban yards, rural and countryside areas are best suited for their energetic, playful side. It is important to have an enclosed space for them to roam in as they are known to run after other creatures at a moments notice.
Daily exercise is needed for their continued development regardless of whether they're begging to go out or not. It is important for this particular breed to stay fit and active to prevent health issues from occurring earlier in life.
Speaking to their environment, Irish Wolfskys do better in colder climates and actively seek out cold surfaces such as fans and cold tile floors.
How big do they get?
Purebred Siberian Huskies don't get much bigger than 60 pounds, however purebred Irish Wolfhounds can weigh up to 180 pounds. Irish Wolfsky mixes average around 90 pounds but can vary depending on the breeding history.
Are they intelligent?
Irish Wolfskys are very intelligent and independent. While they can and should be trained, this process can take time as they prefer to move at their own pace. In a lot of ways, they are stubborn, however both the Irish Wolfhound and Siberian husky are both eager to please and therefore have the characteristics necessary to be trainable.
Are they healthy dogs?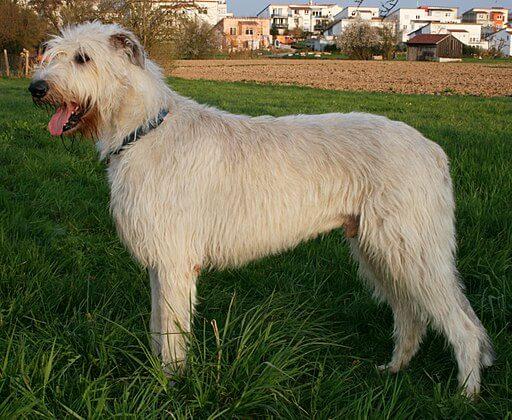 There are a number of health issues that plague Irish Wolfskys and shorten their lifespans. These issues range from gastrointestinal issues to various cancers. The following are the most common health issues:
This is a common occurrence in many hound breeds and can cause pain over time. While this doesn't necessarily lead to an early death, it can lead to crippling joint pain and hefty vet bills.
Gastric Torsion or Bloat
This digestive syndrome is very common in Irish Wolfhounds and should be taken seriously. Consistent exercise and healthy diet can help prevent this, however, they are naturally prone to Bloat and it can kill them within several hours.
Liver Shunt
Liver Shunt is a type of liver disease common in Irish Wolfhounds. While surgeries can sometimes fix the issue, that is not always the case.
This is a type of eye disease that can lead to blindness in your dog. Cataracts are common as early as 1-3 years old.
Lymphoma and Osteosarcoma
These are the two primary causes of death in the Irish Wolfsky.
Heart Disease
Specifically Cardiomyopathy. Regular vet checkups are crucial.
Allergies
A vast number of breeds struggle with allergies and the Irish Wolfsky is no exception. They can struggle with skin issues among other allergies.
Nutrition
Proper nutrition is key to maintaining healthy skin and coats for an Irish Wolfsky. It's important to understand the nutritional guidelines for each of the breeds to properly understand how to give your Irish Wolfhound Husky mix the best care.
Because of the risk of bloat found in Irish Wolfhounds, it's important to give them high quality food and ensure that they aren't exercising within an hour before or after eating to prevent this. Siberian Huskies need a certain percentage of protein depending on how active they are to ensure a nice coat.
It is always best practice to consult with your veterinarian for a nutrition plan that's best suited for your dog in particular.
What is their average lifespan?
Unfortunately, Irish Wolfskys have a much shorter lifespan than other breeds. They average 6-8 years which is relatively short when looking for a pet. Due to the list of health issues mentioned above, it is rare to find a Wolfsky living beyond 10 years old.
Where can I adopt one?
There are breeders nationwide and Irish Wolfsky puppies are around $1500 and up. American Kennel Club Marketplace and Adopt-A-Pet are great places to start.
As with any breed, it's important to do your research on a breeder to know if the puppies are turning out healthy and strong. Knowing what breeds have been mixed and the temperaments of each dog in the lineage plays a huge part in predicting the size and temperament of each puppy.
How will an Irish Wolfsky act around other pets?
Irish Wolfskys can be socialized and trained to get along with anything, however there is always the chance that your Wolfsky could be more dominating with other animals. It's good to remember that Irish Wolfhounds were originally bred to hunt and chase small animals so there is always the possibility that your Irish Wolfsky will want to chase smaller animals such as cats.
There is also a chance that your Irish Wolfsky will show dominate behavior among other pets of the same sex. However, with patience, they can be trained to live peacefully alongside other animals. Regular socialization with other animals is important to prevent situations where your dog might get aggressive.
What about other people?
As with the socialization of other animals, it is important to socialize your Irish Wolfsky with other people on a regular basis as a puppy. Consistent human interaction will keep your dog from being aggressive or fearful towards other humans, which can result in dangerous situations.
The same goes for children as well. It's crucial that you supervise small children with a dog as large as the Irish Wolfhound Husky mix. It's not that the Irish Wolfsky is inherently aggressive but that a dog so large is capable of destructive behavior on accident.
What are some characteristics of an Irish Wolfhound?
Purebred Irish Wolfhounds are stereotypical hounds. They follow their nose, love to chase after small animals, and march to the beat of their own drums. While they are very independent, they can be trained over time with patience.
They are very gentle with a calm demeanor and can be very sensitive. They make great companions as they desire attention and are eager to please.
What is the history of the Irish Wolfhound?
In the 15th century, Irish Wolfhounds were bred to hunt elk and wolves throughout the countryside. They did their job too well and practically made their prey extinct. It is said that their motto is, "gentle when stroked, fierce when provoked."
What are the characteristics of a Siberian Husky?
Purebred Siberian Huskies are known for being powerful as well as graceful. Siberians are naturally pack dogs and crave a family environment with other dogs. Similar to the Irish Wolfhounds, they enjoy chasing other animals and need to be in a secure environment where they can roam.
What is the history of the Siberian Husky?
The Siberian Husky originated in northeastern Asia as a sled dog. As the people became more nomadic, they desired a sled dog with more endurance in sub zero temperatures and this is how the Siberian Husky was born.
What is the hair situation?
Siberian Huskies are naturally cleaner dogs and leave little odor, however there is no shortage of hair. They have a double coat just like the Irish Wolfhounds Irish Wolfhounds are longer-haired and require regular grooming. As a mixed breed, Irish Wolfskys will require extra attention to their coat.
What are they like as puppies?
Irish Wolfsky puppies can be destructive for the first three years of their lives. They are often awkward and clumsy until they learn to adjust to their size and environment. Be aware that there could be some damage done due to their size and playful nature at such a young age.
It is important to take the proper measures to train them early on. The training process needs to be slow and patient while their brains develop and they learn to control their need to jump on anything that moves!
This particular breed responds best to positive reinforcement as opposed to yelling or leash jerking.
What are the perks to owning an Irish Wolfhound Husky Mix?
The perks of owning an Irish Wolfhound Husky mix are not only having a loyal, loving pet, but also having a calm, intelligent companion. This breed is great to have around kids and other pets and fit in well with a family environment.
Because they love to chase small animals, you can rest assured that your house and immediate yard would be free of pests and rodents. They are also great dogs to have if you want to be on an exercise regimen and keep to a routine as they do well with regular walks and exercise.
Irish Wolfskys are also great to own if you want a unique dog. They have a very distinct personality and appearance and are a great conversation starter at the dog park!
What are the downsides of owning one?
As with any pet, there comes an extra level of responsibility. With Irish Wolfhound Husky mixes specifically, there needs to be extra care taken with training, exercise and nutrition, and their coat.
Purebred Siberian Huskies are difficult to train and therefore not the ideal first pet for a new owner. Not to say that it can't be done but experts don't recommend Huskies for meek or new pet owners as they are more of a stubborn breed.
Purebred Irish Wolfhounds aren't as difficult to train as Huskies, however there can still be some frustrations as Wolfhounds have a mind of their own and prefer to march to the beat of their own drum.
Ten reasons you might be ready to adopt an Irish Wolfhound Husky Mix
You're responsible. You're able to take care of yourself and have the space to take care of another living creature, specifically one with additional needs.
You're lonely and would like a companion to greet you when you get home.
You've had a large breed previously. You know what it's like to care for a big dog and how much room they need to roam.
You have a good dog trainer available and are willing to learn how to train your pet properly.
You're looking to be more active. Having an Irish Woflsky ensures you must go for a walk once or twice a day to give them the proper exercise.
You have a big yard. There's plenty of room for your Irish Wolfsky to roam that's enclosed to ensure it doesn't run off chasing smells and small animals.
You have kids or other pets. If your kids or pets crave company, adding an Irish Wolfhound Husky mix would be great on both ends.
You want to feel protected. The Irish Wolfsky isn't an aggressive breed, however they can look very intimidating and help deter people from coming onto your property or bothering you on a walk.
You don't want a purebred. Irish Wolfhound Husky mixes are a great option if you prefer a mix over a purebred.
You want a unique dog. Irish Wolfskys are not super common and therefore make a great option if you want a breed that's a bit out of the ordinary.
Ten reasons why an Irish Wolfhound Husky Mix should be your next dog
They are loyal. Irish Wolfskys are incredibly loyal and eager to please. They want to be around you and your family and feel included.
They are intelligent. Irish Wolfskys are extremely smart and when trained will show off their high intellect.
They like to exercise. They need to have regular walks which gives you an excuse to get outside and take a walk with them.
They are good with families and other pets. When socialized as puppies, Irish Wolfskys do very well around other people and animals. They are part Siberian Husky which are bred to be pack dogs and expect to be around larger amounts of people. They like to feel included and part of the family.
They keep rodents away. They love to chase smaller animals that scurry around and you can rest assured that your house will be pest free.
They are unique. Irish Wolfskys are not seen every day and they make for a great conversation starter with other dog owners. If you consider yourself unique and quirky, an Irish Wolfsky could compliment you very well.
They make great companions. Irish Wolfhound Husky mixes thoroughly enjoy company and being around people. Because they are so loyal, they remain a great option for companionship.
They are calm and gentle. Irish Wolfskys have a calm demeanor a majority of the time which is great since their bodies are so large and gawky and can sometimes be accidentally destructive. Because they are so gentle, there most likely won't be any issues with aggressiveness.
They are very obedient when trained. While training requires some patience, once your Irish Wolfsky is trained, they are incredibly obedient and well-behaved because they are so eager to please their owner. They are smart and independent and love to show that off.
They'll love you no matter what. As with any dog breed, they're going to be loyal and loving. So even if you mess up sometimes, they aren't even going to notice. How great to have a companion that's so willing to love you unconditionally!
No breed is perfect
No breed is ever going to perfectly fulfill everything on your criteria list but we've covered a vast majority of the ups and downs to adopting an Irish Wolfhound Husky mix. While their coat maintenance and diet/exercise regimen can add a lot of responsibility to your life, we think it's worth it to have such a smart and loving addition to your family.
Overall, if you're looking for a calm, intelligent, easy-going dog that is a bit above average in size, an Irish Wolfhound Husky mix could be the answer. With the right training, nutrition and exercise routine, an Irish Wolfsky could end up being the close to perfect option for you!