We may earn commission from qualifying purchases at no extra cost to you.
Learn more
As people we know that air pollution is not only bad for the environment, as some chemicals in the air contribute to global warming, but also negatively impacts our own health as well. Air pollution causes many respiratory problems and allergies in humans, but did you know that air pollution also has a negative impact on the health of our furry friends? What's bad for us and our people friends is also bad for our favorite pets. Improving in home air quality and minimizing time spent outdoors in a heavily polluted area are just some of the ways to combat the health risks involved with air pollution. But what exactly is air pollution? How can it be measured in our homes and outdoors, and what really are the health consequences of poor air quality?
What is Air Pollution?
Air pollution is the accumulation of fine particles of gasses and other matter that have a poisonous effect in the air. These particles can be a result of a dense industrial area, fumes from cars, and forest or brush fires. A few examples include PM 2.5 (ultrafine particles), PM10 (Larger particles e.g allergens), (VOC) volatile organic compounds and NO2 – nitrogen dioxide.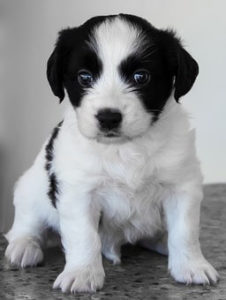 "PM" or particulate matter measures the size of the debris in the air. A PM of 10 would be similar to that of pollen which only irritates the eyes, throat and nose. A PM of 2.5 is small enough however to be inhaled into the lungs and will have the most adverse health effects. The level of air pollution is measured on a sale called the Air Quality Index (aqi) from "Good" to "Hazardous". The merical breakdown of the air quality index (aqi) ranges from 0 – no air pollution to 500 – extremely hazardous conditions, which is further broken down below:
● Good air quality receives a rating of 0-50 on the air quality scale and is considered safe. There are few to no health risks associated with an air quality score in this range.
● Moderate air quality receives a rating of 51-100 on the air quality scale and is considered safe for most people. However some pollutants may pose as a health concern for a small group of people that are highly sensitive to air quality and pollutants.
● Unhealthy for sensitive groups receives a rating of 101-150 on the air quality scale. While air quality still may be safe for most people, groups who are highly sensitive to air pollution will experience adverse health effects.
The above air quality rating are all generally safe for people and pets to experience. As the air quality score worses, or rises in number, it is generally best to limit time spent outdoors as a health precaution for you and your pets. The following air quality ratings are considered unsafe for both humans and animals to be outside for prolonged periods.
● Unhealthy air quality receives a rating of 151-200 on the air quality scale and is considered unsafe. In this range most people will begin to experience the adverse health effects of poor air quality and the extremely sensitive groups will begin to have more serious health effects. Animals are also impacted at this level, their health will begin to deteriorate at a rating above 151. It is also recommended that the use of an air filter or respirator mask such as an N95 mask is used at and above this level.
● Very Unhealthy air quality receives a rating of 201- 300 on the air quality scale. At this level the adverse health effects of poor air quality are widespread among people and animals.
● Hazardous air quality receives a rating of 301-500 on the air quality scale. This is the absolute worst air quality score and it poses emergency health conditions for the entire population. People and pets should not go outside during times when the air quality is rated hazardous.
A large component to the degradation of outdoor air quality are forest and brush fires. The burning vegetation combined with the mix of gasses and other fine particles, at a particulate matter rating of 2.5 or smaller, in the smoke cause the biggest health risk when inhaled. If you live in an area where forest fires are common, or have one currently burning near by be sure to follow all evacuation measures posted for your location. Always take all of your pets with you when an evacuation is posted. Only return once the evacuation has lifted and air quality has returned to a safe level for you and your pets.
Why is Air Pollution dangerous?
For people:
We are all affected by seasonal allergies in some way. Whether you only see the yellow-green dust accumulate everywhere each spring or you carry a box of kleenex everywhere you go for the whole season the pollen impacts us all. Air pollution is like a more severe form of that pollen, some people are more impacted by it than others, yet it has the same long term health effects on all of us depending on our exposure levels.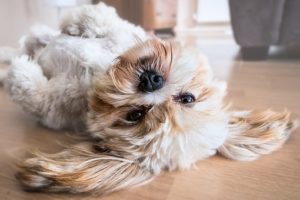 Ultrafine particles such as poisonous gasses, heavy metals, tar and others collect in the air that we breathe, over time these chemicals wear down on our respiratory system. They are well known for causing asthma, lung disease and even lung cancers or heart disease. The Environmental Protection Agency (EPA) has only been regulating the release of particulate matter as small as PM 2.5 since 1997. Currently particulate matter smaller than PM 2.5 is unregulated. It's imagined that these ultrafine particles with a PM 2.5 or smaller, are tiny enough that they wreak havoc on the individual cells in our bodies, causing the most damage. When inhaled into the lungs they are small enough that they can populate into the bloodstream and then have direct access to the rest of the body. In recent studies of people living in heavily polluted areas, near major roadways or industrial zones, have an increased risk of developing dementia or Alzheimer's disease. The smaller the pollutant particles in the air the more likely they are to find their way into the brain and cause it to begin to degenerate.
For pets:
Our pets have about 300 million olfactory receptors compared to us humans who can have only up to 6 million olfactory receptors. While that explains how our furry friends can smell us opening the pantry to find a snack from rooms away, it also means they are just as susceptible if not more susceptible to air pollution that we are.
Since pets are smaller than us it takes pollutants less time to accumulate in their systems and begin causing adverse health effects. Similar to humans respiratory issues are the number one result of a pet living in an area with poor air quality. It has been found that pets who live in areas or homes where they are more exposed to air pollutants have a greater risk of developing respiratory problems than pets who do not live in these environments. Just like in humans, dogs and other animals living in polluted areas also experienced neurodegeneration. The prolonged exposure to pollutants that causes dementia and Alzheimer's in humans, showed the same symptoms in dogs. They were disoriented and unable to recognize their owners, just as many Alzheimer's patients fail to recognize family members or caregivers later in life.
Pets are not just susceptible to common outdoor or indoor air pollutants that humans are used to, some household cleaners also pose a health risk to your pets. Heavy duty bleaches, ammonia and other harsh chemical cleaners emit fumes that contribute to the air pollutants already affecting your pets. The best thing to use when cleaning are all natural cleaners, baking soda, vinegar and other non-toxic cleaners. These will still clean your home, eliminating harmful dust and allergens without adding other toxic gasses to the air.
It's relatively easy to notice when you get sick yourself or are having respiratory issues related to air quality, but how can you tell if your dog or pets are experiencing the same thing?
What are signs of respiratory issues in dogs?
Elderly pets, those with lung conditions or young pets are the ones most impacted by inhaling heavily polluted air, it's more dangerous for pets because they are
small and especially small dogs.
Be careful when walking them or letting pets run and exercise in polluted air. Symptoms that your pet is experiencing health problems due to poor air quality are: coughing, wheezing or what sounds like strained breathing, an increased breathing rate or hyperventilating, exhaustion, seizures and bright red gums. Rashes and other forms of skin irritation are also common for pets living in polluted areas, as well as eye irritation and infections. If your pet is experiencing any of these symptoms it is
best to leave
the area with poor air quality and see a vet right away to ensure there are no larger problems lurking below the surface.
What to do if your pet lives in polluted places?
Fortunately for people there are masks made to filter air in these conditions. These N95 filter masks make it safe for humans to be outdoors when the air quality is rated above 151. An N95 respirator mask fits close to the face, covering the nose and mouth and filters particulate matter as small as .3 micron. However, these masks have not been made to fit dogs, cats and other animals. Making it extremely unsafe to even take a quick bathroom break, let alone go for a walk outside.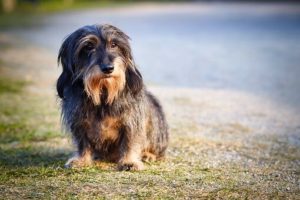 Relatively new to the market is a mask called the K9 Mask that provides the same filter found in an N95 mask made for humans, but is specially fit for dogs. The K9 Mask is a start-up that has done extensive research on how to provide a safe and dog friendly air filter mask. They have sizes ranging from small to extra large, with an extra small size coming soon. These masks would make it safe to live or return to an area where the air quality is frequently hazardous with an aqi of 151 or above.
There are ways to combat hazardous air quality without making the investment in air filter or respirator masks for you and your pet. Staying indoors and being able to exercise indoors will help eliminate time spent in hazardous outdoor air. Consider using
a home gym for dogs, or a dog treadmill
when it's too polluted for dogs to walk or exercise outside. If you and your pets do need to go outside for any reason wipe down their paws, fur and face with a damp cloth upon returning inside. Use water or eye safe solution to flush out pets eyes to further prevent irritation. This will help prevent any skin irritants that were in the air from staying on your pets skin even once they are no longer being directly exposed to the irritant. Make sure that your pets have plenty of fresh water, and change the water regularly. Keeping pets well hydrated will help to maintain mucus membranes and prevent them from drying out.
What about Indoor air quality?
The best way to avoid the health hazards caused by air pollution is to stay indoors and maintain good indoor air quality in your home. Burning incense, wood, cigarette smoke, and using chemical cleaners all create poor air quality in the home, not only for the people who live there but also your pets. What may seem safe to use or burn for yourself can actually be harming your furry friends.
The first step to improving in home air quality is to change the air filters connected to your HVAC system regularly to ensure that they are clean and maintaining good air circulation in your space. A clogged air filter not only inhibits air flow, and makes your HVAC unit work harder than it needs to, it also recirculates dust and debris into your home worsening indoor air quality. Other ways to keep indoor air quality at its best is to invest in indoor plants, a humidifier or a stand alone air filter. House plants such as snake plants, fiddle figs, or money plants not only add to your home's aesthetic but also purify and add moisture to the air. Stand alone humidifiers and air filters do the same thing as house plants. The only downfall is that it may be more expensive to buy the appliance than a houseplant. To benefit your carbon footprint and your wallet it may be the better option to purchase a few houseplants before humidifiers and air filters.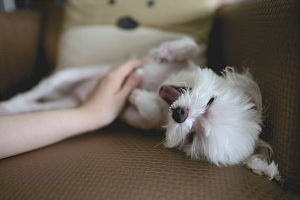 Keeping pollen and dust at bay is also a great way to improve indoor air quality. Dusting, mopping and vacuuming whenever possible removes dust and other allergens from collection around your home, especially in carpet pile and hard to reach spaces. Do not forget to dust off your fan blades as well. They can house tons of dust and other allergens that once turned on spread into the rest of your space. Be sure to use pet safe cleaning products that will not irritate their paws and skin if it comes into contact with them. If the outdoor air is polluted where you live try not to open windows and exterior doors unnecessarily. If possible, create an entryway that is sealed off from the rest of the house. This will keep allergens and pollutants from the outdoors contained into one space instead of spread around your home. If this isn't possible, consider sealing windows and
exterior doors
to prevent pollutants from slipping through cracks and fissures.
How do you know if any of these measures really work, or what your homes indoor air quality is to start out? There are indoor air quality monitors available, much like a carbon monoxide detector these sensors are placed in your home and measure the accumulation of particulate matter, volatile organic compounds, dust and other allergens. Some are even smartphone compatible, so you can easily read the results right in the palm of your hand. They can offer alerts and warnings when your home begins to creep over the good air quality threshold.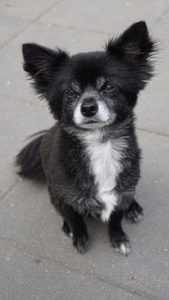 Pets share the same air we do, so knowing the quality of the indoor air and outdoor air where you live is important for not only your personal health but the health of your pets as well. While it is hard to control the outdoor air quality where you live, work and play, maintaining a good air quality inside will help limit the amount of pollutants you and your pet come into contact with. Limiting time spent outside in poor air quality, using a respirator mask if necessary, creating great air quality inside by having plants, and non harsh chemical cleaners are some of the easiest ways we mentioned to keep you and your pets in the best health. Time spent in good air quality ensures a high quality of life for you and your furry friend for years to come.
#reference
https://www.napaholisticvet.com/blog/2017/10/14/wildfire-and-pets-what-you-should-know
https://www.bunnyinseoul.com/home-1/2016/3/30/expatlife-surviving-yellow-dust-season-in-seoul
https://www.k9mask.com/

https://core.ac.uk/download/pdf/28902979.pdf
https://www.researchgate.net/publication/325334273_Distribution_and_Source_Apportionment_of_Air_Pollution_in_Bahrain_using_Multivariate_Analysis_Methods
https://onlinelibrary.wiley.com/doi/full/10.1111/jvim.15143
https://www.ncbi.nlm.nih.gov/pubmed/29681128
https://www.sciencemag.org/news/2017/01/brain-pollution-evidence-builds-dirty-air-causes-alzheimer-s-dementia

https://www.sciencedirect.com/science/article/pii/S0013935117306618
https://www.ahajournals.org/doi/pdf/10.1161/STROKEAHA.114.008348
ttps://www.researchgate.net/publication/324685104_Association_between_indoor_air_pollution_and_respiratory_disease_in_companion_dogs_and_cats
https://uhooair.com/2017/06/06/air-pollution-affect-pets/h
https://www.wunderground.com/
https://www.thebeijinger.com/blog/2015/12/26/pets-and-pollution-what-can-you-do-protect-your-fluffy-babies-terrible-air
https://www.fda.gov/medicaldevices/productsandmedicalprocedures/generalhospitaldevicesandsupplies/personalprotectiveequipment/ucm055977.htm