Why Does My Dog Suddenly Dislike His Food?
When a dog suddenly dislikes his food or changes his feeding behavior, it could be a sign that something is wrong. Several health-related reasons can trigger picky eating in dogs. If your dog starts to exhibit signs of picky eating, it is important to diagnose the reason for it.
Why Does My Dog Sniff His Food And Walk Away?
Dog owners usually notice a change in the feeding behavior of their dogs as soon as it happens. Those changes in feeding behavior may indicate that the dogs are sick or stressed. It is important to understand why that behavior is happening so that we can help our dogs live happy, healthy lives.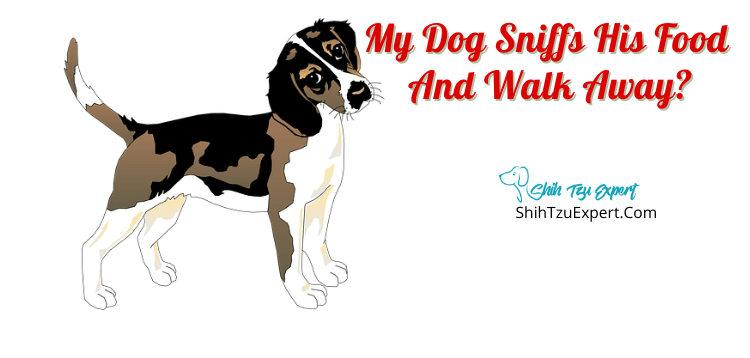 Can And Do Dogs Get Bored Of Their Food?
Dogs have far fewer tastebuds than humans, which means their range of tastes is more narrow. Humans with their much larger number of tastebuds may get bored with having the same food all of the time, but dogs usually do not.
If a dog acts like it is bored with its regular dog food, it may be holding out for fresher-smelling food. Table scraps and human food smells fresher and tastier than dry dog food. Since dogs use their sense of smell to identify what they want to eat, it should not be surprising that table food would be more appealing to dogs than dry dog food.
What Can I Add To My Dog's Food To Make Him Eat?
Table scraps are generally not healthy for dogs, so adding them to a dog's food to get it to eat is not the best idea for its health. There are other things you can do, however, that might encourage your dog to eat dog food without endangering its health.
Mix dry and wet dog food together.
Mix a little plain human food with dog food, like unsalted chicken, beef, egg, pureed pumpkin, or baby food.
Add a little warm water or broth to the dry food.
Whatever changes or additions you choose to make to your dog's food, be sure those changes happen gradually and in small amounts. Making changes too quickly could leave your dog with an upset stomach.
Will A Picky Dog Starve To Death?
Many dogs that are regularly fed table scraps or human food sometimes choose not to eat their regular dog food. Picky dogs may stop eating for days because they are holding out for tastier, less healthy food.
Luckily for their worried owners, picky dogs will not starve to death.
When a dog gets hungry enough, its survival instincts kick in and it will start eating its regular dog food. This is great news for owners who want to wean their dogs off of human food since human food is generally not healthy for dogs.
However, if your dog has other symptoms in addition to not eating, it is important to have your dog checked out by a vet. Picky eating in combination with other symptoms could indicate that there is a health problem.
When Should I Worry About My Dog Not Eating?
If your dog is not eating, there are two questions you should answer before worrying.
Is someone else in my household feeding the dog outside of regular meal times?
Does my dog have another food source of which I am unaware (maybe the trash can)?
If the answer to at least one of these questions is yes, then it is time to limit your dog's ability to find food outside of mealtimes. Eating too many treats or eating food scraps is very unhealthy for your dog.
If the answers to these questions are no, then it is important to narrow down the potential reasons why your dog may not be eating. A visit to the vet could help to set your mind at ease, especially if you have already tried adding things to its food to encourage eating.
What Do You Do When Your Old Dog Won't Eat?
As dogs get older, their appetites may start to change for a variety of reasons.
Pain – As dogs age, their teeth and gums may start to hurt. Eating may be painful for them. Joint pain from arthritis may also be an issue and can cause a dog's appetite to decrease.
Nausea – If your dog is experiencing nausea, it will not eat its food. Nausea can be a symptom of several different health problems or a side effect of medications.
Anxiety – Any change in your old dog's daily routine can cause stress. Sometimes stressed dogs do not eat normally.
Congestion – Dogs with an upper respiratory infection may not feel like eating, especially if they cannot smell the food well.
Take your senior dog to the vet for a wellness check if it is not eating normally.
We want our older dogs to maintain good health and to do that, we need to schedule annual vet visits to make sure there are no serious health conditions that would cause their health to decline.
Should You Ever Force Feed A Dog?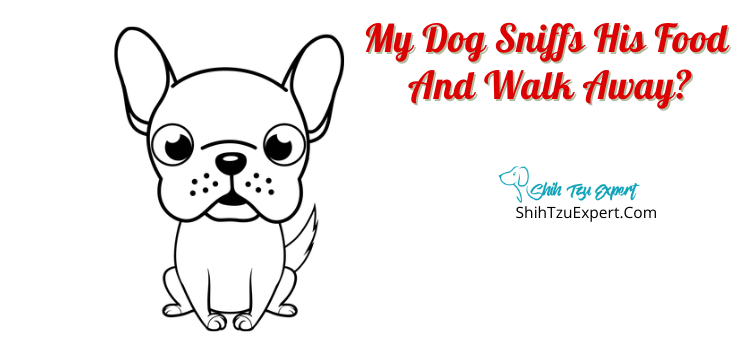 Force-feeding a dog is when a syringe is used to place liquids or pureed foods directly into the dog's mouth. This drastic measure should only be employed under the instruction and supervision of a vet. Using this method can cause negative effects if not implemented correctly.
What Makes Dogs Lose Their Appetites?
Dogs may lose their appetites for a wide variety of reasons.
Illness or disease
Bacterial or parasitic infection
Aging
Anxiety
Mourning
Recovering from surgery
Owner left the house for work or is on vacation
If dogs do not feel well, both physically and mentally, they may struggle to eat.
How Do I Fix My Dog's Loss Of Appetite?
There are several ways to try to fix a loss of appetite in your dog.
Vigorously exercise your dog before mealtime so that it is hungry.
Feed at a consistent time each day so their stomach becomes accustomed to the routine.
Mix the dog food with warm broth to make it more appealing.
Add a treat to their regular dog food.
Allow your dog to eat grass if you think that it may have an upset stomach and needs to vomit.
Check the labels of your dog's medications because some of them may inhibit appetite.
If none of the above methods seems to fix your dog's appetite, take your dog to the vet for a visit. Carefully note any other symptoms observed so that the vet can identify the potential causes of appetite loss.
Why Does My Dog Back Away From The Food Bowl?
When a dog backs away from its food bowl, there are several potential reasons to explain that behavior. Ask yourself the following questions.
Has a loud noise, like a lightning strike, ever startled your dog while he was eating out of his dog bowl?
Is the dog bowl new?
Is the dog bowl in a new location?
Is the dog bowl in a busy, high-traffic area?
If you answered yes to any of these questions, there are a few things you can do to fix this behavior.
Try moving the dog bowl to a new, quieter location.
Switch the dog bowl for a different one.
Feed your dog by hand to determine if the problem is the food or the bowl.
If none of these actions help to correct the backing-away behavior, take your dog to the vet. The backing-away behavior may be a symptom of a serious health problem.
Why Does My Dog Take A Bite Of Food And Walk Away?
Dogs sometimes exhibit strange behaviors surrounding how they eat their food. An example of strange behavior is when a dog takes a bite of food, then walks away and eats that food someplace else. There are a couple of reasons why that behavior might be occurring.
First, dogs instinctually protect themselves from fighting over food by grabbing a quick mouthful and then moving away from the food source to eat it. Even though dogs may be many generations removed from their wild ancestors, those instincts may remain strong.
Second, the reason could simply be that the dog does not like how its dog tags sound when hitting the side of the bowl while it eats. That sound may be unpleasant enough that the dog refuses to eat out of its bowl.
Why Won't My Dog Eat Its Food But Will Eat Treats?
A dog that eats treats but not dog food may be silently communicating with its owner that there is a problem. Diagnosing the reason for this behavior is important for maintaining your dog's health.
The simplest reason for this behavior could be that your dog does not like the food you are trying to feed it. Try feeding your dog a different brand of dog food.
Another reason your dog may not be eating its food is that the food is spoiled. Check to make sure the food has not expired or spoiled. Dog food recalls are all too common. We must pay attention to the quality of the dog food we feed our dogs.
Some vets refer to the behavior of eating treats but not dog food as partial anorexia. Dogs that exhibit partial anorexia may be suffering from either a psychological problem or a physical problem.
Psychological problems may be a result of:
Gain or loss of another pet
Gain or loss of a family member
Family on vacation
Change in routine
Change in dog food
Physical problems may be a result of:
Stomach ache, perhaps from eating spoiled food
Several diseases, which can cause a loss of appetite
Bacterial, viral, or parasitic infection
Pain
If you have ruled out potential psychological problems as the cause of your dog's partial anorexia, then it would be wise to take your dog to the vet for a checkup.
Why Is My Dog Suddenly Eating So Slowly?
A sudden change in your dog's eating behavior is a cause for concern. If your dog seems to be eating more slowly than normal, determining the reason why is very important.
Stress is the most common cause of a change in eating behavior. Any change in your dog's environment or daily routine can cause your dog stress. In addition, recent vaccinations or medications that your dog has had could also contribute to a loss in appetite.
Pain in your dog's gums or teeth can prevent your dog from eating at its normal speed. Evaluate your dog's mouth to determine if that could be the cause.
A lack of appetite could cause your dog to eat slower than normal. This loss of appetite could be caused by an upset stomach or by overfeeding table scraps or treats.
An older dog may also slow down how quickly they eat. If your senior dog is not playing as much as it used to and spending less time being active, its appetite may decrease.
Once you have narrowed down the reason why your dog suddenly eats slower, you have the opportunity to help your dog stay healthy. This may mean reducing potential stressors in your home or taking your dog to the vet.
My Dog Won't Eat His Food But Will Eat Human Food?
Dog food is treated with a chemical that is designed to make the food smell appealing to dogs. But no matter how appealing manufacturers try to make dog food, it will never be as appealing as human food.
The tastes, smells, and textures of human foods are preferable to dogs than the tastes, smells, and textures of dog food. If your dog regularly receives human food outside of normal feeding times, then it will start to expect it and will wait for human food instead of eating its less appealing dog food.
If a dog owner wants to encourage their dog to eat its dog food, stop giving the dog human food. Eventually, the dog will learn that its primary source of food is dog food.
Why Doesn't My Dog Finish Its Food?
Dogs should finish all of the dog food in their bowl if they are eating a healthy diet at the correct portion size, free of table scraps, human food, and excessive treats. If your dog is no longer finishing its food, that means that something has caused its behavior to change.
Your dog may not finish all of its dog food because it has another source of food. If your dog is not hungry enough to eat all of its regular dog food, shut down its other sources of food.
A physical or psychological change in your dog's health could be keeping your dog from finishing all of its food. Several diseases or infections can cause your dog to lose its appetite. In addition, if your dog is experiencing pain while it's eating, it may stop eating before finishing.
Talk to your vet if you think your dog may be suffering from a health problem.
Why Does My Dog Walk Around While Eating?
When a dog walks around while eating, it may be a sign that it wants to eat its food someplace else. If your dog takes a bite of food, then follows you while chewing, it may simply be that your dog does not want to be separated from you.
Dogs can become very attached to their owners and may exhibit some separation anxiety. This type of behavior can cause unnecessary stress for the dog. Limiting the amount of anxiety your dog feels can help decrease its stress level and fix its abnormal feeding behavior.
Improving or eliminating separation anxiety can be done using a few simple techniques.
Each time you leave, give your dog a special treat that it only gets when you leave. An interactive toy where the dog has to work hard to get the treat would work well.
Don't make a big deal out of leaving or returning. If your dog recognizes your leaving cues, such as putting on shoes and picking up keys, start doing those things at random times throughout the day without leaving.
Place clothing that smells like you on your dog's bed while you are gone.
Talk to your vet about administering supplements that might induce calming and reduce stress or anxiety.
Excessive amounts of stress can lead to physical and psychological health issues that can manifest in your dog over time. Decreasing stress can help your dog maintain a healthy life.
References
Dixon, Jennifer. "When your dog is a picky eater." Fetch by WebMD. https://pets.webmd.com/dogs/guide/when-your-dog-is-a-picky-eater#1
"How to Ease Your Dog's Separation Anxiety." Fetch by WebMD. https://pets.webmd.com/dogs-separation-anxiety#2 Oakley, Colleen. August 17, 2012. "Why Does My Dog… Eat His Food Away From His Bowl?" Vetstreet. http://www.vetstreet.com/our-pet-experts/why-does-my-dog-eat-his-food-away-from-his-bowl