We may earn commission from qualifying purchases at no extra cost to you.
Learn more
What is a Silky Tzu? All you need to know about this mixed breed
Anyone one looking for a new pet should research a breed that suits their lifestyle. The Silky Tzu is loyal, affectionate, and an outgoing companion that loves to play and interact with his family. He loves his caretakers so much that he is prone to separation anxiety if he is left alone for too long. Shih Tzu dogs don't need very much exercise, which renders them well-suited to indoor living.
These small dogs make for excellent companions in smaller living spaces, particularly if you don't have a back yard or if you live in an apartment. They aren't prone to barking and aren't bred to be watch dogs, so this means you won't run the risk of disturbing your neighbors. They're also hypoallergenic because their coats are made of hair and not from fur[R1] , so they're ideal pets if you suffer from allergies.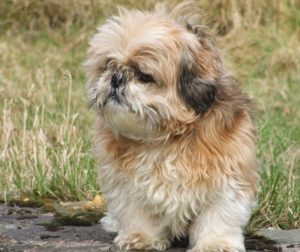 Although most dogs have fur, a distinctive part of the Silky Tzu is that they have hair instead. Hair and fur are chemically identical, but the difference is that dogs that have hair do not shed. They will not spread as much dandruff, which causes allergies in your home. But dogs with hair require regular grooming so that they are comfortable.
Silky Tzus are small and somewhat delicate. For those looking for a family dog, they are best placed in a home with older children. They are an excellent fit for lonely seniors as well, since they love to be lap dogs!
The history of the breed is somewhat debated, but one of its parents, the Shih Tzu can be traced back to a Tibetan breed of dog, known as the Lhasa Apso with a lineage that is over 800 years old. These dogs were specifically bred to be palace companions in China and were so highly prized that Shih Tzus weren't traded or allowed out of the country until the mid-20th century. However, as most purebred dogs, Shih Tzus suffer from a variety of congenital and genetic health issues.
Health and Care
One approach that modern dog breeders and owners have taken in order to create a happier and healthier animal has been to cross breed the Shih Tzu with a variety of other purebred dogs to introduce more genetic variety. Several of these cross breeds are very popular. They include, but are not limited to, the Shih Poo, the Silky Tzu, and the Shorgi. The Silky Tzu is created when a Shih Tzu is bred with a Silky Terrier.
The Silky Terrier is closely related to the Australian Terrier and the Yorkshire Terrier. Its distinctive, long, and shiny coat sets it apart from its cousins. According to the American Kennel Club, the Silky Terrier was established sometime in the late 19th century as a separate breed. When Silky Terriers are cross-bred with Shih Tzus, the resulting dog is a lovely toy-sized companion that takes the best from both breeds.
Shih Tzus and Silkies can be considered as pure breed dogs if they meet the AKC specifications for their breeds. These specifications are too intricate and detailed to be included in this article, but if you're curious, you can check them out on the AKC website. Because cross breeds are not formally recognized by the American Kennel Club, there are no purebred specifications that Shih Tzu cross breeds can meet.
Even the Shih Tzu cross breeds are prone to some genetic issues. The Silky Tzu can develop Legg-Calve-Perthes Disease, Brachycephalic Syndrome, and Spongiform Leukodystrophy Intervertebral Disc Disease (IVDD). It is important that you brush your Silky Tzu's teeth, because like all small dogs, they're prone to serious dental concerns.
Shih Tzus are distinctive and easily recognizable. They have long, silky coats that are double layered, a dome shaped skull, and bright eyes. Silky Tzus are easy to spot because of their sweet, round faces, and their big black eyes.
Shih Tzu and Shih Tzu mixes are qualified as toy breeds. These small dogs clock in at a whopping 9-12 pounds as adults. The Silky Tzu can live between 13-20 years!
Basics of Grooming
Shih Tzus come in a variety of colors: black, grey, brown, red, silver, brindle and white are all AKC acceptable colors. Silky Tzus on the other hand come in fawn, cream, brown, black, red and white.
Shih Tzu mixes have similar types of hair but with some distinct differences; all of them ought to be brushed weekly at the very least. Since each variety has a different density and hair texture, they each require different tools, such as a slicker brush or a pin brush. Silky Tzus have denser coats and need daily with a slicker brush to be kept shiny and healthy. Avoid frequent baths, as soap strips the oil out of their hair and can lead to itchy and flaky skin.
Shih Tzu mixes can be groomed professionally or be groomed from home if you want to pick up a pair of clippers. There is no standard for Shih Tzu or Shih Tzu crosses, and their hair can range from straight to curly. If there is enough body, curl, and density in the coat, the dog can be trimmed to emulate a regular Poodle cut with a shaved mouth and fluffy crown.
If the Shih Tzu mix's hair is flat, you can leave its coat to be about a half inch and round out its facial hair so that it looks like the teddy bear its famed for. Most terrier's and terrier mix's hair is carded out with a knife, but many pet parents prefer for them to be completely shaved. However, watch out for this: it can make your terrier's coat thinner and duller over time.
When a Terrier or Terrier mix's coat is carded, it's common to clip more hair on its back and leave a longer skirt toward it's belly. The terrier's flat coat is meant to be left a little longer around its head and rounded out with scissors.

How to Feed & Dietary Restrictions
To keep your Shih Tzu or your Shih Tzu mix healthy, you should keep on top of regularly scheduled veterinary visits and watch out for aforementioned health problems. Pure bred Shih Tzus are susceptible to wide variety of health concerns, such as Intervertebral Disc Disease, Eye Problems, and Brachycephalic Syndrome. It is always important to spay or neuter your pet!
Training and Exercising Your Silky Tzu
Shih Tzu and Shih Tzu mixes do not need very much exercise, but it is important to keep them moving, nonetheless. Though these dogs were bred for indoor living, it's perfectly okay to take them out and about for a little while in the sunshine! Make sure that you don't over-exercise your dog; toy breeds don't need very much and can get hurt if they exercise too much.
Shih Tzu mixes love spending time at the dog park, but it is extremely important to train them so that they don't develop "little dog syndrome" and pick a fight with larger dogs. The best thing you can do is to train your littler companion to keep their distance and especially take notice when your dog becomes defensive or seems anxious.
It is important to begin training your puppy from the beginning of your time with him or her. Shih Tzus can be somewhat stubborn and difficult to train, but these wonderful mixed breeds are often more responsive to your commands. You can find what you need on any online retailer; harnesses, leashes, collars and training treats are recommended, but make sure that if you use a harness that you take it off of your puppy before he or she goes to sleep.
A popular method of potty training your puppy is to place a set of bells on the front door. Teach your puppy to nudge the bells with his paws before you take him outside to do his "business". Over time, your puppy will associate the sound of the bells with pottying, and he will ring the bells on his own when he needs to be taken outside.
You can also crate train your dog to teach him to hold his bladder: dogs aren't likely to defecate or urinate in the areas where they spend the most time. Place your puppy in his crate and make sure that it is a comfortable place that is associated with treats and soft toys. If your puppy learns to sleep in his crate at night, he will simultaneously learn to hold his bladder while you're sleeping. Make sure that your puppy spends no more than three hours inside of his crate, and once he is an adult, remember that your dog should go outside every nine hours.
If you choose to use potty pads, make sure that you place them near the door so that your puppy learns that he ought to be near outside when he goes potty. Potty pads are not recommended; they take time to unlearn that it's okay to go potty inside rather than potty outside.
Temperament and Personality
Silky Tzus can be the perfect companion for you and your family. They are wonderful, lovely, and funny creatures that crave affection and one-on-one time with their caretakers. They don't need much exercise, which makes them especially suited to families that don't always have the time for long walks or hikes. However, they can be prone to anxiety if they're left alone for too long, so they aren't well suited to homes that are empty for a lot of time.
It's most common for these animals to be bright, cheerful, and constant companions. If you're seeking an emotional support animal or even a service animal, these breeds can be a wonderful match for your needs. They like to keep close to their owners and are always looking to please!
Where to Find a Silky Tzu
If this sounds like the perfect match for you and your family, adopt a Shih Tzu mix! They can be found in shelters or in breed-specific rescues, so you don't always have to purchase a puppy from a breeder. However, if you do go the route of purchasing a puppy form a breeder, make sure that you do your research.
Some rescue groups from around the globe include: the Shih Tzu and Fur Babies Association, the North Star Shih Tzu Rescue, Shih Tzu by the Sea, and the Tzu Zoo in the United States. In the UK or in Europe, you can find a Shih Tzu mix from SASS or the Shih Tzu Rescue Organization. In Asia, you can find the perfect puppy from local rescues or even from a breeder.
Look into the health issues that your desired breed can be prone to and check their parent's lineage for these specific problems. Any reputable breeder should be more than happy to discuss their gene pool with you and offer recommendations and advice about raising your puppy.
Silky Tzu puppies from a breeder often cost between $500-$2000. To get your puppy set up with everything they need to thrive in your home, such as a crate, collar, leash, food, and his first round of immunizations will cost between $400-$500. After these initial costs have been addressed, it costs about $200 a year to care for your new pet.

How to Feed and Dietary Restrictions of Silky Tzus
A large portion of the annual cost of your new pet will go towards quality feeding. It's important that you don't feed your dog grocery store brands; these are almost entirely wheat and corn, which is hard on a dog's digestive system. You should be able to get higher quality feed from places such as Tractor Supply or Hollywood Feed and Supply.
Quality dog food should have sources of meat or fish as the first ingredient. If at all possible, your dog's food should be grain free. It's also important to make sure that your pet has healthy treats; these can be somewhat tricky to find but are in good supply at upper scale pet stores.
If you're seeking to avoid purchasing dog food entirely, it is possible to feed your pet a raw diet from the comfort of your kitchen. Dogs can eat raw chicken, raw beef, or raw fish, as well as raw egg. You can also incorporate greens to make sure that your dog has a balanced diet but be sure to do your research before you add something to your dog's menu. It's important to make sure that you don't swap between raw and cooked food for your pet, as this is hard on the flora in their gut.
Most Popular Names for Dogs
Once you have everything prepared and have made your decision to adopt or purchase a Shih Tzu mix, an important part of your new life with your delightful pet is knowing what you'd like to name your animal. In case you're feeling uninspired, we've included a list here for you!
These are the top ten male dog names for 2019.
#1 Charlie
#2 Max
#3 Buddy
#4 Oscar
#5 Milo
#6 Archie
#7 Ollie
#8 Toby
#9 Jack
#10 Teddy
And if you're adding a little lady to your family, here are the top ten female names for 2019!
#1 Bella
#2 Molly
#3 Coco
#4 Ruby
#5 Lucy
#6 Bailey
#7 Daisy
#8 Rosie
#9 Lola
#10 Frankie
Summary
In conclusion, if you're looking for a wonderful, loyal, affectionate dog with lots of personality to add to your family, Silky Tzus are the perfect addition! These wonderful toy breeds make for a match made in heaven if you're looking for a cuddly companion. Let us know in the comments below if you have any questions or if you have one of these amazing dogs!
---