Why Do I Feel Like A Bad Dog Owner? Do you ever feel as though you are doing your best for your dog, but don't feel like a good dog owner? Do you miss walks? Feed them kibble instead of freshly cooked food? Don't take them on holiday? But just how common is this among dog parents? Is this normal?
Why Do I Feel Like A Bad Dog Owner?
In most cases, you may feel like you're a bad dog owner when you actually already do a lot for your dog and are overwhelmed!. All you can do is try your best and even try and make the smallest improvements to keep you and your furry friend happy. Just take one day at a time and one thing at a time. Don't forget to breathe and enjoy your life 🙂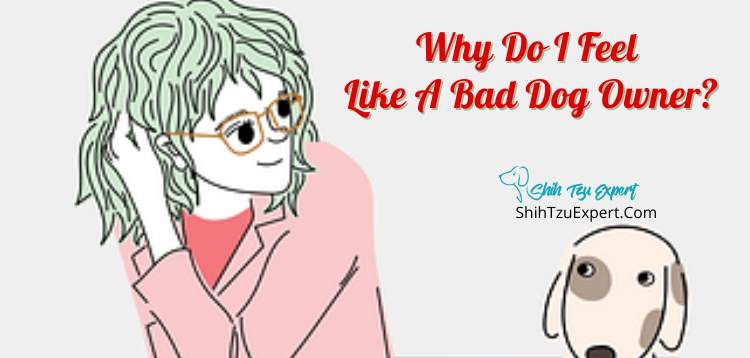 The Most Obvious Signs & Habits That You Are A Bad Dog Owner
1. Picking the wrong breed of dog. Depending on your lifestyle, there will be certain breeds of dogs that are wrong for you, but there will be others that are right for you. You should look into dog breeds best suited to your lifestyle before getting a dog.

2. Getting a dog on impulse. It can be easy to get a dog before you are actually ready for one. We've all been there where we've seen a cute dog advertised online as needing a new home and wanting to be that person to give them a home. Instead, you should figure out whether you have room in your life for a dog and take everything into consideration before getting one.

3. Not taking the time to train and socialise your dog. All dogs need training as otherwise they won't know any rules/boundaries and could become aggressive. Lack of socialisation means they can develop fears and behaviour problems, which isn't the dog's fault.

4. Not giving them the chance to exercise. We all know exercise is important in remaining healthy, so if you don't exercise your dog, they may develop health problems, which can lead to expensive vet bills. They need the physical and mental stimulation of exercise to help them remain healthy.

5. Avoiding the vets. Routine checks are very important with dogs. It's very easy to not take your dog to the vet unless there is something wrong with them, but dogs are very good at masking their symptoms until they become unbearable. The vets may be costly but you can't put a price on your dog's health and wellbeing.

6. Neglecting dental health. Maintaining your dog's dental hygiene is very important. You can either brush their teeth yourself or take them to the vets for routine dental cleaning. Failure to do this could lead to some serious health issues, including kidney failure and heart disease.

7. Improper feeding. When getting a dog, it is important to know their nutritional needs. You should also try to not overfeed them as this can lead to obesity and underfeeding leads to malnutrition. You should also give treats in moderation.

8. Failure to budget correctly. Dogs are expensive and you need to leave enough aside every month for routine costs, e.g. routine vet visits and food. You also need to leave enough aside for emergencies, such as an emergency trip to the vets if your dog falls ill or gets injured. If you can't afford this, it may be best for you to avoid getting a dog for now.

9. Ignoring early signs of behaviour problems. If you ignore behaviour problems when they first show up, even if you don't see them as problems at first, they can later become even bigger problems to the point where you may have your dog taken off you.

10. Not taking appropriate steps in case of a lost/stolen dog. If you fail to add an ID tag to your dog's collar or microchip them, this means if they become lost or stolen there is little chance of them returning. They may become homeless and put in a shelter, which is what you don't want.

11. Not picking up your dog's poop . It is common courtesy to pick up after your dog, whether at home or whilst out and about. If you don't do this, not only is it disgusting, but it can cause problems for others, such as if they step in it. You should also put the poop bags in the bin and not left on the ground.

12. Not stopping your dog's non-stop barking. It's completely understandable if your dog's continuous barking annoys you and instead of doing anything to stop it, you just put them outside until they stop. But not only will this annoy your neighbors, it doesn't teach your dog when to stop. If non-stop barking is a problem, you should take them to the vets.

13. Dropping the lead to allow your dog to make friends. Whilst socialising is important for dogs and your dog may be fine with other dogs, the dog they are trying to befriend might not be as welcoming. You may think you're doing something good in letting them off the lead to make friends, but the reality is, it could do more harm than good.

14. Letting your dog off the lead. If you let your dog off the lead, particularly in places where it says not to, this could have serious consequences. Even if your dog has good recall, they could snap, become startled or run away. It is best to keep your dog on the lead so none of this happens.

15. Excusing bad behaviour. Just because your dog is friendly with you, doesn't mean they'll react the same towards others. If they do something bad they haven't done before, don't ignore it. You can look negligent. Deal with the situation and teach your dog the social skills they need.
What Are Some Subtle Signs Of A Great Dog Owner?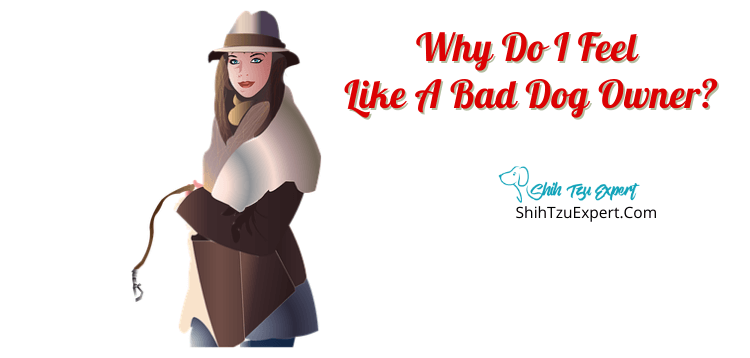 1. Being educated about the breed. Researching a dog breed before getting a dog is so important as it helps you learn how best to support your dog and learning how to meet their needs.

2. Your dog being sociable. Not all dogs are sociable beings, but if you train them correctly, they will know how to adjust to various environmental stimuli; e.g. dogs, people, etc.

3. Well-established boundaries. If you are able to use positive reinforcement to encourage discipline in your dog in them knowing the house rules, this shows you are a good dog owner as your dog knows to respect you whilst also recognising it is their space too.

4. Caring for your dog's health. There are so many dog food options these days, but if you recognise which foods are best for your pet pooch's diet, this makes you an exceptional dog owner.

5. Lots of love and understanding. It is very easy to feel misunderstood, particularly for dogs who cannot always project their needs in ways we can understand. However, if you are able to recognise your dog's needs, such as whether they want a cuddle or to be left alone, this is a truly amazing gift.

6. You're there for a long time. Too many people get a dog for the sake of getting a dog, then some months later realise they don't have the time for a dog, so they end up in a shelter. If you are in it for the long run, whilst this should be normal for any dog owner, you are one of the best.

7. Following the rules. Many dog owners often ignore the 'no dogs allowed' signs in public, but if you adhere to these rules, you are making the world a better place.

8. Daily checks. If you regularly check over your furry friend, in getting used to their body and what's normal for them, this should help you recognise early on when there is something wrong, such as a tumor, and means they should have a better chance of survival.

9. Respecting not everyone likes dogs. Not everyone is a dog person and that's okay. If you can train your dog to not go bounding up to everyone they see, that's a good thing as some people may be allergic or afraid of dogs, so this helps everyone feel comfortable.

10. Walking your dog everyday. This may seem like an obvious one, but not everyone walks their dog everyday. Walking is one of the best ways for dogs (and you) to get exercise and can also help with socialisation.
How Do I Become A Better Dog Owner?
1. Practising preventative care. Doing things such as regularly cleaning their teeth, giving them healthy food and regular exercise can help prevent your pet pooch from becoming ill.

2. Learn their language. It's difficult to understand your dog at the best of times, but understanding how they communicate with you when something is wrong is important from preventing things from escalating any further.

3. Keep up-to-date with training. It's all too easy to become complacent with training when you think your dog has perfected everything early on. But it's important to still train your dog regularly to keep the both of you consistent and not let things slide.

4. Behavioural enrichment. As well as keeping them physically active, it's important to keep them mentally active. This can be done through simple things, such as a food puzzle, so they can use their brain (and this also helps with preventing them from eating their food too quickly).

5. Microchipping. This is the best way of helping you get your furry friend back, should they suddenly run off and is much better than a collar, which can easily fall off.

6. Regular trips to the vets. Keeping an eye on your pet's health is important and even if you don't think there's anything wrong with your pet pooch, it's always best to get them checked over, just in case.

7. Clip their nails. Regularly clipping their nails is important to preventing any damage, such as clawing at your furniture or accidentally scratching you if they jump up at you.

8. Learning about their breed. Every dog breed is different and it is important you learn about how much food they should eat, what food they should eat, how much exercise they should get, etc.

9. Spend time with them. Spending plenty of quality time with your dog is important to making them feel loved and know they can depend on you.

10. Have them neutered. Neutering your dog prevents any unwanted pregnancies, which can be expensive and can also lead to dogs being without homes. 

Is It Normal To Feel Like I'm Not Doing Enough For My Dog/S?
It is completely normal to feel like this, especially as dog's cannot communicate their needs. As long as you are doing everything you can to ensure your pet pooch is happy and healthy, then that's the best you can do.
Should I Keep Track Of What I Do For The Dog [How]?
Yes, it's important to keep track of what you do for your dog, such as what and how much you have been feeding them and how often you take them for walks. This could also be useful in helping your vet figure out if there is anything wrong with your dog and how it can be fixed.
You can do this by downloading an app (there are loads out there) that sets reminders for when you need to feed your dog or what medication they're on, just so you don't forget.
How Not To Beat Myself Up About Being A Bad Dog Owner?
Instead of beating yourself up about being a bad dog owner, you should put steps in place to make yourself a better dog owner, such as by giving them better food or keeping on top of their health.
Of course, there is always a chance that you're not actually a bad dog owner and that you just feel you're not doing enough for your pet pooch, which is completely natural. In that case, just know you are already doing everything you can to be a good dog owner. For example, your dog doesn't need the best food, just a healthy and balanced diet.
What Are The Tools, Techniques And Shortcuts I Can Use To Become A Better Dog Owner?
Some simple techniques to becoming a better dog owner include spending plenty of time with your dog, by taking them for walks and playing with them in your garden.
There are no shortcuts you can take to becoming a better dog owner, as all good things come with time. Just gradually implement any of the techniques already mentioned within this article and they should help you on your way to becoming a better dog owner.
I Feel Like A Bad Dog Owner Because I Don't Take Them For Regular Walks [What To Do]?
There can be many reasons why you are unable to take your dog for regular walks. Whatever the reason is, there are other ways you can ensure your pet pooch gets plenty of exercise without the need to go for a walk.
If you have a garden, you can play fetch. If you don't have a garden, you can play indoors, which smaller dogs particularly enjoy. Or you could do a training session to help challenge their brain and reinforce good behaviour.
I Feel Like A Bad Dog Owner Because I Don't Make Them Fresh Food Regularly And Feed Kibble [What To Do]?
Feeding your dog kibble isn't necessarily a bad thing as it can reduce dental plaque, reduce risk of bacteria and is cost-effective. However, giving your dog fresh food improves their heart health, increases their energy levels and improves their eyesight.
Giving them fresh food is quite a time-consuming task, but just try and give them fresh food as and when you have the time to do so. If you do have to feed them kibble, look for the brands that name a protein as the first ingredient instead of a grain.
My Friend/Roommate/Neighbor Is A Bad Dog Owner [Is There Anything I Can Do]?
If someone you know is a bad dog owner, you could possibly try talking to them first about their habits to try and get them to change. However, the dog's safety is most important. If you believe the dog is in imminent danger or if after talking to them the owner still doesn't change, you should report them to the authorities.
References
https://www.dogstrust.org.uk/help-advice/dog-care/responsible-dog-ownership http://www.vetstreet.com/dr-marty-becker/am-i-a-bad-pet-owner-if-i-dont-walk-my-dog-every-day