We may earn commission from qualifying purchases at no extra cost to you.
Learn more
When you're traveling with a smaller dog, a soft sided dog crate can be your best friend. Easy to use and easy to store, they're great for taking your dog on short trips. Some owners also love them for a den at home. Read on to find the best crate for your and your dog.
Are Soft Dog Crates Any Good?
Soft dog crates can be great for smaller dog breeds. They're best when you're looking for something to carry your dog in while you're traveling, such as when you're taking your dog with you on vacation or to the vet. Soft dog crates aren't meant to contain a dog for hours, or keep a dog from escaping while you're away. There are other types of crates that would serve those needs better. If you're looking for a crate that holds your pet while you're on the go together and can be stored easily, soft crates are for you.
What Should You Look For When Buying a Soft Dog Crate?
Like all other types of crates, there are considerations to keep in mind when you're picking a crate. The first is size. Your crate should be big enough to hold your dog while they stand and allow them to turn around and lay down. It should be a few inches taller than the top of your dog's head and five inches longer and wider than them minimum.
Make sure there is plenty of ventilation for your dog. A soft crate without adequate ventilation will get very warm and stuffy. You don't want your dog to feel trapped or suffocated, since they'll try to escape. Soft crates can't stand up to a dog attempting to escape. If your dog will try to get out, you'll need another type of crate. Also consider your budget. Soft crates come in options at mostl price points.
The Petnation Port-A-Crate is a great travel crate for crate trained dogs. It has a steel frame with fabric walls. The whole cover can be taken off the frame to be washed if needed. It comes in five sizes. If you're looking for a good crate that can be used away from home or in the car, this is for you. It has plenty of ventilation, and both a front and top door. Most reviewers love this for traveling in the car or a place for the dog to sleep while they're away from home.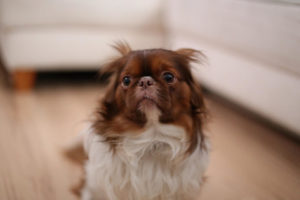 Things to Keep in Mind
As this is just fabric and mesh, it won't keep in a dog that really wants out. It also won't stand up to chewing or scratching. Owners have reported that even minor scratching destroys the mesh easily. Once again, this is only for crate trained dogs, and mainly a crate used occasionally. It won't stand up to wear and tear like a plastic or wire crate would.
It also doesn't have a handle in most sizes. This means that it isn't the best for carrying dogs around in unless your dog is under ten pounds. Many owners reported that their dogs were able to unzip the crate and get out. Once again, this isn't a crate for keeping a dog secure.  If your dog wants out, they'll get out.
Who is This Crate Best For?
This crate is meant for those with a crate trained dog who want a portable crate. If your dog prefers sleeping in a crate, then this is a great option when you're away from home. Many owners loved it when camping or attending outdoor events. The enclosed feel of it makes it great for dogs who want a cozy den to sleep in. If you need to keep your dog zipped inside when they might not want to be in it, be sure to pick a different crate since they'll get right out. This is also a great crate to keep for your car. It can collapse when not in use so you can save space when your dog isn't with you.
Pros
Soft canvas crate can be put up and taken down quickly making it great for travel.
Fabric can be taken off of the frame and washed easily.
Mesh means there is plenty of ventilation for your dog.
Sturdy steel frame can handle a lot of abuse without breaking.
Cons
It won't be able to keep in a dog who wants out.
The zipper has been known to break.
As it is fabric, any chewing will destroy it quickly.
The frame can pinch you if you aren't careful while setting it up.
Conclusion
This is a great crate for traveling or camping. It's great for keeping in your car since it folds flat and can be put back up quickly. It's best for dogs that like dark, den like crates. It isn't quite as easy to carry around as some other options on this list, but it's a solid option that most owners seemed to like.
The EliteField 3-Door Folding Soft Dog Crate is another crate option. It comes in five sizes and  fourteen colors. This crate is a much better option if you're looking for a carrier. All sizes have a handle and pouches that you can store supplies like treats or collapsible bowls in. It has three mesh door for ventilation and ease of access to your pet. The frame is made of tube steel covered with 600D fabric. It comes with a pouch that the collapsed crate can be carried in and a fleece bed for your dog's comfort. It also has a 2 year warranty.
Things to Keep in Mind
Like all cloth crates, this one won't keep your dog in if it doesn't want to be there. This is not a crate appropriate for crate training. Even a young puppy could break out easily. Soft crates like this are great for keeping your dog in when at a hotel or traveling by car. The light weight makes it easier to move and deal with than a hard crate. If you need doggy Alcatraz this isn't the crate for you. While some dogs might relax and enjoy it, there's no guarantee they will.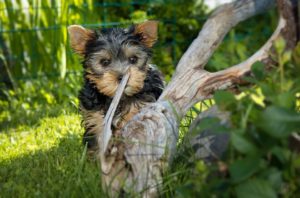 What is This Crate Best For?
This crate comes highly recommended as a place for your dog to sleep while you're in a hotel. It packs down into a nice travel pouch and most of your dog's accessories can be packed into the attached bags. A few owners loved it as a second crate for the car or at work. It can be a bit dark inside despite all the mesh, so it's best for dogs that like sleeping in dens.
Watch Out For…
Some owners noted that the seam near the zipper ripped easily, even with an older dog that doesn't typically chew or break things. Be sure to check the zippers and seams closely for any defects. Some owners noted construction issues that would make the crate less sturdy over time, mainly where the mesh and fabric are sewn together. There have been reports of the clips that attach the accessory pouches snapping after just a day of use. The same owner noted that the plastic that secures the supports for the crate is made of the same plastic so it might snap as well. The crate also collapsed on multiple occasions, which would be dangerous if it happened while a dog was in it.
Pros
Sturdy fabric crate with mesh on all sides for good ventilation.
Multiple doors give you more options to access your pet.
Included pouch makes it easy to transport.
Accessory pouches let you keep things like leashes and bowls in one spot.
Cons
Construction issues like weak zippers and ripped seams.
Plastic that secures the frame might snap over time.
Conclusion
If you're looking for a slightly larger portable crate or one to use as a travel crate, this is a great option. This is perfect for hotel stays or using in the car. If your dog is smaller, it's also a great alternative to other portable crates since it is a bit more roomy. While it is a bit dark inside, it's still well ventilated and allows your dog to see you and its surroundings easily while inside. This can be very helpful with dogs that get anxious when they're in an unfamiliar place and can't see.
The Pet Gear 3 Door Portable Soft Crate is very similar to the Elitefield option on this list. It comes in five sizes and is offered in multiple colors. The crate is supported by steel and the cover is made of nylon. The cover can be removed and washed. It comes with a waterproof pad and a fleece mat. It has accessory pouches that can be used to keep things like treats and toys close. This one isn't meant to be carried with an animal inside, so it can't replace a portable pet carrier.
Things to Keep in Mind
Check the zipper thoroughly and if you notice and issues, return it. Owners have reported their dog breaking the zipper at a point they had noted as being a bit hard to zip properly. There have been reports of owners receiving the wrong color. The included mats are also noted as being thin and flimsy, so you might want to
buy a separate bed
. The pouch on the side is just attached with velcro, so don't try storing anything heavy in it. The velcro itself isn't high quality. Owners have noted an issue where the top sags thanks to the top bars not having enough tension.
What is This Crate Best For?
Most owners liked this crate for using in the car. They noted that it was very easy to set up and fit well in the back of their car. It also worked well for hotel stays. One owner noted it was perfect for keeping pets contained on a multiple day move by setting it up in the back seat. If you're moving with small dogs or cats, this can give them space to move around while keeping them from having run of the car. Remember, driving with a loose animal is dangerous for both of you.
Watch Out For..
Owners have reported that their pet can open the zipper. Be sure to have some way to keep the zippers closed if your pet is smart. Make sure you check early that you received the right product, you don't want to miss the return window if you for the wrong size or color. Some owners reported that they couldn't collapse the crate again after they set it up.
Pros
Lightweight nylon crate is easy to move and set up
Steel tubes keep crate sturdy
Free waterproof mat and fleece pad
Pouches for storing supplies
Cons
Zippers can be forced open from the inside easily.
Includes mats are cheap and easily destroyed. They won't be as comfortable as a proper bed.
Top can sag.
Owners have received the wrong color.
Conclusion
This is a good option if you're looking for a crate to go in your car. It isn't the sturdiest, but it should work great for keeping your pet from running around your car. Just be sure to use something to keep the zippers from being pushed open.

The Noz2Noz Soft-Krater Indoor and Outdoor Crate is another soft crate option. It comes in five sizes to fit a variety of dogs. While it likely wouldn't be large enough for breeds like Great Danes, it should fit most dogs. The crate is made of heavy duty mesh and sturdy fabric over a steel frame that sets up easily. The whole cover can be removed for washing, making accidents easy to handle. It has three doors, two on the sides and one on the top.
Things to Keep in Mind
Dogs can nose the zippers open. There are hooks on the door to prevent this, be sure to use them. Make sure you know how your dog reacts to being alone if you intend to leave them zipped in this for any length of time. One owner found out their dog had separation anxiety when they broke out after the family left for dinner during their vacation and left their pup in this. Some owners complained of a heavy plastic smell. Be sure to air out the crate. Many dogs didn't seem to mind it, but your dog might. Due to all the mesh, this crate isn't very warm.
If you live in a cold climate
, this won't help keep your dog warm.
What is This Crate Best For?
Most owners used this crate in the back of their car to keep their dog contained. It can fit easily in your car and collapse when it isn't in use. Others liked it for keeping their dog in at a hotel or in an RV. This is also good for using as an indoor den or in warm climates during the spring and summer. It can be used outdoors as well, so it would work well for camping.
Watch Out For…
One owner purchased new but received a ripped, used crate. Make sure you check immediately once you receive it so you don't end up passing the return window. The canvas that can cover the door is secured with velcro attached to the mesh. This can tear over time. The zipper is noted as being fragile. Customers have noted it falling apart.
Pros
Washable fabric cover.
Mesh makes it well ventilated and great for summer.
Collapses easily and stays sturdy once put up.
Cons
Heavy plastic smell at first.
Velcro to hold cover over door is attached to the mesh, which will tear over time.
Zipper is weak.
Conclusion
This is another option for travel. It works well for indoor use year round and outdoor use during hot weather.  It won't keep your dog warm though, or stand up to a dog that wants out. Of this sounds like what you need, this crate should work for you.
The Arf Pets Dog Soft Crate Kennel is another great option for your dog. It comes in two sizes, with handles on both. It's made of cloth and mesh over a collapsible steel frame. It has three doors, with mesh on all sides. It would work well as an alternative to pet carriers, particularly in the smaller size. The cover can be removed and machine washed if needed.
Things to Keep in Mind
The base is just a waterproof canvas. It wouldn't be very comfortable for your pet, so be sure to look closely at the measurements and get one that fits your dog. Also, since the sizes have such a big gap, it might not work for all dogs. Your crate should only be a few inches bigger than your dog's measurements, but this won't be an option with this crate. The curves for the zippers make it difficult to zip.
What is This Crate Best For?
This crate is a good car carrier and great to replace portable pet carriers for smaller dogs. Most owners liked it for vet trips, car rides, and hotel stays. It's good for keeping your pet from roaming the car or containing them while you're outside. Since it is so light and portable, it's a great option to take with you to serve as a playpen for your dog.
Watch Out For…
Besides the issues with the zippers, an owner reported that the stitching on the inside was very shoddy. The same owner noted that the velcro that holds up the door came unstitched very quickly. An owner also had the bottom of the crate rip on the first use. Some owners also report that the listed measurements are wrong. If you're measuring to ensure it will fit in your car, make sure you have a few inches of wiggle room.
Pros
Collapses easily.
Washable cover.
Handles to make it easy to carry.
Well ventilated.
Cons
Zipper is low quality.
Cheap stitching.
Fabric is thin.
Won't fit all dogs.
Conclusion
This crate works well for the car and as a carrier. It's another option to consider for your pet. However, as it is cheap and
only fits a small amount of dogs,
it may not be the best option for everyone.
The 2PET Foldable Dog Crate is another great option for anyone looking for a soft crate. It comes in five sizes, with the largest fitting dogs up to 70 pounds. It comes in gray, red, blue, and beige, to fit with most tastes. It has a steel frame and a removable, washable fabric cover. The windows are made of mesh, giving it plenty of ventilation. Unlike many other similar crates, the zipper is designed to be inaccessible to your dog. There are also pockets for food and water containers on the back of the crate. It also includes both a waterproof pad and a fleece mat for additional comfort.
Things to Keep in Mind
Like all products with mesh, it is prone to the mesh tearing. If you have a puppy or dog who likes to scratch, they'll tear the mesh quickly. One owner had their puppy tear the crate, and when they contacted customer service to get a new mesh panel, they refused to help since a puppy caused the damage.  Another owner had the mesh tear when their dog leaned on it. The shoulder strap also only works while the crate is collapsed. If you want to carry the crate while it's expanded, you need to use the carrying handles.
What is This Crate Best For?
Most owners liked this as a replacement for a pet carrier. It works well for traveling like most soft crates. One owner noted this crate was great for bringing your dog on public transport since it can be put up easily and carried on. It was a little harder to carry for a larger dog, but it can help you if you mainly use public transport to get around.
Watch Out For…
The mesh is weak. One owner left their dog in the crate and found the poor pup had ripped through the mesh and got their head stuck. The dog was unharmed, but it was very distressed by the experience. One owner had the weld on the frame break during their first use. Customer service was not helpful at all. The zipper is plastic, so it is prone to failure.
Pros
Foldable design with handles.
Plenty of ventilation.
Zippers are harder for dogs to access
Cons
Mesh is weak.
Poor customer service.
Shoulder strap only works when folded.
Conclusion
This is a good choice for taking your dog to the vet or carrying them with you. It does have problems with the mesh, so be sure you don't have a dog who will scratch it. Customer service is poor, so be careful if you buy this crate.