We may earn commission from qualifying purchases at no extra cost to you.
Learn more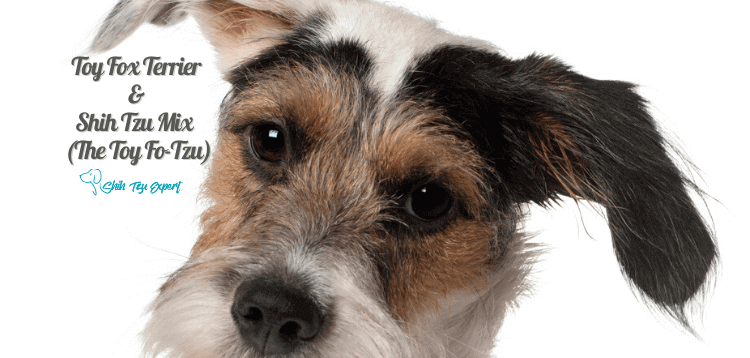 Since the phenomenon of "designer dog breeds" began 30 years, there has been a huge increase in demand for these mashup breeds that combine the best of two breeds into a hybrid. The Fo-Tzu is one such hybrid breed: a cross between the tiny-but-tough Toy Fox Terrier and the fluffy and regal Shih Tzu. The result is a pup that is both sweet and affectionate on one hand, and playful and active on the other.
What is the Toy Fo-Tzu?
As no one breeder in particular has claimed credit for establishing this hybrid, it is impossible to determine the exact origin of the Fo-Tzu mix. It is likely the Toy Fox Terrier and Shih Tzu were initially bred at some point in the United States in the past 10-20 years (similarly to many other designer breeds,. The Fo-Tzu boasts an interesting lineage, a combination of a primarily outdoor working breed (the Toy Fox Terrier) and a primarily indoor royal companion (the Shih Tzu).
The Shih Tzu has existed for centuries, with origins in Tibet over 1500 years ago. Known as the favored lap dog companions of Chinese emperors, the Shih Tzu is a loyal and loving breed with a sharp intelligence and a mild temperament.
The Toy Fox Terrier, on the other hand, is a miniaturized version of its own parent breed, the Smooth Fox Terrier. Toy Fox Terriers are often used as hunters for small prey (e.g. squirrels) and ratters on farms, and their intelligence and good temper make them an excellent choice for agility competitions.
While both the Shih Tzu and Toy Fox Terrier are recognized breeds by the American Kennel Club (AKC), the Fo-Tzu is not. A few organizations that do recognize the Fo-Tzu are as follows: the American Canine Hybrid Club (ACHC), the Designer Dogs Kennel Club (DDKC), the Dog Registry of America, Inc. (DRA), and the International Designer Canine Registry (IDCR).
Like both its parent breeds, the Fo-Tzu is small and long-lived. For both males and females, adult Fo-Tzus will grow to be between 10 and 14 inches tall, weighing between 8 and 15 pounds. With proper care and regular veterinary visits, you can expect a healthy Fo-Tzu to live between 12 and 16 years.
Fo-Tzus exhibit physical characteristics of both parents, but there is a lot of individual variability in which parent breed a given puppy will look more like. There is less variation in size and more variation in coat texture and color (as well as temperament).
Shih Tzus have long hair and even-keeled, mellow and affectionate personalities. Toy Fox Terriers have short coats and spirited, high-energy, and enthusiastic personalities.
The Fo-Tzu has a combination personality, and a coat that can vary in length but is consistently straight and dense. Fo-Tzus' eyes are brown, and its nose can be either black or brown. Coat colors can range widely, including white, cream, brown, black, sable, and pied.
Is a Fo-Tzu the Right Pup for You?
As with all hybrid or designer breeds, there is a significant amount of individual variability in how each Fo-Tzu puppy's personality will develop. This means there is a lot of unpredictability in choosing to get a Fo-Tzu puppy you haven't met yet. For some potential owners, this is a huge turn-off. For others, this unknowing is part of the attraction.
A given pup might be more mellow like its Shih Tzu parent, or more energetic and eager like a Toy Fox Terrier. The most likely outcome is an expression of both parent genes in varying proportions. In other words, a Fo-Tzu pup would likely enjoy both cuddling up with you on the couch when you're reading a book and trotting alongside you on your morning jog, but the extent to which your particular pup prefers each activity depends on which parent he or she takes after. Regardless of energy level, both the Shih Tzu and the Toy Fox Terrier are very loyal dogs who attach like Velcro to their owners, and a Fo-Tzu pup is almost certain to share this love of his or her human pack.
Fo-Tzus are often wonderful pets for older children, but can become overly zealous with rough play and can nip younger children (especially when being teased). Unless they are explicitly and consistently socialized to interact with small children, this may not be the best dog for you if you have young kids.
The tendency for Fo-Tzus to take on the Toy Fox Terrier's stubborn streak means if you have other house pets, you will have to intentionally socialize your Fo-Tzu to interact with them; this ability won't necessarily come naturally. Fo-Tzus tend to like other dogs, but will need extra help learning how to interact productively with cats.
While they are tiny, Fo-Tzus can certainly be effective guard dogs by letting you know if they sense something is wrong. However, Fo-Tzus are too small to truly fend off an attacker, and are not an ideal breed if you are looking for a guard dog in the classic sense.
Most Fo-Tzus would love having a yard to run around in, but as such a small breed, they are very adaptable to apartment living. If you are limited on space but willing to take your pup out on daily walks as well as play with them inside, a Fo-Tzu might be a great fit.
Fo-Tzu Health and Care
As with all dog breeds, it's important to keep up regular vet checks (every six months is recommended) and stay up to date on your dog's shots. Major health concerns that are worth talking to your vet about include Brachycephalic Syndrome (breathing difficulties due to obstructed nasal passageways) and Exposure Keratopathy Syndrome (a chronic disease in the cornea of the eye that can lead to blindness).
There are a few other visual impairments and eye-related health concerns often found in the Fo-Tzu, including Entropion (when the eyelid flips inward toward the eye) Ectropion (when the eyelid droops outward away from the eye) and Cataracts (nearly identical to human cataracts; opaque growths in the eyes that impair vision). It's important to regularly check on your Fo-Tzu's eyes, and if your Fo-Tzu seems to be showing signs of visual impairment (e.g. running into things, struggling to navigate its surroundings), be sure to take him or her to the vet or clinic at your earliest convenience.
Though Fo-Tzus are not especially prone to dental issues, it is important to either regularly brush their teeth or ensure they have access to dental toys and treats to maintain oral health.
As with all dog breeds when it comes to spaying or neutering your pup, your choice depends on whether you want to breed your dog later in life. It is recommended you wait until a puppy has reached sexual maturity (around 8 months of age) to avoid complications with healthy hormones while the pup is growing.
The Basics of Grooming
Grooming requirements for the Fo-Tzu will of course vary based on whether your pup inherits the Toy Fox Terrier's short coat or the Shih Tzu's long one, but a Fo-Tzus coat is nearly always dense and straight. In general, an adult Fo-Tzu needs to be brushed once a week using both a pin brush (which looks more like a human hair brush) and a slicker brush (which untangles deeper layers of fur and helps with shedding). The Fo-Tzu does not have a hypoallergenic coat, which means that regardless of coat length, shedding will be an issue to some extent.
Fo-Tzus only need to be bathed on an as-needs basis and should always be bathed with a gentle shampoo that maintains their natural skin oils.
Like all puppies, Fo-Tzu puppies have extra soft puppy fur. Even though they may not seem to need it right away, it would be wise to start the ritual of brushing as early as possible so the puppy gets used to the sensation and routine of brushing before it becomes nonnegotiably necessary.
Essential Grooming Products and Accessories
To healthfully maintain your Fo-Tzu's dense coat, you will need both a pin brush and a slicker brush to keep their coat glossy and healthy.
You will also need to buy dog nail clippers to keep Fo-Tzus' nails at a healthy length (and to keep them from accidentally scraping you!). This is especially important if your Fo-Tzu takes more after its Shih Tzu parents and tends to spend more time inside cuddling with humans than outside walking over rough terrain that would file their nails naturally. Human nail clippers will not work; it is important when cutting your Fo-Tzus nails for avoid the quick, the soft, sensitive base of their nails, and dog nail clippers are designed specifically for this purpose.
When bathing your Fo-Tzu, be sure to use a gentle shampoo that cleans the pup's fur thoroughly but does not strip their skin of its natural oils.
As with all canines, regular exercise is important for the Fo-Tzu's overall health. You will need a leash and, if your Fo-Tzu tends to take more after its Toy Fox Terrier parent, you may also want to buy a harness to keep the pup under control when excited.
Training and Exercising your Fo-Tzu
As lively and curious little pups, Fo-Tzus do need regular mental and physical stimulation to keep from getting antsy. Usually one or two short walks a day and some play time outside in a yard or park will more than satisfy your Fo-Tzu's daily needs (around 45-60 total minutes of exercise each day).
Though some Fo-Tzus might take after their Toy Fox Terrier parent enough to be eager for long games of fetch or agility training, it is likely a Fo-Tzu will enjoy both rigorous exercise and deep rest and cuddle time.
In terms of training, the Fo-Tzu can be extremely stubborn and difficult to house train. It's important to start training early to get a head start on the process. Success will come from meeting the pup's stubbornness with firm consistency. Once they succeed in learning something, Fo-Tzus can be depended on to continue to do what is expected of them.
Dietary and Feeding Guidelines
When selecting a dog food for your Fo-Tzu, keep in mind that the primary ingredient in high quality dry kibble is always meat, followed by whole grains and vegetables. Be sure to choose a dog food brand that is nutritionally dense so that your pup doesn't feel a need to overeat to feel satisfied.
Most food brands have suggestions for portion sizes based on age (puppy, adult, senior) and activity level. Any quality dog food brand designed for small dog breeds would be a good fit.
The Fo-Tzu generally has a ravenous appetite when presented with food, so it would be best to feed your Fo-Tzu measured portions 2-3 times a day using the suggested measurements from the brand you have selected. This is not a breed that should be left with a massive bowl of food to graze all day long.
As a general rule, if your dog's ribs visibly stick out, you are underfeeding him or her, and if you run your hands along your dog's sides and can't feel the ribcage, you are overfeeding him or her.
Summary and Next Steps
In summary, the Fo-Tzu is a bit of a wild card in terms of energy level, but is sure to be a sweet and loyal addition to any human pack who welcomes it. Fo-Tzus need to be socialized early to avoid becoming aggressive or anxious around strangers, but are otherwise very friendly. While they can alert their owners to danger, they are too small to be guard dogs in the traditional sense.
Eye problems are a medical concern to be mindful of, but grooming maintenance is fairly low key and straightforward. Energy levels will vary from puppy to puppy, but all Fo-Tzus do need regular attention and exercise to remain healthy and thriving.
If you are able to navigate the uncertainty of not knowing whether a Fo-Tzu pup will take more after its Toy Fox Terrier or Shih Tzu parent, you will be rewarded with the prize of an intelligent, loyal and devoted companion who will love you with however much energy it's got.
Finding a Fo-Tzu
As with most designer breeds, you are unlikely to find a Fo-Tzu by searching rescue shelters. There are reputable Fo-Tzu breeders across the United States, many of whom are willing to ship puppies nationally or even internationally.
Please remember to exercise caution when selecting a breeder to support. Ask for recommendations or references, and even insist on seeing the property on which the breeder is keeping the puppies and their parents; do what you can to avoid supporting puppy mills that do not treat either their breeding adults or their puppies (or both) with the care and respect they deserve.
As with any furry addition to your family, it's important to take into account the costs of bedding or a crate, brushes and clippers, dog shampoo, a collar and leash, toys, treats, regular vet visits, and regular feeding (this cost will depend on the food brand you select).
Most Popular Names for the Fo-Tzu
While of course naming your dog is a deeply personal endeavor, a few popular names for Fo-Tzus are listed below as a resource and inspiration:
Male Names: Brady, Sam, Duke, Cooper, Oscar, Jake, Peanut
Female Names: Cookie, Roxy, Lucy, Sasha, Chloe, Gracie, Rosie
Other Similar or Comparable Designer Dog Breeds
Cava-Tzu (Cavalier King Charles Spaniel + Shih Tzu)
Puggle (Pug + Beagle)
Labradoodle (Labrador Retriever + Poodle)
Golden Doodle (Golden Retriever + Poodle)
Yorki Poo (Yorkshire Terrier + Poodle)
Are you a current owner or a prospective owner of a Fo-Tzu? Please share your experiences or ask questions here!