We may earn commission from qualifying purchases at no extra cost to you.
Learn more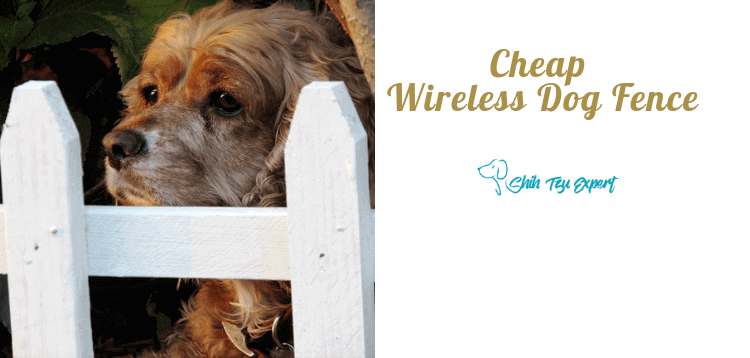 As a dog owner, you know how hard it is to keep your energetic pooch contained when all he wants is to run and play. If you have a yard that is not already surrounded by a fence or wall of some kind, then you are probably looking for a good way to keep your furry friend safe and secure.
Walls and traditional fences can be expensive to put up and maintain, and many dogs can jump over them or dig under them with ease. Is it a good idea to buy a Cheap Wireless Dog Fence?
If neither a traditional fence or a wall seems like a good fit for you and your pup, then you may be considering purchasing a wireless dog fence. For many, wireless dog fences – also known as invisible fences – are a great fit for the family, both human and dog. There are a variety of wireless dog fences out there on the market, all of which serve slightly different purposes. You will want to make sure that the invisible fence that you choose is the right fit for both you and your furry family member.
General overview
The PetSafe YardMax Rechargeable In-Ground Fence is a do-it-yourself invisible fence kit for your furry friend. It is intended for dogs that weigh at least 5 pounds and with neck sizes between 6 and 28 inches. There are 5 levels of correction, plus a sound-only option. Instead of needing to replace the batteries, you can recharge them in about 2 to 3 hours. The charge is supposed to last a maximum of 3 weeks. The system is compatible with 14-gauge to 20-gauge wire.
The must-know facts about the PetSafe YardMax Rechargeable In-Ground Fence
The kit comes with, among other small parts, the transmitter, the wire, the computerized collar and its charger, and the boundary flags for training.
The computerized collar has 5 levels of correction and a rechargeable battery. If you purchase more computerized collars, then you can have more pets on the system because it can maintain an unlimited number of collars.
It comes with 500 feet of wire, which can cover about 1/3 of an acre of area. If you purchase more wire, then you can expand it up to 10 acres.
It includes an installation guide and a training guide so you can execute every part of the process yourself. The training guide should have your pooch familiar with and capable of using the fence in 2 weeks.
Important tips
Keep in mind that the computerized collar emits a correcting shock at the fence line, not before it, like most traditional invisible fences.
Your pup will be able to reenter the yard without receiving an additional shock, so if he leaves, he can return without being corrected. Otherwise, the correction might confuse him.
Benefits and features
Because it has in-ground wire, you can shape the boundary however you would like instead of being limited to a circular area.
The correction zone extends indefinitely past the wire, not just a set area on either side of the wire. That means if your pup runs really far away from the wire, he can still be corrected. There is not correction zone within the wire, so your furry friend can play to his heart's content in your designated yard space. This also means that you can place the boundary flags right in front of where the wire is buried for training, making it easier for you.
The varying levels of correction mean that you can use this system and computerized collar with any pooch you have, regardless of his size. Plus, the collar will always beep before emitting a shock so that your dog has time to return to the boundary himself before needing a stronger correction.
The transmitter has a surge protector included, which will keep the system running properly if there is inclement weather like a thunderstorm.
Since the computerized collar is able to work with smaller dogs than many other options on the market allow, the receiver is very light, especially compared to other options out there. Plus, the receiver will beep to tell you when the contact points are touching your dog's skin, so you will know exactly when the computerized collar fits your furry friend.
There is a 1-year warranty included and customer service support Monday through Saturday.
Things to watch out for
While the rechargeable battery in the computerized collar is intended to last for 3 to 5 years, the battery cannot be replaced when the battery fully dies. Instead, you must purchase a new computerized collar. Remember that the collar will lose charge faster the more frequently your pooch has to be corrected.
Some users have complained that the material of the collar is not the strongest, so you might want to purchase a new collar and fit the receiver to the new collar.
The wire is also not considered the best by current owners, so you should consider upgrading to tougher wire before even beginning installation to save time. The vast majority of reviews for the product out there will say this exact same thing.
Conclusion
The PetSafe YardMax Rechargeable In-Ground Fence is a well-liked product by the vast majority of people who have purchased it. Be sure, of course, to do thorough research before buying it for yourself, but this has been an overview of the pros, cons, and truth about this invisible fence system. It is an affordable option, especially because you do not have to hire someone to install it or to train your dog. Keep in mind that it is still wired, so you will have to bury the wires yourself.
General overview
Despite what the name of this product suggests, the PetSafe Stubborn Dog Fence Without Wire does need wire to work properly. If you have wire in-ground already from an earlier wireless dog fence system, but need a system upgrade, then this is a viable option for you. Plus, unlike other systems that do come with wire but include frail, shoddy wire that has to be replaced, this invisible fence assumes that you are going to buy high-quality wire, so the price point for the kit is lower.
The kit also comes with the computerized collar, the boundary flags, and a battery.
The must-know facts about the PetSafe Stubborn Dog Fence Without Wire
The computerized collar is waterproof, so your dog is okay to go out and play in the rain. There is also a light on the collar to tell you when the battery is running low. The collar has 5 different levels of correction, as well as vibration.
You should consider buying a surge protector for the transmitter, though, so that your system is safe if there is a thunderstorm with lightning or other inclement weather.
This wireless dog fence system is not recommended for small dogs.
Important tips
Unlike a system that is safe for dogs 5 pounds and larger, this is not recommended for any pooches under 8 pounds.
This is good if you have a stubborn furry friend because it has a very strong maximum level of correction.
It is recommended that you remove the battery from the collar when your pooch is not wearing it so that the battery life lasts longer.
While the computerized collar is waterproof, the transmitter is not. Make sure to install the transmitter inside, such as in your garage. Otherwise, you could find yourself dealing with a broken transmitter during inclement weather. That is also why you should buy a surge protector.
Benefits and features
The system can support multiple collars, so if you have more than one dog, this is an option for you. If you are looking for a portable solution for pet containment then read our guide on best portable wireless dog fences.
Because the computerized collar does not have a rechargeable battery, it includes a low-battery indicator light to tell you when you may need to replace the battery for your furry friend's collar to work properly.
It also comes with short and long metal prongs that serve as the contact points, so it can work with dogs that have both short and long hair. No coat of fur is too thick for this invisible fence system.
By not including wire, you will be able to save some money purchasing the wireless dog fence system and can shop around for the most durable wire out there. Other options that include wire might include sub-par wire which would require you to fork over extra cash to pay for not one, but two different spools of wire – the original purchase and the replacement purchase.
Since the system uses wire instead of transmitting a circular perimeter, you can shape the boundary however you would like, customizing it to your specific yard.
Things to watch out for
It is not the safest product if you have small dogs, so if you need a system for multiple pups of varying sizes or just one small pooch, then this is not the right system for you.
You need to purchase your own wire for this product, as the invisible fence kit does not come with any wire.
The computerized collar is not rechargeable. You will have to replace the 9-volt battery whenever it runs out, so be prepared to pay extra money for that. Many owners of the system complain because you have to remove 4 screws to replace the battery, so it is a bit of a hassle.
If your dog is aggressive at all, then this is not the right system for you. Aggressive dogs, when shocked by the computerized collar, have reportedly grown increasingly hostile, going so far as to attack anything in sight, including well-meaning owners. That is why it is very important to understand your furry friend's temperament before purchasing an invisible fence system.
Conclusion
The PetSafe Stubborn Dog Fence Without Wire is a great option for you if you already have wire in the ground from a previous system or plan on purchasing your own wire instead. It is a strong invisible fence system because it is intended for stubborn pups that are difficult to train.
That means that the levels of correction are a bit more intense, so you should not use it with very small or docile dogs. You can design the layout however you want, so it works with a variety of yards. Plus, it is able to contain multiple pooches as long as you buy extra collars.
Unfortunately, the battery is not rechargeable, but the low battery indicator light is there to help guide you so that you do not accidentally let your furry friend outside without the collar keeping him safe and contained in your boundary.
Why choose a wireless dog fence?
There are a lot of different reasons to consider an invisible fence for your dog. They are more aesthetically pleasing since they are underground, easier to install without a professional's assistance, and incapable of being circumvented by your pooch jumping over or digging under.
However, the number one reason that owners of pups tend to consider purchasing a wireless dog fence is because they tend to be more affordable than traditional fences and walls.
What should I look for in an invisible fence?
There are a lot of things that you should look for in a wireless dog fence as you consider which one to purchase.
One thing to consider is if it has in-ground wires or transmits a perimeter. If it has in-ground wires, then you will have to install them yourself or hire someone to do so. However, it will allow you to design the boundary however you would like to make sure that you maximize the yardage that your pup has to run and play.
One that transmits a perimeter, on the other hand, will allow you to modify the length of the radius from transmitter to boundary, but you will not be able to set the shape; it will just be a circular area with the transmitter at the center. That means you need to decide between ease of installation or shape of boundary, whichever is more important to you as a pet owner.
Another thing to consider is the levels of correction offered on the computerized collar. Some will only have one shock level, while others will provide you with varying levels of shock intensity. If you have a stubborn or heavier dog, you will need a stronger shock than a smaller or more obedient pup would require.
That leads directly to a third thing to consider: what are your dogs like? Consider your pooch's temperament before deciding which invisible fence, if any, to buy. Pups that are on the aggressive side tend to react poorly to a wireless dog fence system because they do not like the surprise of being shocked; it could lead them to attacking whatever or whoever is closest to them at the time of correction.
Also consider his size. If you have more than one dog, you will want to make sure that your system supports more than one computerized collar with the same transmitter. You will also want it to have varying levels of correction because no two dogs are the same and one of your dogs might require a more intense shock than the other.
You will want high-quality wire and a high-quality computerized collar. For the wire, it should be durable and not prone to breaking. For the computerized collar, you will want to make sure that it is waterproof, or at least water resistant, so that your dog can be outside in the rain and roll around in puddles without worrying about unexpected zaps from the computerized collar.
So, what does a wireless dog fence usually cost?
There are three major things to remember before assessing how much an invisible fence will cost for your household.
First, you should look at the base price. That is how much the system itself costs, including the transmitter, the computerized collar, the wire if there is any required, the batteries for the computerized collar, and the boundary flags. The cost of all of that combined depends on the quality of all of those things – the quality of the wire, the durability of the collar, the levels of correction of the collar – as well as on your property's size.
Some systems may require that you purchase wire separately, while others may come with wire that will either work well or need to be replaced by something more durable. Some collars will be waterproof, while others will not. Some computerized collars will have five levels of correction, while others will only have one. Some will be rechargeable, while others will require that you replace the batteries when they run out.
All of these are things to keep in mind as you prepare to make your purchase. Consider how they will affect you and what need to prioritize in a product as a result.
The base price could be anywhere between $150 and $350, with anything less than that being too cheap and anything more than that being too expensive. You do not want to be oversold; a higher cost does not necessarily guarantee a higher quality product.
Second, you need to consider installation. If you buy a product that allows you to install it yourself, then there will be minimal installation costs. However, the trade-off is that it will take up your time to install it. If there are wires involved in the system, then you will have to buy a shovel or trowel to dig and bury the wires if you want to do the installation yourself. If you choose to purchase a system that does not use wires, then installation will be relatively easy and you will not need to hire anyone to do it for you.
Note that the wire does not technically need to be buried. However, it will be more vulnerable to the elements if it is above-ground, either attached to an existing fence or flat against the ground with yard staples. For best results, though, bury it.
Third, consider whether or not you want to be the one who trains your pup to understand and obey the system. A trainer could cost at least $500+. Do-it-yourself wireless dog fence kits usually include guides on how to train your dog, but if your pooch is very stubborn, then it may be for the best if you hire someone else to do that work for you. It just depends on how much time and dedication you are willing to put into training your furry friend.
But do they really work?
Yes! If you install it correctly, following all of the provided instructions, and train your pup according to whatever guide you decide to use, then the fence will work. If the product is of sub-par quality, then it might need frequent battery changes to work, or the wire might be of a poor quality and not work well. But overall, invisible fences do in fact work. You just need to be smart about buying – do your research first and be prepared.
In the case that your wireless dog fence stops working, it is possible that the product you bought offers replacements of broken parts or has a warranty that will guarantee money back or system replacement. If your fence breaking is something that particularly concerns you, then the inclusion of a warranty might be something that you require out of whatever fence you decide to buy.
Will a cheap wireless dog fence hurt my dog?
No! If you use the invisible fence properly, then you will not have to worry about it hurting your pooch at all. The product will tell you weight and neck size minimums for the computerized collar. If your dog does not meet those minimums, then you should not use that product; otherwise, you risk hurting him.
Remember that wireless dog fences are made specifically for your furry friends. The companies that make and sell them have your pup in mind and would never want to hurt him; invisible fences are intended to increase your dog's safety and comfort, not decrease it. You should keep in mind the level of correction that you think your pooch needs and can tolerate and set the computerized collar to that level. However, all of the levels are intended to startle and get the attention of your dog, not hurt him.
The only thing that might hurt your pooch or make him uncomfortable is if the collar is on too long. Because of the metal prongs of the computerized collar that deliver the shock, it must be worn tight on your pup's neck. Leaving it on for too long could make him uncomfortable because the metal prongs will dig into his skin. That is why you should only have your furry friend wear the computerized collar when he is outside in the enclosed space.
Is it okay to buy a cheap invisible fence?
Many of the cheaper invisible fence options are do-it-yourself kits, as mentioned above. So, for starters, you should not buy a cheap wireless dog fence if you are unwilling to do the installation and training yourself. (Note that you could still hire a trainer independent of the invisible fence company if you really wanted to, but it would be up to you to find and hire the trainer.)
It is perfectly okay to purchase a cheap wireless dog fence. However, you will want to be sure to do your research first. Make sure that the option you select has everything that you are looking for in a fence. Also, read product reviews, especially from customers, that will tell you the real quality of the product that you are considering before you buy it.
That being said, most do-it-yourself invisible fence kits are fully functional, and you should not have any issues with it as long as it is installed correctly and your pup is trained to understand and use it properly.
Keep in mind that you might have to up the quality of the wire by purchasing your own, or may need to buy a lot of batteries for the computerized collar. Again, reading comments and reviews from current and former users can help guide the process of making a decision about whether or not a specific wireless dog fence kit will work for you.
Conclusion
This has been an overview of cheap wireless dog fences in general, as well as reviews of two of the better-known options on the market. Hopefully, it will help guide your research and purchasing process as you look for the perfect invisible fence for your dog.
Remember that every option will have its pros and cons, so you should shop around first.
Also, keep in mind that invisible fences will keep your furry friend in, but will not stop other animals from going in and out as they please. If you live in an area with a lot of wild animals or have neighbors who let their pets roam free, then a wireless dog fence system might not be right for you and your pooch.
Best of luck looking for an invisible fence system!