We may earn commission from qualifying purchases at no extra cost to you.
Learn more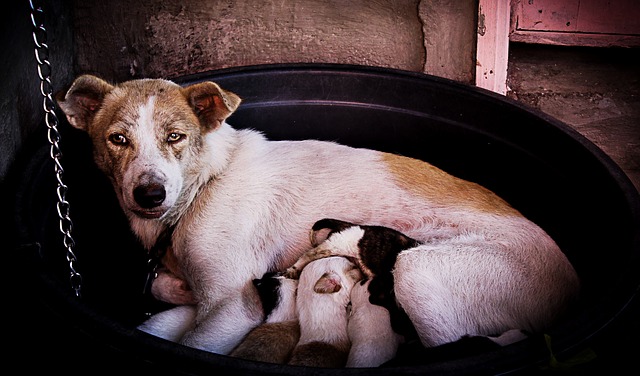 Are you expecting puppies? Have you ever considered what you might do if there are birthing complications for your dog? If so, you aren't alone. Although natural birth for your dog is the most common route, a cesarean section or c-section, is also an option if absolutely necessary.
With any surgical procedure, though, there are risks, benefits, potential complications, and things to consider in regards to cost, recovery, and the procedure itself. In addition, understanding the technique unique to dogs is useful knowledge when considering if this is an option for your pregnant pup. Let's start first with what a dog cesarean section is and when it is used.
Cesarean sections in Dogs, and is it natural?
A c-section is a procedure in dogs done surgically that cuts open the uterus of the dog and removes the babies in a careful but swift manner in order to ensure health both for the mom and the puppies. With a c-section, the mother will always be put under general anesthesia and does not exert any energy in birthing her babies. 
With regard to the typical birthing options for dogs, cesarean sections are not the common or quintessential route. Oftentimes, a cesarean section is unplanned and happens as a result of an emergency or intervention. In addition, they are sometimes (but rarely) booked for dogs that have a particularly small pelvis.
A cesarean section may also be planned if a dog has particular health issues throughout the pregnancy. A dog will also have a cesarean section if they had one during a former pregnancy. Outside of emergency or these particular circumstances, c-sections in dogs are very uncommon.
You might be asking, "Is a cesarean section for a dog natural, then?" Most commonly, your dog will be able to give birth without any surgical intervention. In the case of an emergency or long-lasting labor, a cesarean section might be the best and most effective option in saving both your dog and their puppies.
While not necessarily natural, a c-section is definitely a viable and great option in the cases stated above. So, if you find yourself in one of these predicaments with your pregnant pup, a c-section might be an appropriate option for your dog.
What breed(s) of dog cannot give birth naturally?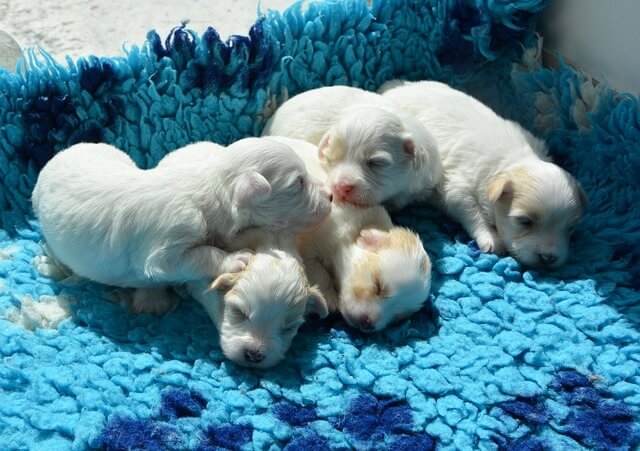 It is rare, but there are some breeds of dogs that have c-sections more often than others. In a recent study, results found that the Pekinese, Boston terrier, bulldog, and French bulldog, the rate is greater than 80%. Although these breeds have a particularly high rate of c-sections, most dogs are able to have natural births.
When is it essential to perform a cesarean section?
There can be a multitude of reasons why a veterinarian will perform a cesarean section on a dog. A c-section can be both planned or in the case of an emergency. In order to help keep you informed of all your dog's needs, we've composed a catalog of some specific reasons for why your dog may have to have a cesarean section; all of which are due to an emergency or if they can be planned ahead of time. 
Pelvic Size

Blocked Head

Hemorrhages

Dystocia

Uterine Inertia

Fetal Distress

Breech Births

Intrauterine Fetal Death
#How to plan & schedule for your pup's cesarean section?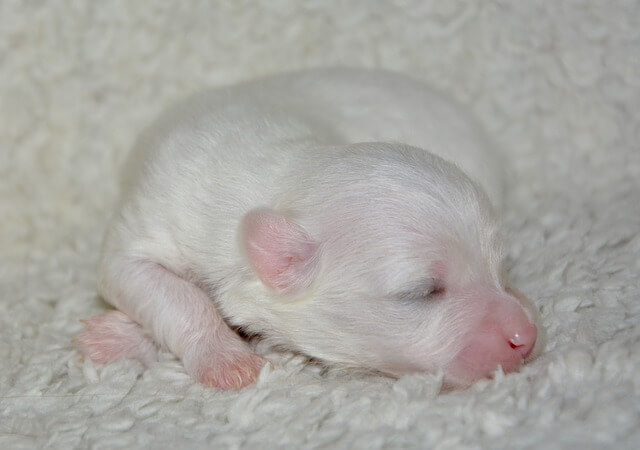 So you've found out from your veterinarian that your dog will have to have a planned cesarean section. Now what? There are multiple ways you can prepare in order to help both your pup's procedure and recovery thereafter.
Typically, a dog will give birth around 63 days after she has ovulated. The birth most often happens within 24 hours of that estimated date. If you find out your dog has to have a cesarean section with enough time to prepare ahead, there is much that can help ensure your dog is both comfortable and the recovery time is well-planned. Since this date isn't perfect, it is recommended you start to heavily monitor your dog 48 hours before that date.
If able to do so safely, it can be helpful to bathe your dog a few days before the surgery. This helps ensure your dog is clean for the procedure. While not necessary, you can also shave her to cut down on the amount of shaving the veterinarian will have to do before the surgery.
You are able to feed your dog their meal the evening prior to surgery, but make sure not to feed her the day of. There are no issues with water, though. Allow her to drink as much she needs before leaving for surgery. If your dog is on any medication just make sure she has those with only as much food as it takes to coat the medicine. One of the most useful ways to prepare for your dog's cesarean section is to get the recovery area well-prepared. It is helpful to make sure wherever you have her recovery and the Whelping area is quiet, warm, and clean.
Things that are helpful for your dog's recovery and whelping area:
Whelping area

Rectal and room thermometer

Heating device

Puppy scale

Tincture of iodine for umbilical cord care

Feeding tube

Supplies to record puppy weight or any odd behavior

Medi-nurser baby bottle

Puppy safe marking systems

Disinfectant (for the whelping box)

Bulb syringe

Wading area
What to bring to the surgery?
Large crate for your dog

Clean sheets to cover your car seats

Towels

Heating pad

Plastic laundry basket to take the puppies home in

Bulb syringe in case she starts whelping on the way home
Post Surgery Care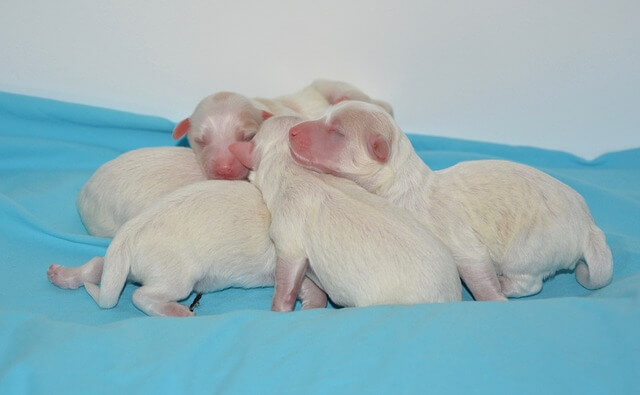 Typically, you will need to get to the veterinary office 1-2 hours before your dog's surgery. The surgery itself is usually done by two veterinarians. The surgery itself can last for a varying amount of time due to the process it takes to initiate breathing in the pups. Here are some helpful tips to ensure recovery continues to go well, and your dog and her puppies stay safe and healthy.
Mother:
Once the area where anesthesia (or referred to as the dam) has recovered and your dog is able to move and mobilize herself, she will be able to be sent home. The veterinarian will give you certain medications for your dog to ensure recovery goes well. These medications are often to assist the dog in feeling less pain post-surgery. In addition, medication is often administered to help with lactating.
Upon arrival back home, it is suggested to monitor her continually for 3-4 hours. This helps make sure there are no anesthesia complications post-surgery. In addition, this consistent monitoring also helps make sure she doesn't accidentally roll over on top of her pups.
It is a good practice to not feed her too much food post-surgery. Too much food after the surgery can cause her to vomit and become sick. She should be just fine, though, with small portions of food. It is advised to give your dog 50% or less of her regular daily amounts.
Your dog may have changes in her body temperature, abnormal discharge from her vagina, and even some blood excretions from her vagina as well. These are not normally a cause for concern. One thing to be on the lookout for is if she starts to have a fever specifically from the dam. In this case, call your veterinarian right away. If your dog has medication, make sure to notify the vet beforehand so they can inform you on how to give it to her post-surgery.
With some dogs, the veterinarian will do internal stitches. If this is the case, there is nothing you'll have to do with regards to the stitching. With stitches on the outside, you will just need to ensure you schedule a time 1-2 weeks post-surgery to go back to your veterinarian and have them removed.
Puppies:
One of the most important things to remember according to veterinarians is to not leave your mom by herself with her babies for the first 2-3 weeks. The puppies will need consistent care as well. A cesarean section does not allow for natural whelping like a regular birth. Because of this, there may be a particular season early on post-birth that she seems to reject her babies.
Don't fret too much about this. This most often just takes some time to happen when your dog goes through a cesarean section instead of natural birth.
Since the puppies are unable to regulate their own body temperature, it is important to make sure they maintain a warmer body temperature. This is where the heated whelping pad and other heating devices become necessary. In addition, they will also often need help ensuring they get fed. If they seem to be struggling to find their mom, just gently place them near their mother, and they will be able to reach her teat.
If nursing is becoming too difficult or impossible all together, there are options for milk replacements. It is advised to check in with your veterinarian to see what they think is best for your particular puppies. After the first few weeks of the puppies' lives, it is suggested to conduct a follow-up appointment where they are being checked for any worms. At about 8-10 weeks, the puppies will need to start getting their vaccinations as well. 
One of the most important things you can do is just encourage the mother and puppies to bond, feel loved, and have your care and attention.
Risks & Complications
As a cesarean section is planned appropriately and done when necessary, it can be a pleasant experience both for you, the owner, and your dog. C-sections in dogs has been perfected and conducted many times. So, there are rarely any complications and risks with the surgery. With any surgery, there are risks and complications that may arise. In order to make sure you are aware before your dog's surgery, we have provided a list of what to look for and be aware of.
Mother:
Before

Negative response to anesthesia before surgery begins. If this happens, your veterinarians should be trained in how to handle it.

During

Clots in the blood during surgery

Hemorrhaging

Infections of varying kinds within the wound itself

After

Fever/infection

Tears in incision scars

Uterine inertia – issues with whelping and the ability to expel a foetus normally
Puppies:
Injury during surgery

Compromised breathing during a complicated surgery

A breach in the placenta

Atrophy of the fetus

Disintegration and assimilation of one or more fetuses in the uterus

Malnutrition
One of the most important ways to keep the puppies healthy is to ensure the mother is doing well. If she is able to feed them and isn't left alone with them in the beginning weeks, your puppies should be onto growing into cute and lively young dogs!
Cost and Procedure
Cost
If your dog is unable to birth the puppies naturally, a c-section is a route your veterinarian may go in order to ensure the safety and health of the mother and her puppies. C-section does cost a decent amount of money. The cost can vary depending upon the number of puppies your dog has as well. Generally, a c-section in a dog costs anywhere between $500-$2,000.
canine cesarean section surgical technique. Each clinic sets its own costs, and there may be a trusted clinic that charges less than this as well.
In addition, if a c-section is planned ahead and scheduled with a local veterinarian, the cost will commonly be less than if you had to have a c-section due to an emergency medical issue then you will have to go to an e. There may also be extra costs added to the surgery if there are complications, additional techniques and procedures needed, or unsuspecting emergency necessities.
If you know ahead of time that your dog will require a c-section, it can be helpful to call around to clinics and get quotes for your dog and the number of puppies she has.
Procedure
A c-section in dogs is a commonly performed procedure if the dog is unable to give a natural birth or has complications. It is performed using local anesthesia so that your dog is in no pain. There are commonly two veterinarians in the operating room. One vet works on the mother while the other is there to warm the puppies up and initiate breathing. In addition, after initial incision, one surgeon watches over the mother and the other identifies the puppy in the uterus.
While the uterus is identified, the other surgeon ensures the bleeding is controlled in the mother. Once the uterus is identified, a quick incision is made while ensuring the puppy itself is not cut. The puppy is then quickly removed from the uterus.
Once removed from the uterus, the surgeon in charge of locating the uteruses removes the membrane and then the other surgeon clamps and cuts the umbilical cord. Suctioning occurs during this so that the puppy can begin to breathe. After the initial suction, the puppy then gets handed off to a nurse. The nurse then begins to rub the puppy to increase breathing simulation. 
The nurses continue to do suctions and hold him/her with a warm towel. As the nurses are there to ensure the puppies are breathing and doing well, the surgeons can continue to remove the uterus, puppies, and clamp/cut the umbilical cords.
The procedure itself usually goes quite quickly, and once the mom is recovering and stitched up, the nurses usually begin to give the puppies their first meal. The mother is allowed to fully recover before nursing the puppies, and the puppies are kept warm and cared for while waiting for mom to recover more.
Preparing for the Next Visit
As your dog and her puppies continue to recover and grow, there will be a follow-up appointment needed with your veterinarian. In order to be well prepared, here is what your follow-up appointment will include:
Declawing and/or tail docking 3-5 days post-c-section

Stitches removal (if not done internally done 10-14 days post-surgery

Puppy de-worming at weeks 2, 4, 6, and 8

Health exams and certificates for traveling, microchips (if applicable), and vaccinations at 8-9 weeks

If selling your puppies, you can do so after 8 weeks