We may earn commission from qualifying purchases at no extra cost to you.
Learn more
Are Dog Washing Machines a good idea? As every good dog owner knows, a clean dog is a happy dog, or at the very least, a good smelling dog.  Not only that, there are many important health benefits to a groomed pet.  Grooming your pet helps to maintain a healthy coat and skin. It will help to promote a shiny healthy coat, and your dog will shed less.  Frequent grooming especially with dog clippers will help you notice if there is anything wrong with your dog's skin, and your beloved pet will look great.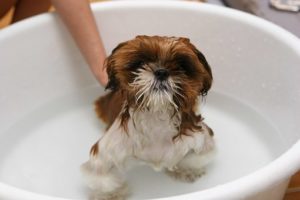 Washing your dog is no easy task, however.  If you're outside using a hose, the water
is cold
, everybody gets wet, there is soap everywhere, and there is always the possibility that your dog will break free and just roll around in the mud.  If you wash your dog inside, you are relegated to using the sink (for a small dog) or the bathtub (or you can use one of these
bath tubs designed for dogs
).  By the time you're done, you may have to end up paying to have a cleaning
service come in and professionally
clean your house!
The latest trend in dog grooming are dog washing machines, and yes, they are exactly what they sound like.  Machines that will wash your dog.  The run the gamut from full sized machines to little portable ones that you can buy for your home.
The large machines are certainly a sight to see.  There is a chamber for the dog to sit in, that is able to accommodate various sided dogs.  It will have a
door that has a viewing window in it
.  This way you can see in, and your dog can see out.  Think in terms of a good old fashion car wash.  First your dog is wet down with streams of warm water.  This is followed by a pet friendly detergent that lathers your pooch up.  Then comes more water to rinse your pet.  Then jets of warm air will dry your pet.  All told, the process takes about 30 minutes or so from start to finish.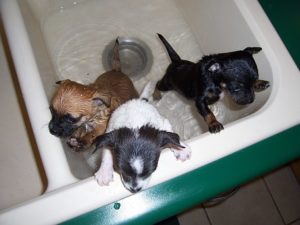 Proponents of the machine say that the jets of water are beneficial to your dog.  They soothe tired achy muscles.  They can also be used as a type of physical therapy for your dog.  Plus, the faster wash time is far less stressful on both you and your dog.
These machines are designed to give your pet a relaxing and stress-free wash.  If your dog tends to wiggle and move about, however, he runs the risk of getting soap in his eyes or his mouth.  This is neither stress free, nor relaxing for him.  If your pet is only bathed in one of these machines, you will also miss out a chance to check your pet's skin for cuts or lesions that could signify an illness.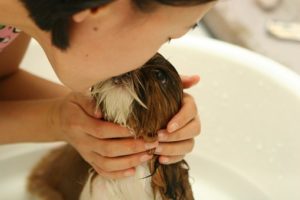 Washing your dog is a time-consuming task, but it's what you sign up for when you own a dog.  Your job is to take care of your pet.  This includes keeping him
cleaned and groomed
, and safe.  And just how safe can these machines be?  Would you like to be locked in a box and have water and soap come streaming down at you from all sides?  Most people probably wouldn't.  And even if we didn't like, it, we as humans have the cognitive ability to recognize that being clean is important.  Pets don't have the ability to realize that and may be scared and afraid.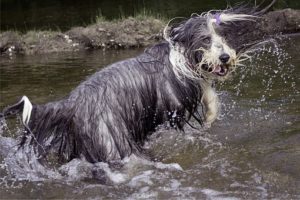 As a pet owner, your responsibility is to care for your pet. This includes
washing and grooming him
.  While it can be a challenging task, it is also an opportunity to bond with your pet.  The bonding is in the contact between you and him.  Just popping him into a machine to get cleaned isn't the same. Take the time to bathe your pet.  Yes, it can be messy, and no, your dog may not like it.  But is he going to like being
locked in a box
with water streaming out at him from various directions?  At least when you bathe your dog, you have the benefit of contact which can sooth your pet and make him feel more secure and loved.