We may earn commission from qualifying purchases at no extra cost to you.
Learn more

Save time and money with these super-cool dog grooming hacks
Whether your pup is a whopping 100 pounds or a tiny 10-pounder, keeping them well-groomed can be quite a chore. Sure you love them, but giving them a bath? Clipping their toenails? Not on your top ten list of things to do.
Taking a chance on DIY
Recently I brought home a Great Pyrenees mountain dog. 100 plus pounds of happy-go-lucky energy. That's about the weight of an average sized recliner chair, half a refrigerator, or even a newborn giraffe. (Okay, the giraffe baby is maybe 25 pounds more, but hey, when you have a 100-pound pup taking a nap in your lap, those few extra pounds don't mean much).
Did I think, at the time, about what it would take to groom her? Nope. The thought never entered my mind. Not until she showed up at the door one day, silly grin on her face, covered in burs and dirt, with the remnants of a small tree branch tangled in her coat. She was a total disaster.
Question now was, how do I get her cleaned up? I mean, we're talking 100 pounds of matted, no-longer-white fur. Do I take her to a groomer? Pay out $100 or more to a professional? Or do I take the bull by the horns – or, in this case, the pint-sized polar bear – and do it myself?
Saving money and keeping my pup close to home won out. It was DIY time for me.
The secret to DIY dog grooming is knowing the tricks
Grooming your dog at home
doesn't have to be difficult. Or time consuming. Sure it can seem scary at first. (
An unwieldly pair of clippers could turn your precious pup into a hacked-up ball of fur, afraid to show himself in the dog park
) You just have to know the tricks, the hacks, that will let you do it with ease. And yes, it may take a little time; you won't be perfect right off the bat. But don't give up. You
will
get there. And your furry friend will be able to hold his head high when he's out and about in the neighborhood.
So, for better or worse, here they are. The top DIY tips for grooming that lovable mutt of yours:
#1. The Brush Off
Brushing your dog is super important. It removes all the debris, dirt and dead hair that gets caught in your pup's fur and keeps their skin healthy. But you probably already do this, right? Good for you. Because this is something pretty basic to your DIY grooming schedule. Life is hectic, yes, and it's hard to find the time. But there are enormous benefits to brushing your dog regularly – both for him and for you.
Brush to distribute the natural oils in your dog's coat 
Cats groom themselves obsessively, but dogs don't. They need help in spreading their skin's natural oils around and preventing greasy buildup. So brush away. You'll have a great looking dog with a fabulous, shiny coat.
How often have you walked around the house complaining of all the dog hair floating about and covering your furniture and clothes? The more hair you brush off your dog, the less hair you'll have to contend with where it doesn't belong.
Lack of brushing can result in matting. If you have a short-haired pup, this isn't a worry. But if your pup has long or thick, curly hair, it's definitely a problem. Trying to untangle a mat can be painful (if you've ever had anyone pull your hair, you know what that feels like). And can result in large swatches of your poor pup's hair being shaved off. Matting can also trap the undercoat, causing your dog to overheat.
Brushing lets you spot anything unusual 
Brushing regularly helps you get to know your dog's skin; if there's anything out of the norm, it will leap out at you. Early detection is important to your pup's long-term health.
Brushing can be a bonding time 
A regular brushing routine can be soothing to both you and your dog, a way to de-stress after a particularly bad day. Just stick your earbuds in and consider the time you spend brushing your Zen moment, a chance to unwind and connect with your furry friend.
Now you know the why, here's the how:
Always brush with the hair, not against it. Dogs really don't like you brushing their hair backwards against the grain. Just take smooth, even strokes down and out, starting with your dog's back. Tummies and legs can come later.
Be gentle. Tugging on mats or brushing too hard can turn your dog against both the grooming process and you. You don't want that. So take care brushing; be as gentle as possible to ensure this is a happy time for the two of you, with no ouches or owies.
Helpful hack: if

you encounter a tough-to-comb out mat,

spray a detangler or conditioner directly on the mat and work it in with your fingers. This should help the knots slide apart more easily.
Okay. Your pup is now brushed and looking totally awesome. What's next on the agenda?
#2. The Scrub Down
The scrub down is the most dreaded part of grooming (well, almost; toenail clipping may have it beat). Hated by both dogs and humans alike, the dreaded doggy bath is an unfortunate necessity for the health and well-being of your dog.
Forget those happy images you've seen of a bubble-covered dog racing away from its laughing masters. Bath time is time-consuming, tiring, and tedious. And if dogs had their way, it simply wouldn't exist. They like being dirty and smelling like an old tennis shoe. Too bad you don't.
But, hey, no worries. You've got this. An at-home doggy dip doesn't have to be bad. Here's how you can you make it a friendlier, better experience for both you and your pup:
Make it a positive experience
Offer toys, treats, and love to get your dog up to the bath. Then let them hop into the empty tub, and – when they seem comfortable – gradually add warm water. Yes, you may have to reward them often at the beginning, but that's alright. Just keep it up until they understand what's expected of them. And remember, dogs mimic our emotions. So, if you stay calm, they'll stay calm.
Start bathing early if you can. That way your pup won't pick up any bad habits and will be less opposed to the experience. Early bathing means less trouble later.
Choose your shampoo carefully
Using the wrong shampoo can dry your pup's skin out and cause itching. A mild soap that cleans and deodorizes without stripping away important oils is best.
You need to take great care with your dog's ears in the bath. Avoid – as much as possible – getting any water in them. It's uncomfortable for them and can cause serious health problems.
Take a neck down approach
This not only protects the ears, it also keeps your dog's eyes, nose and mouth safe. Simply use a cup or a small pail to wet your dog down – or use a sprayer if you've got one – then soap them up, and scrub. Gently. For the face? Just use a warm, damp washcloth.
Your choice. But if you blow dry, use a dog blow dryer. (Note: the noise and the feel of the dryer is something you'll probably have to get your dog used to). An absorbent towel, on the other hand, works great and is less likely to cause a bad reaction.
Helpful Hack: If you really can't bring yourself to bathe your dog yourself, and you don't want to pay the cost of a full-service grooming, you might want to consider self-service bathing, an option offered by many dog grooming salons. For a nominal fee you enjoy the use of all their grooming amenities – tools,

high power dryers

,

luxury shampoos and conditioners

. Many offer

elevated tubs

with walk-up ramps – a real boon for those with very large dogs (beats trying to lift a 100-pound dog into the bathtub!) Average cost for a doggy drive through? $12 for up to 49 pounds, $16 for 50 pounds and over.  
Now that your dog is clean and dry, it's time to rid him of all that extra weight he's been carrying around. No, it's not the extra treats you've been giving him. It's that extra fur that's dragging him down. So, pick out a great set of clippers and change your pup's bad fur day into a great hair day.
You don't have to be a professional to groom like one   
You really don't. The big thing to remember here is that you only have to deal
with one dog, whereas professionals need to know how to groom dozens of fur types and lengths. So already you're ahead. Just look for grooming instructions for your breed of dog (there are a ton of sites out there; you're sure to find the right instructions for your pup), and – when you feel you have the technique down – get to work. With time and practice you'll be trimming like a pro. Use these tips to get started.
Brush and wash before you clip
This is merely preparation for the cut, getting out the tangles and the shedding hair, and leaving only the good hair to cut.
This is not the time for distractions. You don't want your dog to jump or move suddenly while you're clipping him. And the quieter the clippers you use, the better. Your pup will thank you.
At the very least you'll need a clipper, a slicker brush and a comb. But do your research. Look online or talk to a groomer to determine which types of tools are best for your particular breed of dog. There are so many different kinds of tools out there, it can be confusing.
Picture the final outcome
Don't start until you have a clear picture in your mind as to what your pup should look like when you're finished. You don't want a poodle cut on your Saint Bernard.
Go slowly and in the right direction
Dog hair can change directions, so go slow and pay close attention to the direction the hair is growing. And don't push the clipper too fast; it can leave lines. This whole process could take some time, but you'll have a smooth, even coat when you're done.
Helpful Hack: Before you start, pay one last visit

to a professional groomer

and have them walk you through the process. They can demonstrate the best way to clip your dog's coat and suggest the appropriate tools to use. The confidence you'll achieve is well worth the cost.

 
Once you get the hang of it, it should only take you 15 to 20 minutes to trim your dog.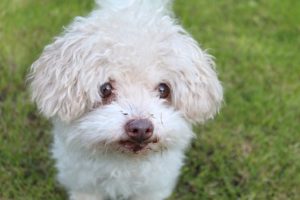 #4. Nailing it
Perhaps the most intimidating task of DIY dog grooming is cutting your dog's nails.
They balk, they wriggle, they treat the session as if it's their worst nightmare. And pretty soon it's yours too. But keeping your dog's nails short is critical to their health, helping prevent sore feet, arthritic toes, and over-used muscles and joints, especially in their hind limbs. So – if you hear a clicking sound while your pup is running around the house – tamp down the squeamishness and pick up a paw. It's pedicure time.
Three step Clipping:
Before you start, remember – if you dread the process, your dog will too. So put on a happy face and keep lots of treats handy. Try making nail clipping a quality time with lots of kisses, praise, and a positive attitude.
Step 1
Begin by handling your dog's paws frequently, introducing them to the clippers slowly and only when they seem relatively at ease. Choose a plier style clipper, one that comes with a guide to help you avoid cutting the quick. A smaller size will allow better control.
What's the quick? The quick is the soft center of your dog's nails that contains blood vessels and nerves. It is highly sensitive and if cut, will cause pain and bleeding. 
Step 2
Hold your pup's paw gently but firmly, using your fingers to separate the toes. Cut the nail at the end, in front of the quick, at a 45-degree angle, trimming a small amount at a time. Trim only until you see the small black dot in the center of the white area inside the nail. That's the quick. Be very careful. On dogs with white, beige or pigmented nails, the quick can be seen fairly easily. Darker nails require a little more discernment; using a flashlight will help.
Step 3.
Finish with a "pedi-paws" type grinder, smoothing out all the rough edges. A hug, an enthusiastic 'good dog', and an extra treat wouldn't be misplaced.
Helpful Hack: If you're really just too squeamish to cut your dog's toenails yourself (and who could blame you?), have the vet tech do it when you take your pup in for their regular exam or their scheduled shots. It's just an extra $10 tacked onto your bill. Peanuts for peace of mind.
There you have it. For maintenance, trim every two or three weeks. And always with lots of cookies, love, and praise.
#5. The Eyes Have it 
It's super easy to forget about your pooch's eyes when you're going through your grooming routine. But don't. Those cute little peepers need loving too. Dogs are prone to developing a number of eye problems, so maintaining a healthy awareness of your pup's eyes with weekly inspections is important. Try these tips:
Look at them straight on. Make sure they're clear and bright, with pupils equal in size
Make sure there is no discharge or crust in the corners 
If there is, use a clean cotton ball or damp washcloth, carefully wiping outward from the corner
Gently roll down bottom eyelid to examine the lining. You want to see a healthy pink, not a red or white
Watch for signs of irritation
If your dog is experiencing eye pain or irritation, he may paw or rub at his eye. That's your cue to have it checked out
Keeping water out of your dog's eyes is a given. Also avoid eye contact with any soaps or topical medications
Helpful Hack: Some pups (poodles are a good example) develop unsightly brown tear stains under their eyes. The discoloration isn't anything to worry about but, if you want your dog looking his spiffed-out best, there are products on the market that can safely remove them. Look for those that come in pad form and contain a natural anti-biotic. 
#6. Protecting Your Dog's Smile
Dogs really do smile. And it's up to you to protect that smile with regular brushing of their pearly whites. Dental disease is the most common disease in dogs but it's also the most preventable and treatable. By providing a crunchy diet, suitable chew treats and toys, and conducting regular brushings, you can ensure your precious pup will continue to exhibit a thousand-watt smile! Let's get started.
Adopt a special time of day
Pick a time of day that fits with your pup's usual routine. Just before their usual walk, or prior to their daily treat might actually help your dog start looking forward to brushing time.
Pick up a soft-bristled doggy toothbrush and some toothpaste formulated especially for dogs (chicken and turkey flavor is good). Give your dog a taste of the paste and repeat, ultimately rubbing it along the gums of the upper teeth. Your pooch is now brush ready.
Do not try to brush the entire mouth at first. Start with the upper back teeth, along the gum line, working in a circular manner. If all goes well, the process should only take about 30 seconds.
Helpful Hack: If you or your dog can't hack the brushing, try Milk-Bone's Brushing Chews. They taste like a treat but clean like a toothbrush, helping defend against bad doggy breath and tartar buildup.
Grooming you dog at home is really a great investment of your time and effort. Not only can it do wonders for your budget, it gives you an amazing opportunity to build trust and strengthen your bond with that lovable pup of yours.
Doggy DIY. Easy-peasy. You've got this.