We may earn commission from qualifying purchases at no extra cost to you.
Learn more
As anyone traveling with their pet knows, it can provide comfort, companionship, joy, and a respite from the loneliness often felt on the road; but it can also be a source of that feeling of responsibility that many of us look to escape. After all, being solely responsible for the comfort and health of another living being is often the largest responsibility one can feel — but also the most rewarding when accomplished well.
Fit Your Dog into Your Schedule – Not the Other Way Around
Dogs do love routine, and it is important for puppies to grow up feeling secure in their next meal, potty break, or playtime; however once the dog is your dog, and knows that they will be fed, relieved, and exercised regularly, they will not feel anxiety around it. So fit your dog into your schedule!
The challenge here is that right after he's been bathed, and before he dries off, he absolutely loves to dart off into the grass, dirt, sand, mud – whatever the outdoors provides us that day. Water typically makes dogs hyper, so I need someplace for him to remain quiet and clean while I bathe myself, before I've had a chance to towel him off. I typically create a little towel bed on the back seat of the van (which we have turned around to face the back of the van, so it doubles as a couch). I tie his leash to the arm rest so he can't go too far, and he typically stays somewhat within the realm of the
towel bed
. Of course I only do this while I have an eye on him so that I can ensure he doesn't get stuck in any uncomfortable positions.
When I'm done bathing myself, I hold him in my arms and towel him off until he's quite dry and is no longer at risk of picking up every bit of dirt on the ground. And then I tell him how handsome he looks as he prances around with his newly clean coat, and it's an enjoyable experience for both of us!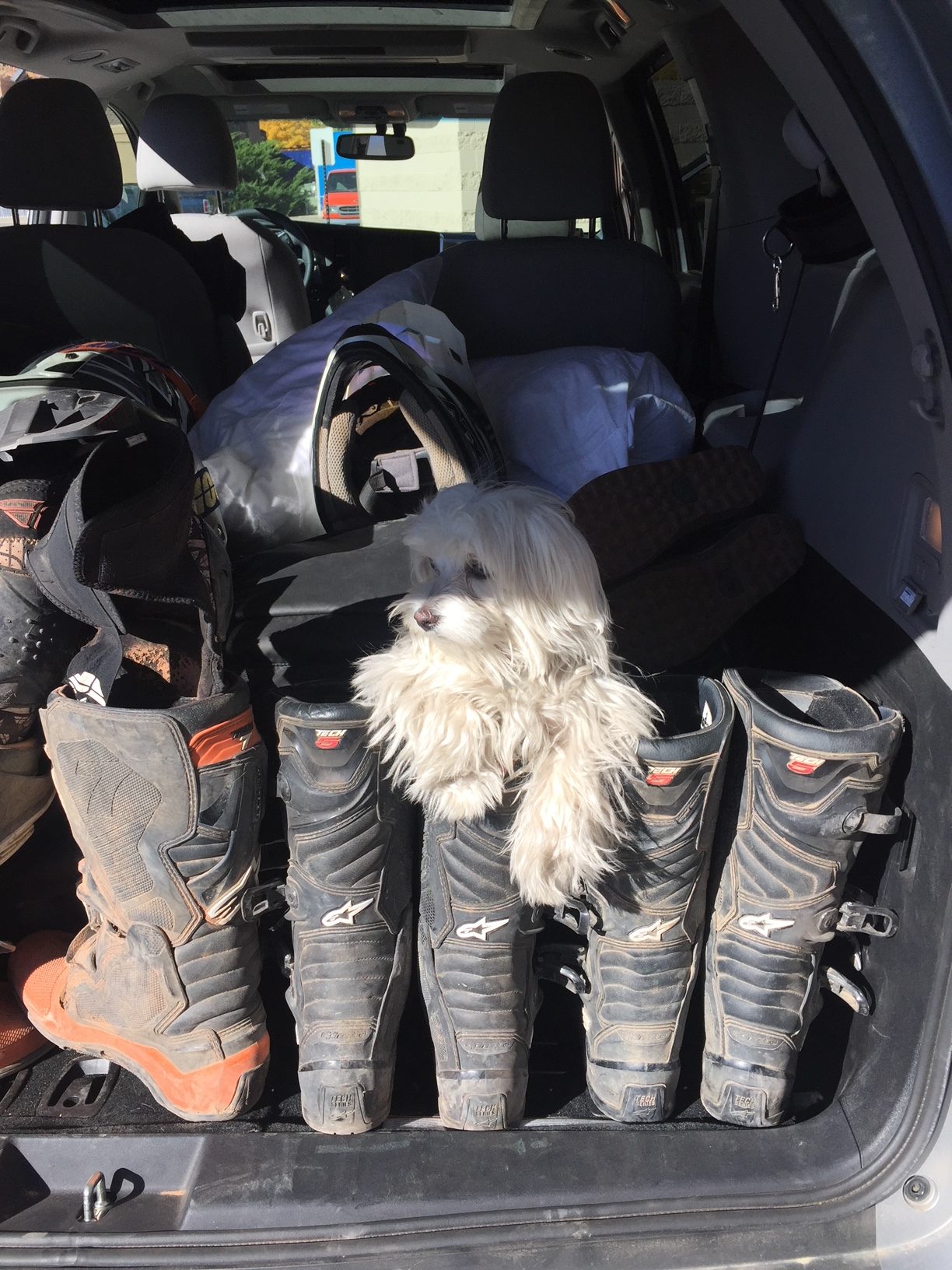 Proper Grooming Tools Make Things Easier – But Are Not Always Available
As many dog-owners know,
cutting your pup's nails is not the most fun activity
. The nail-cutting tool that vets use (the one that provides that small hole to fit the nail through and clips it gently and painlessly) is not always around. I have found that, for larger dogs that have harder nails (like my dog, Nola, who only comes on some of my trips), often finding a nice slice of pavement every week or so, and having her
chase a ball back and forth
for about 20 minutes often keeps her nails short and buffed nicely. However for smaller dogs with softer nails, like Swifty, this can lead to painful nail breaks, so sometimes tools are the only way to do the trick.
Dog grooming salons
or vet offices that you come across on the road will often kindly allow you to borrow their tool for a few minutes to cut your dog's nails. Or
nail scissors
(the curved ones) that you use for yourself also work quite well. Just make sure you have a good hold of your
dog's paw
so that you don't risk cutting too short, nicking the quick, or worse.
Ear Cleaning is Very Important – Especially if You Live an Outdoor Lifestyle
Watching my pups run on the beach or along
sand
dunes in the desert is often one of the happiest experiences I have on the road. However, sand or other dirt in a dog's ears can lead to discomfort and infection. I usually use a cotton ball or a soft tissue to gently rub the inside of my dog's ears just after I've
bathed them
. Or, if the ear smells at all funny, it might mean an infection is brewing. In those instances, I use a simple saline solution and squirt it into the ear using a bottle with a small squirt top, and then clean out the ear using cotton or tissue. We don't need to worry about going too deep into a dog's ear canal the way we do on ourselves – a dog's ear canal is long. Just rub the inside of the ear gently and you're done once the cotton or tissue comes out clean!
Tooth Hygiene is Very Important – and Easy!
When I'm on the road, it's sometimes difficult to pack everything, which means I sometimes don't have my pup's toothpaste and toothbrush with me. Bones, even those from the meal you ate that night, are a great natural way for dogs to clean their own teeth. Just make sure it's not the type of bone that can splinter and cause tummy issues for your pup. Turkey necks are usually the bone of choice for my dogs, but I take it away before they have the chance to try to ingest the whole thing.
Eye Boogers are Uncomfortable
Different dog breeds acquire different levels of eye gunk. My big dog, Nola, only acquires the sticky, slimy stuff when she's having an issue – and that can sometimes happen if you let your dog hang their head out the window while you're driving (but I usually can't help myself from allowing this, seeing the smile on their faces as the wind whips their ears back). My small dog, Swifty, has these every morning, afternoon, and evening. I typically help him out just by picking them off – but it's very important that your hands are clean before you do this. If an unusual amount of eye gunk for your dog presents itself, it might mean a bigger problem, so keep an eye on it.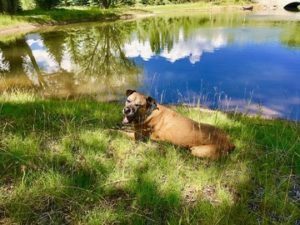 Fur is Everywhere!
I would say the only thing I get annoyed about with my larger dog, Nola, is that her hair ends up absolutely everywhere
during shedding season
(even in my lofted bed which she is not even able to reach). I keep a fur remover with me at all times to minimize this, and I would attest that
having a brush or a glove
or any type of undercoat-removing tool is necessary to bring with you on your travels if you have a shedding dog. It will keep your pet cool if it's hot outside, as well as more comfortable, and will minimize the amount of fur everywhere in your living space.
I recently also found the pet hair remover of all pet hair removers (after trying many) – a pumice stone! I already have one for my feet (I like to walk barefoot a lot, especially when traveling), and it works wonders at removing pet hair from cloth seats, sweaters, and other cloth-like materials.
Also getting a good pair of clippers for your dog will make like a lot easier, because you can keep their hair or fur at a manageable length.
If Your Dog is Licking A Lot, it Might Mean Allergies, Not Self-Grooming
During the spring and fall, my pups often start licking their paws, the top of their haunches, and yes they even perform the dreaded butt drag on the ground. I did some research and realized that this was not a sign of self-grooming, but a sign that my dog was itchy. I was recommended to try fish oil by a holistic vet friend of mine, and it worked miracles! Turns out my pet had allergies, which can often happen when they're in new environments when environmental allergens are high. If you don't have access to the kind meant for dogs, foods that contain fish oil also do the trick, so if you're eating salmon for dinner, share some with your pup!
As always, your pet's health, happiness, and safety are of paramount importance, especially when you're living in a van. Our furry friends can't always tell us what they need, so it's up to us to pay special attention to them and make sure they are always well and happy.
I have lived with dogs my entire life. I have read many books and articles about dog psychology and training, and have attended many training classes in order to give my pups the best lives possible. I have been traveling with my dogs for about 10 years now and converted to part-time van life about 3 years ago. Living in my van with my dogs has been one of the most freeing and joyful experiences of my life.