We may earn commission from qualifying purchases at no extra cost to you.
Learn more
There are a variety of reasons why a dog might be scared of nail clippers. Some dogs may have had a bad experience getting their nails trimmed in the past; for new puppies or dogs who have never had their nails trimmed, it may be harder to figure out the source of the anxiety. Either way, there are steps that you can take to help make it possible to clip your squirmy dog's nails.
How to Avoid Fear
If you have a brand-new puppy, be sure to gently touch their paws and toes as often as possible, to make the nail clipping process easier in the future. Some dogs react poorly to having their owner hold their paw because they go into sensory overload. A dog's paw contains sensors to help them navigate their environment, so touching their paws may cause a reaction. Start slow, and reward with treats and praise to create positive associations towards paw-handling. Ideally, you want to be able to separate their toes without causing them to squirm.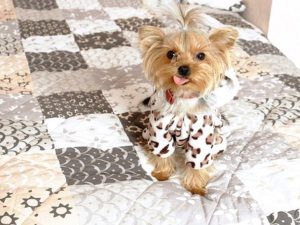 For some dogs, paw handling may not be a problem. My English Bulldog loves to hold hands, and he has since the day we got him as a puppy. But if I bring clippers near his nail, he still runs away. For all dogs, once they are comfortable with having their paws handled, it's important to begin to slowly build up positive associations with the nail clipping process.
The Clipping Process
Never try to clip your dog's nails quickly. If you try to go too fast, you are much more likely to cause your dog to panic, to get frustrated, to potentially cut the quick, and to create a traumatic experience for you both. Take the process slowly, and don't expect to be successful in your first attempt.
Take your dog for a walk first. If your dog is well-exercised, they'll be calmer and less likely to squirm or fight when you hold their paw. If playing or
swimming
is
your dog's go-to exercise
, make sure they get a good long session in before you get started. My dog loves to play, but rather than calming him down, more play just riles him up. Make sure that your chosen method will help to make your dog calm and relaxed.
Before you even attempt to clip the nail, start by getting your dog comfortable with having the clippers near his paws. Hold your dog's paw gently, and gently touch the clippers to your dog's paw. Reward with treats and praise. Then, touch the clippers to the nail, and use more treats and praise. If your dog handles these steps well, try clipping one nail. If you can, start with your dog's hind legs, as their back paws may be less sensitive than their front paws. Your dog won't enjoy the process, but if at any point your dog begins to panic or thrash, don't fight it. Put the clippers aside, and try again the next day.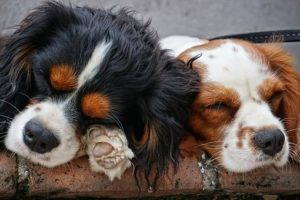 How to Clip
One of the things that
can cause nail clipping stress
for both dogs and owners is fear of clipping the quick. Your dog's nails contain two blood vessels and a nerve inside the inner part of the nail, called the quick. Clipping the quick can be painful for your dog and cause a lot of bleeding. If you clip the quick, its important that you remain calm.  Have packed cornstarch handy, and if you clip the quick put your dog's toe in the cornstarch to stop the bleeding. Once the bleeding has stopped, reward your dog with more treats and praise, and abandon clipping for the day.
Other Options: A Nail Grinder or Dremel Tool
How it works
A nail grinder or Dremel is an electric tool with a rough filing disc on one end that spins quickly when turned on, almost like an electric tooth brush. Like a nail file for humans, it shortens nails slowly and can help to smooth them out in the process.
How to use it
Hold your dog's paw and gently separate one toe. Turn the Dremel on. Hold the spinning file gently against the end of your dog's nail. Do not push on the nail; hold the Dremel against the nail and allow it to slowly file down. Take frequent breaks – the Dremel can get very warm very quickly.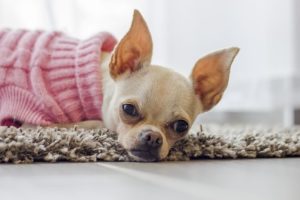 Pros/cons?
With a nail grinder or Dremel, you'll end up with a smoother nail edge than the jagged edges that can come from clipping. This is nice for both you and your dog, as their nails are less likely to snag or scratch. However, for dogs like mine that are terrified of the noise a vacuum makes, a Dremel can be even scarier than clippers. It also takes a little longer, so for dogs that really hate having their paws handled, this can mean increased anxiety and resistance.
New Pair of Clippers
Sometimes a new pair of clippers is all that's needed – your dog's fear of the process may be linked to a specific pair of clippers that were used in the past. Either way, its important to routinely purchase new clippers or sharpen the clippers you have; dull clippers can "pinch" the nail and cause pain and additional distress for your dog.
Exercise
For some dogs, long walks on pavement can file their nails down naturally. Walking your dog 2 or more miles each day on rough surfaces (pavement or sidewalk – not grass) can help to keep their nails short and is great exercise for you both! However, this may not be a viable option for all dogs and owners, and its important to be able to clip nails if needed.
Conclusions
Whatever method works best for you and your dog, it's important that you manage not just your
dog's fear and anxiety
, but also your own. If you're calm and confident, your dog will be more relaxed and compliant. If you feel anxious, your dog will sense that and respond accordingly. And remember, there is no shame in admitting defeat and referring to an expert.
Most groomers will
clip your dog's nails for $10-$15 (regional pricing may vary), and for many anxious dog owners, that's worth the time and stress it takes to do it yourself.