We may earn commission from qualifying purchases at no extra cost to you.
Learn more
Is finding the best Dog Nail Clippers & Grinders important? Grooming your dog's nails may seem like a harrowing task, but it is not only incredibly important to the health of your dog, but it can be very easy when you have the proper tools and knowledge! Even if you are taking your dog to the groomer every two months or so, it may be necessary to trim their nails more often than this to prevent problems. The best way to save money and take care of your dog is to invest a little money into a quality pair of clippers! They are cost-friendly way to add to the hygiene and health of your pup.
There are a variety of great clippers brands to chose from when purchasing, as well as different kinds of trimmers that are best for different breeds and sizes of dogs. Read below for an overview of the leading brands, best reviewed clippers of 2021, comparisons of the different clipper styles, and important tips and tricks for grooming your furry friend! With a little practice, you can be trimming your dog's nails like a professional in no time!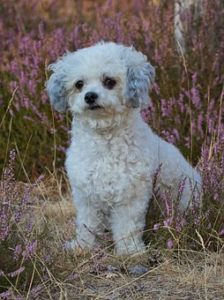 What are the best dog nail clippers?
Use this guide below to choose the best clippers for your needs! These are not listed in any particular order, and all are known for their professional quality and performance.
These clippers are cost friendly, recommended by professionals, come in different sizes, and are equipped with a quick stop that helps prevent cutting too short!
2. Dog Nail Clippers and Trimmer by Boshel – Easy & Safe
These clippers are made of stainless steel, meaning a clean cut each time, are recommended by professionals, are easy to hold, come with an included nail file, and have a safety sensor.
3. Fur Goodness Sake Nail clippers – Best for Large breeds
These clippers make clipping thick, large nails easy. They come equipped with a safety guard, are easy to hold, and are top rated by pet owner and professionals alike.
4. Simply Pets Online Dog Nail Clippers – Has a Safety lock
These clippers are designed to put safety first! This brand was started by former veterinarians who know safety and proper clipper design. These clippers are easy to hold and suitable for dogs of all sizes! They also come with a lifetime guarantee.
4. Gonicc Dog Nail Clippers and Trimmer – With Safety Guard
These clippers are lightweight, ergonomic, and easy to hold. They come with a nail file for after clipping, a safety guard, and a lifetime warranty!
5.Hertzko Professional Pet Nail Scissors + Best Small Breed dog nail scissors
These strong and sharp clippers are best suited for small dogs and cats- or even bunnies! They are comfortable to use, make it easy to see where you are cutting, and are highly recommended by professionals!
What are the best dog nail grinders?
Use this guide to see two of the leading nail grinders on the market! These are all of professional quality and are recommended for their outstanding performance.

What are the top brands/companies?
Safari

Safari has been named one of the best overall brands of dog clippers on the market today. Their commitment to quality has put them at the top of many lists, and there costs rival some of the more basic brands!

Millers Forger

This brand is highly recommended by most professional groomers! You can get great quality without paying an outrageous price when you buy these clippers for your furry friend.

Boshel

This brand is similar to Safari in quality, cost, and product availability. Boshel clippers typically come with a file when you purchase the clippers. Occasional sales make these clippers a great bargain for their quality

Resco

Resco brand specializes in guillotine style clippers. They are the leading guillotine clippers based on customer reviews, quality, and ease of use! Read on below to see the differences in clipper types.

URPOWER

URPOWER grinders are the leading electric grinders. URPOWER provides professional quality at an affordable price, and are very quiet- a big win for owners of scared pets!

GoPets

GoPets offers the best clippers for safety. Most of their clippers come with a safety guard that drastically reduces the likelihood of cutting your dog's nails to the quick, making them great for those just beginning to clip their dog's nails.
Different Types of Trimmers
Scissors

Just as their name implies, this style resembles traditional scissors, with finger holds and longer blades. Scissor style clippers are lightweight and great for smaller dogs. They are easy to hold, and the blades rarely need to be replaced! Scissor style clippers require a bit of hand force, and therefore, are not great for big dogs with thick nails. Use these for your small dogs (or even cats!). These clippers are thin, making it easy to see where you are cutting- a big plus so that you do not cut your dogs nails too short.

Pliers

Plier style clippers are similar looking to scissors, but they do not have finger loops, and are significantly stronger than scissor style clippers. Plier style clippers are a little easier to use than scissors, and are much stronger, making them great for large dogs with thick and strong nails. There are notches on the blades, making the clipping process much easier! There is no chance for slipping, and therefore, it is very difficult to splinter your dog's nails while clipping. These blades do have the possibility of dulling slightly more quickly, but in general, are very strong and will last you quite a long time!

Guillotine

Guillotine style clippers are just what they sound like. Like a traditional guillotine, these clippers have a hole that you insert the nail into, and a blade comes out of the device, clipping off the nail. Guillotine style clippers are very easy to use and require less force than scissor or plier style clippers. They are best for medium to small dogs, as the hole is not adjustable, and some larger dogs may have nails that do not fit into the hole.

Grinders

Grinders are entirely different from clippers in that they do not cut the nail at all. Grinders simply shave, or grind, the nail down like a high speed nail file. Grinders are electric, and therefore require charging before use or a cord when using. Nail grinders are a great option if you are worried about cutting your dog's nails too short, or if your dog hates having their nails clipped. Because the grinding is a gradual process, it is much harder to cut the nails to short. Grinders are like a sanding machine, leaving the nails smooth after filing. Nail grinding does take longer than clipping, but grinders are suitable for dogs of all sizes, making them a great choice if you are an owner of many different dog breeds.

Why is it important to trim or grind dog nails? Why can't I let them grow naturally?
Some people may not see the benefit in clipping their dog's nails. Though it is true that your pets distant relative, the wolf, does not have someone clipping its nails monthly, wolves are constantly active, running on different terrain daily. This naturally trims their nails down. Most house pets are not receiving the same amount of exercise, and therefore, their nails are not being naturally filed, creating the need for dogs to have their nails clipped!
Clipping your dog's nails is not simply for cosmetic purposes. There are a plethora of reasons that you should clip your dog's nails. Firstly, cutting their nails prevents pain and possible injury to the dog. When a dog tries to run with long nails, it can reduce the running traction they have, possibly leading to serious injury. In addition, nails that are not regularly trimmed back can easily get nail disorders that can become painful to the dog. Trimmed nails also make it easier to walk, and also reduces the annoying clicking sound on your floors
when your dog is walking!
It is much safer for your pets skin, and your skin if you regularly clip the nails, as they will not scratch as easily. Lastly, it is much safer for your furniture, floors, and carpets if your pet has their nails trimmed regularly!
Trimming your dog's nails is a relatively simple task that can drastically improve the health of your dog in the long term! Do not neglect this task, and start early with your pup if possible, so that they are used to the grooming and do not become scared.
Nail clippers vs nail grinders
So, as we can see, there are two main styles of nail groomers on the market, clippers and grinders. Both can do their jobs well, but it is important to chose the device that will suit you and your dog's needs best!
Clippers are more like scissors that essentially cut an entire chunk of the nail off, but grinders are more of a file, shaving away at the nail, little by little.
As a result, clippers are much quicker, as they only take one swift motion per nail. Grinders, on the other hand, are much slower, since you must shave down each nail, one at a time.
Grinders can be much safer, though, because there is a significantly decreased likelihood of cutting your dog's nails to the quick, since it is a gradual process. With clippers, if they do not have a guard, it will take much more caution and inspection prior to cutting to ensure that you are not going to clip the nails to short and cause pain or bleeding to the dog.
Grinders can be great for dogs who hate nail clipping, but the noise and vibration that come from the grinders can be scary for some dogs.
With both clippers and grinders, you must take the time to gradually introduce the device to your dog, and do not force the process. We will cover the exact steps to safely cutting your dog's nails in a few sections below.
What to look for when buying dog nail clippers?
When looking to purchase dog nail clippers, it is necessary to look at the size, safety, comfort, type, performance, and style of the clippers. Most clippers will come in different sizes for different size breeds and dogs, so make sure to buy the ones that are best for your pet! If you are a beginner, it may be important to find clippers that have a safety guard with them, so that you do not risk cutting your dog's nails too short and harming them. You can also try and look for clippers that have coated hand grips!
This increases the hold on the clippers, making it less likely to drop them, or for the clippers to slip out of your hand- an important factor in clipping safely. Use the comparison guide above to look at the different styles of clippers to see what is best for you! There are scissors for smaller dogs, pliers for bigger dogs, and guillotine style clippers. Choose what is best for you! In addition, you should make sure that the clippers you are using are recommended by professionals. Buying professional will ensure that the clippers will cut your dogs nails well, and not splinter or harm the nails. These are all important factors to consider when buying clipper-style nail groomers for your pet!

What to look for when buying dog nail grinders?
If you have decided to buy nail grinders for your pet, as opposed to nail clippers, there are some additional factors to consider in order to ensure the quality and performance of the grinders. Similar to purchasing clippers, you should find grinders that are comfortable to hold, which will help prevent any problems with the filing process. In addition, you must look at the performance and professionalism of the grinders. Grinders will come in two options, corded and cordless. Corded grinders will plug into the wall, meaning you must be near an outlet when grooming your dog's nails, but on the positive side, you do not have to wait for the device to charge, and there is no risk of the device dying while you are grooming.
Cordless grinders need to be charger before each use. If you are buying cordless, look for grinders that have a good, long lasting battery, so that you can easily complete the job needed without breaks in the grooming process. With any kind of grinders, you should look for a product that comes with warranty, if possible. This will give you a specific time frame to try out the product, see how your dog reacts, and ensure that everything is working properly. As with any product, try and purchase a device that is recommended by professionals, as this will tell you that you are getting a great product!
How Often Should I Clip My Dog's Nails?
There is no set time frame for how often you should cut your dog's nails, as all dogs have different levels of activity. As mentioned above, the nails of active dogs are worn down naturally through running, so they will not need clipping as often as inactive dogs. Clipping could be needed weekly, biweekly, or monthly, but a general rule of thumb, is that it is time to clip your dog's nails when you start to hear them clicking on the hard floors, or catching on the carpets in your house. Essentially, they should not be long enough to touch the ground when your dog is standing still.  If you are not cutting your dog's nails often, this can make the quick become longer, causing problems when you decide to clip again. Regular clipping makes the quick recede back, meaning that there is less pain and problems in your dog' nails!
How to clip dog's nails when they are nervous?
Clipping your dog's nails can be a super simple task, but only once your dog is comfortable with the process. If you have an anxious pet, start introducing the clippers or grinders to them very gradually. For example, on one day, simply let them sniff out the clippers, and then give them a treat. Next, put the clippers near their toes, but don't clip, and then give them a treat. Then, put the clippers around one nail, but do not clip, and then give them a treat. Next, clip one nail, and give a treat. Continue this until you can do a full foot with no stress. Using this method, you can easily work your way up to full clipping, if you use lots of time, treats, and praise. Try your best to never cut to the quick, so as to not make the process scary and stressful. You can also hold your dog in your lap during the process, as this may make them feel much safer! Using these methods, you should have a happy dog with clipped nails in no time!
How to use nail clippers safely?
Though the process of nail clipping seems very simple, there are some very important steps and cautions you must take to ensure the safety of your pet. The most important thing to be careful of when clipping is to not cut to the nails to the quick. The "quick" is the term for the nerves and blood supply to the nail, and when the nail is cut off past this point, it can be very painful. To ensure that this does not happen, always cut the nail less than you think you need. A general rule of thumb is to cut right where the nails begin to curve down. Do not clip further back that this. Also clip the nails in a well- lighted environment so that you can clearly see what you are doing. Make the process calm so that your dog does not become stressed and remains still. Another tip for seeing where you are cutting the nails, look at the coloring of your dog's nails. If your dog has white nails, the quick begins where the nails are slightly pink. Also using a hyaluronic acid moisturizer can do wonders to improve their nail trimming experience (this article from Beautists has a comprehensive list if you want to pamper yourself too!)
If your dog has black nails, it is a little more difficult to see, but the quick begins where the nail darkens. In addition, you can buy clippers with a safety guard, or choose to buy grinders if you are worried about harming your pet. When clipping or grinding, be very gentle with your pet and stop if your dog becomes too scared, as this increases the risk for a mistake. If you are not using grinders, it may be helpful to file down the nails afterwards so as to prevent scratching. If you are trimming more often, the process will be easier, safer, and less problematic for your pet! Always make sure to use the proper tools (buy the devices that professionals recommend), and you will avoid problems. Never try and use normal scissors to trim your dog's nails, as they are not strong enough and will most likely splinter the nail and cause pain to your dog. Above all, remember to take the process slow, use a firm grip on the device, be gentle, and make the process calm!

How to handle emergencies?
Sometimes, accidents happen, even when you are being very careful! Especially if you are a beginner, it may be worth it to buy a styptic agent for clotting any wounds that may occur. If you do clip something wrong, and bleeding begins, follow these steps to take care of the situation. Put a paper towel on the cut or wound and hold it for a few minutes to help clot the wound, apply a very soft pressure, but not so firm that it will harm the dog. Then take your clotting agent, such a styptic powder, pads, or gel to quickly stop the bleeding. If you do not have styptic powder on hand, you can also use a mix of cornstarch and baking soda. Put the agent on the cut and wait for bleeding to stop. If bleeding doesn't stop after 15 minutes, you may need to see a vet. Call your vet and ask for advice if this occurs.
What if you cut too deep?
Cutting the nail too deep can be a dangerous situation. Not only can it cause bleeding and pain to your dog, but it could make the nail never to regrow again. If you cut the nail too short, then it is best to call your vet immediately, to be safe. Do not fret noticeable, as your dog may see this and become stressed too. Remain calm but take care of the situation at hand.
Grooming your dog's nails can be an easy, short, and fun bonding experience between you and your pet! Make sure to make the process fun, use professional tools, and always reward with treats!