We may earn commission from qualifying purchases at no extra cost to you.
Learn more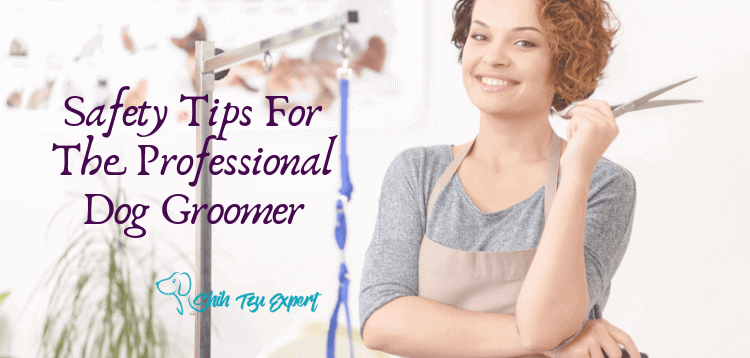 In the United States alone, approximately 68 percent of households own a pet, while world-wide that percentage is about 53 percent.  No wonder dog grooming is a big business.  Most dog owners take their pets to a professional groomer as opposed to grooming them at home.
This is mainly due to the lack of know-how as well as not wanting to invest in the proper equipment.  It is important to note that dog grooming is not an easy job as it can be physically demanding due to lifting and standing for long periods of time.
WHAT EXACTLY IS DOG GROOMING?
A dog groomer is a person who is trained to take care of a dog's basic hygiene needs.  They shampoo, comb, cut and style your pet's hair.  A dog groomer can also clean your dog's teeth and ears, clip their nails and express their anal glands.  Knowing the different breeds of dogs and what each breed needs as far as grooming is a must for all dog groomers.
Providing high-quality service and showing kindness and respect to the owner and the dog is important in building up a client base.  Keeping a clean workspace is also vital for the health of the animal as well as the groomer.
There is a lot of flexibility when becoming a dog groomer.  You can work for an established business such as a pet store, pet salon, kennels, veterinarian office, or start your own home-based business.  Working full or part time is also an option.  Some dog groomers even travel making house calls.
LICENSING REQUIREMENTS
When hiring on with an established business a high school diploma may be required but there are generally no other licensing requirements.
Opening your own dog grooming facility may require some licensing.  The licensing requirements will vary by state.  Most of the requirements will be geared toward the facility.  Some states require specific room size, equipment, turn out areas, drying cages, etc.…  And, some states may require a groomer's license or certificate while other states do not have any requirements.  Be sure to check with your individual state so you can comply with any licensing requirements needed.
Typical Tasks for Dog Groomers
Set and keep schedules
Communicate with dog owners to know what they expect from the visit
Identify any health problems with the pets and respectfully relay those problems to the owners
Carefully maintain records of pets and owners being specific to services rendered and payments received
Maintain equipment
Build and maintain a relationship with each pet so they feel safe when in your care
Know how to relieve pet and owner anxiety
Follow all safety rules
Keep all licensing requirements up to date
HOW MUCH DO DOG GROOMERS MAKE?
As with any service-based profession your yearly salary can fluctuate depending on location, client base and your level of expertise.  On average a dog groomer can expect to start out making approximately $28,000-$32,000 a year.  As you gain experience and build up our reputation, you should be able to increase that amount.
MONETARY TIPS
– Your clients should tip you as you are providing a service to them.  The expected tip is 15%-20% which can increase your yearly income by $4200-$6400 IF everyone tips.
You will have your initial investment of space and equipment which you must take into consideration, but even with that you can make a living by being a dog groomer.
NECESSARY BASIC EQUIPMENT
When starting a dog grooming business there are some necessary pieces of equipment you will need in order to be successful.
Towels
Washing machines and dryers to keep towels clean
First aid supplies for both dogs and humans
Bandanas and bows to dress up the dog's after they have been groomed
HEALTH AND SAFERY REGULATIONS
When thinking about health and safety in your dog grooming saloon, there are two factors to keep in mind.  The health of the pet and the health of the groomer.
Safety for the pet:
Keeping the safety of the pet in mind at all times is very important.  Being aware and cautions is the best way to keep any accidents from happening.
Keep the pet on a short leash with a snug fitting collar.

 

Be cautious when taking a dog from its owner.

 

The owner should put the pet on the floor and let you pick them up rather than handing them to you.

 

When you pick up a pet, pick them up with one arm under their belly and hold their head away from you by gently pulling on their leash.

 

This will avoid any separation anxiety-based aggression.
While keeping the pet in a kennel, all collars and leads should be removed.

 

This will avoid anything getting hung up on parts of the kennel which could cause a dog to panic and thrash around potentially causing harm.

Pets should always be restrained when not in the kennel. 

When bathing a dog, make sure he is leashed on a cross tie or with a groomer's loop.

 

Wet dogs can become slippery and hard to handle.

 

Keeping them on a short-stationary lead will help them stay stable in the tub so they do not get hurt.
When transferring the dog from the tub to the table, they should be on a short lead or a loop.

 

Again, they can be slippery and hard to hold on to.
class="li1″>When on the grooming table a crosstie or groomer's loop is necessary to keep them stable and secure.

 

This will avoid accidents such as slipping or jumping off the table and unnecessary movements that can result in unwanted nicks and cuts.

Be sure to position yourself outside of the bite range of the dog as you are working with it from the bath to the grooming table.

 

Keep your face away from their face and remember that A BITE IS ALWAYS POSSIBLE.
Extra caution is important with aggressive pets.

 

Be sure to ask the owner about possible aggressive behaviors.

 

Be alert and know the signs of fear and anxiety in dogs so you can recognize any potential aggression.
SIGNS OF FEAR AND ANXIETY THAT CAN LEAD TO AGGRESSION:

Excessive panting

Freezing of movement

Growling or showing teeth

Hair standing on back

Avoiding eye contact

Ears pinned back

Tail tucking

Crouching

Yawning

Wild eyes looking all around

Lip licking

Barking

Pacing

Be able to reduce fear in the grooming situation.Give the dog a break when needed.

 

Breaking the grooming session into short sections with a break in between can reduce fear and anxiety, especially in young or previously mistreated dogs.Listen to the dog's body language, especially a growl.

 

The growl is usually the last warning before a dog bites.

 

A dog should never be punished for growling.

 

It is an important warning sign for any one or thing the dog may meet.Do not become forceful.

 

Forcefully handling a dog can seem to stop a situation but often as soon as the force is removed the dog may retaliate by biting. 

Offering the dog a treat can sometimes calm them for a few minutes and let them know you are not out to harm them.

Keep your grooming tools close by so you don't have to leave the dog in the bath or on the table unattended.
Avoid answering the phone while grooming.

 

This can cause your attention to be divided and lead to problems.

 

Stay focused on what you are doing.
Don't leave the dog unattended unless they are in the kennel.

 

Doing so can cause the dog to become nervous or anxious and can lead to harmful behaviors.
Properly restrain the dog.

 

No matter what you are doing, a careful restraint will keep the dog from being injured.

 

Know how to restrain a dog not only when bathing and clipping but also when trimming nails or ears or cleaning anal glands.

 

Cross ties and groomer's loops are the best tools to use for these jobs.
Take special precautions with the pet's eyes.

 

Use tearless shampoo around the face or treat the eyes with lubricating drops to keep the dog's eye from burning.

 

It is also a good idea to wash the dog's face last and rinse it first.
Be careful when using electric dryers on the dogs.

 

Keep the setting on low heat or air to avoid burning the skin.

 

Also, use a low setting so the force of the air doesn't frighten the dog.
When grooming the dog introduce them to the clippers slowly and cautiously.

 

Once they are used to the feel and the sound begin grooming away from the face.

 

Your movements should be steady and gentle, so the dog doesn't get startled or fearful during the grooming process.

 

Always talk to the dog to reassure them that you are still there and in control.
Safety for the groomer:
*All the above safety precautions not only help the pet but also help the groomer by limiting the dogs need to act out in fear and biting.
1.  Know the history of each dog by talking to the owner before you start the grooming process
2.  Keep bite-proof gloves and a muzzle within reach in case you need them quickly
3.  Wear the proper attire for grooming.
Close-toed shoes with non-slip soles-the floors can become wet and slippery in the grooming area.  Slipping and falling could cause you and the pet serious injury
Respiratory protection such as a mask to prevent breathing in hair clipping and dandruff for extended periods of time
Gloves, long sleeve shirts or arm coverings and long pants to protect against bites and scratches
Hearing protection such as ear plugs. The constant barking, sound of clippers and blow dryers can damage hearing over time
Eye protection to keep soap and dog hair from damaging your eyes
EMERGENCIES
Emergencies can happen at any time and should be planned for.  Each pet owner should sign an emergency treatment consent form in case a life-threatening situation arises while their pet is in your care.
Signs a pet may need emergency care:
Difficulty breathing
Raspy breaths
Blue tongue
Seizures
Loss of balance or inability to stand
Unconsciousness
Penetrating wound or deep cut
Bleeding that cannot be stopped within 2-3 minutes
Heatstroke-severe panting, elevated temperature, or excessive weakness
A dog bite to the groomer can also be an emergency.  In the case of a dog bite, apply pressure to stop the bleeding.  If the bleeding does not stop seek emergency treatment.  If the bleeding stops, clean the wound carefully with an antibacterial soap and keep an eye out for any infections.
HOW TO AVOID A DOG BITE
Knowledge of the dog's past and proper handling can help prevent a dog bite while grooming.
Paying close attention to the dog's behavior and keeping yourself positioned out of the dog's bite range are the best ways to avoid being bitten by a dog.  If you notice a dog is nervous, fearful or anxious, take the time to defuse the situation by following the advice mentioned above.  Once the dog is calmed down, proceed with caution.  Using bite-proof gloves or a muzzle might be necessary to ensure your safety if the dog does not calm down.
GROOMING DOGS WITH SPECIAL NEEDS
Dogs with special needs need to be groomed as much as regular dogs.  Open communication with the pet's owner will make you aware of any special needs a dog may have.  Understanding special conditions of a dog will help you, the groomer, know how to handle them.  Some of the special needs a groomer may encounter are blind and/or deaf dogs, dogs missing a limb, dogs with extreme allergies, and dogs with debilitating illnesses such as diabetes or cancer.
When a person calls to make an appointment is the time to ask if their dog has any special conditions or illnesses you need to know about.  That will give you time to research any special needs you have not dealt with before so you will be prepared to handle the dog when it shows up for the appointment.  You can also ask the owner for any tips they have to help you deal with the special needs of their pet.  Understanding the disability and knowing how to handle it will make for a pleasant experience for you and the dog.
HOW TO KEEP YOU FACILITY CLEAN
Keeping your facility clean is the best way to keep germs from collecting and spreading.  In order to keep your grooming area clean you should:
Sweep up the clipped dog hair after each grooming session and dispose of it in the trash.
Clean any urine or feces left by a dog as soon as possible, putting it in its own plastic bag then put it in the trash.
Spray the area with a cleaner designed to eliminate germs left by urine or feces.
Mop the floor daily if not more frequently.  Use hot soapy water to destroy bacteria and germs left on the floor by pets and human traffic.
Wash grooming stations, tub and cages at the end of each day to avoid spreading germs and bacteria.
Clean hair from the drains at the end of each day to reduce clogs and dispose of it in the trach.
Take the trash out daily to prevent the spread of bacteria and germs.
Leaving your shop clean and free from the days waste will ensure a clean start for the next day of grooming.
SECRETS A DOG GROOMER MIGHT NOT TELL YOU
Most groomers prefer grooming dogs over other pets.
Cats aren't as afraid of water as most people think they are.
You really need to love animals to groom them all day every day.
People skills are just as important as animal skills.
They are experts at gaining an animal's trust.
This is an extremely physically demanding business.
While all grooming tools are necessary, the comb is the most useful and their best grooming friend.
They wish pet owners were better educated on the health and well-being of their pet.
They HATE telling pet owners about health problems they find in their pets.
They laugh at the way pet owners treat their pets (like children) but deep down they love it.
They grow very attached to most of their clients and are sad when they lose them.
CONCLUSION
Starting a dog grooming business is a great way to build a career without having to obtain a degree.  You will need to decide if you want to work for an existing business or start your own and proceed from there.  Having a love for working with animals and being physically fit are both requirements for the job that shouldn't be ignored.  It is important to remember that you must possess good people skills as every pet you encounter will have an owner.  Building a reliable client base by being friendly, professional, clean and safe will help your business thrive.