Even some reputed dog breeders mistakenly believe that Shih Tzu can breed a large number of times!
They forget to take some critical facts into consideration, resulting in a poor quality of life for the puppies and the mom.
Let's go over why you should carefully consider when and how many times you should allow your Shih Tzu to become pregnant.
Best Age For Shih Tzu To Get Pregnant?
There is no one right time for a Shih Tzu to become pregnant. A Shih Tzu less than 8 months is too young to become pregnant. A Shih Tzu more than 8 years is too old to become pregnant. A maximum of 3 pregnancies in her lifetime. A maximum of 2 pregnancies per year is the highest recommended.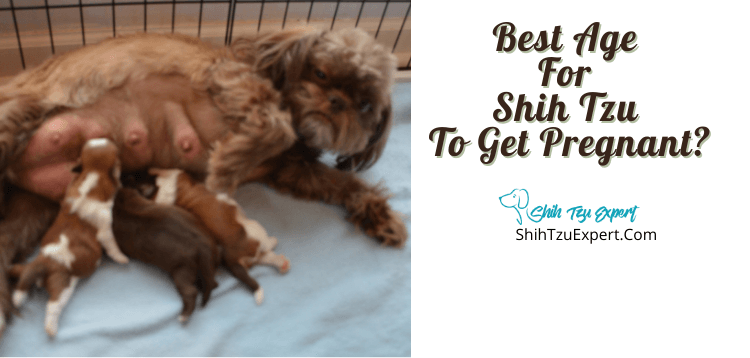 How Old Does A Shih Tzu Have To Be To Get Pregnant?
It is recommended you wait until your Shih Tzu is eight months old before they fall pregnant.
However, it is best to wait until they are two years old as this gives their body time to physically mature to go through pregnancy.
How young Is Too young for a Shih Tzu to get pregnant?
Your female Shih Tzu should not be younger than eight months old before becoming pregnant.
This is because they will be too young and their body will not be mature enough to deal with pregnancy before they reach this age.
How old Is Too old for a Shih Tzu to get pregnant?
The oldest a female Shih Tzu can become pregnant is when they reach seven years old.
However, they may be unable to continue becoming pregnant before this if their health status means it would not be safe for them to do so.
Can A [7, 8, 9,..] Year Old Shih Tzu Have Puppies?
As mentioned above, it is best for a Shih Tzu to not have any more puppies once they reach seven years old.
The older a Shih Tzu gets, the more likely she is to suffer from health complications due to pregnancy and the puppies of older dogs are also likely to suffer health complications too.
Is It Ok For A 6 Month Old Dog To Have Puppies?
It is best for a six month old dog not to have puppies.
This is because if they fall pregnant before turning one, they are likely to experience some complications in pregnancy. These complications occur because they haven't grown enough to house a litter of puppies in their uterus and can have a miscarriage.
When dogs are puppies, their immune systems aren't fully developed and this leaves the mother and her unborn puppies more susceptible to infections and diseases.
It also increases their chances of dying during birth, should they carry to full term. Even if they do give birth, due to the mother's age she is more likely to abandon them and this decreases the puppies' chances of surviving.
Therefore, if you are thinking about allowing your dog to have puppies, it is best to wait until they are at least a year or two old.
How Do I Know When My Female Dog Is Ready To Mate [What are the Signs]?
There are a variety of different signs your female dog is ready to mate, including:
– a swollen vulva
– blood/straw coloured discharge from the vulva
– responsive to male dogs
– excessive licking of their genital area
– showing agitated, nervous, or aggressive behaviour
– more frequently urinating
– changing their tail position
What is the best Mating Age for a Male Shih Tzu?
A male Shih Tzu can mate from around seven months old. This is because their sperm is good enough for conception to occur from this age.
However, it is recommended to wait until they reach the age of one before you allow them to mate. This is so the sperm has more time to become stronger and means conception is more likely to occur.
Can A 4, 5 Month Old  Male Puppy Get A Dog Pregnant?
It has been found male puppies are capable of getting a female dog pregnant from the age of five months old.
However, they are most fertile between the ages of twelve and fifteen months, so this is the time they are more likely to father puppies.
What Age Do Male Dogs Stop Producing Sperm?
Male dogs are able to spend their entire lives breeding so continue to produce sperm throughout their entire life.
Depending on the breed of dog, most male dogs average about ten years of being able to breed, while the shortest amount of time is seven years and the longest is twelve years.
How Long Do Shih Tzu Pregnancies Last?
The average amount of time a Shih Tzu will be pregnant for is sixty-three days. However, Shih Tzu pregnancies can typically last anywhere from fifty-eight to sixty-eight days.
How Many Puppies Does A Shih Tzu Normally Have?
Shih Tzus tend to have around three puppies per litter. More typically, this number seems to be between three and four puppies.
However, if your Shih Tzu is older, they can sometimes have between five and six puppies in each litter.
For their first litter many Shih Tzus may only have one, possibly two, puppies.
Are First Litter Puppies Healthy?
If you are breeding for the first time, to ensure the puppies are healthy there are a few simple steps you can take:
Health screenings:
Health screening the mother and father allows you to look at their genes to see if the genes they will be passing onto the puppies are good or whether they will be affected by any health issues.
Give the dogs the relevant test for their breed:
By doing a quick search for health tests/schemes that are relevant to your breed, you can find out which DNA tests should be carried out on your dog to check their health.
Search for the DNA of a possible mate:
You may want to keep the breed of the mother and father the same, however, there is also the option for you to mix breeds of dogs. To ensure this litter of puppies would be healthy, you can find out the general health of other breeds of dogs and check if the two breeds would make a healthy litter.
If you inbreed two dogs, this causes health issues for the puppies. To avoid any health issues, choose two dogs who are unrelated.
Avoid breeding with one (or two) over-exaggerated dogs:
An over-exaggerated dog is a dog who has certain physical attributes such as an extremely flat face or extremely wrinkled skin. Using at least one of these dogs for breeding purposes could cause a variety of health issues for their puppies, such as skin infections, eye problems or breathing difficulties.
Should I Spay My Shih Tzu After Her Puppies Are Born?
You can spay your Shih Tzu after her puppies are born.
However, it is recommended you wait until the puppies are eating solid foods and are not relying on the mother for her milk. This is normally when the puppies are between six and eight weeks old, however, it is recommended you wait until the puppies are ten weeks old before spaying her.
This is because the incision made when your dog is spayed is very close to the mammary glands and if the milk has not fully dried, there is a higher chance the vet will hit a mammary gland and milk will spill into the incision.
Shih Tzu Menstruation Age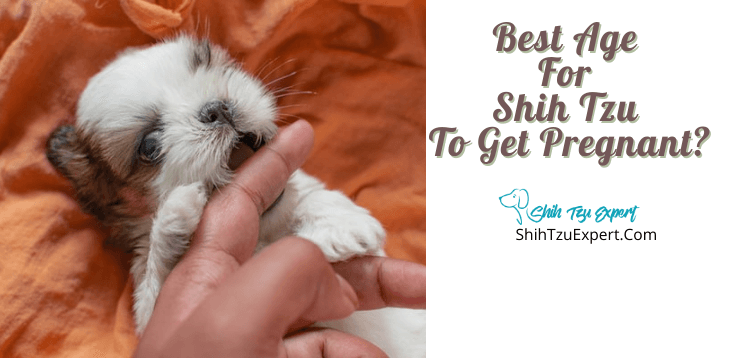 A Shih Tzu can begin to menstruate for the first time at some point between four and seven months.
However, if your Shih Tzu reaches one years old and hasn't yet menstruated, it is best for you to take her to the vet so they can check her out to try and figure out why she hasn't menstruated yet.
How Many Days Do Shih Tzus Menstruate?
A typical menstrual cycle for a Shih Tzu is between two and four weeks.
There may be some signs she is menstruating there, but there also may not. This means there is still a chance that even if she is showing no signs of menstruating, she still has a chance of becoming pregnant.
This is why it's important you have a vast amount of knowledge about the Shih Tzu menstrual cycle so you are aware of when your Shih Tzu is menstruating and can stop her from becoming pregnant if she has not yet been spayed and you don't want her to have a litter.
Is It Ok To Have A Shih Tzu Bred On Her First Menstruation?
It's possible for your Shih Tzu to become pregnant during their first menstruation. But just because it can happen, doesn't mean it's okay to do so.
It's best to avoid breeding your Shih Tzu during her first menstruation as she will only be a few months old and is still a puppy. This can pose a health risk to the mother and puppies.
You also can't have most health tests done on your Shih Tzu until she is two years old, so she may carry some DNA that means her puppies will be unhealthy; so it is best to wait until then before breeding is attempted.
How Many Times in Their Lifetime Can A Shih Tzu Get Pregnant?
It's recommended to not let your Shih Tzu have more than three litters.
This is because the more times she feeds her puppies, the more strain is put on her body.
How Many Times A Year Can A Shih Tzu Become Pregnant?
A Shih Tzu can become pregnant two times a year.
However, it's not recommended you breed your Shih Tzu this many times a year as it can put a strain on their body and affect their health.
Is It Cruel To Breed Dogs?
It's suggested that breeding dogs is cruel due to the number of dogs in shelters waiting for adoption. The more dogs bred, the less likely a dog in a shelter is going to be adopted, which can lead to them being put down due to not finding a home.
There is also the issue of puppy farms. These are places where dogs are mass-bred and will have many health conditions which can be detrimental to the dog and costly for you.
Even if you get a dog from a smaller breeder, it's still considered cruel. This is because they don't always understand dog breeding or how to care and look after a pregnant dog and her puppies.
Plus, it's seen as unethical to profit off your dog when pregnancy can cause many complications and can be detrimental to their health and wellbeing.
Is It Ok To Breed Shih Tzu Puppies From The Same Litter?
It is possible for Shih Tzu puppies from the same litter to breed together. But that doesn't make it okay.
Inbreeding any dog can cause many health risks for its puppies. It can cause congenital defects, personality disorders, genetic defects, physical problems, and fertility issues.
So no, it is not okay to breed Shih Tzu puppies from the same litter.
How Many Months Does It Take For A Shih Tzu To Have Puppies?
It takes just over two months for a Shih Tzu to have puppies.
Key Things To Consider Before Breeding Your Shih Tzu
There are seven key things you need to consider before breeding your Shih Tzu:
1. Age
Your Shih Tzu can be bred at any age between the age they have their second heat and when they reach seven years old. Any time before or after this poses a risk on their overall health and can also affect their puppies.
2. Previous breeding history
A Shih Tzu should not be bred more than three times in their lifetime. Any more than this and it can cause a lot of strain on their body.
3. Weight
It is important that the male Shih Tzu is between one and two pounds lighter than the female Shih Tzu. They also shouldn't be too underweight, which many people do to get a smaller breed of dog, as this can cause health issues with the dogs.
4. Health
You should always carry out health tests on your Shih Tzu if you are planning on breeding them to check that they don't have any health issues that could be passed on to their puppies.
5. Colour
Shih Tzus can either be one colour or a mixture of colours. The way to determine what colour the puppies will turn out to be is by looking at the colours of the mum and dad as it is more than likely they will look exactly like one or a mixture of the two.
6. Size
If your Shih Tzu was bred to be smaller than it should be, this dog shouldn't be bred. This is because it can cause health issues and skeletal deformities in their litter.
7. Personality
If your Shih Tzu has certain behavioural traits, such as aggression, this can be passed on to their offspring. Therefore, it is best to bear this in mind before beginning a breeding programme.
How Do I Know My Dog is pregnant?
There are a number of signs you can look out for to see if your dog is potentially pregnant:
– increased appetite
– weight gain
– increased nipple size
– swollen belly
– becomes tired easily
– starts nesting
– more affectionate
– becomes irritable
There are also some tests your vet can carry out if you suspect your dog is pregnant:
– Palpation
If you know when breeding occurred, the vet can feel the abdominal area when you believe your dog is twenty-eight to thirty-days pregnant. If your dog is pregnant, they should be able to feel what feels like golf balls, which are fluid-filled sacs surrounding the fetus.
– Ultrasound
When your dog is between twenty-five and thirty-five days pregnant, the vet can perform an ultrasound which can detect any heartbeats.
– Hormone Test
If your dog is between twenty-five and thirty days pregnant, blood tests can be performed to measure your dog's hormone levels to see if relaxin is being produced. This is the hormone that is produced during pregnancy.
– X-Ray
An X-Ray cannot be performed until your dog is at least fifty-five days pregnant. This can tell you the number of puppies there are.
Can my Shih Tzu Get Pregnant On The First Try Mating?
Yes, it is possible for your Shih Tzu to become pregnant on their first try.
How Can I Tell If My Dog Is Pregnant After 1 Week?
It is possible to tell if your dog is pregnant after one week.
This is because one of the first signs they are pregnant is a change in appetite and this can occur within the first few weeks of pregnancy.
References
https://www.akc.org/expert-advice/health/sexual-maturity-in-puppies-what-to-expect/
https://www.thekennelclub.org.uk/dog-breeding/first-time-breeders/when-you-are-ready-for-your-first-litter/
https://www.peta.org/features/are-dog-breeders-bad/
https://www.akc.org/expert-advice/health/dog-pregnancy-care-prep/