We may earn commission from qualifying purchases at no extra cost to you.
Learn more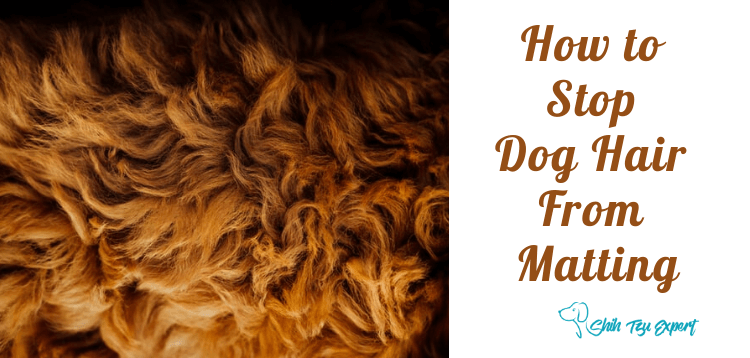 Basil was a sad, sweet dog. His coat was wavy and curled so cutely across his forehead. Basil got at least one grooming every week, and he did just as fine as anyone could hope for. He wasn't ever very jazzed about eating like the others, nor about doing whatever it took to fetch a ball clear across the field or from the middle of a lake. We took Basil with us camping, and he followed well but whined all night.
We gave him a place with us while we visited in our living room, and he seemed content to lay beside us but never snuggled up and asked for treats or pets. But then one day it all changed. He got a trim. He'd been out on a long hike through the woods with us on Saturday, and the burrs and twigs had to go. It was short.
Without the old length, his new coat curled tightly, creating a pattern of swirls all over his body. It was cute, but not just the looks. Basil was a new pup! He cuddled and snuggled and asked for pets and asked to be brushed more often.
He learned to balance a bone on his nose and wiggled his tail with glee at dinner time. He raced the others and was the first to fetch the stick. He snuggled all night on our camping trips. He totally new the style for him, and with his new cut he felt smart! Humanity before vanity they say, but comfort is the root of confidence.
Here is the information you need from experts and fellow dog owners on how to best take care of your dog and limit those matted messes that lead to your hours of tedious grooming and your pets discomfort. For ever now you can cuddle with your smartly groomed pet, and have a routine to keep you on track!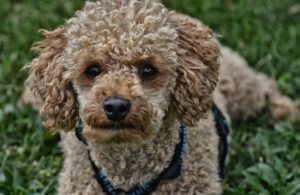 Know the basics
Just as human hair tangles if not cared for regularly, so a dog's hair can easily tangle and form a mat of tightly wound strands of loose dead fur, and live fur. Extra factors that come into play include debris such as sticks and burrs.
Some types of hair mat easier than others, such as those with curly, fine, or double coats. Dogs most prone to mats are Poodles, Bichon Frises, and Cocker Spaniels. This is because these dogs have thick, curly coats that more easily tangle due to the increased barbing of the hair shaft.
A note on corded fur
Before jumping into the thicket, it is important to first identify wether your dog in-fact has matted fur, or has a purposeful "corded coat." A corded coat is styled by an experienced hand for aesthetic, showing, or, in the case of guard dogs for livestock, disguising purposes.
These dog's are often referred to as "mop dogs." Cording requires extensive maintenance to keep the fur in neat cords without matting beneath. If your dog has corded fur, refer to a groomer to keep them up and to detail out the mats that might be underneath. In other fury cases, this guide will help you keep your dog's hair healthy and detangled.
What is matted fur?
Matted fur often forms where the coat undergoes lots of friction, like where her collar often rubs her neck, around the tail, on a hip when a dog sits or lays consistently on one side, the belly, or under the armpits. During shedding seasons, a dog's fur is more likely to become matted if the old fur from their "blowing coat" during a switch from cold to summer months isn't combed out.
This leads to loose fur that is pushed up against the shaft of living fur, near the skin. Some dogs who have curly hair due to their breed, a damp climate, or frequent swimming mats easily as it dries and wraps around itself. Matted fur also occurs when a dog is bathed without being dried and thoroughly brushed afterwards. All of this is natural, just as your or my hair can form tangles and rat's nest's. Preventing mats and restoring smooth dog fur is not unlike the key methods used in keeping a human's hair healthy.
Prevention
Among pet care web-wide, brushing and washing often is the top measure in preventing matted dog fur.
Brushing
Sticking to a routine will help you to consistently keeping on top of those nasty tangles. As a rule of thumb, a dog's coat should be brushed at least once per week. While some young dogs groom their own coats, older dogs don't groom themselves as often. In either case, a dog may need some added help.
The brushing technique varies depending on your dog's breed, environment and lifestyle. Breeds with long, especially fine or thick, or curly coats will need brushing and washing more often. When it is shedding season (when a dog's coat thins as the cold winter days become warmer), or when your dog is spending more time in activities that cause repeated friction to an area of the coat, the brushings and washings should increase. Groomers advise brushing anywhere from once every couple of weeks to daily.
The best brushing technique, offer professionals, is to take on small sections of fur at once. Mats work out best by managing small portions of fur from their ends to their roots then moving on to another section. Remove small knots by teasing and gently pulling apart the fur, always working parallel with your dog's skin with your fingers to avoid pulling at and injuring the skin at the fur's roots.
If knots are very stubborn, then using your hand, lift a section of coat until a line of skin is visible at the roots. Using a patting motion, grip the fur with a comb or brush near the end of the fur and pull gently to the tips.Working from the close end of the mat and picking slowly until the mat is smoothed away completely limits discomfort to your dog and leaves demoted fur healthy and without split ends.
Focusing on de-matting all layers of fur limits the likelihood of creating tangles near the skin, leading to pelting. Pelting can lead to skin tenderness, irritation and infection, and must be attended to by a professional groomer. This can avoided with the use of a proper brush for the specific type of coat that your dog has.
Types of brushes
The market includes a variety of grooming tools. Combs called undercoat rakes effectively rid mats for dogs with double coats, and rotating pin combs or slick brushes smooth thin coats.
Slick brushes are shaped like flat paddles with rubber inserts to which meal prongs are mounted. Keeping the paddle parallel with the skin, gently comb through the fur with the metal prongs sliding through the coat. This removes small tangles that could develop into thick matts. Breeds that do best with this brush variety include Cocker spaniels, Yorkshire terriers, Saint bernards, Golden retrievers, and other breeds with long but not wooly coats.
Dogs like Poodles and Goldendoodles are considered non-shedding because they do not shed their fur on their own. Instead they need to be brushed a minimum of twice per week with a slicker brush.
Bristled brushes are traditionally used for short coats that heavily shed, as in Greyhounds, Jack Russells, Staffies, and Boston terriers. Use the bristled brush by combing in the direction that the fur naturally lies to remove shed hair and spread natural oils which keep fur healthy, strong, and not easily matted.
Pin brushes are similar to conventional hair brushes with flexible spokes tipped with plastic, and are best with long or curly coats, such as German Shepherds or Poodles. To use this pin brush, divide the coat into sections and work section by section to remove tangles.
Combs are essential for any dog that has a long coat. The comb should be used regularly, working from the skin to the fur tip, to prevent knots from forming.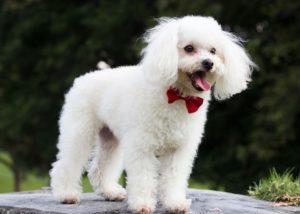 Snipping stubborn knots
Knots can further be removed by cutting them out with a pair of scissors. Do not attempt this if you do not feel comfortable! It can be extremely dangerous to clip matted fur, as the skin can easily be cut. Before attempting to use scissors, Use scissors specified for grooming and a have a first-aid kit handy with blood clotting powder. Use one hand to expose the area beneath the mat, but do not tug on the fur as this may cause the skin to be more accessible to an accidental snip. If any injury occurs, immediately take your dog to your veterinarian for care. Also be aware that this result will be costly and will reduce your dog's comfort with future groomings.
To properly trim a mat with scissors, carefully insert the teeth of a comb between the knot and the skin to create barrier with which to shield the dog's skin from injury by the scissors. Depending on the type of coat, your dog might benefit from a shorter fur length.
Giving a haircut
with an electric razor and scissors might keep routine matting at bay. To trim, consistently monitor the warmth of the trimmer blades to ensure they do not get too hot and burn your dog's skin. Additionally, using a trimmer with a quiet motor may limit your dog's fear of the experience.
In all cases, the trimming experience is often best for you and your dog to have a friend hold the dog while you trim so your dog feels secure, and you can focus on giving a safe and beautiful trim. In some cases, a trimming even offers some comfort to the dog.
Owner's report that some breeds seem happier and more friendly with shorter fur! Short haircuts are best when a dog has only one layer of fur. Breeds with doubled coats should only have a thorough shaving with the recommendation of your veterinarian. Though it seems that shaving a double coat will help regulate temperature, it actually exposes the dog to greater risks of damage to your dog's skin from harmful sun rays since this second coat is a protective temperature regulator. To help a dog with two coats to feel cooler, brush well to rid the fur in the undercoat that has been loosened and is ready to fall out.
To remove isolated mats with grooming clippers, grasp the matted fur and shave gently from the roots with slow, short strokes to peel the mat away. If mats cover an extensive portion of your dog's body, visit your dog's groomer for a complete trimming. If your dog is not comfortable with full trimmings, a veterinarian can do the grooming with the use of a sedative to limit the dog's stress.
Professional grooming
For mat-removal trimmings done by a professional groomer, find a groomer with whom you are comfortable and who welcomes your specific likes and dislikes. Before making an appointment, discuss your needs and to identify the trouble spots you have noticed on your dog.
Your groomer will be able to trim away matting by either of two methods, which should be discussed with her ahead of time: to shave only the matted portion of the coat, or to shave the entire coat. Professional pet stylists warn that though quality professional groomers want to give your dog the trim that you want to see, matting does make their job much more difficult as the length of the trim is determined by how close to your dog's skin the matting is. Therefore, the communication and relationship you establish with your dog's groomer ahead of time will add to everyone's happiness with the results—including your dog.
Detangling spray
Some coats might benefit from a special detangled spray if the fur needs moisturizing due to a dry climate, or some added elbow grease for some especially difficult-to-comb tangles. Some spray-in, leave-in conditioners can be used on your dog's damp coat after their bath and before drying, or lightly sprayed over dry fur and brushed in thoroughly. Some professionals even recommend dusting a small amount of cornstarch on a tangle to help loosen a tangle.
Diet
Just as humans' hair is healthiest when the diet includes plenty of minerals and vitamins, your dog's coat will also shine with the right diet balance. Foods that follow the protocols of the Association of American Feed Control Officials (AAFCO) contain vital food groups, vitamins, and minerals.
Professionals recommend giving your dog fish oil supplements that contain Omega-3 fatty acids every day to further increase the follicular health of your dog's coat. An alternative to fish oil supplements is to use flax seed or olive oil mixed in with food at meal times. Without enough Omega-3 fatty acids, your dog may experience allergies or autoimmune diseases, skin problems such as seborrhea (a type of eczema), and dry skin which can further lead to lesions that interfere with proper grooming.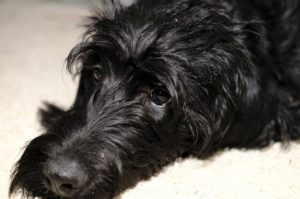 Baths
Regular bathings are important to keep the fur healthy and free of dust, pests, and other debris that lead to tangled fur. Do not bathe your dog before brushing, as matted hair often becomes even more tangled with water. For a most successful and stress-free bath time, dog owners recommend leading bath time with a treat, and using a cup of warm water to pour over the fur instead of a running nozzle which often frightens the dog.
Ask a groomer for recommendations on shampoos and rinses to use that will help loosen mats in your dogs' specific coat type. Veterinarian's do not recommend using human hair conditioner on a dog's fur as these products are made for human pH levels and often contain fragrances that can irritate the dog's skin. After your dog's bath, use cooler warm water as a rinse to seal the hair shafts so that the natural oils stay in the coat. This will limit broken and damaged hair that tangles easily. Lastly, use a finishing conditioning spray recommended by your groomer.
Training
When to call it
For as long as your dog will withstand the grooming process, she may eventually become overwhelmed or annoyed with the process and need a break. Veterinarians report that any age of dog has similar behavior to that of a two-year-old child, and a two-year-old will only allow you to work at a certain amount of tangles in their hair. Even though there may be much left, it is wise to pay close attention to when your dog has had enough and needs a break. You can give some treats and a belly rub or a walk through the park before taking up the grooming again, or you can give a professional groomer a turn. Either way you choose, it is important to protect your dog's wellbeing both by helping her to feel safe and by removing mats to keep her healthy.