We may earn commission from qualifying purchases at no extra cost to you.
Learn more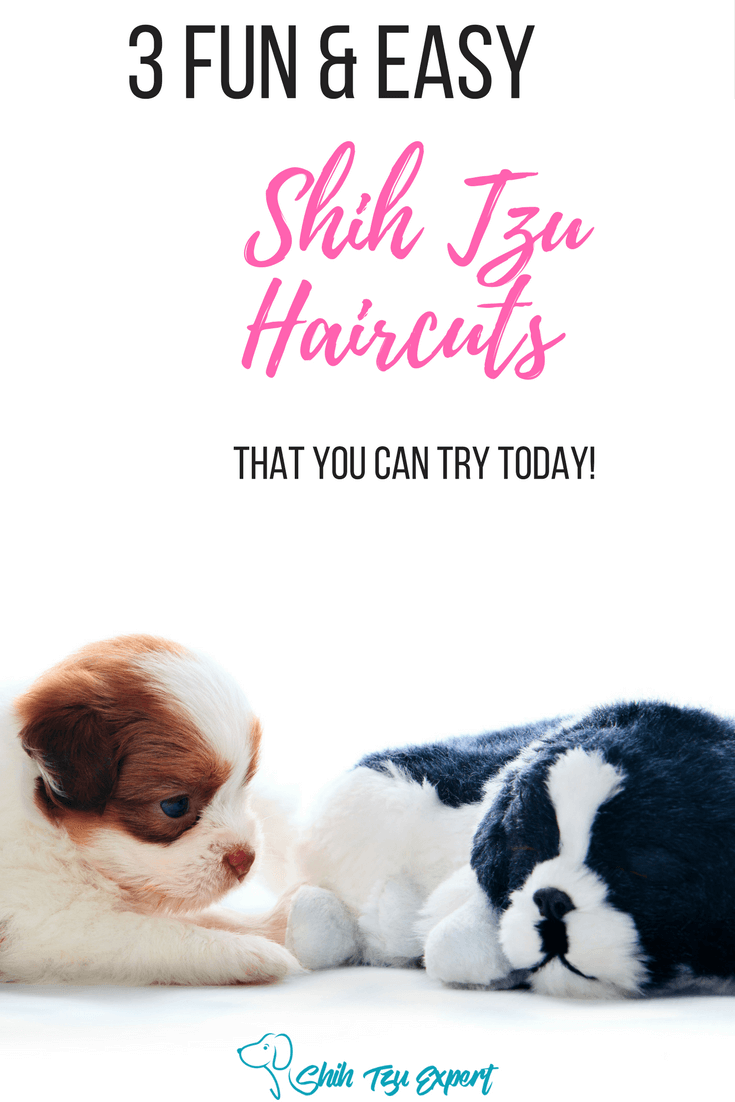 What is the best haircut for a Shih Tzu?
Want the best and the most stylish cut for your dog? Of the 100s of Shih Tzu haircuts, it is difficult to know which to select.
It gets Even more complicated because some styles are for winter others for summer?
Also the hair growth rate of a Shih Tzu is half (0.5) an inch (1.27 cm) per month which is fairly aggressive compared to other breeds like Chihuahua.
NOT to worry! All it takes is to be aware of the most popular and suitable cuts…
Various Types of Shih Tzu haircuts
The Shih Tzu Puppy cut
Teddy bear cut
Lion cut
Full Shave
Here is our tried and tested opinion on the most suitable haircuts for all seasons…..
Shih Tzu haircuts: The hairstyles and types
#1. Shih Tzu Puppy cut [1 to 2 inches (2.5 to 5 cm)]
Hate to see your pup suffer through warm weather?
This short and extremely popular trim is ideal for summer or for dogs like Shih Tzu with a double coat, that live in warm climes to prevent loose hair from trapping between the inner coat and outer coat. Trapped hair can lead to trapped moisture causing  skin irritation or other serious skin conditions. Also fleas & tics like find these trapped hair and ideal place to hide!
Is very easy to maintain and looks super cute. When clipping the body, use a comb attachment for that fluffy look. Clip down the length of the body, being sure to trim above the tail, down the legs, and the excess fur on the bottom of the paws.
Take scissors and trim the long hairs still left on the legs, around the paws, and the bottom of the stomach. The overall effect should be sweet and soft. Comb down the bangs and use shears to trim anything in his eyes. Use clippers as needed around the snout and bridge of the nose.
Cut along the jawline following his natural shape for a rounded face. Be sure to get the neck with the clippers and comb attachment. Leave the ears a moderate length. Feel free to experiment with the length of the cut to suit you and your dog.
One disadvantage of the puppy cut is that this cut will still need regular brushing and careful inspection of those pesky hidden tangles and knots that are all too common for Shih Tzu fur!.
#2. Teddy bear cut [2 to 2.5 inches (5 to 6.3 cm)]
Is perfect if you want your pup to be snuggly. Begin this cut with a ½ inch clipper and cut the body of your pet with a downward motion down the back and sides. Lift up the front legs and trim along the stomach. You want the legs to be fluffy and well-shaped, giving the appearance of little bear legs. Switch to a ¾ inch comb attachment on your clippers, and trim the neck fur so it is a bit longer than the body.
Use a 1 ¼ inch attachment and clip down the legs of your pup, as well as the inside. With shears, cut excess hair on the bottom of the paws and any still sticking out on the legs. Using that same comb attachment on your clippers, trim the back of the head, moving toward the neck.
Going against the grain, bring the clippers through the fur in the opposite direction to make it less thick. To make your dog's face look very rounded, do not cut the long fur underneath his ears. Simply trim it, so it does not look straggly. Lay the shears parallel with his head on the bridge of his nose, and cut across so it is the same length as the rest of the head. Trim the ears to the very tip, and round them out. Now your Shih Tzu should look like a cute teddy bear!
Teddy bear cut vs. Puppy cut
While both the teddy bear and puppy cuts are fluffy and great if you want a fairly short haired Shih Tzu, there are a few key differences. With the teddy bear look, the legs are left longer than the body. The head is also much more full and rounded than the puppy cut. The puppy cut is easy to maintain in those summer months, and dogs can go further between grooming.
#3. The lion haircut [1.5 to 2 inches (3.8 to 5 cm)]
Is really fun for when the weather is warmer. For this cut, your Shih Tzu's hair needs to start out being relatively long. Use a very short attachment on your clippers and shave your dog's entire body. There should be very little fur. Shave their tail except for the very end, leaving it long and wispy.
Make sure to shave around the butt area and down the legs, leaving about a third of the legs still covered in hair. Shave the stomach and half of the chest. Using scissors, trim any really long hairs on the legs so there is about an inch of fur. Leave the head and face as is, simply trimming around their eyes and nose, so they can see.
#4. Full Shave – Great for Summer, Matted or Tangled hair; Flea/Tic infestations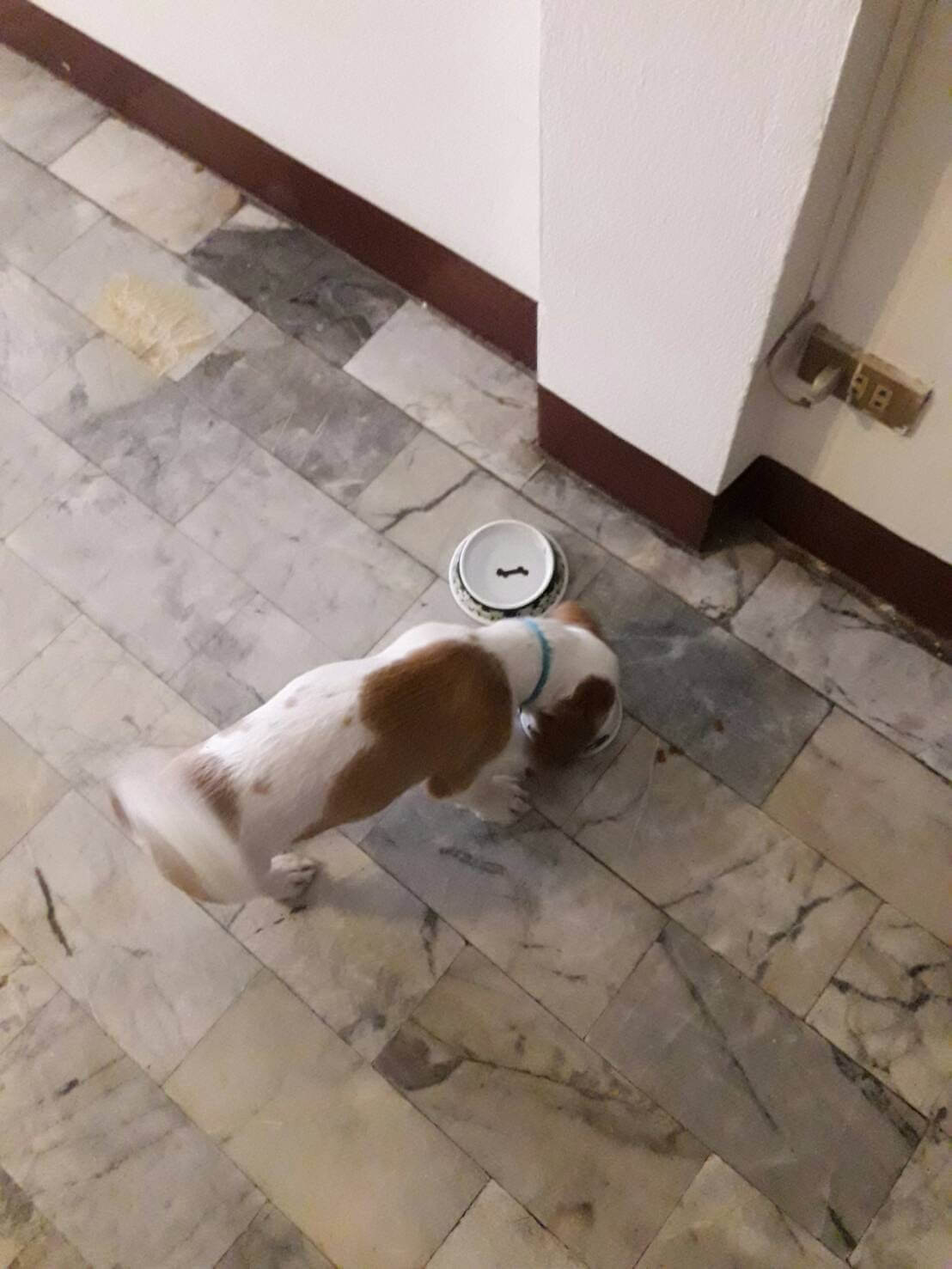 This is a great option for warm sticky humid, muggy summer months, or if you Shih Tzu is suffering from a flea or tick infection caused by fleas or ticks hiding in matted/ tangled between the 2 coats.
Obviously not a good option for winter, older climes or areas with a lot of mosquitos. If you do decide to fully shave during winter  then use a fleece jacket outdoors AND indoors (even light draft can feel bone freezing cold to a small pup! Remember smaller stuff cools off faster!).
A fully shaved pup in an area with a lot of mosquitos should be carefully monitored (heartworms can be nasty!) vaccinated and protected with a jacket at all times!
If your pup suffers from Alopecia (Hair loss in Shih Tzu) it's risky to go for  a full shave because the fur might not regrow 🙁
Use a #30 blade (on an Andis clipper) to leave it at 0.5 millimeters in length. In general, the higher the blade number, the shorter your dog's hair will end up.
Variations of a Full Shave for a cute look 🙂
If you are not comfortable with a full shave,
Shave the full body except the tail, or
Shave the full body except the tail + ears
Cutting / Trimming Hair on Face


Begin trimming the back of the head with a number one trimmer. Shave with the grain, going from the crown of the head down the back of the neck. Pull aside your pup's ears and trim downwards on the side of his face. Next, comb his bangs down over his eyes. Take the shears again, and cut straight across until your pet can see without hair in his eyes. Comb down his beard, and cut straight across the bottom.
Once you get to the sides of the face, cut the beard along the curve of his cheeks to round his face off. Use the trimmers, and gently shave up along the bridge of his nose in a scooping motion. Cut any excess hair sticking up around his nose with the shears.
How to Cut or Trim Hair on a Shih Tzu Face Short
Use a size seven clipper on your dog's head to trim it down, shaving toward the neck. Gently hold down her chin so she does not move. As you are shaving her head, work down onto the ears. After that is finished, clip the sides of her face and down her neck. Switch your attachment to a size ten, and shave the bridge of her nose in a scooping motion. Next, move to gently trimming the inside of her ears.
Use your scissors to get any pieces the clippers missed. Trim along the sides of the ears to show their shape. Comb the bangs down and trim along the eyebrows so she can see. Cut the beard so that it is close to the face. Finally, even out the mustache so it is in line with the face.
How to Trim Hair around Shih Tzu Eyes
The key to trimming around the eyes is to use thinner clippers to get into those small areas. Comb back the hair on the bridge of his nose so you can easily see what parts need to be trimmed. Gently clip around the inner corner of each eye any parts that are sticking straight out.
Go a bit further down to the upper corners of the nose and shave upward toward the eyes. Be extremely gentle, and close his eye when you are super close. Trimming around his eyes will prevent your dog from getting an eye infection.
How to Trim Shi Tzu Eyelashes
Take your trimmer without any attachments on it, and barely touch the end of the lashes with it. This will remove them easily. If you would rather use scissors to remove your Shih Tzu's eyelashes, then be sure they are blunt and clean.
Haircuts for Summer
The best types of haircuts for the warmer weather are ones where your dog has less hair to make him more comfortable with the rising temperatures. The puppy cut is cute, short, and easy to maintain in between grooming. The easiest route, however, is to do a close shave all over your dog's body, and trim his face to match.
How often does a Shih Tzu need a haircut?
Depends on your pup's hair growth rate, type of cut, and the season (Winter/Summer…)
Full Shave & it's variations: Needs the least frequent cutting, every 4 – 6 months.
The Shih Tzu Puppy cut: More frequent haircuts every 3 – 4 months
Teddy bear cut: More frequent haircuts every 3 – 4 months
Lion cut: More frequent haircuts every 3 – 4 months
Shih Tzu Haircut Tutorial


Before doing any grooming on your Shih Tzu, be sure to give him a bath, and brush his fur first. Use any type of dog shampoo you prefer, and get to all the nooks and crannies. Pay special attention to his face when bathing to get any tear stains out of his fur before you trim. Brush out your pet's hair with a slicker brush. This way, all the tangled and matted fur will be combed out. Keeping your dog groomed regularly is important, because they can develop thick mats if their hair is too long. These mats will pull on their skin and irritate it. Mats will also cause an uneven cut the next time you groom your dog, because you will have to cut the mat out close to the skin for full removal.
After you have bathed (here are some DIY grooming tips & how often to bathe) and brushed your dog (here are some important facts about how often to bathe a dog, pros cons etc ), begin shaving with number seven clippers. This will ensure enough hair will be shaved off, but it will not be so close as to make him bald. Start from the back of the neck, and shave with the growth of the hair down his back. Next, lift his ears, and clip downwards on his neck and chest. Lift up his tail, and shave the back legs and butt area. Then, lift his front legs all the way up, and shave along his stomach. Finally, lift each back leg while grabbing the tail, and clip along the inside of the legs.
How to Cut Shih Tzu Hair with Scissors
Using a comb, comb in and up through your Shih Tzu's fur, like the hairstylist does for us. Look at where the undercoat is, just under the longer, less dense hairs, and cut it to that length. Do this all over his body. Use the same technique for the legs, but be sure the front part of the leg is cut in a straight, even line. Cut along the stomach without the comb, looking for the longer hairs not part of the undercoat. Trim to the shape of the paw, as you normally would when using clippers. This is ideal for giving your dog a nice grooming, but not taking off a lot of hair.
How short should you cut a Shih Tzu?
Will depend on the hair cut (which again depends on hair growth rate, type of cut, and the season). To manage a tic or flea infestation keep the hair short!
How to Trim a Shih Tzu with Clippers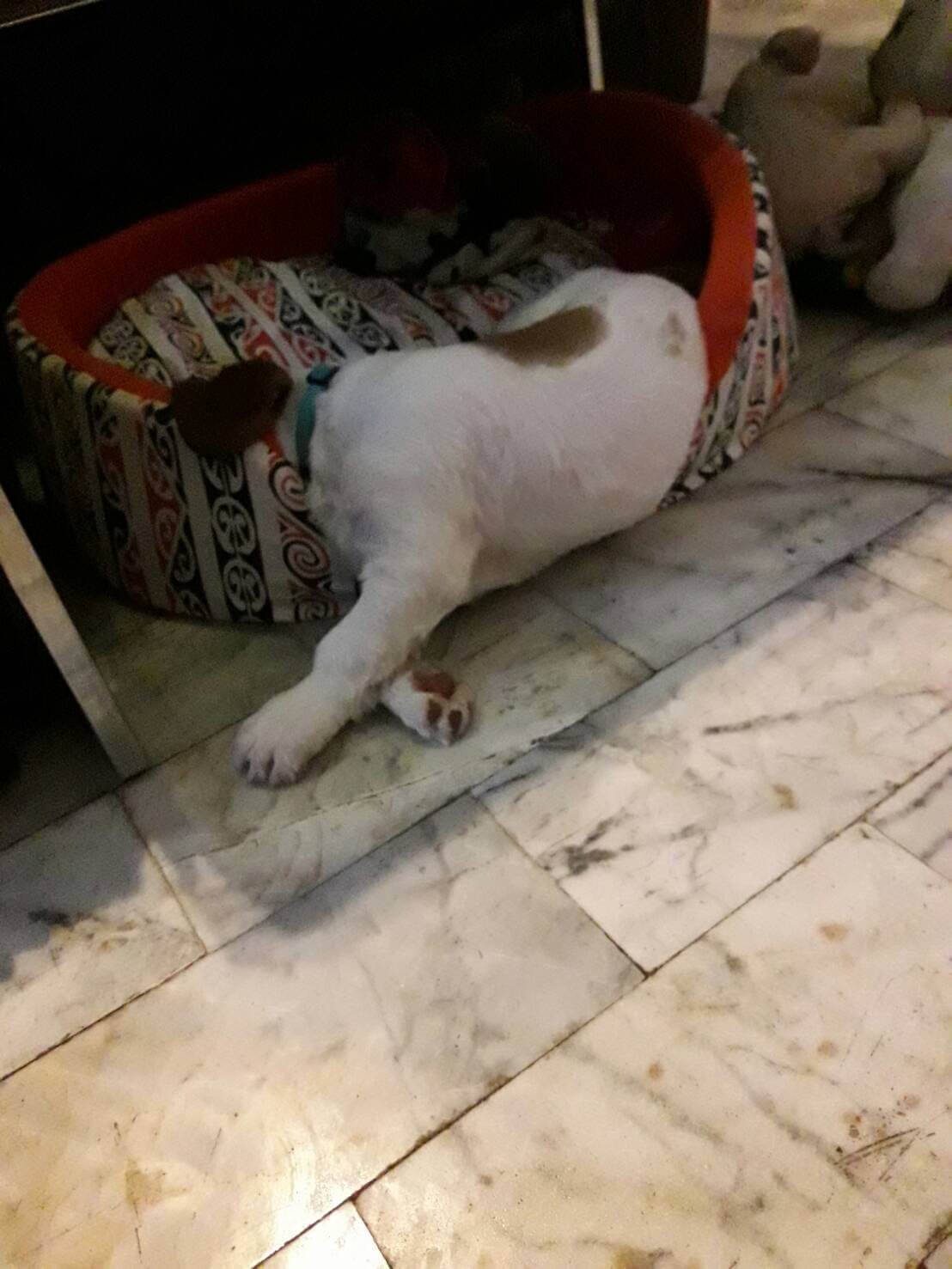 Use number seven clippers to trim your Shih Tzu. This will give her a moderate length of hair, without being too short. You can begin anywhere on your dog's body. The general rule is to shave with the growth of her hair, so it does not irritate her skin or cut too closely.
Clip along her back from neck to the top of the tail. Lift up her tail and shave her back legs and around the butt. Shave down the outside of her back legs. Next, shave down her neck and chest, being sure to move her ears out of the way. Clip the outside of her front legs in the same downward motion you used for the back. Lift up both her front legs and shave the length of her stomach, being careful around the tendons of the back legs.
Be careful as you shave or cut fur!
Do not ever dig so far into the fur that you nick skin. This has happened to most of us who wanted short haired Shih Tzus for the summer! Damages to its skin can end up requiring a visit to the vet. Take some hair shears, and cut the hair around the paws, following the nails. These shears can also be used to trim the long hair on the outside of the legs, or the clippers can be utilized again.

I Accidently Cut My Dog Whilst Grooming
Uh oh! So, you're being a good owner and ensuring your dog looks his best with a bit of grooming. Then you accidentally go too close with the scissors or that new pair of clipper. he's now got a cut!. BTW scissors cause far more accidents than clippers. Just be careful if your pup tries to lick the scissors (as a gentle means of protest to the grooming session) while you are using them on her. A tongue caught in scissors can mean a LOT of blood.  Just trust me I am a groomer!
This is a common occurrence when owners decide to groom their own dogs. It's something that you shouldn't feel too bad about but we'll look at what you can do after the incident.
Is it serious?
It really depends on how deep and long the cut is and if there is any blood. Most cuts won't be anything more than slight nick, which is usually not a problem for the dog.
The wound would heal on its own and wouldn't require treatment.
On the odd occasion, the cut will be more severe.
When to visit your veterinarian?
Even for small cuts, it might be worth your while to contact your veterinarian and arrange an appointment.
If you do this, it ensures that even for a slight cut there isn't any danger of infection.
Like we said, small cuts will usually heal on their own and there isn't a major reason to worry, but visiting your veterinarian for a proper check over is recommended.

Treatment
Again, this entirely depends on the severity of the cut itself.
For any small cuts, treatment is not usually extensive, and mostly you will just need to ensure the wound is kept clean and allow the wound time to heal and it will heal on its own.
Deeper cuts which may be bleeding a lot may require stitches and antibiotics to ensure no infection will occur. Your veterinarian will be able to tell you if this is required or not.
My Dog Keeps Licking The Wound
It's normal for dogs to become curious about new things, and a cut on their bodies would be classed as something new for them which they would be interested in.
If your dog is licking the would only occasionally throughout the day, such as two or three times a day then you don't need to worry about it.
However, if it is more than that then it would be recommended to get an Elizabethan collar (E-Collar) for the dog.
Should I Keep The Wound Covered?
Again, it depends on how severe the wound is.
For any deep cuts, we would recommend keeping the wound covered, but make sure the wound is kept moist which will prevent a scab from forming and allow the wound to heal quicker.
Any small would, it isn't necessary to cover the wound.
Will My Dog Be Ok?
Stop worrying.
Accidents happen and your dog will be fine.
My Groomer Cut My Dog… What To Do Now?
You've left your dog with groomer who specializes in making sure your dog looks it's best. The reason why we leave our dogs with groomers is because they are specialists and we would rather a specialist groom our dogs than ourselves, right?
Now, you've found out that your groomer has cut your dog and you're wondering what you can do about it.
Accidents Happen
Grooming a dog isn't easy, especially since some dogs will like to move around and generally this make things difficult for the groomer.
Even the most experienced groomer can make a mistake and accidently cut your dog.
They are working with sharp tools around animals that may or may not stay still.
Who Is Responsible For The Vet Bill?
The owner of the dog is responsible for the vet bill. However, most groomers will either take your dog to the vet for you and get treatment, or will pay for the treatment to take place.
Also, depending on the level of pet insurance you have, your insurance company may cover the bill.

Should I Visit A Vet?
Yes.
Nine times out of ten, the cut will not be severe enough to warren stitches or antibiotics but it is worth your time to take your dog to a veterinarian as a check-up.
If the cut is more severe, then it will need treatment such as stitches.
Leaving Negative Comments About The Groomer?
This is entirely up to yourself.
Remember that accidents do happen, and no doubt the groomer will feel horrible about hurting your dog.
This job will be their livelihood so if you do post a negative comment then this might affect their business.

We recommend basing your comments, not on the accident, but on the service provided after the accident. Whether the groomer assisted you with treatment of your pet.

Can I Take Any Legal Action?
Yes, you can.
How To Prevent This? How To Find A Safe Groomer?
Most groomers will keep records of their clients and should also keep records of any accidents or injuries that have occurred.
When visiting a new groomer, before allowing your dog to be groomed you can ask them for information on this.
Do I Want Other Pet Owners To Go Through This?
Of course, you won't.
It's worth checking if this happens a lot with the groomer, and if it does then that is a problem that needs to be dealt with.
But, on the occasion that it is an accident and is very rare then I wouldn't worry about it happening to other people's dogs.
References:
1. GUNARATNAM, PARAMESWARAN & WILKINSON, G.. (2008). A study of normal hair in the dog. Journal of Small Animal Practice. 24. 445 – 453. 10.1111/j.1748-5827.1983.tb00384.x.
Related Buyer's Guides for Grooming your Shih Tzu