We may earn commission from qualifying purchases at no extra cost to you.
Learn more
Do you have a long-haired dog that is a beloved member of your household? Does it seem like you spend way too much time and money scheduling trips to the groomer just to keep that luxurious long hair coat trimmed and tangle free? If so, it may be time to invest in a set of high-quality best Dog Grooming Scissors so that you can take care of some of your pet's basic grooming needs at home. Whether you plan on taking over sole responsibility for your dog's grooming routine, or are just looking for a good quality pair of shears to keep your pet's coat trimmed in between trips to a trusted professional groomer, this review should help you find the perfect pair of grooming scissors or to fit your needs.
What to look for When Purchasing Dog Grooming Scissors
There are several factors a person should
consider before purchasing your own dog grooming tools.
  The first thing to keep in mind is that regular scissors will not get the job done, nor will scissors designed to cut human hair. Dog hair is much different, and using human hair or regular cutting scissors not designed specifically for the task of grooming your dog will result in difficulty for you and stress on your pet. You should also consider whether you need scissors or clippers. Keep in mind that
clippers are designed to remove large amounts of hair
from the entire body and remove considerable length, but if you're looking to leave your dog with a longer haircoat and create a custom look and shape, you'll have need of at least one pair of grooming scissors and this review will be particularly helpful for you.
Here are some of the most important considerations when shopping for grooming scissors.
1.Safety – Most dog grooming scissors feature rounded tips on the blades to eliminate the danger of injuring your pet during a session. This is especially important when working around the face, particularly around the eyes and ears, and in delicate areas like the groin and paws.
2.High-quality materials – High quality grooming scissors are also important, as low-quality blades will dull quickly and pull the hair as you cut, which is particularly problematic in sensitive areas around the legs and face. For this reason, its best to choose a tool made of high-quality stainless steel. Different breeds have different types of hair as well, so make sure you find scissors that will work well for your dog's individual needs.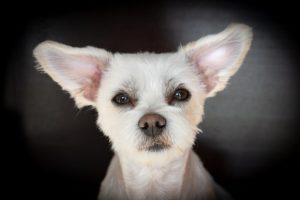 3.Ergonomic Design – Another thing to keep in mind is comfort for the user. Depending on the size of your dog and how often they are groomed, a thorough haircut may take a considerable amount of time, so an ergonomic design featuring comfort rubber grips can make all the difference in the overall experience of at home grooming. Groomers that are using their tools daily are at particularly high risk for a repetitive motion injury, so a well-balanced tool is very important.
4.Intended Use – Lastly, it's important to consider how often and for what purpose you will be using your new grooming tools. For periodic trims of a small dog with a fine haircoat, a middle of the road pair of general-purpose grooming scissors should be more than sufficient. However, if you plan on using your scissors often, or on multiple dogs, it may be worth spending the extra money and investing in a high-quality full set of grooming tools.
Types of Grooming Scissors
There are a number of different styles of grooming scissors to consider that each serve a unique purpose.
1.Coat Cutting Scissors – scissors with straight blades are typically used for cutting long hair on the whole body and come in different lengths depending on the length of hair and size of the dog. Shorter scissors are ideal for small dog breeds, allow for more control in small areas and are perfect for finer hair. Larger breeds with longer, thicker coats require a pair of cutting shears with a longer blade.
2.Curved Scissors – a curved scissor is also a commonly used tool in the groomer's arsenal. Curved shears are designed to be used to add shape and finish in small areas such as around the face and ears, hips, feet/legs and tail, allowing the user to more easily make angled cuts.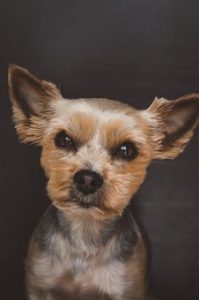 3.Round-tip trimming scissors – this type of scissor is small and light and is used for light trimming and finish work in delicate, hard-to-reach places. Typically, these scissors feature rounded tips as a safety feature to minimize risk of injury to the dog.
4.Thinning shears – thinning shears are also a useful grooming tool and have two blades with notched teeth for thinning large areas of a thick coat. Blending shears are similar, but have one straight blade and one with teeth, designed for creating a smooth finished look around the face.
Scissor Blade Edges
To add to the already lengthy list of available options, a final consideration is blade edge. There are several different edge styles to choose from when it comes to grooming scissors, ranging vastly in price and overall quality and ease of maintenance.
1.Convex edge – the first type is the convex edge, which is a very sharp, modern blade intended for mainly professional use. While it's razor sharp cutting edge delivers a smooth, effortless cut for the groomer, it dulls quickly, is not for use on dirty or matted coats, and requires frequent sharpening to maintain. It is also a comparatively expensive option, which generally prevents this type of blade edge from being purchased for casual, at home use.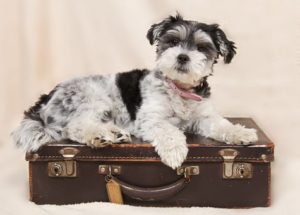 2.Serrated edge – another very common edge found on grooming scissor blades is the serrated or micro serrated edge. This edge type is ideal for a wide range of uses because it grips the hair while cutting, and is commonly made of stainless steel so it's extremely durable. Serrations are coarser, while micro serrations are finer and differ slightly in their ability to hold the hair in place and prevent flexing or slipping during a cut.
3.Beveled edge – beveled edges are the most traditional style of scissor, and are a bit heavier with no serrations to grip the hair, so they require a bit more push and hand effort from the user with each cut. Beveled edges are, however, easy to sharpen and suitable for coarse jobs as well as the casual, at home grooming needs of most dog owners.
Right-Handed and Left-Handed Tools
Most grooming scissors are made with right-handed users in mind, so if you're a lefty, you'll want to purchase tools made specifically for left-handed use. The cutting edges will be positioned differently (the cutting blade closest to your hand should be facing up) and the position of the finger holes will be opposite. While it's not impossible for a left-handed individual to use a traditional pair of grooming scissors, it will significantly affect how easy and comfortable they are to use. For this reason it is highly recommended that you purchase a left-handed set of grooming tools.
With all of the previous considerations in mind, here is a list of 10 of the most popular grooming scissors on the market. All the tools on this list are made of high-quality materials, have been designed with ease of use in mind and come highly recommended by dog owners and professional groomers alike.
1. Lilys Pet Professional Titanium Coated Grooming Scissors
This is a full set of grooming tools that is perfect for beginners and professionals alike. Featuring a cutting scissor, thinning shears, curved scissors and a grooming comb, this kit contains every tool you need to accomplish all of your dog grooming goals. All tools are made of high-quality stainless steel with a titanium finish for optimum performance and durability, and come in a zippered case for storage. Additionally, the grip of each pair of scissors has a finger rest design for added comfort, maximum control and minimal hand fatigue.
2. Dog Grooming Scissors Set by Micio Micia
This two-scissor set is perfect for at home grooming and for maintaining your pet's haircut between visits to the groomer. These tools are manufactured using ultra-durable stainless steel, meaning years of rust-free use. The micro-serrated blade edges stay sharp for a long time, grip the hair to prevent slippage and produce a smooth cut even after multiple uses. These scissors are perfect for first time groomers because they feature a rounded tip for your dog's safety during a session, as well as an ergonomic design with finger rest for a comfortable grip. This kit comes with a longer cutting blade for bodywork, as well as a shorter six-inch scissor for tighter work around the paws, ears and face.
3. 8" 440C Rainbow Curved Scissor by Lilys Pet
This sharp-edged and stylish scissor is the perfect tool for achieving professional results whether you're an experienced groomer or a first-time DIY dog owner. Manufactured from the highest quality 440C stainless steel, this curved scissor is part of the high-end grooming tool line by Lilys Pet. The 45-degree cutting angle is practical for trimming even the hardest to reach angles, while the silencer provides effortless cutting with very little noise to minimize stress to your pet during a grooming session. While there is no padding in the finger holes, the well-balanced design of this scissor still provides superior user comfort and its rainbow color will have you grooming your dog in style.
4. 7" Professional Grade Dog Grooming Kit by BCS
Here is another full kit containing everything needed to give your dog a professional quality haircut. These high-grade stainless steel blades with an attractive rainbow electroplate finish will give you years of rust-free use and are a practical option if you're planning on performing regular grooming on your pet. There is a straight cutting scissor, 2 curved scissors (point up and point down) as well as a thinning shear, all packaged in a handy zippered case for carrying and storage. Users report that these tools are sharp right out of the box, so you'll be ready to start using them immediately. Another great feature of this set is that they have an adjustable tension screw so they can easily be tightened for optimal control and performance.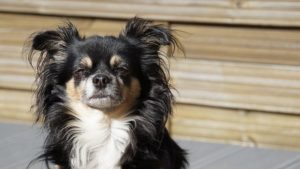 5. 7" Pet Grooming Hair Cutting Scissor by Purple Dragon
Another great option for the at home and professional groomer alike is this durable scissor by Purple Dragon. Made of 440C stainless steel, its sure to be a strong and highly functional tool able to tackle even the toughest grooming tasks, while its ergonomic design with finger rest make handling this scissor a dream, even for long sessions. This scissor also has a 45-degree cutting angle for easy, stress free trimming in hard to reach areas.
6. Alfheim Professional Pet Hair Grooming Scissors
This four-piece set is a great option for a professional quality grooming set that is easy on any budget. The kit contains all the necessities: a cutting scissor, two curved scissors and a thinning shear, plus a metal grooming comb and comes in a classic leather case for safe storage. A nice feature of this set is their rubber padded finger holes for extra comfort. These rubber pads can also be removed to adjust the size to fit any sized hand. They also feature an easily adjustable tension screw for the smoothest possible action. All in all, this is an outstanding all-inclusive kit that will have you grooming your pooch like a pro.
7. Gold Touch Pet Scissors by Sharf 7 ½" Straight Shears
These ultra-stylish shears by Sharf are manufactured from the highest quality Japanese stainless steel and feature luxury gold accents for the fashion-conscious groomer. They have padded finger holes and a comfortable handle design with finger rests for ultimate ease-of-use. This particular pair can also be adjustable for larger hands by removing the rubber comfort rings. This tool comes in its own snap-close case and is also available in a curved blade model for precision finish work.
8. 10-piece Grooming Kit from Alfie
Looking for a kit that has it all? This 10-piece set from Alfie is sure to have all your grooming needs covered. It contains a cutting scissor, curved scissor, small pair of round tip trimming scissors, thinning shear, razor, comb, 2 hair clips plus lubrication and a cleaning cloth for easy maintenance of your grooming tools and a case to keep it all contained. These tools feature super sharp blades that can cut even the coarsest coats with ease and are designed to stand the test of time.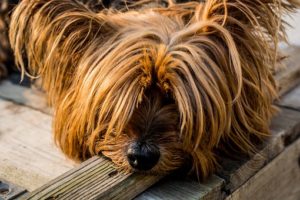 9. Conair PRO Dog Round Tip Shears
If you're looking for a basic pair of grooming scissors to perform light duty trimming tasks in delicate areas, this pair is the perfect fit for your needs. Its small and lightweight design makes handling these scissors super easy even for the inexperienced user, and the round tips on the blades means you won't have to worry about accidentally injuring your pet in the grooming process. Take care to use them only on clean, brushed hair as these handy little scissors are only suitable for providing finishing touches and light trimming and should not be used for full body haircuts or on thick, coarse coats.
10. Curved Scissor Set by Vastar
This complete set is a great budget-friendly option for the at-home groomer. It has everything you need and nothing you don't, and is the perfect combination of economy and quality. It contains a 5" thinning shear, and a 6 ½" cutting and curved scissor plus a metal tooth grooming comb in a zippered storage case. These tools are small and lightweight, making them easy to maneuver and the finger holes are padded for optimal comfort. Another nice feature is the muffler pad on each tool that allows them to operate in near silence, making this set of scissors perfect for delivering a stress-free grooming experience to even the most nervous dogs.
Conclusion
When considering tackling the task of at home grooming, its important to have the right tool or set of tools for the job. Whether you have a 6lb long-haired lap-dog like a Yorkshire Terrier or are faced with the more daunting prospect of grooming your 80lb Standard Poodle, with a wide range of high-quality tools available on the market today, you're sure to be able to find the perfect kit to take care of your dog's individual grooming needs. The most important qualities to look for are going to be high-quality stainless steel construction and an ergonomic design that is comfortable for your individual hand. From there, it's just a matter of identifying the right tool for the type of grooming you'll be doing, and possibly considering a kit that contains a variety of scissors to take care of a full-body haircut.
All in all, while the task of grooming your dog can be stressful, picking your tools doesn't have to be. With a little practice and a great pair of quality grooming scissors, you'll be well on your way to saving money on trips to the groomer and bonding with your best friend in a new way by being able to provide regular grooming sessions at home with ease.