We may earn commission from qualifying purchases at no extra cost to you.
Learn more
While shelters use kennels as temporary housing for abandoned dogs, dog breeders and owners and even farmers use outdoor dog kennels for safely containing their dog for a few hours of the day. They provide safety and protection for your dog outside the comfort of the indoors. Whether you want to keep your pets out of your garden or just provide them with a quiet den of their own, investing in an outdoor dog kennel will give both you and your dog piece of mind. And with many options for materials and flooring, you'll be sure to find one that keeps your pet safe and comfortable!
Benefits of Outdoor Dog Kennels
Outdoor dog kennels provide a quality, safe, and spacious area for your dog to play and rest in, especially for pet owners who don't have a fenced-in yard or an electric fence. Your dogs are able to
run around
without a leash and enjoy the outdoors without supervision. Kennels are a cheaper alternative to fencing around an entire area, which can be costly both to install and maintain. They can also provide protection from the sun and harsh weather as well as pests, cars, and other dangers. Owners of destructive dogs often opt to keep their pets in an outdoor kennel when they go to work during the day. Dog owners who travel around or live in an RV love portable dog kennels for the protection and fresh air it gives their dogs at campsites. Additionally, dog kennels can be large enough to accommodate several dogs, making it a great option for dog-sitters or anyone who runs their own dog-boarding facility.
Dog Kennel Basics
Kennels come in various shapes and sizes to offer flexibility for dog owners. Similar to dog shelters, kennel runs are spacious gated, covered kennels large enough for a person to enter and are ideal for long stays. Kennel runs provide enough space for a dog to play and exercise. Boxed kennels are smaller but roomy and are often the choice of farmers and breeders to keep their dogs in for several hours. This is the type of kennel you might find in a dog shelter. Dog cages are small but extremely sturdy crates and are often used to house a dog overnight.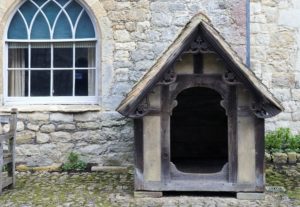 Dog kennels are constructed to be durable and resistant to abuse from your dogs and any harsh weather as well as prevent the growth of germs and bacteria. The best outdoor dog kennels will be constructed to prevent rust and corrosion over the years spent outside. The construction of a dog kennel is essential since you'll want to choose one that will last and keep your dog safe from any potential hazards and dangers. You'll want to consider ease of installation and maintenance when choosing the type and material of your dog kennel. They can be made of stainless or galvanized steel, heavy-duty metal, wood, brick, and resin plastic. Kennels use a variety of materials for the enclosure, such as heavy-duty plastic, wire mesh, metal bars, or chain-links.
Additional Features and Considerations
While all dog kennels have the same basic features, there are additional features you may want to consider when picking out a dog kennel. These features can greatly enhance your dog's experience by providing extra comfort and protection.
Some feature waterproof roofs and slopes and overhangs for rain protection. Weather resistant coatings and non-toxic paint will ensure your pet's health and protect your dog from harmful UV rays.
Textured flooring can help prevent your dog from slipping. Some dog kennels feature a slight ramp at the entrance to ease older pets getting in.
If you want to be able to extend your outdoor kennel to enclose a larger space sometimes, you may want an adjustable outdoor kennel. This is especially handy if you are not sure whether you will be acquiring more pets or own a dog-boarding facility. Note that most sturdy kennels are not adjustable.
Certain types of dog kennels are permanent while others can be easily moved around. Consider a foldable wire kennel if you need to take the kennel with you anywhere or move it around. If you simply want to be able to move your dog kennel around your yard to accommodate gatherings or move it depending on weather or seasons, look for a kennel with wheels.
You'll want to consider the security of your outdoor kennel and think about if you want a front gate or just a top opening as well as the type of locking mechanisms different kennels offer, such as a padlock.
Depending where you live, you may want to pick up a heavier cage to withstand winds and storms or choose a kennel that stays cool in extremely hot climates. Some kennels are designed with metal bars that are heat resistant or have insulated panels.
Some kennels feature a removable bottom tray for easy cleaning that can withstand abuse from your dog.
If you plan on letting multiple pets use your outdoor dog kennel, look for a kennel that is large enough but has several doors to safely let your different pets out.
Kennels with raised legs allow for easy cleaning and more convenient waste removal.
Some models have tool-less assembly and feature pre-assembled pieces that simply snap together easily. Others come completely assembled. Consider these features if you're looking for easy installation.
What is the best flooring for an outdoor dog kennel?
Picking the best flooring for an outdoor dog kennel is important because the right kind of ground material will be both practical for you and comfortable for your dog. You'll want something easy to clean and maintain. You should take into account how long your dogs will spend in the outdoor kennel when considering different types of flooring and consider whether you want your kennel to sit directly on grass or if you would prefer a removable tray for easy cleaning.
Dirt or Grass: The cheapest of options is leaving the dirt or grass in and not putting in any ground covering. Grass will remain cool in the summer and is comfortable for dogs to run around and lie on. This option is best for dogs who won't spend much time in the outdoor kennel because grass will turn to dirt and even to mud when it rains, causing your dog to become dirty. If your kennel will be installed in area that gets especially wet, your dog may be lying and playing in a mix of mud and dog feces, which can be unhealthy for your pet. Grass will also not survive great amounts of dog urine and can be more difficult for cleaning up droppings.
Concrete: The most hygienic option, concrete requires little maintenance and can be easily cleaned by a house. It is also durable as dogs can't dig into it or destroy the flooring. Concrete is easily disinfected to prevent disease transmission. It is not the most comfortable option, however, so consider avoiding concrete if your dog will be laying in the kennel for long periods or will be outside during the winter as concrete can get very cold. Dogs can also wear down their pads from running on concrete, which can cause injury and infections to their paws. Concrete flooring can be installed yourself if you are handy but hiring professional help will ensure proper installation.
Gravel: This option is easy to install yourself but requires more maintenance. Dogs can easily dig holes in gravel, which you will need to fill. You will also need to rake the gravel often to level out gravel from your dog running around in the kennel and frequently pick up droppings as they can easily get embedded in the gravel. Gravel will also require regular liming to control pests. If you choose this option, make sure to install the gravel at a depth of 2 inches.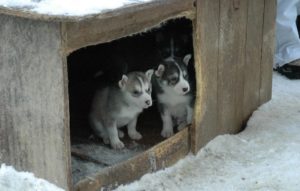 Wood Chips: This option also offers easy installation but can cause potential hygiene issues since pests such as fleas and ticks live and breed in wood chips. As such, wood chips will also require regular lime applications. Other drawbacks are that wood chips will absorb urine and they are easily scattered by dogs running around in them. However, they are easy to remove and replace by raking. If you choose this option, make sure to put the wood chips down at a depth of 2 inches.
Sand: This option is cost-efficient as well as easy to install and remove. Quality sand is not only easy on your dog's feet but also takes the hassle out of removing droppings. Sand will be easy for a dig to dig through, though. If you don't mind cleaning your pet's paws, this won't be a major issue. If you choose this option, make sure to install about 2 inches of sand.
Rubber Mats: Consider picking up a rubber mat no matter which flooring you end up choosing. They can be used on top of any kennel floor, are easy to clean and disinfect, and can be easily removed. They provide extra protection against hard surfaces like concrete and can temporarily cover any muddy ground to keep your dog clean.
What is the best material for a dog kennel?
Just like with flooring options, dog kennels come in a variety of materials. The different types of outdoor kennels depend on factors like the climate you live in, your aesthetic preferences, ease of installation, and how long your dog will be spending in it.
Metal Kennels
Kennels with wire mesh construction are the ultimate option for durability. The main structure is of metal bars while wire mesh fills in between the panels. There are lots of option for wire kennels because manufacturers often make them with pre-assembled modular panels to let the owner decide the kennel's final configuration. They are available with or without roof configurations. Wire kennels can be covered with a tarp to provide breathable and waterproof shade in rain or sunlight, and the bars and mesh configuration provide ventilation and sunlight for your dog. Metal bars can withstand biting from dogs as well as harsh weather and storms. Metal kennels require no maintenance and many metal kennels are heavily insulated to minimize heat transfer, making this option great for owners in both cold and hot climates.
Wooden Kennels
Wood kennels bring to mind the picture of traditional dog houses and are a popular option amongst dog owners. Their all-natural, outdoor look blends with garden and outdoor areas very well. Wooden kennels are easily customizable because they can include windows, rooftop decks, and can be stained or painted to match your home and backyard décor. These are often entirely pre-assembled and can be easily set up in any outdoor environment. Wood kennels use thinner wood panels, which are weaker than metal and can sometimes block air-flow, but wood is generally a very sturdy material. While wood kennels provide sufficient shade and insulation for your dog, they may not offer the best ventilation. These kennels require the most maintenance since they need to be regularly sealed for protection against pests and weather.
Brick Kennels
Brick kennels are the most permanent type of kennel and they feature a wall boundary made of brick and are often covered by a cement roof. This type of kennel provides the more security for a dog to sleep and rest and a great for the summer as they prevent excessive heat getting in and will stay cool. If you choose to cover your brick kennel with a cement roof, the kennel may not let much sunlight in.
Plastic Kennels
Made from lightweight but sturdy synthetic materials, plastic kennels offer a great cost-effective alternative to wooden houses. This kennels often come in a single piece or large sections for easy assembly and added durability. Plastic requires little maintenance and is extremely resilient against snow, rain, and heat. Most owners who live in colder climates often for plastic kennels as plastic prevents leaks and rotting better than wood does. Winter kennels specifically can be designed with insulation material sealed inside the plastic, so plastic kennels offer more versatility for different climates.
Fiberglass Kennels
Fiberglass kennels are not the most common on the market, but they are on the rise because of their aesthetic and lack of required maintenance. Fiberglass is extremely durable and will keep your dog comfortable in any temperature. With no need to worry about leaks, rotting, or any damage, many owners find the investment well worth it. Fiberglass kennels often feature decorative elements such as an accent trim or sealed glass windows and can add a modern touch to your background.
What does the best outdoor dog kennel feature?
When picking out an outdoor kennel, you'll want to consider a variety of factors to ensure your dog is comfortable and that your kennel will last. Each kennel offers different features, and you'll want to pick a high-quality kennel.
Space
What ultimately distinguishes a dog kennel from a crate is that a kennel is spacious enough for your dog to easily move around in. Your dog should be able to play, sleep, rest and have enough space to relieve itself.
Comfort
To properly pick and set up your dog kennel, you should keep in mind how long your dog will be in there. If your dog will be sleeping and resting in the kennel, consider purchasing soft bedding that can be placed on the grass or on top of the floor. This can take up a part of the kennel so that there is still ample space for your dog to be active. The best outdoor kennels will have access to fresh water and a drainage system to expel any extra water and moisture. This will ensure your kennel will remain clean and last a long time.
Climate Control and Ventilation
Because your dog will be spending time in the kennel most likely unsupervised, you want your kennel to be safe. The best kennels will be well-ventilated from all sides and receive an appropriate amount of sunlight. A kennel that offers shade and protection against rain or excessive sunlight is a plus. Consider the type of climate you live in when considering climate protection your kennel should offer. For climates where summers are extremely hot, consider a kennel that will stay cool during summers while still offering ventilation. If you live somewhere that experiences low temperatures and snowfall, you'll require a dog kennel that keeps your dog warm with thick walls and heavy insulation.
Durability
Kennels made of durable materials that will last are the best since they can withstand abuse from your pet but also hold up against tough weather. Look for special coatings such as UV resistant coatings and black E-coat finishes to provide long lasting protection.
Security and Protection
Outdoor dog kennels with locking mechanisms such as a secure double latch will keep your pet in and unwanted intruders out.
Where should I put my dog kennel?
Climate is a major factor in considering where to place your dog kennel. You'll need to consider what types of weather hazards your dog kennel is exposed to. A dog kennel out in the open might be exposed to heavy rain, snow and wind gusts, where as a dog kennel near your house or under a tree won't require as much weatherproofing.
Are dog kennels hard to maintain?
It's important to consider the effort and cost of maintaining your dog kennel over the years. Investing in a high-quality kennel specific to your climate will help ensure its durability. The material of your dog kennel will also require different amounts of maintenance. A wooden kennel will require similar upkeep as your home to prevent it from rotting or molding. Dog kennels made of out plastic, metal, or fiberglass won't require as much maintenance.
Outdoor dog kennel by size
Kennels come in a variety of sizes for dogs of different breeds, ages, and sizes. A kennel should be at least three times as big as your dog to allow more ample space to play and sprawl out. Consider not only the width and length of the kennel but the height of the kennel. Your dog kennel should be high enough that your dog can't jump out if you do not have a roof.
Can my dog live outside in the kennel?
Kennels are not permanent housing for dogs and should not be used for letting your dog live by itself outside. Not only do dogs crave human companionship but leaving your dog alone in its kennel is dangerous because it puts them at risk for frostbite in the winter and overheating in the summer. Outdoor kennels should be used sparingly for only several hours in the day.
What is the best outdoor dog kennel?
Depending on your needs, type of dog, and where you live, you'll want to consider the above factors to narrow down your choices for outdoor dog kennels. We've taken a look at the best outdoor dog kennels on the market so you can get a glimpse of the many options you have when picking a perfect outdoor dog kennel for you and your pet!
MidWest Homes for Pets Folding Pen
This pen comes in four different colors (pink, gold zinc, blue, and black) for the model with an included door and simply in black for just the pen and no door. Our choice for a fenced dog kennel, this pen comes in five heights: 24", 30", 36", 42", 48". It's made of eight panels measuring 24"W x 36"H that can be put together in a variety of configurations. This pen is easily assembled without any tools by simply clipping the panels together. It can also fold flat for convenient compact storage and transportation. This playpen provides 16 square feet of enclosure. With a durable black Electro-Coat finish, this pen provides long lasting protection. It features a secure double latch door to keep your dog in and unwanted animals out. 8 ground anchors and 4 wire bolt thumb snaps ensure it will stay put and stay secure. This pen can be used outdoors but also indoors and can even be attached to a wire crate to give your pet extra roaming room. MidWest offers a 1-year manufacturer's warranty on this pen. In addition to dogs, this pen is great for all types of animals including ducks, rabbits, and cats, making this a great choice for any farmers. Optional wire mesh or sunscreen tops are available for the pen to provide added security and protection.
Pros:
This pen is full painted and coated to ensure durability and your pet's health.
The kennel is extremely versatile since the panels can be easily assembled into a customizable shape, such as a square or circle.
It can be easily attached to a metal dog crate.
Owners love that it's fully collapsible for easy storage and travel.
Extremely durable and secure.
Tool-less assembly and included clips and ground anchors means this kennel can be set up in just a few seconds.
Cons:
The lock catch is not padded, which could cause potential injuries to a pet's eye or face. Welding clamps connecting panels can also have sharp edges.
Slide-over bolts can open easily by shaking the pen.
Pets can sometimes break the clips holding the panels together or pop off plastic edge supports.
Metal frame can slide on an indoor floor.
Conclusion:
This kennel can sometimes be broken but is non-toxic, easy to install, and convenient to store!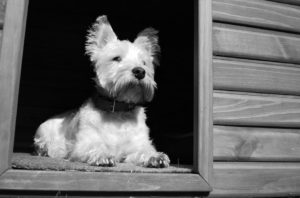 SMONTER Heavy Duty Dog Crate 
One of the more expensive crates on the market ($229.99), comes in four sizes (38", 42", 46", and 48") with upgraded locking options for the 38", 42", and 46" sizes. It comes in two colors, dark silver and brown. It is safe and non-hazardous with non-toxic coating, providing peace of mind for owners, especially pet owners with dogs who enjoy licking and chewing. The metal frame is not only indestructible and foldable but is treated with a multi-layer hammer-tone coating that prevents rust, corrosion, and any scratches and scuffs. Welded parts and reinforced steel make this crate extremely durable and able to hold 500 kg of weight without deformation. Featuring two patent locks with safety buckles, this crate will be sure to keep dogs in and unwanted intruders out. This sturdy metal crate offers excellent ventilation and visibility and features a safely sterilized, removable plastic tray to catch debris and droppings, making for easy cleaning. Shipped partially assembled with screws and pre-loaded locks included, assembly of this heavy-duty kennel is quick.
Pros:
Crate features a hinge top that can be opened, so can easily interact with and feed your pet.
Two of the crate's four wheels are lockable to avoid any accidental moving of the kennel.
It easily folds flat for convenient storage and transportation.
This crate is suitable for large dogs and any escape artists with durable locks and heavy-duty metal.
Easy assembly allows this kennel to be put together in a matter of minutes.
Cons:
One of the most expensive crates on the market.
Crate is extremely large and takes up a lot of room if used indoors.
Conclusion:
Owners of the SMONTER Heavy Duty Dog Crate say this kennel is worth the investment and excellent for large dogs and dogs who can easily escape less secure kennels. It's not only extremely sturdy but also easy to assemble and store.
AmazonBasics Foldable Metal Pet Playpen
One of the most affordable options, this playpen from AmazonBasics comes with or without a locking door and is available in 5 sizes: 24" (for dogs up to 16" tall), 30" (for dogs up to 20" tall), 36" (for dogs up to 23" tall), 42" (for dogs up to 26" tall), and 48" (for dogs up to 30" tall). This playpen can be placed both indoors and outdoors. It is made of durable iron metal and features corner stabilizers for added structural support as well as two secure-locking slide-bolt latches. This playpen comes in a rust-proof black finish and made of 8 panels, each measuring 24" x 24", that creates 16 square feet of enclosure. It can be easily assembled without tools and folds flat for convenient and compact storage. The playpen includes 8 ground anchors for outdoor use and a limited 1-year warranty!
Pros:
The swing-open door allows easy access and is partly raised off the ground to prevent catching on grass or flooring when opening and closing.
Can be connected to a metal crate and another playpen set.
Panels can be easily assembled in a variety of configurations (circle, square, rectangle) with included metal thumb clips.
Two secure locking slide-bolt latches provide added security.
Panels are pre-hinged for easy assembly.
Cons:
This play pen doesn't have a roof, so any additional covering you may want for sun or weather protection will be an additional cost.
Panels are all connected, so you can't make your playpen any smaller than 16 square feet of enclosure.
Some owners have found the metal playpen rusts after being out in the rain. Consider the climate of where you live if you are debating purchasing this kennel.
Door locks sometimes jam easily, causing the door to stick.
Wire is flimsier than similar models.
Kennel won't retain its shape (circle, rectangle, square, etc.) without the use of the included ground stakes.
Conclusion:
This kennel costs under $50 and is great for outdoor use for dogs up to 30" tall. It's one of the most affordable outdoor kennels but not as sturdy as other models on the market. It is best suited for smaller animals.
New World Pet Products Foldable Metal Playpen
Another affordable option, this playpen comes in 5 sizes: small (24"), medium (30"), medium-large (36"), large (42"), and extra-large (48"). This playpen is made of 8 connected panels, each measuring 24" x 24", to create 16 square feet of enclosure. The black E-Coat finish prevents rust and corrosion and protects your playpen from the elements. Four included ground anchors secure the pen along with locking thumb snaps. This playpen can be assembled without any tools, easily folds flat for storage and transportation, and can even be paired with a metal dog crate to create a larger space. It can also be paired with a sunscreen or wire mesh top for further protection. The foldable playpen is not only for dogs but is also great for other adult non-climbing animals such as rabbits, ducks,
guinea pigs
!
Pros:
This playpen is easy to set up and disassemble and lightweight enough to easily move around.
Owners love that they can adjust the size of this kennel and fold it up for storage.
Very reasonably priced compared to similar models.
It can be paired with a metal dog crate or another metal playpen with panels to create a larger area for your pet.
Owners of new puppies or smaller dogs love the height of this playpen as it prevents their pet from jumping out.
Cons: 
Since this playpen has no door or gate, you will have to lift your pet over the fencing which can cause inconvenience and injury to you or your pet.
The light weight of the panels is problematic since heavier pets can move the pen around. It also may be light enough to fall onto your dog due to wind or if they run into it. Some reviewers mention that the playpen folds too easily and can trap the dog.
Reviewers note that included locking thumb snaps are cheap and can bend at the slightest squeeze.
Some owners find the pen's construction flimsier than similar models on the market and not rustproof, especially in rainy climates.
If not closed properly, the playpen can be dangerous as the connectors to close the panel can leave a gap in which a dog or small children may get caught.
Conclusion: 
Offering decent quality for an affordable price, the New World Foldable Metal Playpen is easy to assemble and perfect for traveling. However, it is not the most sturdy playpen and doesn't have any safety features or a gate.
BestPet Puppy Playpen
The BestPet Puppy Playpen is constructed from high-strength solid wire and anti-rust metal. The epoxy coating finish prevents rust, corrosion, as well as fading in even the most extreme climates. This pen is easy to assembly and does not requires any extra tools, so it can be assembled in minutes! It can also be easily folded for storage and travel. This model comes in three colors (blue, pink, and black) and five sizes (24", 30", 36", 42", 48") so you're sure to find one perfect for your pet. The 8 connected, welded panels have rounded edges only weigh 13.6 pounds and can be configured into a variety of shapes. Extremely convenient for pets to enter and exit with a step door and two latches, this playpen will keep your pet safe and comfortable. Non-climbing small animals such as rabbits, ducks, turtles, and
guinea pigs
also love this playpen!
Pros:
This kennels features a step door that allows pets to comfortably enter.
Playpen has two latches for extra security.
Tool-less assembly allows this playpen to be set up in just a few minutes.
Owners love how this pen folds up for easy storage and transportation.
It can be paired with a wire crate or additional metal playpens to enclose a larger area.
Cons:
The pen door doesn't have any wire at the bottom for support.
The clasp holding the gate together is sharp and can cause injuries to your pet or any small children. Some reviewers find that the door latch doesn't always stay clasped.
Metal panels are heavy and do not collapse easily for folding.
Some owners find this pen flimsy and discover not welded edges that could cause injury.
Connectors between the panels that allow the playpen to fold easily rust after time outside, making this kennel better suited for the indoors.
Conclusion:
The BestPet Puppy Playpen is one of the more affordable models but is not as secure or durable as similar kennels. Owners love that it can be paired with a crate or additional playpens as well as easily assembled without any tools!
With this detailed breakdown of what to look for in an outdoor kennel and some of the most popular outdoor kennels on the market, you should have an idea of the many options available to you that will keep your dog safe, comfortable, healthy, and most importantly happy!