We may earn commission from qualifying purchases at no extra cost to you.
Learn more
Many pet owners are not comfortable grooming their own pets. In fact, many pets are not comfortable letting their owners groom them! Pets need to be groomed regularly for hygiene reasons, and failure to do so can cause health problems for your pet. This doesn't mean that all cats and dogs need to be taken to the groomer. This makes it knowing about Dog Grooming Without Vaccinations extremely important. Some pets are lower maintenance than others (so they can be tackled without access to heavy duty professional grooming kits), but all dogs need to be brushed, bathed, have their ears cleaned, and their nails trimmed regularly. If your pet allows you to do these things yourself and you are comfortable doing them, great.
However, some breeds have longer
hair that can become matted
and cause skin irritation. Mats around the rear-end can accumulate feces that is not only unsanitary but can impede defecation. Fleas and other mites can hide in hair mats as well. In some instances, mats can become so tight that they can restrict or cut off circulation which could lead to amputation. Dirty ears can lead to ear infections which cause pain for your pet. Nails that are too long can lead to pain when standing or moving. Long nails can also tear, chip, or break and this can cause discomfort for your pet as well.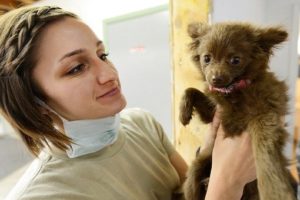 For those pets that need the special attention of a groomer, there are several factors to consider when choosing a groomer. One of the most frequently brought up topics is regarding groomers and vaccinations. There are a few primary vaccinations that all dogs receive if under the care of a veterinarian. These vaccinations are explained a bit below:
Rabies: A virus that affects both dogs, cats, and humans. Rabies vaccinations are mandatory is ALL STATES because it is extremely dangerous and has a 100% fatality rate due to the lack of a cure for the disease. Rabies vaccinations are usually given when the pet is 3-4 months old and then again at one year old. After that, maintenance vaccinations must be given every 1-3 year
Distemper: A virus that affects dogs particularly young dogs. Distemper is just like rabies in that it has no known cure. The first shot of distemper is given when the pup is around six weeks old. At least three more doses are given between six and 16 weeks, and another series is administered one year after the first series is completed. After the first round, a booster shot is given every three years. This vaccination is part of the 5-in-1 bundle that is explained below.
Parvovirus: A potentially fatal virus that attacks the heart muscles of dogs and cats and ultimately, leads to heart problems. There is no cure for this virus either. Parvovirus shots are usually administered along with 4 other vaccinations as a kind of bundle that has come to be known as the 5-in-1. Young animals ages six to 16 weeks of age receive this 5-in-1 bundle, and a booster is given when they reach one year of age. From there on a booster is administered every 3 years.
Bordatella: A virus that causes inflammation of the respiratory system and turns into what is commonly known as kennel cough. Kennel cough is treatable, but it is also VERY contagious which is why vaccination is necessary. Many doggy daycares, activity centers, pet-friendly bars, etc. will not allow your dog in without proof of this vaccination. Two doses are given to dogs under 16 weeks of age unless they are adults in which case, they are usually given one intranasal treatment. After that, yearly or semi-annual doses are required.
Leptospirosis: Is an infection caused by bacteria and is most prevalent in areas that have moist climates. Lepto is included in the 5-in-1 bundle mentioned above which is also referred to as the DHLPP. It is typically given at least once a year for dogs in high-risk areas.
Lyme Disease: Is a disease transmitted by ticks. There is no cure for Lyme disease though it can be "controlled" with an intense medication regiment. The first dose is administered at around 9 weeks of age and then another around four weeks after the first dose. An annual booster is required to maintain the vaccination.
*Please note, the other vaccinations included in the 5-in-1 bundle are for Hepatitis and Parainfluenza (dog flu).
This seems like a lot of
shots for your pup to receive
, but all of them are typically administered as part of the dog's "puppy shots." The main issue with groomers is one of the vaccines being up-to-date or not. The only state that doesn't require that dogs be vaccinated regularly is Hawaii, but they still require rabies shots before grooming.
Many groomers
or companies use vaccination POS systems to keep track of what vaccinations your pet needs and when they are due and will not see your dog until they are up to date.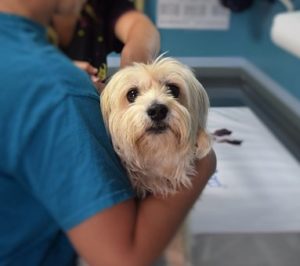 Is it Safe to Use a Dog Groomer that Doesn't Require Shots?
For the most part, it is not safe to use a groomer that doesn't require shots. Ultimately this is because it is the law in all states that pets have at least a rabies vaccination before being groomed, and if your groomer ignores this law, they may be ignoring other rules and regulations as well. It is possible that your pet could pass something on to other pets at the groomers or that your pet could come home with a disease, virus, or infection. Also, since dogs can transmit rabies to humans through dog bites, though it is a rare occurrence, it is imperative that all dogs be vaccinated for rabies before being groomed.
It is, however, considered safe by some to use a groomer who requires proof of vaccinations in general rather than "current" vaccination records. There are people in the animal medicine world that believe that once a pet is vaccinated at a young age, they do not require life-long boosters. They reason that humans are not required to get booster shots throughout their whole lives so why should dogs be? In fact, many people believe that the constant vaccinations of our dogs can harm them. So, in these cases, a groomer may not require proof that your pet has been vaccinated within the past one to three years, but that they were vaccinated when they were young.
How to Find a Dog Groomer that Doesn't Require Shots
This is very difficult these days. Some states allow it, but ultimately you will not find a reputable groomer that does not require at least some vaccinations in addition to the rabies vaccination. In some states, the groomer can incur a fine if they do not have up-to-date vaccination records. Unfortunately, this means that if the groomer is caught once, they will more than likely be on the radar of inspectors for at least the next few years.
However, it is possible to find ways around vaccinations when it comes to getting your pet groomed. The first one is the mobile groomer. Mobile groomers will come to your house and groom your pet. This method negates all state laws and regulations because the pet is on your private property. Though some mobile groomers may still require proof of rabies vaccinations, there are some that do not require proof of any vaccinations.
It is rare but becoming increasingly more popular to find "enlightened" or "holistic" veterinarians and groomers to groom your pet. These groomers and vets are ones that believe in the theory as mentioned earlier that if a pet is vaccinated while young, they are vaccinated for life. According to  these vets and groomers have an online presence and will need to be sought out through the web. Some of these vets will write a waiver for you to give to your groomer for a fee.
You can also try offering to sign a waiver when you set up a grooming appointment. You can type one up and bring it with you to the groomer thus eliminating the liability of the groomer should any viruses or diseases spread. Many groomers, however, will not accept these waivers and they do have a right to refuse service to whomever they wish.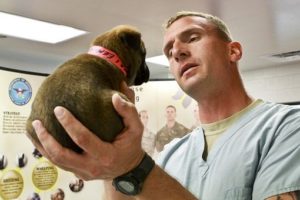 Can a Dog be Groomed without Shot Records / Papers?
Not usually. Again, if you want a reputable dog groomer, you will be hard pressed to find one that doesn't require shot records. No state law allows groomers to take your word for it that your pet has been vaccinated. This does not mean that you won't find a groomer who will work on the honor system, but they are few and far between. The pet owner must provide proof in the form of an invoice, copy of a medical record, a statement from a veterinarian, rabies certificate, receipt, or any combination of these. The proof can be a paper copy provided by the owner, or the documentation can be emailed or faxed from the veterinarian directly to the groomer.
PetSmart Grooming Vaccination Requirements
PetSmart requires that all pets be current on their rabies vaccinations. You must also wait at least 48 hours after getting your pet vaccinated to being them to PetSmart for any services to be sure that your pet isn't still sore or having an allergic reaction from the vaccine. Individual cities and states have additional requirements such as Iowa or New York City.
Do All Groomers Require Rabies Shots?
Yes, all groomers in all states require at least the rabies vaccination. As mentioned above, you may be able to find a few mobile groomers or holistic groomers may not require the rabies vaccine, but generally speaking,
most professional groomers
will need at least the rabies vaccine. Also, it is necessary that after a rabies shot, you and your pet wait at least 48 hours before they are groomed. As mentioned, your pet can be sore in the area of the vaccination and thus, more likely to
become aggressive
if the sore spot is aggravated. Also, all pets should be observed carefully after receiving rabies, or any vaccination, to be sure they are not having adverse and/or allergic reactions to the shot. Any shot can make your pet lethargic and just grumpy in general so getting them into the car to go to the groomer will likely be something that they just do not want to do. Especially if your pet is already
scared of the car
, the groomer, the pet store, etc.