We may earn commission from qualifying purchases at no extra cost to you.
Learn more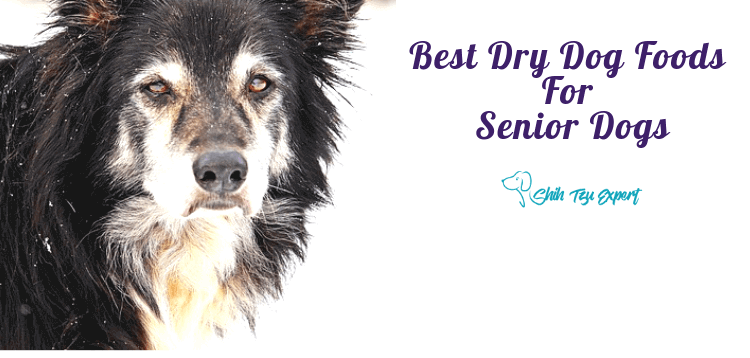 We all remember those golden days where we could eat anything that we wanted without the repercussions or heartburn.  As we get older, that is no longer the case and we have to become more aware of what we put into our bodies.
This is also true for man's best friend.
The older our dogs are, the more we have to monitor what brand of dog food goes well with their aging digestion systems. The main issue faced is that there are so many dog food choices out there, so how can you possibly narrow it down to the perfect choice for your partner in crime? Here are a few things to consider when picking dry food for your furry friend.
Which Dry Dog Food Is The Best For Sensitive Stomachs
There are many choices, but it all narrows down to how the dog food interacts with your dog's stomach. It's important to get the right one to avoid digestive upsets. The formulas listed below are dry dog foods that are the best for dogs with sensitive stomachs and have been widely appreciated by owners:
This food is vet formulated for all dogs during all stages of life. Perfect for all dogs of any breed, age, or size. One bag is all that's needed, making this brand more cost efficient without the need to buy multiple dog foods for each dog in a multiple dog household.

Features – Pros
There is no wheat, corn, or soy.
Protein-rich, dense formula
Probiotics are added for digestion and immune system.
One bag feeds all.
It contains omega 6 & omega 3 fatty acids, which promote healthy skin and coats.
Rich in antioxidants
Features – Cons
Owners have been reporting and having trouble with expired dog food on Amazon. It might be better to find a better source to buy from to ensure that your dog food is from a holistic source and not counterfeit. Counterfeit dog food makes animals sick.
The formula may make some animals sick, it's not perfect for every dog's digestion.
Price may be a little higher than other dog foods, but you only need one bag for a multiple dog household because it's compatible with dogs of all shapes, ages, and sizes.
Conclusion
Overall, this is a good choice for senior dogs or any dog that suffers from a sensitive tummy. It's best to watch and keep an eye on your dog, but the pros outweigh the cons when precautions are taken. It's a good choice for a multiple dog household to have one brand of food in the house.
This dog food has many varieties, including turkey & potato based, salmon & potato based, and lamb & potato based. This allows the choice of protein. There are no grains in this food. The source of protein is real and only from one single animal protein. It contains pumpkin and carbs that are easy to digest
Features – Pros
Limited Ingredients Diet, which means fewer ingredients that are handpicked with care.
Single protein source, no sketchy fillers.
Lifesource Bits, antioxidant-rich kibble with vitamins
No corn, wheat, dairy, soy, eggs, chicken, or beef.
Pumpkin, which helps aid in digestion and delicious
Features – Cons
Owners report that this food didn't have antioxidants or vitamins in it to help their dog.
Some owners report that this didn't aid with their dog's digestion or alleviate problems.
Blue Buffalo had a lawsuit because someone complained there was lead in their dog food, but there was no evidence of this and the case was dismissed.
The price is on the expensive side for a smaller amount.
Conclusion:
This is a good holistic product if you can overlook the lawsuit since there was no evidence that the company was putting lead in their food. It has wholesome food and doesn't have ingredients that upset a dog's stomach.
This dog food has a blend of proteins, fats, vitamins, and minerals. The goal of this food is to diminish food sensitivities and alleviate symptoms. It's formulated with fewer ingredients so there are fewer things to upset the stomach.
Features – Pros
Limited Ingredients, for a more holistic diet of handpicked ingredients.
Lamb from Australia and New Zealand, which is a featured ingredient.
Whole brown rice, for nutrition and easier digestion.
No artificial flavors or additives.
Features – Cons
The dog food tends to be expensive for the amount you get.
Conclusion:
It's a good brand for sensitive tummies if you can look past the price for the quantity. There are no major reports of issues, just complaints about the price.
Which Dry Dog Food Is The Best For Senior Dogs
It's important to find the right recipe for an aging digestive system. The formulas below are a list of dry dog foods that are overall the best choices for senior dogs.
This dog food is rich in vitamins, proteins, and flavor. The proteins used within each bite are high quality and sourced from trusted farmers and suppliers. The vegetables are organic with a mixture of healthy whole-grains.
Features- Pros
Farm raised chicken
A unique blend of whole grains, vegetables, and fruit
Helps maintain the cognitive function of senior dogs
Antioxidants for aging immune systems
Omega 3 & 6 fatty acids for skin and coat health
Follows clean philosophy, non-GMO.
No additives, like artificial flavors, colors or preservatives.
Features – Cons
There may be trace amounts of genetically modified materials due to potential cross contact during the manufacturing process.
Some owners report that the food goes bad.
Some owners report that it has made their dog sick, with digestive upsets.
Conclusion:
The brand is a good, wholesome ingredient brand that is rich in nutrients for senior dogs. But like every food you have to be careful about what you feed your dogs.
Grain-free dry dog food that has deboned chicken and contains whole foods like sweet potatoes, blueberries, and peas added into the recipe for easier digestibility.
Features – Pros
100% Deboned meat, including meat, fish or poultry
Good for all stages of life, great for seniors
Contains omega 3 & 6 for healthy skin and coats
Supports hips and joints health
Real Whole Foods
No soy, corn, wheat, or additives.
Made in the USA
Features – Cons
Owners report that buying this food online results in spoiled or out of date food from certain retailers. It might be best to buy at the actual retailer.
Reports of vomiting and diarrhea
Loss of appetite due to flavor
Conclusion:
The dog food may be great for those that live close enough to the business that manufactures it to avoid the food spoiling or going bad by being sold by a third party website. Also, it all depends on if the dog likes the flavor and has no digestion issues with it.
This formula supports healthy muscles, joints, and bones for better performance and overall health. Enhances endurance and metabolic function.
Features – Pros
Contains real meat like Chicken
30% Protein and 20% fats for metabolic function and maintaining lean muscles
Amino acids that nourish muscles after exercise
Gives energy and increases endurance
Good for all stages of life
EPA and glucosamine help support joint health
Features – Cons
Price for the quantity
Reports of smells inside the bag and the dog not wanting to eat it
Conclusion:
It's a good choice for seniors if owners make sure that the food is high quality when receiving it and has no weird smells.
Blue Basics is a wholesome formula for senior dogs that have no funny business and supports the nutritional needs of an elder dog.
Features – Pros
Uses real proteins from single animal sources, like chicken, turkey or beef.
Limited Ingredient Senior Dog Food, fewer ingredients so it's easier to keep up with what your dog is eating.
Balances proteins and carbohydrates that ensure the dog maintains a healthy body weight while providing energy.
Has a rich blend of antioxidants, vitamins, and minerals selected from good wholesome ingredients
Does not contain soy, wheat, corn, artificial flavors or preservatives.
Features – Cons
Owners report of dogs becoming sick after eating it
Price for quantity
Conclusion:
A good choice for some dogs, but with senior dogs, it's always good to be careful. Some foods may make seniors sick.
A holistic formula that has been proven superior for digestibility. Ingredients, like protein, are whole based and not made with meat meals.
Features – Pros
Made with whole proteins like chicken and turkey, with no meat meals
Grain-free
Fewer calories and fats for older dogs to match slowed down activity levels
Contains fatty acids from non-GMO plant sources for shiny coats
Contains vitamin E
Supports ranchers and farmers
Seafood sources are wild caught from sustainable fishers
Features – Cons
Owners report that because the product is grain free that it didn't help get the nutrients from grains to prevent diabetes in their dogs and they eventually lost their eyesight, but there is no proof that this dog food caused it.
Conclusion:
A good food source for elderly dogs, it's wholesome and contains a lot of vitamins and minerals for good health.
A formula that supports the dietary change within senior dogs. This helps keep the weight balanced and takes the pressure off of joints.
Features – Pros
Protein Rich
Fewer Carbohydrates
Contains BC30 Probiotic
Made In The USA
Features – Cons
Owners report that their dogs refuse to eat this formula.
Conclusion:
A good wholesome choice for pets, just make sure that your dog likes the taste of the formula.
Features – Pros
All Natural Ingredients
No Wheat, Soy, Corn, Artificial Flavors, Colors or Preservatives
Made In The USA
Contains Single Source Animal Proteins
Features – Cons
Reports of making dogs sick with gas, vomiting, and diarrhea.
Conclusion:
There's a lot of good reports, but also there is a significant amount of reports of making dogs sick. Not every food is for every dog so exercise precaution.
What Is The Appropriate Age to Switch To Senior Dog Food
As dogs get older, their nutritional needs change along with them. Their digestion becomes slower, and they might not be able to process the food they once ate. To determine what age is appropriate to make the switch to senior dog food, you must take into consideration the life expectancy, mass, and breed of your dog. If larger dogs age faster than a smaller dog, then those dogs would be put on a
senior dog food diet sooner than little dogs
. A good rule of thumb is to use the dog's life expectancy for measuring the age. For instance,  little dogs have a life expectancy of about 15 to 20 years. They become seniors around age 8 years old. Bigger dogs have a life expectancy of 12 to 15 years, and they hit seniority around 6 years old. It's easier to make the switch around these recommended senior ages.
What Nutrition To Look For In Dog Food For Senior Dogs
With slower digestion, it becomes easier for senior dogs to become obese. This leads to heart problems, diabetes and effects overall health. With age, there's not enough energy to run off the carbohydrates that are found in most dog foods. That's why seniors needed a special blend to keep them fit as if they were still young. When looking for
senior dog food
you want to look for three things:
1.) Fewer Carbohydrates
Carbs are biomolecules that turn into sugar. If seniors don't get enough exercise to work the sugar off when it is stored, then that sugar becomes fat and the dog becomes obese. It's important to have dog food that is low in carbs for your senior so that the dog won't have an increased risk of getting heart disease, diabetes, and other diseases.
2.) High Fiber
With everything slowing down in the digestive system, it's important to find a dog food with high fiber to move the bulk inside of the intestines. This ensures that your dog stays regular with no complications of going to the bathroom. Not only does it help keep things going, but fiber has other benefits like reducing heart disease and inflammation.
3.) Adequate Protein and fats

It's important to get the recommended amount of protein and fats for senior dogs. Muscle mass may diminish as dogs get older, and eating the right amount of proteins and fats help build muscle and keep the current muscle mass strong. Good fats give the body energy and help stimulate the cells for regrowth after usage.
Does Your Senior Dog Have a Sensitive Stomach
Having a sensitive stomach means that your dog is prone to having intestinal upset. There are certain things that your dog can't digest. Here are the symptoms to watch out for when giving dogs new dog food.
These symptoms could be an indication that something else could be going on with your dog. Be sure to take your dog to the vet and rule out disease or a condition that could cause these symptoms. After ruling it out, it's best to find the right dog food for sensitive stomachs.
What Triggers A Sensitive Stomach In Senior Dogs
After going to the vet and ruling out a disease or a condition, the cause can then be narrowed down to what ingredients are inside of the formula your dog is eating. It might take a while and several dog food changes to get the right type of food. These are the most common triggers for a sensitive stomach are:
1.) Unable To Digest Certain Proteins

Proteins are good for your dog and are a must-have for overall health. Senior dogs with sensitive stomachs may have trouble digesting certain proteins. If your dog has trouble after eating chicken proteins, switch to another protein, like beef or lamb.
2.) Food Allergies
Some pooches might have food allergies to certain proteins in their foods. Signs of food allergies include:
Skin Issues, like hives or rashes.
Inflammation of Skin
Ear Problems, like swollen or itchy ear-flaps
Itchiness
Diarrhea
Vomiting
Sneezing
3.) Ingredients In Dog Treats
There are many ingredients used in the process of making dog treats. It has become increasingly difficult to pinpoint what is causing flare-ups in dogs that suffer from allergies. To narrow it down, it's best to reduce the number of treats given (this alone could upset a dog's stomach) and switch to a treat that is more hypoallergenic for dogs.
Is Dry Dog Food Better Than Wet Food For Seniors?
It all depends on the dog. With age, seniors might not be able to chew dry dog food anymore, especially if the dog is losing their teeth. On the other hand,
wet food is higher in water content
, so it would keep dogs hydrated more. The only problem is that wet food may induce more diarrhea for seniors and upset their digestive system. For firmer bowel movements, it may be best to use dry dog food. It's all about exercising precaution.
What Type of Dog Foods Are The Best For Seniors With Arthritis
Older dogs tend to have joint and mobility issues. If a senior dog is obese and hasn't been getting the proper food it needs, that can worsen conditions like arthritis. It can be barely noticeable or it can be debilitating.
Symptoms:
Stiffness
Favoring a certain leg
Limping
Difficulty jumping or moving around
Ways To Alleviate Arthritis Symptoms
The most important thing is diet and that is what it always narrows down to. The more pounds a dog carries on them, the harsher the weight is on its joints. Getting obesity under control can help tremendously by lifting the strain off the joints. Certain foods and ingredients in dog food can also help alleviate these symptoms and provide relief with anti-inflammatory properties.
Ingredients In Dog Food That Help and Prevent Arthritis
Sweet Potatoes – contains beta-carotene, which is an anti-inflammatory nutrient along with amino acids that make muscles stronger (which is needed because arthritis may cause muscles to diminish due to lack of exercise from pain)
Glucosamine and Chondroitin – aids in joint health, and alleviates pain from arthritis, hip dysplasia, and injury.
S-Adenosyl-L-methionine – analgesic pain reliever
Omega-3 Fatty Acids – fish oils contain anti-inflammatory nutrients for joints and improve blood flow
Methyl-sulfonyl-methane (MSM) – a form of sulfur that treats pain for joints
Duralactin – contains milk proteins that aid with helping arthritis
Creatine – a muscle building ingredient, when combined with exercise. It will strengthen a dog's muscles, especially those that have worn down due to not exercising from joint pain.
Vitamin C – studies show that dogs who have higher vitamin c levels in their bodies tend to have less arthritic problems.