We may earn commission from qualifying purchases at no extra cost to you.
Learn more
The First Signs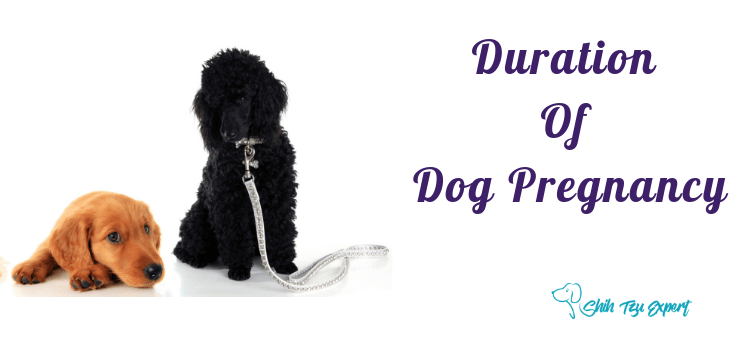 Thinking that your dog is pregnant can be a shocker for most, especially those who are not familiar with an expectant mom or a litter of puppies. Maybe there was an incident with the neighbors dog, maybe you were not prepared for her time of the month, or maybe you are testing out the breeder lifestyle.
Either way, you need to keep an eye out for a couple of signs that show your dog might be pregnant. Look for any decrease in physical activity or playfulness, changes in appetite, begging for extra attention or seeking isolation more frequently, enlarged or discolored nipples, weight gain, and even some nesting behaviors like shredding bedding.
The only issue is, until your dog is around 21 days pregnant, most of these symptoms will not appear or will only appear occasionally, making it that much harder to figure out if she is expecting.
Using A Dog Pregnancy Test…
Dog pregnancy can be detected in a variety of different methods, some beginning as early of the 21st day of pregnancy. The earliest test that can be taken is the blood test at 21 days, during the span between the 21st day and the 35th day your vet can safely palpate your dog's stomach, at 25 to 35 days the vet can do an ultrasound, at 30 days a hormone test to detect relaxin can be used, and on the 45th day, an x-ray can be taken, determining both if your dog is pregnant and exactly how many puppies she is expecting.
The At Home Test
Just like humans, female dogs can take a hormone test to determine whether or not they are pregnant. These are a little trickier than the other options because timing is key, if you do it too early (before the 30th day), you are likely to get a false negative. The test works by testing the amount of relaxin in a dog's urine, a hormone that is produced by the dogs placental tissue only when pregnant. You can purchase an at-home test to test your dog's urine.
Between the hormone tester or trying to feel for pups, attempt the hormone tester first. If you attempt to feel for pups, you may end up causing more harm than good and cause your dog to miscarry or harm the pups. While both seem like the cheapest way to go, it is always best to take your dog to the vet, especially for the first time, and see how they interact with your dog and to make sure your dog is handling the pregnancy as she should be.
Dog Pregnancy Symptoms
Being on the lookout for what kind of symptoms your dog might be experiencing is difficult, they all experience pregnancy differently. Some dogs show all the usual symptoms, while others show only a few and sometimes only one or two. It can especially tricky when that one is wanting more attention than usual.
First Signs and Symptoms
The trickiest of all are the beginning symptoms. Hard to spot and difficult to pin down. Look out for:
An increase in appetite
Slightly enlarged or discolored nipples
An increase in affectionate behavior or desire for attention
Clear, unscented vaginal discharge
Decrease in physical activity
"Morning sickness" or vomiting
Second Trimester Symptoms
After the first month, or trimester, your dog will begin to show more pregnancy symptoms as the puppies are developing quickly. While some are similar to the first month, expect them to become more noticeable. Look out for:
A noticeable increase in appetite, wanting to be fed more frequently
Weight gain of up to 50% of her original body weight
Behavioral changes, becoming affectionate or anxious
Increased urination
An enlarged, firm abdomen
Visible puppy movement at the end of the month
And Finally The Third Trimester
The third trimester is more about looking for labor rather than general symptoms. Signs that your dog is getting close are easy to look out for, but do require some effort on your part, like checking body temperature. Look out for:
Trimming of the waist
Loss of appetites
A drop in body temperature
Restless behavior such as nesting
Pacing, panting, shivering, and digging
45 Days Pregnant
The almost done point. The 45th day marks the point when all the puppies are almost fully developed and have just developed their skeletons. This is when a trip to the vet is necessary and comes in handy. With the development of their skeletons, a vet can now take a proper x-ray, which will tell you exactly how many puppies you need to prepare for as well as if those puppies are okay.
Some dog moms don't think it is necessary to get the x-ray done and are perfectly okay with getting a surprise, but for first timers it can be really nifty to know exactly how much you need to prepare instead guessing.
Pregnancy Day by Day:
Being familiar with what is happening inside your dog while she is going through pregnancy is the best way to understand her pregnancy and how you should help, or how you should observe,
Day 1-2
Fertilization begins, after the event a dogs sperm can remain in your dog for up to 48 hours,
Day 7
The embryos travel to the uterine horns.
Day 16
The embryos are embedded into the uterine lining and are preparing for development.
Day 22
The fetus begin to take shape within the mother's uterus.
Day 28-30
Puppy heartbeats can begin to be detected through ultrasound.
Day 32
The eyelids form.
Day 35
Toes are formed and can be seen on x-rays and ultrasounds.
Day 40
The claws form.
Day 45
The coat and skeleton form, allowing x-rays to see how many puppies your dog is carrying.
Day 50
Puppies are developed enough to be detected in all forms and to be checked for health.
Day 58
Puppies are almost completely developed and are ready to leave their mom.
Week By Week Pregnancy Progress
Weeks 1 & 2
This is the time when the embryos are embedding into your dog's uterine wall. At this point, you can treat your dog as you normally would. No special diet or watching out for certain physical activities. Everything is happening internally and is preparing your dog's body for carrying the puppies.
Weeks 2 & 3
Your dog is fertilized and the puppies are on their way. This is the period where the puppy fetuses begin to develop with the uterus and pregnancy symptoms may begin to appear.
Weeks 3 & 4
Some weight gain may be visible at this point and the pregnancy symptoms, if your dog is going to show them, are going to be in full swing. At this point you can feel the puppies within your dog, but be very gentle as you can cause a miscarriage if the puppies are mishandled.
Weeks 5 & 6
This is when you will notice some bigger changes and will have to adjust some of your routines to benefit your dog. Begin feeding her 30%-50% more food than usual, but doing it by adding more meals instead of bigger meals. Also, keep account of how much activity you do with her. You don't want her to be inactive, but you also need to make sure she is not over exerting herself as that can hurt the puppies.
Weeks 7 & 8
These weeks are probably the most exciting, at least for you. This is when all the puppies can be accounted for and a trip to the vet is definitely in order. They'll do a full check-up on momma dog and make sure all the puppies are doing okay, including checking to see just how many puppies she is expecting.
Week 9
Be ready to have some puppies! Week 9 is the time when labor is imminent and keeping an eye out for the early signs is key to being prepared. Watch out for your dog, but don't overcrowd her. She needs time and plenty of space to deliver, preferably somewhere secluded and safe that has very little chemicals or things that may pose a harm to her or the puppies.
Pregnancy Calendar
How Many Puppies Does A Dog Have In Their First Litter?
This is a tricky one. A simple answer would be that miniature breeds have an average of 3.5 pups while large dog breeds average about 7.1 pups, but additional puppies are very possible. Litter size can be affected by a variety of different factors. Size, breed, and age are just some of the many things to take into consideration.
What Affects The Amount Of Puppies?
If you are looking for a more specific answer to how many puppies your dog might have in their first litter, you must take into account their
Breed: Generally a dog that comes from a larger breed type has more puppies even if they are not large dogs themselves, this is also applicable for smaller breeds as they will generally have less puppies.
Size: To go along with breed, a larger dog will have more puppies while a smaller will have less regardless of general breed size.
Age: An older dog is less likely to have puppies, younger dogs between 2-5 years of age are at their peak for having puppies. When they have puppies at this age, they are more likely to have a smaller first litter.
Health: Dogs with little to no health issues are more likely to have more puppies and less complications, while those that suffer from heartworms, diabetes, allergies, and other health issues are more likely to have less.
Individual Genetic Factors: Just like people, certain traits run through dog families. If your dog's mom or siblings have had large litters, then it would be fair to assume that your dog will follow the same trend. The same would go for smaller litters.
The Father: The puppies father's genetics go into determining just what to expect when your dog is expecting. Using the same rules from above, take into consideration his breed, size, health, age, and individual genetics to guess the possible litter size.
Can You Feel The Puppies?
Technically yes, you will be able to feel the puppies around the 28th – 35th day of pregnancy. The puppies will be developed enough to easily feel where they are laying inside your dog. Be very gentle if attempting to do this at home, if you would like to safely feel for the puppies, take you dog to the vet and ask them to show you how to properly feel for puppies without causing them or the momma harm.
How Long Does A Dog Carry Puppies Before They Are Born?
Momma dogs carry puppies for a short amount of time compared to humans as their trimesters last about a month a piece. This means that it only takes a total of three months, or 56-69 days, to carry puppies full term.

When Is A Dog About To Give Birth?
Keeping an eye out when it comes to the last two weeks of pregnancy is especially important for new momma dogs. Their bodies will tell them when it is time, but you need to know as well so that you can cater to their needs properly.
One of the best ways to check for when the time is near is to check their body temperature rectally. If the temperature is between 101-102.4 degrees Fahrenheit or 38.3-39.1 degrees Celsius, then their temperature is normal. Whenever it lowers below 100 degrees Fahrenheit or 37.8 degrees Celsius, the dog will give birth within the next 24 hours.
Process of Labor
Labor begins with your dog having contractions and from there they go through their three stages of labor.
Stage 1: The beginning of labor and stage 1 is the start of contractions, along with a drop in temperature, a lack of appetite, and possible vomiting. This stage can last from 6 hours to up to 18 hours. This is when you need to create a quiet and calm environment so that your dog will feel comfortable giving birth.
Stage 2: This is when your dog's water actually breaks and the puppies will start to appear. The puppies can be deliver every half-hour or so, but the mother may feel exhausted and can take a break of up to four hours before delivering the next puppy. The mom will handle biting off the umbilical cord and the cleaning of the puppies.
Stage 3: The uterus retracts to it's normal size. This is not an extremely obvious stage and is mainly structured after the third stage of human labor.
First Time Mom?
Not all dogs are natural mothers, sometimes they have their first litter too young and don't have any maternal connections, other times they only do some of the necessary caretaking tasks, while slacking on others. It is important to keep a close eye on these first time moms and assist when necessary. Make sure that all the puppies are getting a chance to feed, double check to make sure that the momma is taking time to feed them in general. Watch out for the mom wandering off frequently or for long periods of time as this can be a sign of detachment. If any of these issues arise, take them to the vet to make sure both the mom and the puppies are healthy and that there are no underlying health issues causing the behavior.
Quiz: Is My Dog Pregnant?
If you're looking for a quick checklist of defining features of pregnancy, here is a quick quiz to help determine if it's time for a trip to the vet.
Question 1
When was the last time your dog was in heat?
3 months ago
1 month ago
2 weeks ago
Question 2
Has your dog been around any male dogs?
Not at all
Possibly
Yes
Question 3:
Has your dog had a change in appetite?
No
Yes, it has increased slightly
Yes, it has increased substantially
Question 4:
Has your dog had a change in attitude?
No
Yes, but not drastically
Yes, drastically
Question 5:
Has there been a change in your dog's nipples?
No
Slightly enlarged
Noticeably enlarged and darker
What Your Answers Mean:
If you answered mostly or all A's –
It's pretty safe to say that your dog is not pregnant, it would be very noticeable at this point.
If you answered mostly or all B's –
These are all possible signs that your dog may be pregnant so keep an eye out for more symptoms before getting too concerned.
If you answered mostly or all A's –
It's a definite possibility that your dog is expecting and it might be time for a quick trip to the vet to check and see for sure.