We may earn commission from qualifying purchases at no extra cost to you.
Learn more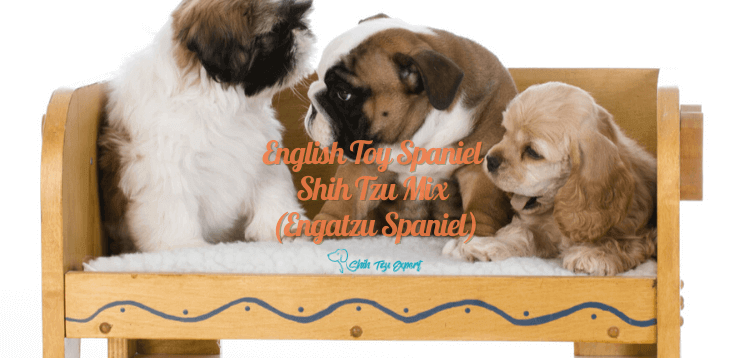 The Engatzu Spaniel AKA English Toy Spaniel Shih Tzu Mix is a small, happy, and loyal dog that is a cross between the English Toy Spaniel and the Shih Tzu. This breed is part of the designer dog category and may look more like an English Spaniel, Shih Tzu, or a good mix of both.
Engatzu Spaniels are popular amongst new and experienced dog owners for their cute teddy bear-like appearance, small size, relaxed attitude, and sweet temperament.
If you are considering buying a Spaniel Shih Tzu mix, then you've come to the right place. In this article, we'll explain everything you need to know about taking care of your Engatzu Spaniel as well as how to choose between the Engatzu Spaniel and its close relative, the Cock-a-Tzu (a mix between a Cocker Spaniel and Shih Tzu).
What is an Engatzu Spaniel? Everything you Need to Know about English Toy Spaniel Shih Tzu Mixes
Spaniel Shih Tzu mixes are great companion dogs and, although small, have a big personality. These pups are intelligent and good with kids and other pets. They are adaptable and do well in both houses and apartments.
Engatzu Spaniels typically weigh between 9 and 12 pounds while Cock-a-Tzus are a little larger weighing between 25 and 35 pounds. These pups are lap dogs and enjoy plenty of attention and affection from their owners.
Because they are mixed breed dogs, there is no guarantee that they will look a certain way. In fact, each pup in a litter may inherit different traits from their parents.
English Spaniel or Cocker Spaniel Mix
While Engatzu Spaniels (English Toy Spaniel Shih Tzu mixes) and Cock-a-Tzus (Cocker Spaniel Shih Tzu mixes) are very similar dogs, there is some difference between the two that may make one or the other better suited to specific owners.
The main difference between the Engatzu Spaniel and the Cock-a-Tzu is size. Engatzu Spaniels are around half the size of Cock-a-Tzus making them fit better into the "toy dog" category. The American Cocker Spaniel also has a longer torso meaning that they may suffer from back problems. If you want to avoid back issues later in life, it's better to go with the Engatzu Spaniel.
On the other hand, English Spaniels tend to be more aggressive than Cocker Spaniels. If you choose the Engatzu, it will be important to meet your pup's English Spaniel parent so that you can determine whether your dog will inherit aggressive tendencies.
Both English Spaniels and Cocker Spaniels have the same coat type and can be difficult to tell apart unless you know what to look for. To be certain of your dog's ancestry, make sure to ask the breeder plenty of questions. Reputable breeders will answer all your questions and will probably ask you questions themselves.
Must-Know Engatzu Spaniel Basic Facts
Engatzu Spaniels are good companion dogs and are well-suited for families and seniors. They aren't high energy and do well in apartments, but they do have specific grooming needs due to their long fur.
Because they are a mixed breed, Engatzu Spaniels are not a pedigreed dog and are not recognized by the American Kennel Club. However, mixed-breed dogs tend to be healthier than their purebred counterparts and Engatzu Spaniels are recognized by the American Canine Hybrid Club, the Dog Registry of America, and the Designer Dogs Kennel Club.
Appearance
Engatzu Spaniels are strong and sturdy small dogs that usually have short noses and large eyes. Many of these pups are first-generation mixed meaning that they can inherit any trait from either parent.
Some Engatzu Spaniels will look more like Spaniels and others more like Shih Tzus. These little pups fit well into the "teddy bear" dog category and are irresistibly adorable.
Engatzu Spaniels can have many coat colors such as white, red, brown, and black. They also may have spots or be entirely one color. They are typically 10 to 11 inches tall and will have long fur. Their fur may be curly like a Spaniel or long and straight like that of a Shih Tzu.
History and Origins of the Engatzu Spaniel
While mixed breed dogs have been around forever, it is likely that the English Spaniel and Shih Tzu were purposefully bred together as designer dogs when the trend took off around 30 years ago.
As far as we can guess, the first intentional Engatzu Spaniel was probably born in the 1990s somewhere in the US where hybrid dogs first really started to take off.
Shih Tzu History
Shih Tzus originated in China and are one of the oldest breeds in the world. These little pups were once the favorite dogs of Chinese royalty and were loved for their lion-like appearance. It wasn't until the 1920s that the breed became well-known outside of China and began to take off in Europe and America.
Shih Tzus are most loved for their small size, intelligence, and sweet but stubborn personalities.
English Spaniel and Cocker Spaniel History
The English Spaniel and Cocker Spaniel both come from the same breed of dog. Originally, in Europe, Spaniels were considered to be any dogs that were relatively small and in the working dog category. It wasn't until 1890 that the breed became recognized as a specific type of dog.
Cocker Spaniels come from the English Spaniel and can trace their ancestry back to a single dog named Obo II. Cocker Spaniels were bred specifically to hunt woodcock birds and were named after their prey.
Both types of Spaniels are sporting dogs and do well in agility exercises. They are intelligent, sweet, and loyal.
Engatzu Spaniel Health and Care
Although mixed breed dogs are usually much healthier than their purebred counterparts, they still have a chance of inheriting health risks from either of their parents.
Common Health Problems
The biggest health concerns to look out for with Engatzu Spaniels are Patella Luxation, respiratory issues, and eye problems.
Patella Luxation is a medical term for the dislocation of the kneecap and this problem is common in smaller dogs. Because of this, it is important to be careful during playtime with Engatzu Spaniels, especially when they are young.
Respiratory issues are a big problem for all dogs that have shorter snouts. Engatzu Spaniels inherit their squished noses from Shih Tzus and these smaller snouts can cause breathing distress.
Like other small dogs, Engatzu Spaniels are also at risk for eye problems and obesity.
If you go for the Cocker Spaniel Shih Tzu mix, the main health concern they experience is Intervertebral Disk Disease which is common in pooches with long backs.
General Care Requirements
Like Shih Tzus, it's important to regularly check the eyes, ears, and teeth of your pup. You will also need to brush their teeth to prevent tooth decay when they are older. Brushing every other day should be enough.
Because Engatzu Spaniels are tiny dogs, they are also fragile and it is important to be careful when handling them and during play. If you have small children or other pets, it's best to supervise all play to make sure it doesn't get too rough for the tiny guy.
Feeding and Dietary Requirements
This is a small breed so the best food is one that has quality ingredients and is meant for smaller dogs. Engatzu Spaniels are not very active and are prone to obesity, so always follow the instructions on the back concerning recommended portions.
These dogs have a large appetite and will eat as much as you give them, so be careful!
Typically, Engatzu Spaniels should be fed twice a day with 1.5 to 2 cups of kibble in each serving.
Exercise Requirements
It is important to make sure that your Engatzu Spaniel gets enough exercise as these pups have a tendency to prefer being lazy and like lounging around the house. If they are allowed to be inactive, they can become obese and suffer from many health problems.
It is recommended that Engatzus get 45 minutes of activity a day or walk around 7 miles every week. These dogs are perfectly happy to play inside for an hour each day. Some may also inherit a hunting instinct and enjoy chasing small animals around the yard.
If your Engatzu has a short snout, it will be important to monitor them when they exercise to make sure they are not overworked or in respiratory distress.
Engatzu Spaniel Temperament and Personality
Engatzu Spaniels are great dogs for families, seniors, and couples because they are sweet, playful, happy, smart, and loyal. These dogs love to play and may inherit a chasing instinct from their Spaniel ancestors. They tend to love new toys and enjoy playing with children and other pets.
Because of their Spaniel blood, they also make good watchdogs and will alert their owners of any intruders despite their small size. Because of their Shih Tzu ancestors, they may be a little stubborn and it is important to start training early on.
These dogs love affection and will give a lot of affection back in return.
What is the Most Likely Engatzu Spaniel Temperament?
The most likely temperament of an Engatzu Spaniel is difficult to predict because they may inherit personality traits from either parent. On top of that, each dog is unique and will have it's own personality quirks.
In general, Engatzu Spaniels are very friendly and happy dogs. They love playing and may have the instinct to chase small children and animals. These dogs do have a tendency to bark when excited.
Engatzu Spaniels are not guard dogs and are usually not aggressive (although it is important to meet the English Spaniel parents just to make sure). Because of this, they often love people and get along well with strangers.
Because of their working dog ancestry, Engatzu Spaniels are very obedient and love to please their owners. They are also very affectionate and don't do very well when left alone for long periods of time.
How good are Engatzu Spaniels with Children and other Pets?
As long as they are socialized early on, Engatzu Spaniels are great dogs to have around children and other pets. They are great family dogs and love playing with their companions, although it is important to make sure the play doesn't get too rough for the Engatzu.
Although some Engatzu Spaniels may have a prey drive, it is usually not too strong and can be quickly trained away. The laziness of this breed makes them extra cuddly and they love being lapdogs or curling up next to family members on the couch.
Type of Person Best for an Engatzu Spaniel
Engatzu Spaniels are a great choice for people who live in apartments because of their low activity levels and exercise needs. They are also good companions for seniors or people with mobility issues.
These dogs do well with families or owners who have plenty of time to spend with them. Engatzu Spaniels get very attached to their owners and are prone to separation anxiety if left alone often or for long periods of time. The good news is because they are so small, it's relatively easy to bring your Engatzu Spaniel with you on errands and travels.
Engatzu Spaniels are not well suited for people who want active dogs that they can take with them when hiking or running. These dogs only need small amounts of easy exercise every day and are not likely to enjoy intense physical activity.
Why are Engatzu Spaniels Good Companions?
Engatzu Spaniels are good companions because they love people and are playful and loyal. They like to be alongside their owners all day and tend to cuddle up next to them at night.
These dogs don't make good therapy animals but are wonderful friends and family members.
How easy are Engatzu Spaniels to Train?
Engatzu Spaniels love to please their owners and are relatively easy to train with a willingness to learn and high intelligence. Even newbie dog owners should have no problem teaching this breed the basic commands.
Engatzu Spaniels respond especially poorly to yelling and punishment. The best and fastest way for you to train our pup is by using plenty of praise and positive reinforcement when they do something well.
While most training is easy, Engatzu Spaniel owners might run into difficulties when it comes to potty training. Like many other small dogs, this breed has a tiny bladder which means they need to go to the bathroom more often and may have a hard time holding it.
Because they are prone to separation anxiety, it's a good idea to crate train an Engatzu Spaniel so that they feel safer and stay out of trouble when left alone.
The Engatzu Spaniel Grooming Basics
Engatzu Spaniels are a relatively high maintenance breed when it comes to grooming due to their long hair. These pups will require daily brushing and regular trips to the groomers to keep their locks out of their eyes.
Type of Coat
Engatzu Spaniels are likely to have double-layered coats which might be closer to the curly hair of a Spaniel or the long straight hair of a Shih Tzu
. Either way, this pup will have long fur that requires daily brushing to keep it shiny and prevent tangles.
Engatzu Spaniels will have very soft and long locks that can come in many colors and a variety of markings. It is common for Engatzus to have white spots on their fur with a few other colors.
Grooming Requirements
Unlike shorthaired dogs, Engatzu Spaniels will require a good amount of grooming including daily brushing and occasional trips to the groomers for a trim. The best type of brush for the Engatzu's long hair is a stiff bristle brush.
Engatzu Spaniels only need to be bathed when you feel it is necessary as they are generally clean dogs and too many baths can dry out their skin. Besides fur care, other grooming requirements include regular teeth brushing, ear cleanings, and nail trimmings.
Are Engatzu Spaniels Hypoallergenic?
Engatzu Spaniels are not typically hypoallergenic, although English Toy Spaniels are. If your puppy gets its fur genes entirely from the English Spaniel side, there is a chance that they will be hypoallergenic but it isn't too likely. Even so, Engatzu Spaniels usually don't shed very much.
How to Minimize Shedding
Engatzu Spaniels are low to moderate shedders. Most shedding can be prevented by daily brushing and regular grooming. If you really want to get a pup that doesn't shed, make sure to pick one that has a coat closer to that of the English Spaniel. Although they may still shed a little, English Spaniels shed less than Shih Tzus.
Top Tips for Finding an Engatzu Spaniel
Like most hybrid dogs, Engatzu Spaniels may be difficult to find at a shelter or rescue. Instead, most people looking for this type of dog will need to purchase one from a breeder. No matter what, owners should avoid buying puppies from bad breeders or pet stores as these dogs may have come from unethical puppy mills.
Adopting from a Rescue or Shelter
It is possible to find a Spaniel Shih Tzu mix at a rescue or shelter, however, it will probably be difficult. These dogs are part of the designer dog category and are a little rare. When they are found in shelters, it may be difficult for you to determine their exact breed.
If you want to buy a rescue dog, it will be much easier to look for Spaniel mixes and Shih Tzu mixes instead of the very specific Engatzu Spaniel mix.
One major advantage of getting your forever friend from a shelter is that you can spend time with the dog and determine their personality. When you buy a puppy, it's much more difficult to determine how they will turn out.
How to Carefully Choose a Breeder
If you are specifically looking for an Engatzu Spaniel or Cock-A-Tzu puppy, the best way to find one is to get a reputable breeder. Reputable breeders will often also want to interview you to make sure their puppies are going to a good home. They will also be able to tell you the full ancestry of the puppies as well as how predisposed they are to certain health problems.
Reputable breeders will offer a health guarantee. If they have a website, it will mostly contain information about the breed and will not directly link to the sale of puppies.
You should never buy puppies from online ads because most of these dogs come from puppy mills and will likely have various health problems.
Typical Puppy Costs
The average Engatzu Spaniel puppy costs anywhere between $300 and $500. Some will cost more depending on the breeder.
Pros and Cons of Getting an English Toy Spaniel Shih Tzu Mix
Pros:
Have great personalities and are cuddly people-lovers
Get along well with children and other pets
Have low exercise requirements and are great for apartments
Are low to moderate shedders
Good watchdogs
Cons:
Prone to health problems like respiratory issues, knee dislocation, and back problems if you get a puppy with Cocker Spaniel ancestry
Likely to get separation anxiety if left alone often or for long periods
Small and fragile
Require daily grooming
Are not hypoallergenic
Other Similar English Toy Spaniel Shih Tzu Mix (Engatzu Spaniel) Small and Medium Dog Breeds
If you are interested in the Engatzu Spaniel, you may also be interested in other similar breeds. Take a look below!
Eng-A-Poo: This pup is a mix between the English Toy Spaniel and Poodle and has all the adorable looks of the Spaniel with the intelligence and lovely personality of a poodle. These dogs are usually under 14 pounds and exemplify the true "teddy bear" dog appearance.
English Speagle: This dog is a cross between the English Toy Spaniel and a Beagle. If you are looking for a pup with more of a working dog personality then this is your mix. English Speagles are loyal and hard workers that also make good search and rescue dogs.
Engachon: An Engachon is a mix between an English Toy Spaniel and a Bichon Frise. This pup is small and fluffy and is unlikely to suffer from many health issues.